The Classic Horror Film That Fans Are Calling The Perfect Pandemic Movie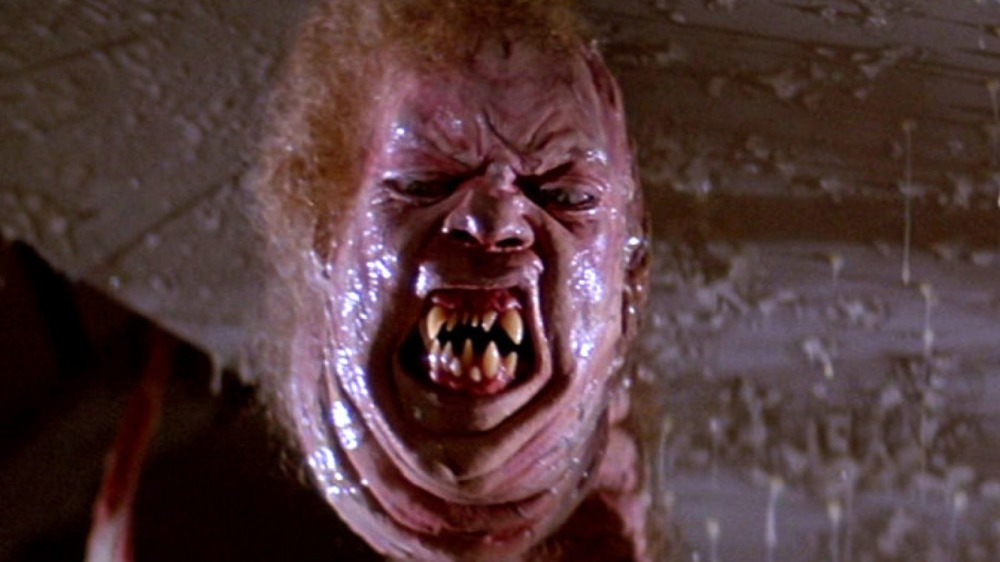 Universal Pictures
The ongoing COVID-19 pandemic has, to varying degrees, made recluses of pretty much all of us. Fortunately, we live in an age in which entertainment has never been easier to come by; streaming services spend billions to bring us exciting original and licensed content, and major studios have made moves to ensure that a goodly number of the theatrical releases of 2020 and 2021 can be viewed in the comfort and safety of our homes. Notably, Warner Bros. announced that its entire 2021 slate — which includes such hotly anticipated releases as The Matrix 4, Godzilla vs. Kong, and The Conjuring: The Devil Made Me Do It — will drop on its HBO Max platform concurrently with their respective theatrical releases, for no additional fee.
The film and television industry's laser focus on streaming has made it easy for fans to take deep dives into their favorite genres, and, in uncertain and often scary times, many of those fans find solace in horror flicks, which offer the opportunity for catharsis in the form of safe scares rooted in fiction rather than the dangerous fears of what is very real. Of course, that catharsis can often be even more profound if those scares edge right up to the borders of the real world — which is why a fictional allegory for, say, a deadly pandemic might have a particular thematic resonance right now. 
Zombie movies like George A. Romero's Living Dead series, fright flicks featuring a society in collapse like I Am Legend and Bird Box, and body horror offerings like David Cronenberg's classic The Fly can all fit this bill in different ways, but, recently, fans on Reddit have singled out one film as being the most thematically appropriate to life in the age of COVID-19. We can't help but agree, because it also happens to be one the greatest horror movies of all time.
The Thing is one of the best films from a master of horror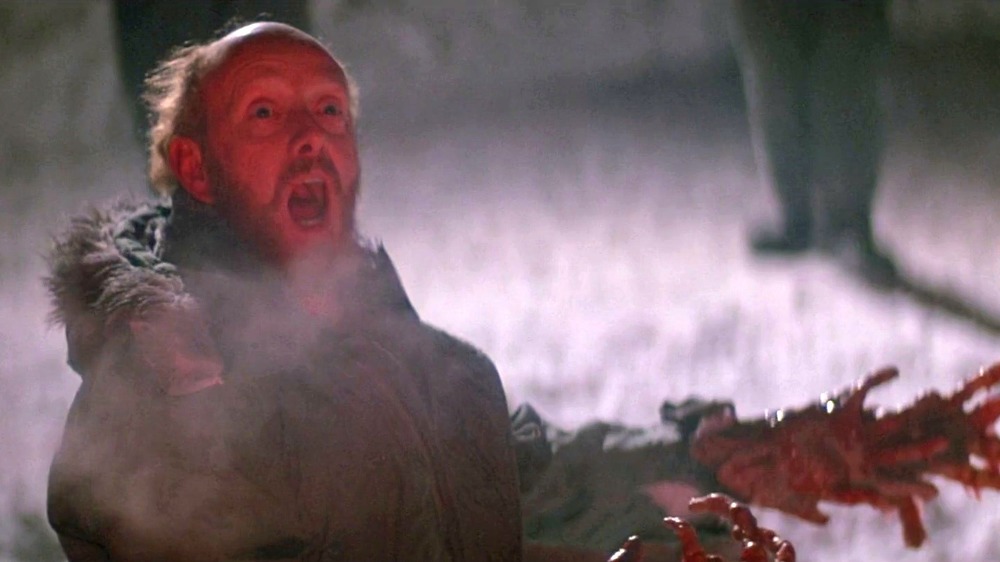 Universal Pictures
That movie? John Carpenter's The Thing, which was so far ahead of its time that upon its 1982 release that critics and audiences alike simply didn't know what to make of it; this is, in fact, the real reason The Thing flopped at the box office. Its plot follows the crew of a scientific research station in Antarctica, including the tough-as-nails helicopter pilot Macready (Kurt Russell), who becomes their de facto leader once all hell breaks loose. After a bizarre skirmish —involving a runaway sled dog —with the panicked members of a nearby Norwegian outpost (during which the American station commander is forced to shoot the Norwegians dead in self-defense), Macready and the station's doctor investigate the foreign station to find nothing but frozen corpses, with one of them hideously deformed.
After kenneling the dog, the Americans soon come to learn that it isn't actually a dog at all — it's an alien parasite capable of perfectly imitating any living being it encounters, humans included —which they would have already known if even one of them spoke Norwegian. What follows, within the tight confines of the research station, is an unbearably tense effort by Macready to find out who is still human — and who has been assimilated — and to destroy the alien presence before it can escape to the outside world.
Aside from being the leanest, meanest narrative in Carpenter's sterling filmography, The Thing is notable for its groundbreaking and horrifying visual effects, courtesy of Rob Bottin, a protégé of the legendary makeup artist Rick Baker. In recent times, the flick has come to be near-universally recognized by critics and horror fans as the masterpiece that it is — and, in very recent times, its claustrophobic setting and paranoid aesthetic, in which any contact with another human could spell doom, has struck a major chord with homebound viewers.
Fans on Reddit think The Thing is perfect for the age of COVID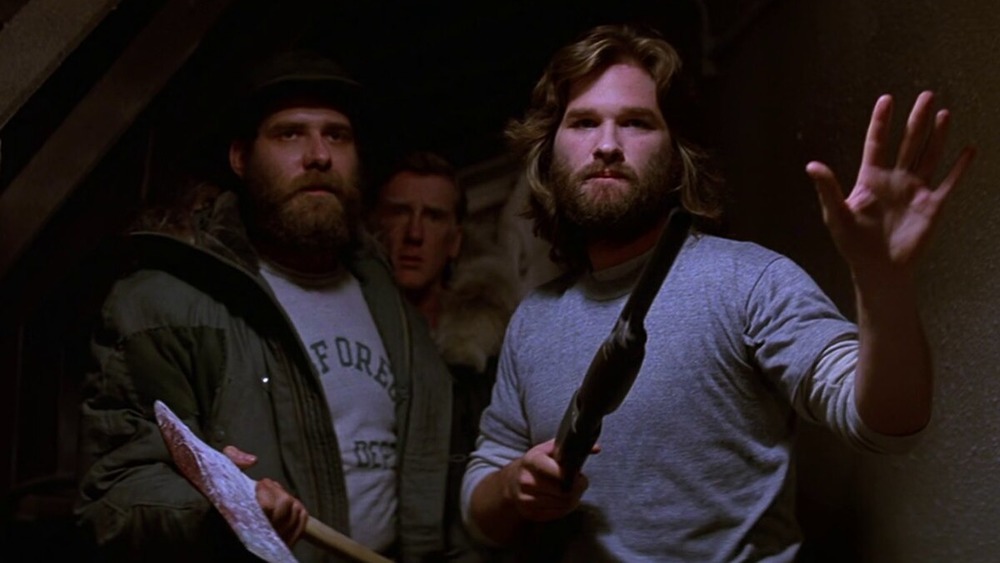 Universal Pictures
Over on the Movies subreddit, user jay_eye_MBOTH_WHY started a lively discussion around Carpenter's film. "[The Thing] perfectly captures the paranoia of the outbreak without being based around pandemic or contagion conditions," they wrote. "Any one of the crew could be the mutating shape shifting, man-eating, alien. It's like how you go out for a grocery run now, and suspect any stranger of carrying the virus. At the end of the day the only person you can trust is yourself. We're all Macready."
User donutpower agreed with the assessment, saying "That's how it feels at the workplace. Seems a good handful of people were sick with what was thought to be the flu with a mix of pneumonia thrown in. Yet they all came back to work after a couple weeks." They noted that they were "a lil more guarded than usual" since anyone could be a potential carrier and no one would know it until it was too late (which, by the way, is terrifying)." ConstableGrey invoked a famous scene from The Thing in which Macready uses an improvised test to try to sniff out the alien intruder: "Imagining a tense scene in the office of everyone locked in the breakroom with coronavirus [test kits], testing one by one, with one guy posted up in the corner with a flamethrower."
At least one user, TVxStrange, was in the enviable position of being alerted to Carpenter's masterwork by the original post. "I've never seen The Thing, nor been spoiled by any of the plot points," they wrote. By far the best comment of the thread came from a user who was obviously a fan, quoting The Thing's iconic final line. "Why don't we just wait here for a little while," wrote user callmemacready. "See what happens."
The Thing is available to rent on all your favorite digital platforms, unless you'd rather not spend the rest of the winter tied to your couch.