Read This Before You See We Can Be Heroes
This content was paid for by Netflix and created by Looper.
With the new year comes a new band of superheroes. And this time, the day-savers are a little bit more petite than what you might be used to seeing on-screen. Premiering on Jan. 1, 2021, Robert Rodriguez's new film We Can Be Heroes will introduce us all to a group of talented kids who have to step up after Earth is invaded by a bunch of robotic squid-like aliens that abduct their parents — who all just happen to be part of the world's premier superhero squad called the Heroics. These precocious tykes will have to put their own natural-born gifts to use to save both their parents and the world at large from these swarming extraterrestrials.
Now that the first trailer for We Can Be Heroes is out, here's what else you need to know about We Can Be Heroes.
It's a sequel to The Adventures of Sharkboy and Lavagirl 3-D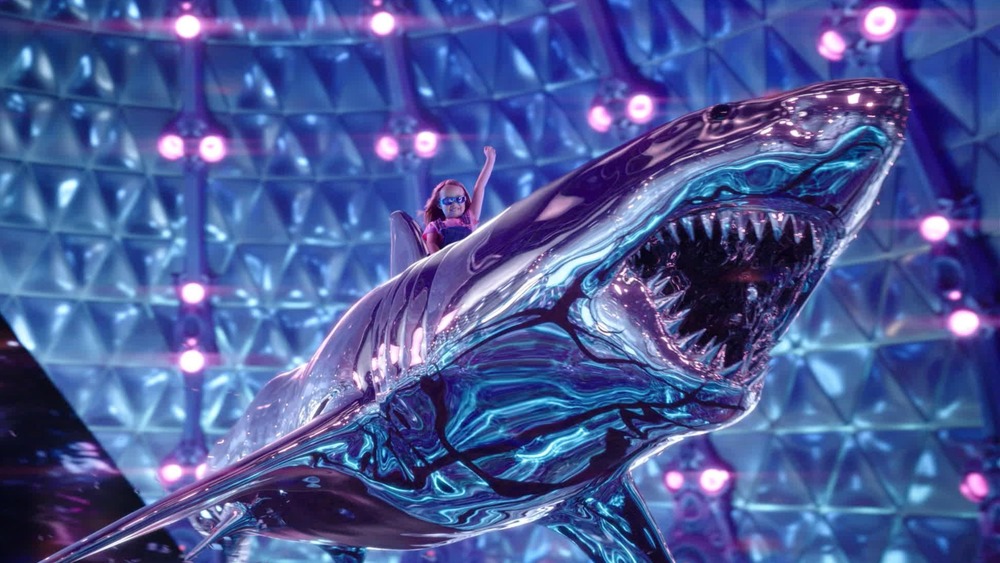 Netflix
While many of the characters in We Can Be Heroes are brand new, the movie is also a sequel to one of writer-director Robert Rodriguez's other family-friendly action-adventure films: 2005's The Adventures of Sharkboy and Lavagirl 3-D. That movie follows a 10-year-old named Max (played by Cayden Boyd) who has a big imagination and writes about an all-new world called Planet Drool, where his new friends Sharkboy (Taylor Lautner) and Lavagirl (Taylor Dooley), have gone to stand guard.
Max's family and classmates don't believe in his tall tales about encountering the two superheroes and learning about their planet. As such, they're all pretty surprised when Sharkboy and Lavagirl show up to his school to recruit Max to join them in saving their world. Max may not have grown gills from being raised by sharks or have the power of fire at his fingertips, but the film shows that even the smallest among us can become mighty in the face of a challenge. That's also the prevailing message of We Can Be Heroes, as the fate of the world rests in the tiny hands of this new group of tots, which includes Sharkboy and Lavagirl's own wave-riding daughter Guppy.
There's a new Sharkboy in town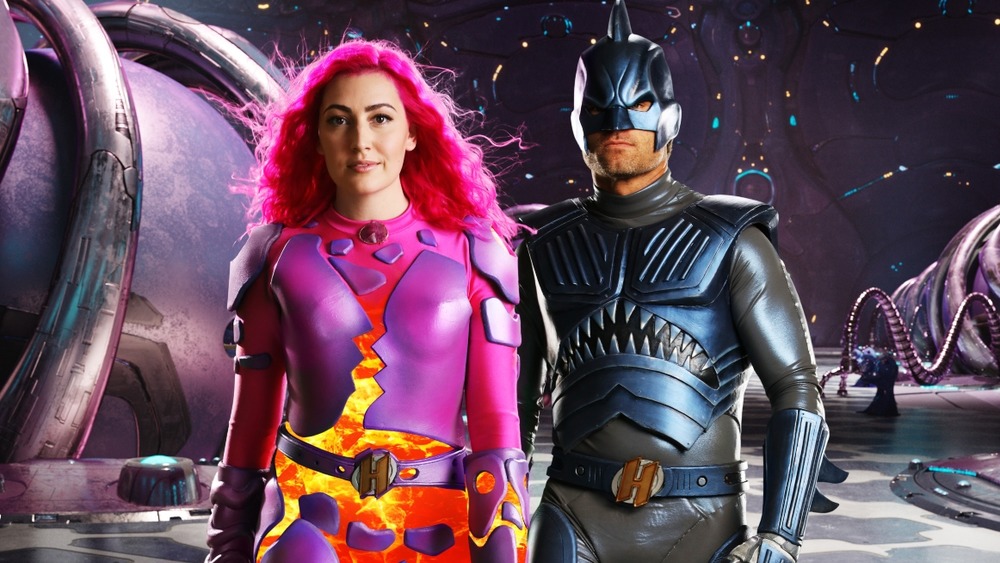 Netflix
Taylor Dooley is once again suiting up in her neon pink hair and fiery costume to reprise her role as Lavagirl in We Can Be Heroes, and there is a new talented stunt performer getting into the gear to portray the now-grown Sharkboy for the film. J.J. Dashnaw is taking over the toothy role that was previously played by Twilight's Taylor Lautner, and he's got a long history of working with Rodriguez, including coordinating stunts for Sharkboy and Lavagirl itself.
Dashnaw previously managed stunt work and second unit direction in addition to appearing in a small role for the director's 2001 family adventure film Spy Kids. He then went on to work behind the scenes on stunts for all of the sequels: Spy Kids 2: Island of Lost Dreams, Spy Kids 3-D: Game Over, and Spy Kids 4-D: All the Time in the World. In addition to that kid-friendly fare, he also worked with Rodriguez on films like Once Upon a Time in Mexico, Planet Terror, Machete Kills, and the Sin City movies.
Superheroic Talent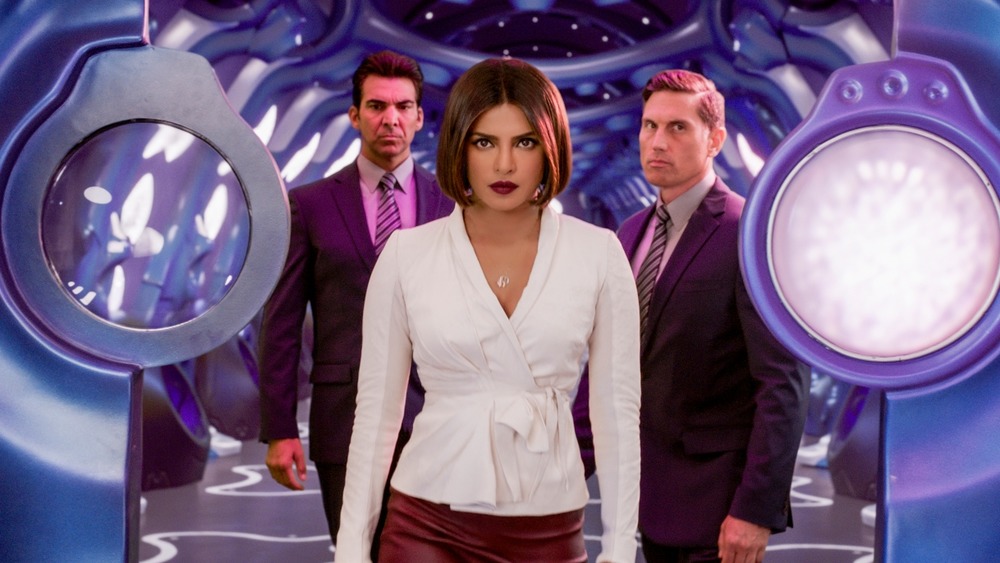 Netflix
Alongside the return of Taylor Dooley as the original Lavagirl, you'll likely recognize the faces of some of the other Heroics who've been nabbed, as well as those grownups who are put in charge of keeping their children safe from the unearthly intruders.
First, there's Pedro Pascal, who plays Marcus Moreno. Fans probably know him for any number of his hit roles. Some of his most memorable small screen parts include his turn as Nathan Landry in The Good Wife, along with his eye-popping performance as Oberyn Martell in Game of Thrones. Fans may also remember him as Agent Juan Badillo in Graceland, as Agent Marcus Pike in The Mentalist, and as Javier Peña in Narcos. He is also known for his film roles as Whiskey in Kingsman: The Golden Circle and as Francisco "Catfish" Morales in Triple Frontier. His next silver screen role is set to be Max Lord in Wonder Woman 1984. Pascal also currently stars as the titular lead in the Star Wars series The Mandalorian.
Christian Slater also stars in the pic as the kidnapped superhero Tech-No. He's another star with a sprawling filmography. Slater won a Golden Globe for his work as the eponymous hacker in TV's Mr. Robot, and fans may also recognize him for some of his standout film roles, including as J.D. in the 1989 dark comedy Heathers, as Clarence Worley in 1993's True Romance, and as reporter Daniel Molloy in the 1994 adaptation Interview with the Vampire, to name a few.
Meanwhile, fans may recognize actress Priyanka Chopra Jonas, who plays Ms. Granada in We Can Be Heroes. She previously starred as Alex Parrish in the TV action series Quantico, and she can also be seen as Pinky Madam in The White Tiger.
Then there's Boyd Holbrook, who stars in the film as Miracle Guy. He's another notable alumni of Narcos, having starred in the series as DEA agent Steve Murphy. Boyd is also known for his role as William "Cap" Hatfield in the TV miniseries Hatfields & McCoys, as Kyle in the silver screen adaptation of Stephenie Meyer's The Host, and as Quinn McKenna in The Predator. He also recently starred as Mike Ferror in the new streaming version of The Fugitive. Other members of the adult cast that might be familiar to fans include American Idol alum Haley Reinhart, Happy Gilmore's Christopher McDonald, Fast & Furious franchise favorite Sung Kang, and Orange Is the New Black's Nick Stevenson.
Kids who take charge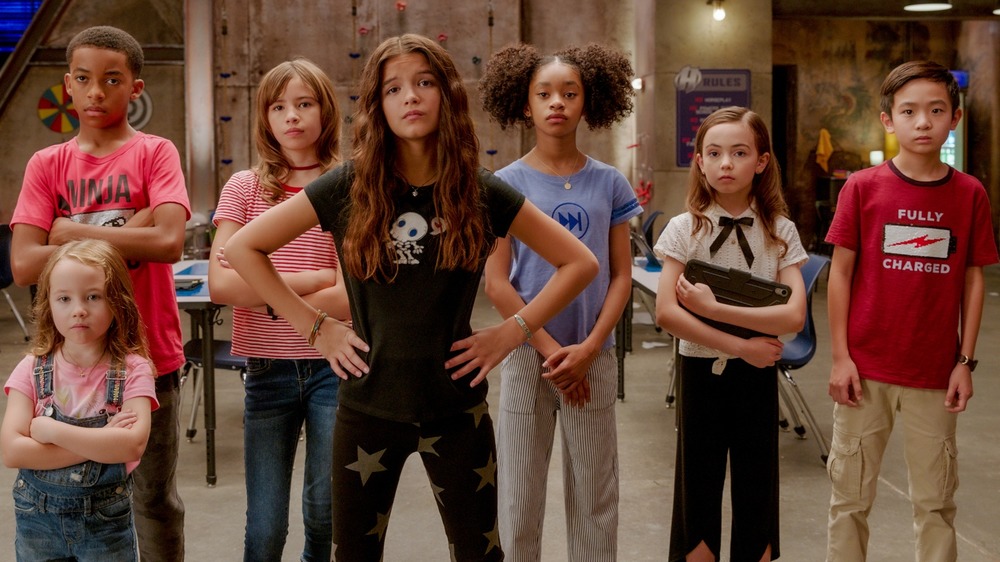 Netflix
The grownups of We Can Be Heroes aren't the only ones coming into the film with some impressive credentials. The young stars of the movie are also already quite accomplished as well.
Vivien Lyra Blair, who plays little Guppy, is perhaps best known for her riveting role as Girl in the apocalyptic drama Bird Box. She also starred as Serenity Jones in the TV miniseries Waco and appeared as Penny in an episode of Station 19. Most recently, she could be seen as young Hazel Klein in the NBC sitcom Indebted.
YaYa Gosselin, meanwhile, stars as the take-charge tyke Missy Moreno. TV fans may recognize her from her role as Tali LaCroix in FBI and its spin-off FBI: Most Wanted. She also appeared as the younger version of Penelope in The Purge TV show and as Graciella Padilla in the last two seasons of 13 Reasons Why.
Akira Akbar also stars in We Can Be Heroes and has already made a name for herself with some memorable screen appearances, including as Amethyst Vasquez, the worried daughter of a brain surgery patient in Grey's Anatomy Season 14 and as little Monica Rambeau in Captain Marvel. You may also remember actress Hala Finley from her work as Emme Burns in TV's Man with a Plan, and she also appears as Audrey in Bobbleheads: The Movie.
Robert Rodriguez to the rescue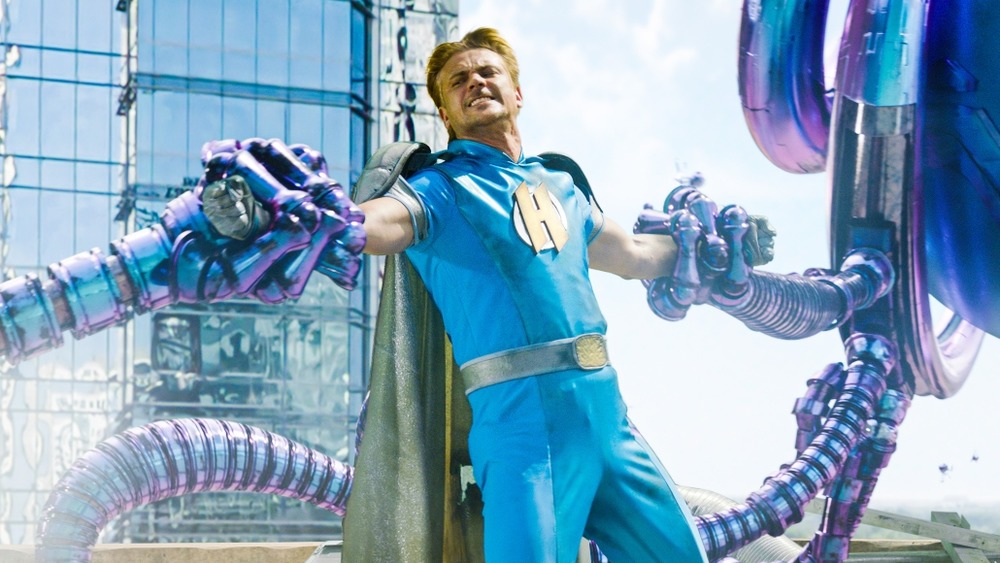 Netflix
Robert Rodriguez is one of Hollywood's most versatile filmmakers, and he has made a name for himself across several genres, including horror and action. But his work in kid-friendly action movies is particularly close to Rodriguez's heart, because he grew up making movies with his nine siblings on a Super 8 camera just for fun.
Rodriguez told Time Magazine that when he was little, he filmed his sisters and brothers who were "little kids who you'd think couldn't even tie their shoes doing action and comedy." To honor his heritage, Rodriguez worked hard to create the Spy Kids series in the image of his own upbringing, with a Latinx family at the center of the action. "Family is the core of your identity," he told Time. "My idea was to make family the center of my life and work around that."
His work on The Adventures of Sharkboy and Lavagirl 3-D is similarly inspired by those nearest and dearest to him. He revealed to Today that the idea for the film was initially inspired by his then-seven-year-old son Racer Max Rodriguez. In fact, Racer helped him conceptualize the story's characters and appears in the film as the young version of Sharkboy, with his two brothers Rebel and Rocket also popping up in the pic.
Though his own children have since grown up, Rodriguez explained at this summer's Comic-Con@Home he was eager to return to this story for We Can Be Heroes because his "most rabid fanbase" has been for his children's movies, and his own kids helped him come up with the idea for the new take. "My kids are at the age when they can make films alongside me. So we came up with the idea of... an Avengers team but they all have kids," he said at the virtual convention, adding that it was a "wild" challenge to get so many pint-sized superheroes into every shot.