Why The Actor Who Plays The Mandalorian Looks So Familiar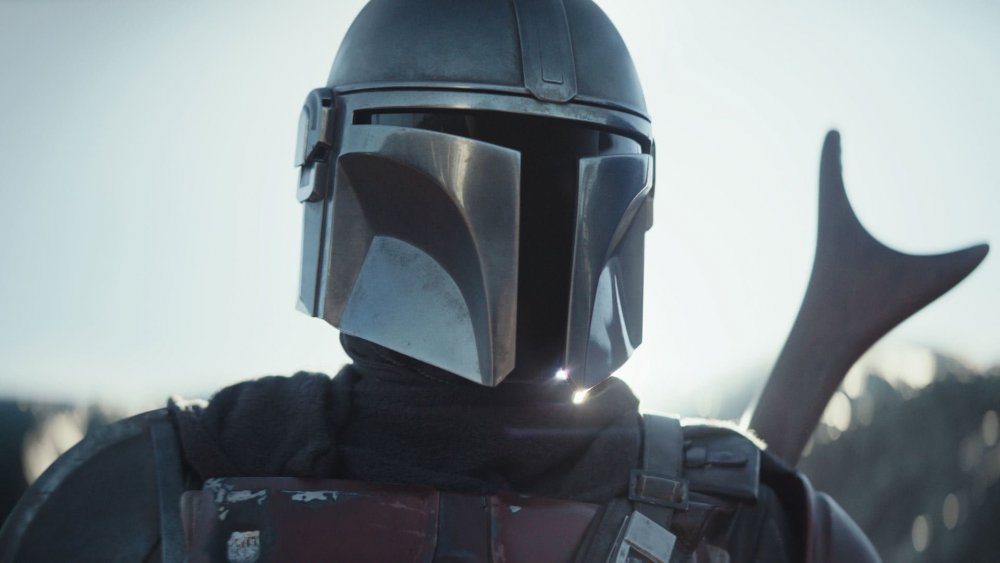 Lucasfilm/Disney
We may receive a commission on purchases made from links.
Swords, lassos, and zappy electric forks — Pedro Pascal has wielded the entire gamut of genre weaponry to entertain us over the past several years. But his most recent — and bound to be most famous — on-screen accoutrement came on the Disney+ series The Mandalorian, on which Pascal plays the titular character. On the season 1 finale of the show, our reluctant hero and newest Star Wars icon took enough of a near-death tumble to necessitate removing his omnipresent helmet and finally let us gaze upon Pascal's bloody, battered visage. 
Pascal has tuned his voice work as the Mandalorian to something very different from his day-to-day speech, so his name and his voice may not be immediately familiar, but you have definitely seen him before — many times. Acting has been Pascal's life-long dream, and he's been in the business for more than two decades. It's only in these waning days of the 2010s, however, that he's risen to prominence and taken the spotlight for himself. The Mandalorian isn't his first leading role but it is by far the biggest, because it's pretty hard to beat Star Wars' cultural visibility and impact. Let's dig into Pedro Pascal's filmography (beyond his other most famous gig) and show you the choicest of his past roles.
Pedro Pascal played Oberyn Martell on Game of Thrones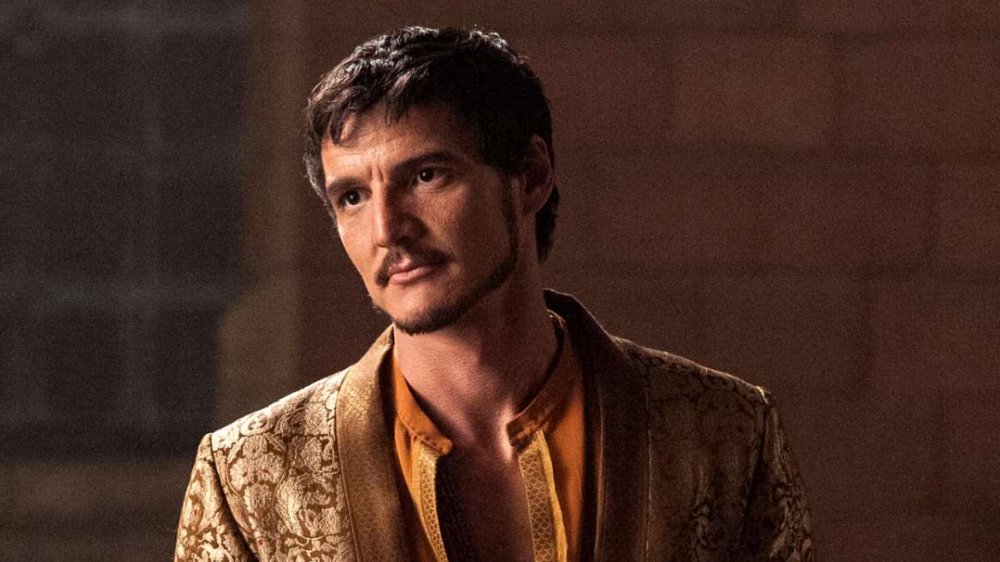 HBO
You might have heard about that plucky little fantasy program Game of Thrones once or twice in the past, but you may not immediately remember that Pedro Pascal got his own turn on the program during its fourth season. He held a recurring role as Prince Oberyn Martell – also known as "The Viper" — a bisexual icon and utterly unbothered duelist-slash-poisoner from the nation of Dorne. 
Despite appearing on only seven episodes of Game of Thrones, Pascal's footprint is still legible on the series even after its end — both for his character's snappy attitude and his incredibly gruesome death at the hands of The Mountain (Hafþór Júlíus Björnsson) during a trial by combat, in which Prince Oberyn was serving as the champion of Tyrion Lannister (Peter Dinklage), on trial for the assassination of his nephew Joffrey Baratheon (Jack Gleeson). Playing Oberyn earned Pascal official status as a sex symbol — so much so, it kicked off an entire subreddit of straight men thirsting over him — and before becoming the Mandalorian, it was his most high-profile role. He was recognized as a standout performer in what is often regarded as one of the best overall seasons of Game of Thrones, and his career only began to soar from there.
You'll recognize Pedro Pascal as Javier Peña from Narcos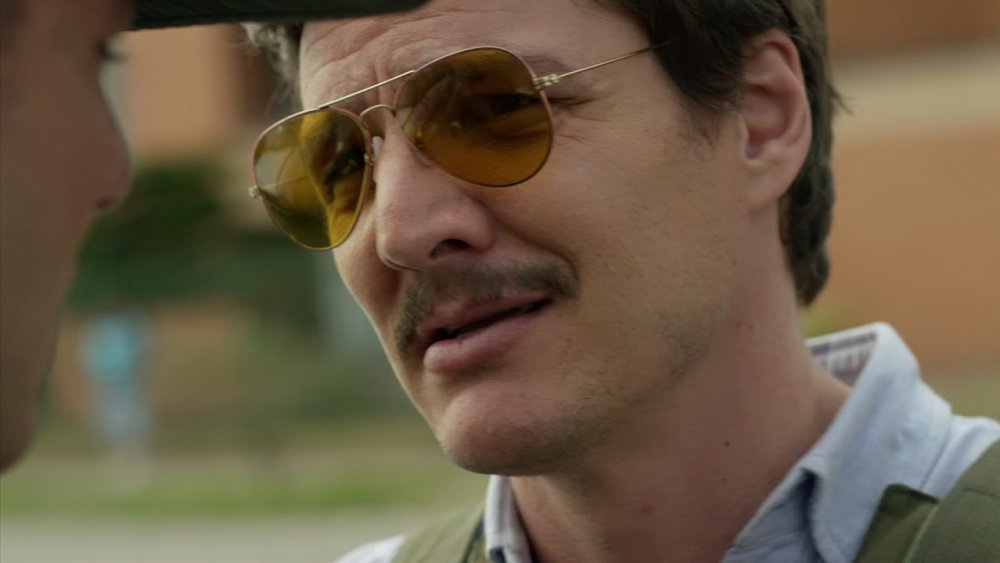 Netflix
In the years after departing Game of Thrones, Pascal landed a starring role as DEA agent Javier Peña for three seasons on the Netflix historical crime drama Narcos. The series charts the history of the international investigation into and eventual capture of infamous cartel lord Pablo Escobar (played on the show by Wagner Moura) and his Colombian cocaine trafficking during the 1980s. Pascal consulted with the real-life agent Peña to properly depict the man's ideological struggle with the War on Drugs' futility and the culture of extreme violence and corruption perpetuated by both the illegal trade itself and the law enforcement effort made to curb it. 
Narcos might be a more niche selection for the general Netflix-original-consuming audience, but the show earned Pascal a large amount of positive industry press. The series ended in 2017 after its third season, and chose to spin off into a follow-up series about the development of the major Mexican drug cartels entitled Narcos: Mexico. That show is still running, but without Pedro Pascal on board.
Deeper cuts from Pedro Pascal's filmography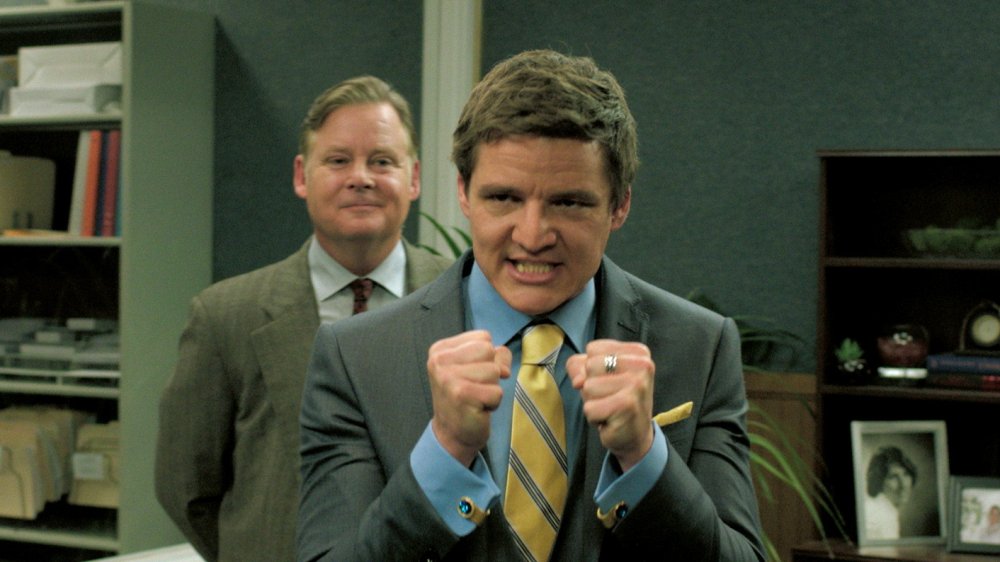 Scream Factory
Like every other starving twenty-something actor living in New York City in the 1990s and 2000s, Pedro Pascal landed a few one-episode roles on the various versions of the Law and Order franchise, from which you may recognize him if you have incredible memory. Beyond that, Pascal had a brief recurring role on Graceland, USA Network's law enforcement drama about undercover federal agents living out of a confiscated house in California. He appeared only on the first season as Juan Badillo, a character who is — spoiler alert – murdered by the main character Paul Briggs (Daniel Sunjata) who's under internal FBI investigation. You may also remember Pascal from the sixth season of The Mentalist, on which he played FBI agent Marcus Pike from the art theft department and the brief secondary love interest of Teresa Lisbon (Robin Tunney).
Turning to lesser-known movies, Pascal appeared in the 2018 film Prospect – which, curiously enough considering his shiny new job as a Mandalorian, is a sci-fi western. Pascal portrayed Ezra, a prospector for gems on an alien moon who allies with the teenaged main character Cee (Sophie Thatcher) during a test of survival in an environment that's both ecologically and socially toxic. The movie didn't receive wide release despite garnering positive chatter at festivals and being very well-reviewed on Rotten Tomatoes, so the only way to get ahold of it is on Amazon Prime.
Prior to that role, Pascal made a turn in the 2015 comedy horror film Bloodsucking Bastards. Pascal stars as the evil sales manager Max — who is also secretly living as a vampire, to the horrified discovery of his subordinate employees Evan (Fran Kranz) and Tim (Joey Kern). This, too, is a movie that isn't exactly going to enter into the annals of cinematic history, but Office Space plus vampires just sounds like wholesome, B-movie horror schlock.
The last few years have seen Pascal land roles in larger-profile movies, including The Equalizer 2 (as DIA officer Dave York), If Beale Street Could Talk (as Pietro Alvarez), and Triple Frontier (as former pilot Francisco "Catfish" Morales).
Comic book movies past and future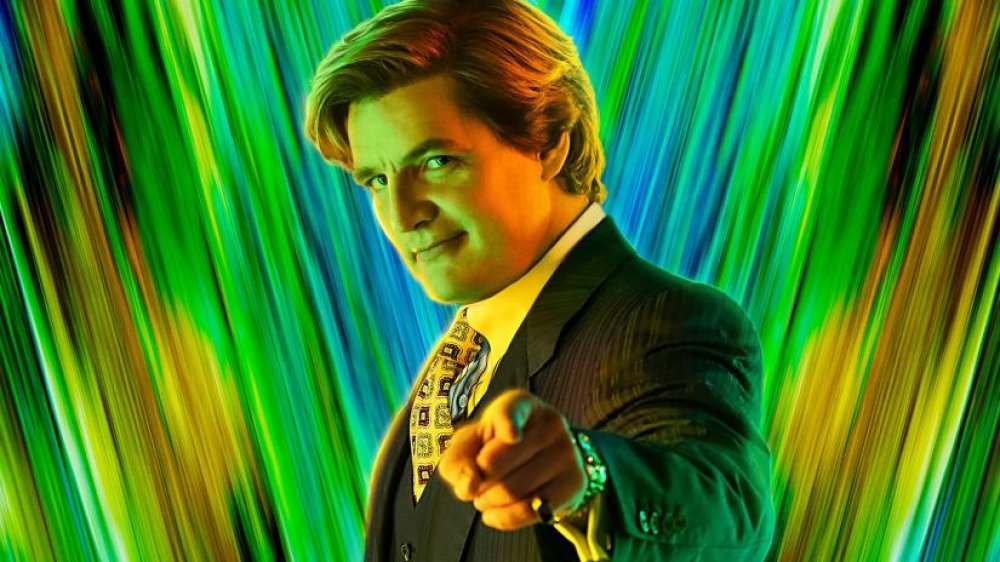 Warner Bros.
Being a part of the Star Wars universe doesn't quite count as existing within the superhero genre, but no worry — like most relatively high-profile actors today, Pedro Pascal's got a couple of cape films under his belt. 
In 2017, Pascal played the American cowboy spy operative Agent Whiskey in Kingsman: The Golden Circle, the sequel to the 2014 original that's based on Dave Gibbons and Mark Millar's comic book series Kingsman. Reviews for The Golden Circle were middling at best, but just like its first iteration Kingsman: The Secret Service, the flick is chock-full of gratuitous slow-mo and cartoonish violence (which we mean in the best way) — but this time, Pedro Pascal is there in a Stetson and uses a lasso.
Pascal's next comic book movie role is yet to come as of December 2019, but we're wringing our hands with the most profound anticipation possible. Pascal will be joining the DC cinematic universe in June 2020 as one of the antagonists of Wonder Woman 1984, Maxwell Lord. He's a peak-80s greed-is-good kind of villain, and apparently has magic crystals that grant wishes. We still aren't sure what Maxwell Lord's end goal is as a supervillain, but we can't overstate how excited we are to see Pascal chew dialogue in a very fake tan. 
If the 2010s have been this good to Pedro Pascal, we can only anticipate that these nouveau roaring '20s will make his star even brighter.