The Transformation Of Taylor Dooley From Sharkboy And Lavagirl To Now
If you were around in the early 2000s, then you likely remember the hit family film "The Adventures of Sharkboy and Lavagirl 3-D." The 2005 film is a fun and silly adventure centered around a boy named Max (Cayden Boyd). He often has dreams of two superhero kids named Sharkboy (Taylor Lautner) and Lavagirl (Taylor Dooley) as well as their home planet. One day, when a tornado strikes down, Max's dreams become reality as Sharkboy and Lavagirl whisk him away to help save their planet.
"The Adventures of Sharkboy and Lavagirl 3-D" is a children's classic, at this point, so fans might be wondering what happened to the film's stars. Boyd has a very long list of IMDb credits and seems to be doing well for himself. Most know what Lautner has been up to, with him starring in the "Twilight" saga as Jacob Black and many other projects such as "Scream Queens." However, with Boyd staying in the limelight and Lautner walking red carpets, viewers might be more curious to know what Dooley is up to. 
Here's Dooley's transformation from Lavagirl to now.
She got her start in The Adventures of Sharkboy and Lavagirl 3-D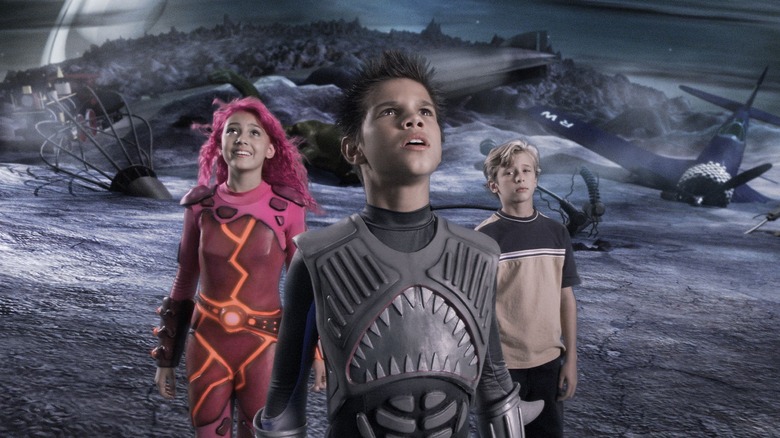 Miramax
Dooley got her start playing the iconic role of Lavagirl in "The Adventures of Sharkboy and Lavagirl 3-D." The film followed the story of Max who created the characters of Sharkboy and Lavagirl as well as their home planet, Planet Drool, through his dreams. However, one day his dreams become reality after a tornado touches down along with Sharkboy and Lavagirl: They whisk Max off to Planet Drool, which is in danger and in need of saving from Mr. Electric (George Lopez). Eventually, with the help of the Ice Princess (Sasha Pieterse), the three are able to save Planet Drool and Max returns to Earth. It is at first implied that it was all a dream, however a later moment insinuates that everything was real.
This film was a great start for Dooley, and while it was a children's movie, her character actually has a lot of depth: Throughout the movie, Lavagirl struggles with accepting herself and finding her purpose. By the film's end, she finds that purpose and even begins a relationship with Sharkboy. This role was a fun one that put Dooley on the map, but it was also able to show her potential as a young actress.
Dooley has played many other roles, in the years since
After her time as Lavagirl, Dooley went on to play various other roles. Looking at her IMDb page, you can see that she was fairly active after "The Adventures of Sharkboy and Lavagirl 3-D." In 2006, she starred in a short titled "Apology" before moving onto another film titled "Whitepaddy." This role was a bit more serious, befitting the heavier subject matter, as the film follows the story of a white family living in a predominantly Black neighborhood. After this, in 2008, Dooley made a brief appearance on "House" in the episode "Joy to the World." She plays a teenager named Rachelle who collapses on stage. 
In 2017, she starred in a much darker project than her previous work, playing Eden in "Hell Mountain." This film follows the story of a reporter investigating the local legend of Hell Mountain at an abandoned house with a long history of missing children and possible cannibalism reports.
Dooley took an acting break after becoming a mother
The very first post on Dooley's Instagram page is a photo of herself and her son Jack. It is unclear when the child was born, but nonetheless Dooley became a mother. This would explain the small gap in her IMDb page starting in 2017, as children can be a lot of work (to say the least). However, Jack is not the only kid that has kept Dooley busy: In 2019, she revealed another pregnancy and later gave birth to a baby girl named Adaline. 
Dooley started a blog where she talks about parenting and pregnancy titled Mamahood. Although the blog is pink and aesthetically pleasing, it's not all sunshine and rainbows, as Dooley is not afraid to get real with heavier subject matter like a blog post on postpartum. This seems like it has been a very exciting chapter, and Dooley's blog also acted as a step into the world of social media, which would become a more prevalent aspect of her career.
Dooley began to develop a social media presence
Starting in 2017, Dooley started to have a more active presence online. She started her Instagram account, which slowly brought forth other opportunities, and she has shared stories about wellness, where she shares tips and information to her followers about how to keep healthy. Similarly, she has a story titled "Eat Well" where she shares tips and recommendations of healthy foods and preparing them.
Other than general social media activity and wellness, Dooley has a bit of presence in the Christian community, as well. She was interviewed on the Christian podcast style show "His Story" and has since been a returning guest co-host. She got the opportunity to sit down with other child stars Carlos and Alexa PenaVega on the show to talk about religion in their lives. Between appearing on this religion-centered talk show, running a blog, and keeping up with followers, it seems that Dooley has carved out a nice little corner of the internet for herself.
The return of Lavagirl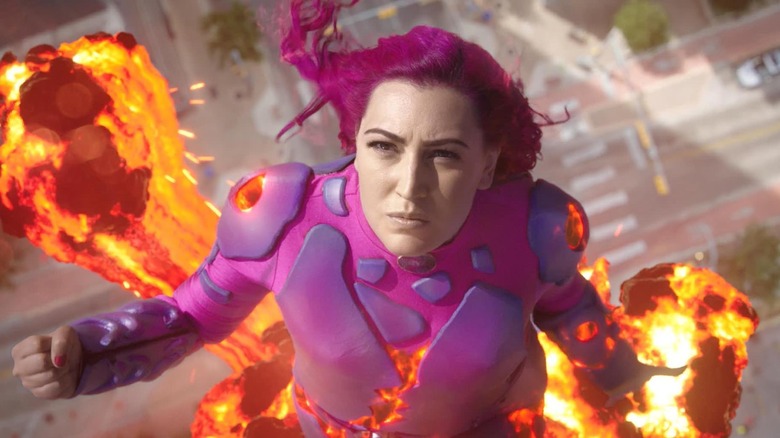 Netflix
In 2020, Dooley got the opportunity to reprise her role as Lavagirl in the Netflix film "We Can Be Heroes." 
The film's story follows a group of superhero kids who must save the world after their parents have mysteriously disappeared. One of the superhero kids happens to be Lavagirl's daughter, which meant Dooley got to return to the role that everyone still remembers her for — and she even got to have some on-screen superhero action in the film's final act. "We Can Be Heroes" proved to be very successful, with Forbes reporting it as Netflix's biggest film release to date (at the time it was released). The film was able to bump "The Grinch" for the longest consecutive days on the Netflix top 10 list, which was quite an achievement (and a testament to the power of nostalgia, for sure).
So, after Dooley's long journey as an actress and mother, she was able to go back to the role that started it all. In fact, Dooley may not be done with Lavagirl just yet, as her Linktree features a Change.org petition which is campaigning for Lavagirl to get her own movie. So, who knows? Maybe in the future, we will be seeing Dooley as Lavagirl once more.