The Internet Is Freaking Out Over Sharkboy And Lavagirl's Return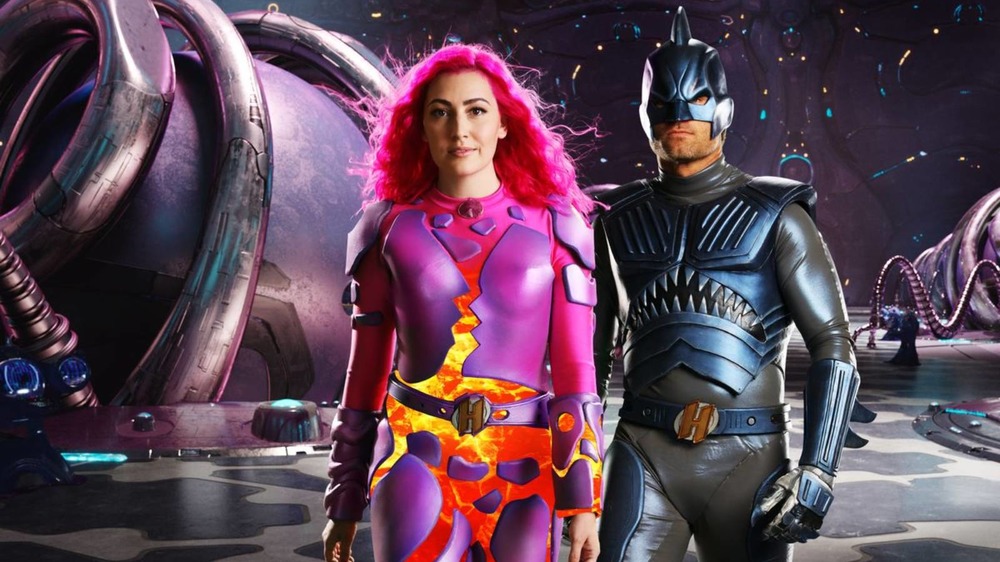 Netflix
The Adventures of Sharkboy and Lavagirl in 3-D was essential viewing for many kids in 2005. The kid-friendly adventure film directed by Robert Rodriguez (Alita: Battle Angel, Spy Kids) follows the titular adolescent superheroes as they come to life from the imagination of a 10-year-old, bringing him to their planet to protect it from aliens. Children who watched the movie in theaters have likely been wondering what the heroes have been up to for the last 15 years. 
Now, they're about to get their answer, thanks to Rodriguez's upcoming film We Can Be Heroes.
The soon-to-be-released Netflix film primarily focuses on a slightly different group of superheroes. The likes of Marcus Moreno (Pedro Pascal) and Tech-No (Christian Slater) make up a superhero collective known as the Heroics. One day, the heroes are captured, and it's up to their super-powered children to step up and save the day. 
In the midst of this, Sharkboy and Lavagirl return — now as adult heroes, who are married and have a daughter of their own. Audiences with a penchant for thrillers may actually recognize Sharkboy and Lavagirl's daughter, who's known as Guppy; the actress who plays her is Vivien Lyra Blair, who portrayed Girl in the apocalyptic Netflix hit Bird Box. 
She'll be joined by the original Sharkgirl star Taylor Dooley, who's returning as the pink-haired heroine. To the disappointment of many, Taylor Lautner will not be reprising his role for We Can Be Heroes, but based on photos released by Netflix on Twitter, Sharkboy will still be there, just played by J.J. Dashnaw this time around. And now, Sharkboy has the power to transform into a giant glass shark. (Talk about a glow-up!) No word yet on whether Sharkboy goes by Sharkman these days, but regardless, fans are hyped to see the return of the two colorful characters. 
Fans are excited to revisit Sharkboy and Lavagirl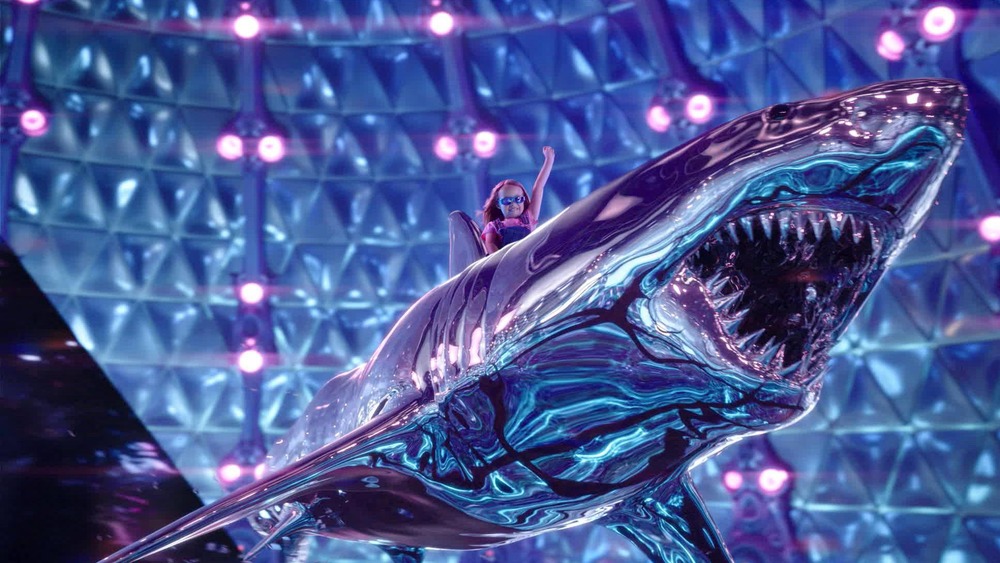 Netflix
News of We Can Be Heroes coming to Netflix has been out for a while now, as the project was first announced in August 2019. Details were kept under wraps, but in a mid-November 2020 interview with Entertainment Weekly, Rodriguez teased that We Can Be Heroes could be considered a spiritual sequel of sorts to The Adventures of Sharkboy and Lavagirl in 3-D. 
Just a few days later, Netflix confirmed that We Can Be Heroes will indeed involve the two vibrant heroes from many people's childhoods. While Sharkboy and Lavagirl won't be front and center for the film, they'll be around and have plenty of opportunities to show off their respective powers. Hopefully their roles are more than just cameos, because fans are ecstatic to relive their youth. 
Twitter user @antoinedaboi wrote, "HOLY S*** 'WE CAN BE HEROES' WILL BE OUT ON NEW YEARS... UGH CHILDHOOD IS COMING BACK." Another fan tweeted, "SHARKBOY AND LAVAGIRL IS BACK HOLY S*** MY CHILDHOOD DREAMS ARE COMING TRUE."
Netflix has a ton of content coming out in the next couple of months, including a slew of Christmas movies, but it's still understandable if the only thing you can focus on now is when you'll be able to watch a bunch of precocious kids fight bad guys. For some, We Can Be Heroes takes precedence over Oscar contenders, as evidenced by @TheDaddyKuma saying, "I can't see how anyone can care about Mank when We Can Be Heroes is imminent, I just simply don't get it." User @JabsSkyWalker agreed with that take, tweeting, "The Sharkboy and Lavagirl sequel will be an Oscar nominated masterpiece."
One Twitter user had a more tempered reaction to the news, though they did admit that they're "super excited" to watch We Can Be Heroes when it hits Netflix on January 1. They wrote, "I absolutely adored Sharkboy and Lavagirl. [...] I'm not expecting a cinematic masterpiece or anything, but who knows. Maybe I'll be pleasantly surprised."
Though Sharkboy and Lavagirl's presence is enough to get anyone excited, it's still unclear what the extent of their roles will be. However, Twitter user @Edu_Alvarez1188 has but one simple request, "We better get the Sharkboy Dream song [remastered]." 
Going into 2021, that's probably all that anyone really wants, at this point. And many are hoping that We Can Be Heroes will be the saving grace of 2021. Twitterer @xenoworth wrote, "if 2021 isn't good then at least we'll always have the sharkboy and lavagirl sequel to fall back on," while @VelocityPD_ wisely tweeted, "if 2021 is starting with a sequel to Sharkboy and Lavagirl then we might expect a good year."
You'll be able to see Sharkboy, Lavagirl, and a bunch of new characters — like Priyanka Chopra Jonas' Ms. Granada — suit up for action when We Can Be Heroes drops on Netflix on January 1, 2021.