This Is Tom Hanks' Most Underrated Movie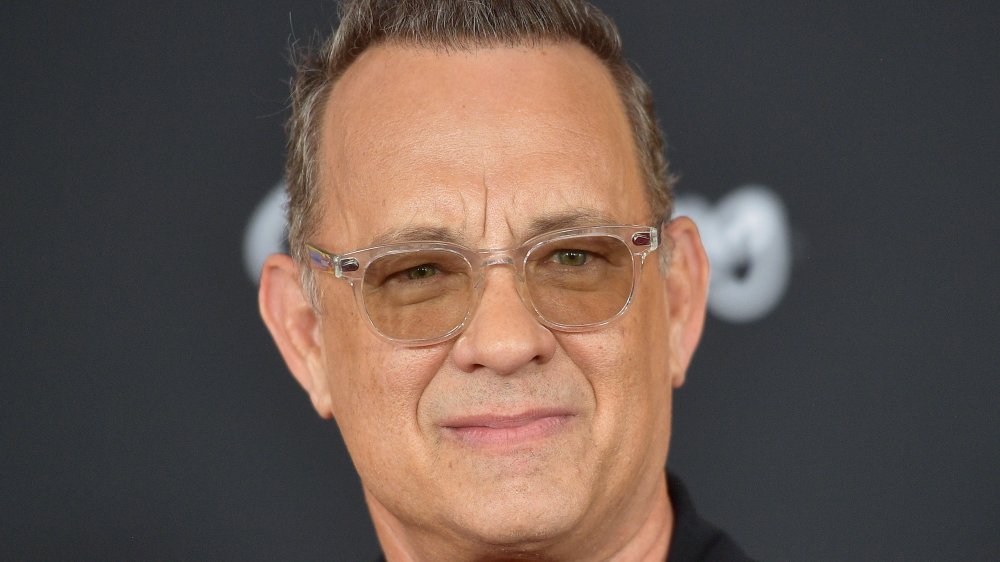 Matt Winkelmeyer/Getty Images
Tom Hanks is a Hollywood legend, but when he first arrived on the scene, he didn't exactly look like a legend in waiting. Coming to Tinseltown to make a name for himself in the late '70s, Hanks first took a bit part in the little-remembered 1980 slasher flick He Knows You're Alone. For his second film gig, he landed a part in a project that could politely be described as "dubious": The 1982 TV movie Mazes and Monsters, a shameless cash-in on the panic surrounding the (not at all) nefarious, evil role-playing game Dungeons & Dragons. Hey, at least it was a lead role.
Hanks' profile was raised significantly following a two-season run on the sitcom Bosom Buddies, which ran from 1980 to 1982. After that, the parts just kept getting bigger, even if he was initially pigeonholed as a comedic actor. Lead roles in flicks like Splash and Bachelor Party, both released in 1984, helped to make Hanks a major star, but it was director Penny Marshall's Big, released in 1988, that made Hanks a household name. That film's success gave the actor license to do pretty much anything he wanted, and what he seemed to want to do was to make sure that he'd never be pigeonholed again.
While Hanks would continue to act in comedies like 1990's Joe vs. the Volcano, 1992's A League of Their Own, and 1996's That Thing You Do! (which he also wrote and directed), it's his dramatic roles that have rightly earned him his reputation as one of the greatest actors of his generation. Hanks has been nominated for six Oscars, winning two for 1993's Philadelphia and 1994's Forrest Gump — but for what might have been his most impressive dramatic performance, he didn't even score a nomination. That performance: Director Sam Mendes' 2002 gangster drama Road to Perdition.

Road to Perdition is a unique entry in Tom Hanks' filmography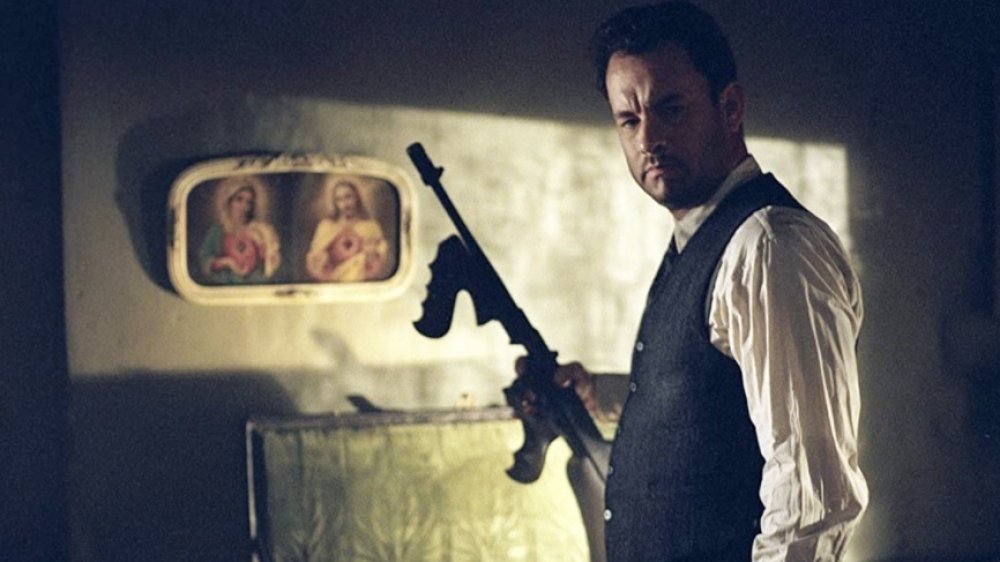 DreamWorks
Based on Max Allan Collins' graphic novel of the same name, Road to Perdition stars Hanks as Michael Sullivan, a mob enforcer in the employ of Illinois crime boss John Rooney (the legendary Paul Newman, in his final live-action performance) in 1931. Rooney, having raised the orphaned Sullivan since he was a small boy, loves him like a son — more, in fact, than his own son Connor (Daniel Craig), who harbors a bitter jealously toward Sullivan. One night, the pair are sent to attempt to smooth over relations with a criminal partner named McGovern (Ciarán Hinds), but Connor blows up the situation, killing McGovern and forcing Sullivan to dispatch his men. Unfortunately, there's a witness to the event: Sullivan's 12-year old son Michael Jr. (Tyler Hoechlin), who had been waiting in the car. A furious Rooney forces Connor to apologize, and Sullivan assures his boss that his son will never talk.
Later, Sullivan is sent to collect a debt from the owner of a local speakeasy, but it's a setup; Connor has given Sullivan a note to pass along to the target, instructing him to kill Sullivan in order to relieve his debts. Sullivan escapes and races home, only to find that Connor has gotten there first, killing his wife Annie (Jennifer Jason Leigh) and his younger son, Peter (Liam Aiken). Connor goes into hiding, and Sullivan flees with Michael, Jr. to Chicago, where he hopes to get an audience with a local crime boss of some repute, Al Capone. Instead, Capone's right-hand man Frank Nitti (Stanley Tucci), with Rooney's reluctant permission, sets assassin Harlen Maguire (Jude Law) on Sullivan's trail. Now, Sullivan's only objective is to keep his son alive, which he hopes to do by delivering the boy into the safe custody of his aunt in a small Michigan town called Perdition.
Road to Perdition is a filmmaking master class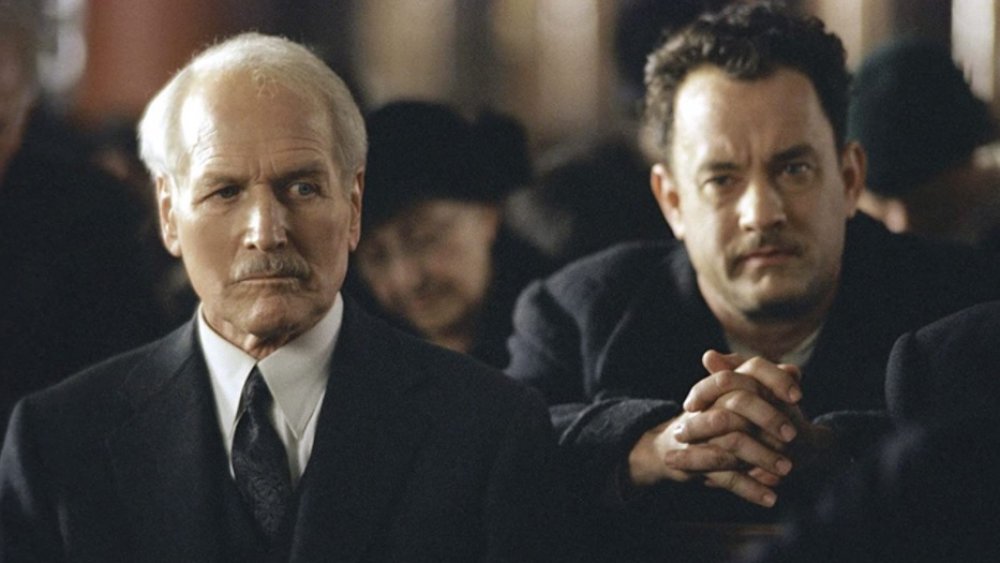 DreamWorks
Road to Perdition was only Mendes' second feature, but he was personally tapped to direct the flick by DreamWorks' Steven Spielberg for a reason: His first film, 1999's American Beauty, won five Academy Awards, including Best Picture and Best Director. Mendes was drawn to the film's thematic complexity, describing it in a 2002 interview with the Los Angeles Times as a story about, "The secret world your parents inhabit that you don't have access to." Mendes went on to explain, "[Michael, Jr.] gets access before he's ready, so then it's about how children have to deal with violence, and whether the seeing and watching of violence leads you to become violent yourself. Ultimately, it's about a father saving his son from his own fate" (via IGN).
Mendes sought to tell his story largely through imagery; the dialogue in Road to Perdition is sparse, as the audience is trusted to ascertain certain relationships and motivations without excessive exposition. As such, Hanks was required to bring Sullivan to life largely through his physicality alone, something the actor has not often been called upon to do.
Speaking with USA Today in 2002, the film's producer Richard Zanuck revealed that the filmmakers deliberately chose to go with a counter-intuitive casting choice. "It would be easy to put Russell Crowe in it. He would be great. But there wouldn't be any surprise," Zanuck explained. "With Tom, you have the surprise and 'Can he pull it off?' and 'Will we accept him playing this kind of character?' And I think he does and we do. It shows his range to be limitless."

Road to Perdition won a Best Cinematography Oscar for veteran lenser Conrad Hall, and it was nominated for five more awards, including a well-deserved Best Supporting Actor nod for Newman. But it's an oft-overlooked selection in Hanks' distinguished body of work, featuring one of his very best, most nuanced performances.