Playing Forrest Gump Made Tom Hanks A Very Rich Man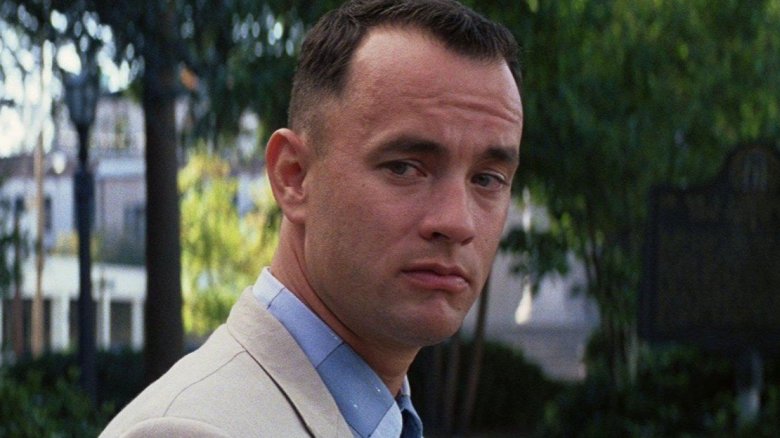 Paramount Pictures
If life really is like a box of chocolates, then Tom Hanks must be Willy Wonka. 
America's Sweetheart Tom Hanks, star of the upcoming drama A Beautiful Day in the Neighborhood in which he plays another American icon in Fred Rogers, is no stranger to big paydays. The actor has earned multi-million dollar paychecks for the majority of his film appearances since the late 1980s, and seeing as the star is one of Hollywood's biggest names and steadiest-working actors, that's sure to continue for years to come. 
But unless Hanks starts headlining a superhero franchise in the near future — hey, he's close and cuddly with Marvel Studios owner Disney, so never count it out, people — it's highly unlikely he'll ever be able to top the reported $70 million he earned starring in 1994's Academy Award-winning super-hit Forrest Gump. 
That $70 million — one of the largest salaries ever paid to an actor in Hollywood — is in mid-90s money, folks. Adjusting for inflation, that already outrageous amount of cash leaps up to a whopping $120 million. 
Forrest Gump studio Paramount Pictures never intended to pay an actor such a crazy amount of money in the first place, as Hanks' original salary for the film was much, much smaller. Considering Forrest Gump follows a "slow-witted" man as he unwittingly influences several key moments of 20th century American history, Paramount didn't really believe in the film's prospects while it was in production, and was looking to cut costs wherever it could. The movie had an original production budget of $50 million and, according to The Orlando Sentinel, Paramount asked the film's producers to somehow cut $10 million from the budget before the green light was given.
Both Hanks and the film's director, Robert Zemeckis, had high-priced contracts that called for the star to be paid $7 million and the director to earn $5 million. The two salaries were by far the priciest part of the budget, and after Paramount came hunting for cutbacks, Hanks and Zemeckis agreed to "defer" a portion of their contracted salaries in return for a formula-based share of the box office revenue. The agreement to restructure the contracts this way came back to bite Paramount hard, as Forrest Gump went on to gross over $678 million worldwide – providing Hanks and Zemeckis with way more money than was originally promised. While the deal is an absolute no-brainer in hindsight, if Forrest Gump had not been a success, the pair could have ended up with a mere fraction of their original pay.
Of course, Hanks and Zemeckis banked big bucks, gaining satisfaction both from the fact that the film they believed in was such a critical and commercial smash and that they took a significant amount of the profit from the studio that didn't really have confidence in the project in the first place. It's also clear that Hanks has learned from this financial windfall, structuring similar deals with many of his later acting appearances — including Saving Private Ryan, which ended up netting the actor around $40 million. Hanks has also stepped behind the camera with well over 50 producing credits to his name, which has helped line his pockets up to an estimated net worth of around $400 million. It's crazy to think where such a large chunk of that dollar amount came from, but playing Forrest really did have Hanks running all the way to the bank.