The New Trailer For Ryan Reynolds' Free Guy Will Have You Pumped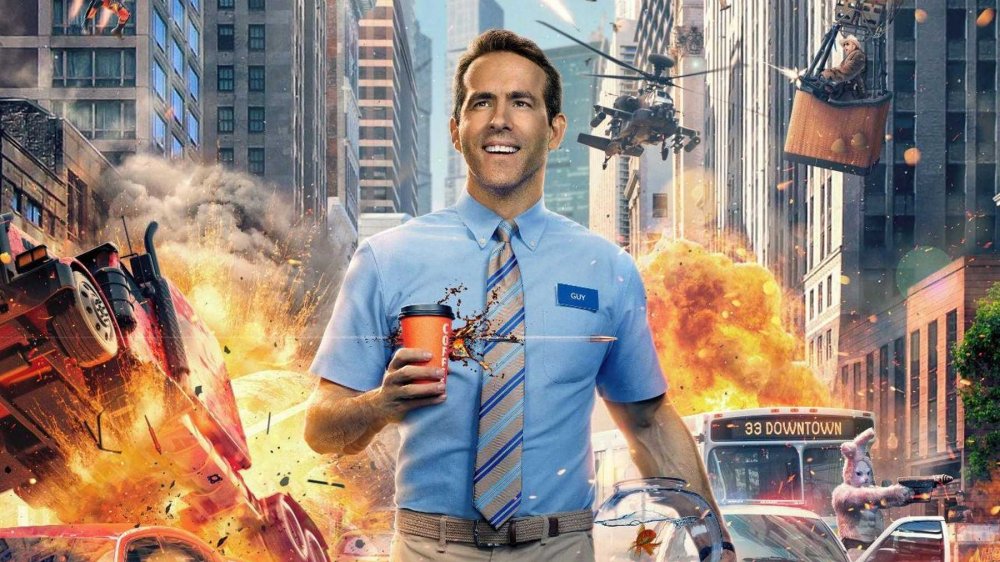 20th Century Studios
With precious little time left in the calendar year 2020 and a whole lot of uncertainty over what the state of theaters (and the world, really) will be in the remaining few months, there's one movie headed into theaters (for now, anyway) which feels like everything that's been missing.
Is this movie a serious drama? No, it is not. Is it a harrowing look into the darkest nature of humankind? No, we already have that, and it's called "every single day of 2020." The movie is an action-packed comedy starring Canada's favorite son Ryan Reynolds, and it's called Free Guy.
A real quick primer: Free Guy centers on the exploits of a non-playable video game character who gains sentience and decides to become the hero of his world — it's The Truman Show meets The LEGO Movie with a little Fortnite thrown in for flavor.
Today, Free Man got its first full trailer, and it is replete with murder trains, giant guns, and a lot of Jeopardy — literally, because Alex Trebek is in this trailer. The trailer is zippy, it's cute, there are goldfish and an apocalypse, and it will get your blood pumping in two-and-a-half minutes or fewer.
The real reason Free Guy will get you pumped
There are a lot of obvious things to get hyped about in this Free Guy trailer. There's a killer cast that includes Taiki Waititi (Thor: Ragnarok), Jodie Comer (Killing Eve), and Lil Rel Howery (Get Out), just to name a few. There are a ton of explosions and jokes about the ridiculousness of said explosions. Watching this gaming universe implode on itself is a cross between TRON and Doctor Strange — it's a feast for the eyes, for sure!
The thing we keep going back to that makes us feel pumped about Free Guy's trailer, however, is its message. Reynolds is playing an NPC and the one thing to know about NPCs is that everything they do is pre-scripted and, therefore, they have no real control over their world. Guy is a person who not only breaks free of his coded day-to-day formula, but who also finds a partner, and they set out together to save this world from total collapse.
Ask yourself: Don't you wake up every day hoping against hope that you could do any of that? If Free Guy isn't the distillation of what every person desperately wants in 2020, we don't know what is. If the movie feels even half as good as that trailer does, who knows? It could save the world.
Okay, that's overstating, but it would probably cheer all of us up.
Free Guy arrives in theaters on December 11, 2020.