Why Tess From Spontaneous Looks So Familiar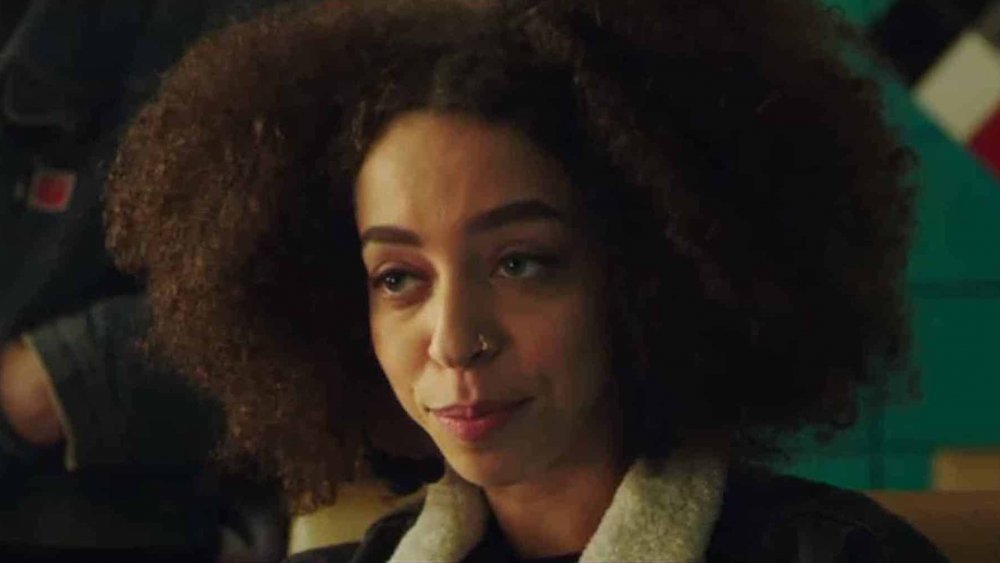 Paramount Pictures
As we continue to be ensnared in what some are calling the worst year ever, it's comforting to know movies are still finding their way to the world — even amid the struggles going on with theaters. The latest feature to get the "premiere at home" treatment is an explosive little teen comedy called Spontaneous. Written and directed by first time feature helmer Brian Duffield (who penned recent genre hits The Babysitter and Underwater), Spontaneous tells the tale of Dylan (Charlie Plummer) and Mara (Katherine Langford), a charming pair of high schoolers on the verge of romance. Their lives become tragically complicated, however, when their classmates begin to spontaneously explode, and the pair come to terms with the fact that every moment might be their last. 
Yes, the term "explosive" is used in the literal sense, here. Duffield has crafted a razor sharp, wickedly funny, and swooningly romantic little coming of age flick, which also happens to feature a handful of very familiar faces from the teen drama set, most notably the aforementioned couple. Another face you might recognize, though, is Mara's bestie, Tess, because she's played by a rising star who already has a few impressive credits spotting her resume. The actor's name is Hayley Law, and here's why she looks so familiar.
Hayley Law played an O.G. Pussycat on Riverdale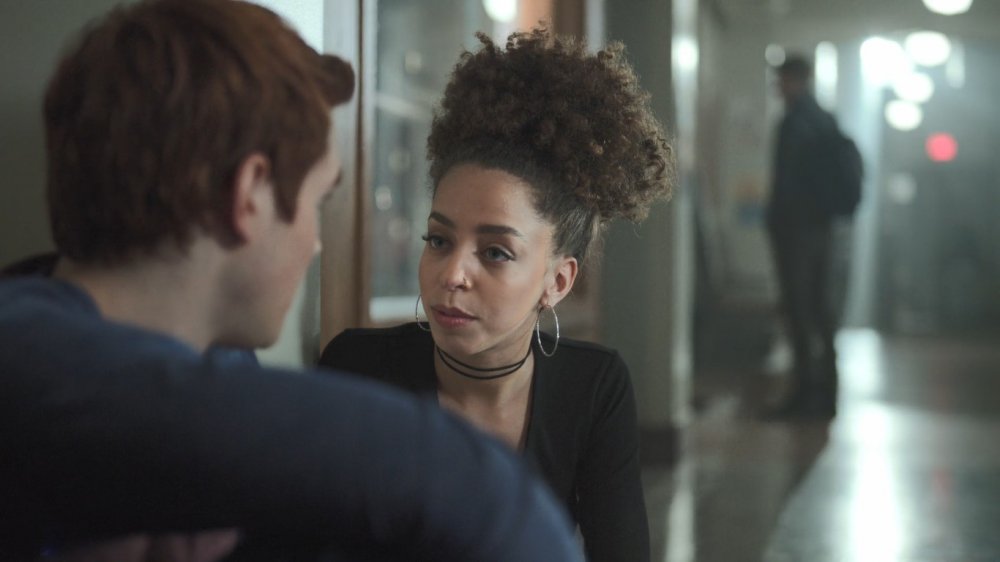 The CW Network
If Hayley Law's signature puffed out hair and nose ring did catch your eye in the Spontaneous trailer, there's a safe bet it's because you're a fan of The CW's wildly popular Archieverse drama Riverdale. That series found its way to the airwaves back in 2017, putting a decidedly adult spin on the generally earnest Archie comics first popularized in the 1940s. Set in the troubled titular town, Riverdale's signature blend of murder, mystery, melodrama, and sexy teen shenanigans became a breakout hit for the network, and made overnight stars of much of its brilliant young cast (including KJ Apa, Lili Reinhart, Camila Mendes, and Cole Sprouse).
Those of you who've been devouring the Riverdale madness since the first episode no doubt recognize Law from her time in Riverdale High's very own pop group, Josie and the Pussycats (and later, Veronica and the Pussycats). Law portrayed the ever-feisty founding Pussycats member Valerie Brown in the first two seasons, and turned what might've been an otherwise forgettable supporting character into a major presence on the show: That had a lot to do with Valerie's steamy, short-term romance with Archie himself, of course, and her steadfast resolution to champion his music career (way back when that was still a thing for the ginger one). 
Still, in spit of Law's scene-stealing talent, Riverdale's creative team never really found enough for the character to do in the series' perpetually overstuffed narrative web. As such, Law's Valerie Brown was sadly written out of Riverdale about midway through season 2, never to return. 
Hayley Law had one of the more complicated arcs on Altered Carbon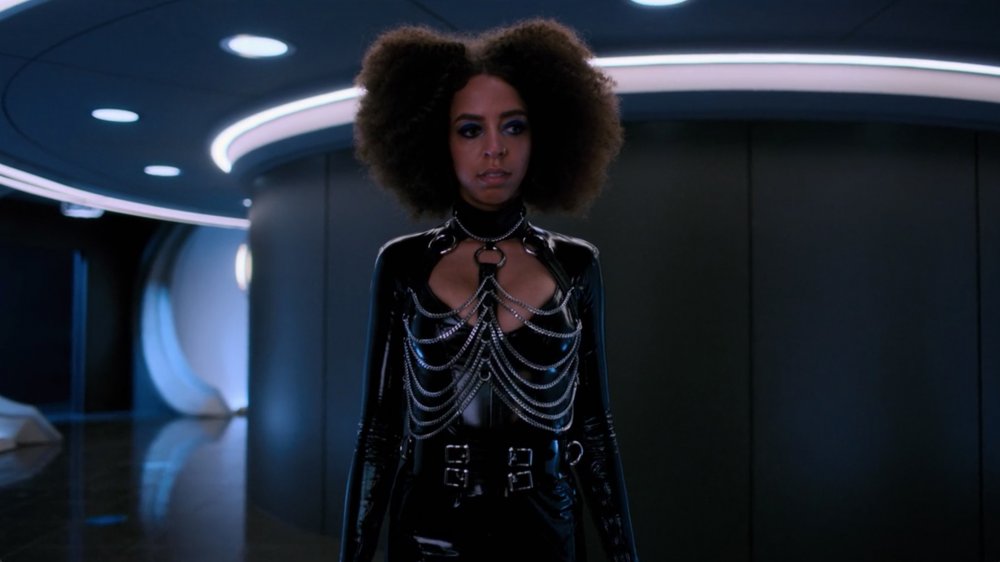 Netflix
Hayley Law didn't waste any time booking another high profile gig after her Riverdale exit. In fact, she almost immediately signed on for a supporting role in one of Netflix's more intriguing originals in 2018. That project was the streamer's sci-fi stunner Altered Carbon, and it found Law claiming a character with a particularly complex narrative arc — which is saying a lot, because every narrative arc in Altered Carbon is beyond complex.
The series — set in a far distant future — explores a turbulent society in which death has essentially been eliminated by the advent of "stack" technology, which allows humans to store their consciousness digitally and upload it into a new human "sleeve" when their own bodies give out. Season 1 of Altered Carbon found a former revolutionary soldier tasked with solving a particularly tricky murder case. Along the way, he enlists a small band of allies to help him solve the crime.
One of those allies had his own tale of woe to tell. That tale involved his once virtuous daughter Lizzie, played by Law, falling into a life of prostitution before nearly having her stack destroyed, and eventually being driven insane via Virtual Reality torture, before becoming stuck in a VR trauma loop that only furthers her madness. As noted, Lizzie's arc was one of Altered Carbon's most complicated, and the show's writing team found no shortage of narrative fruit to pluck in service of her story. Likewise, Hayley Law delivered the goods, and then some, in her portrayal of Lizzie, particularly after the character recovered from her madness and got her stack into a sleek new ass-kicking sleeve.
Hayley Law played bestie in another recent teen comedy, with The New Romantic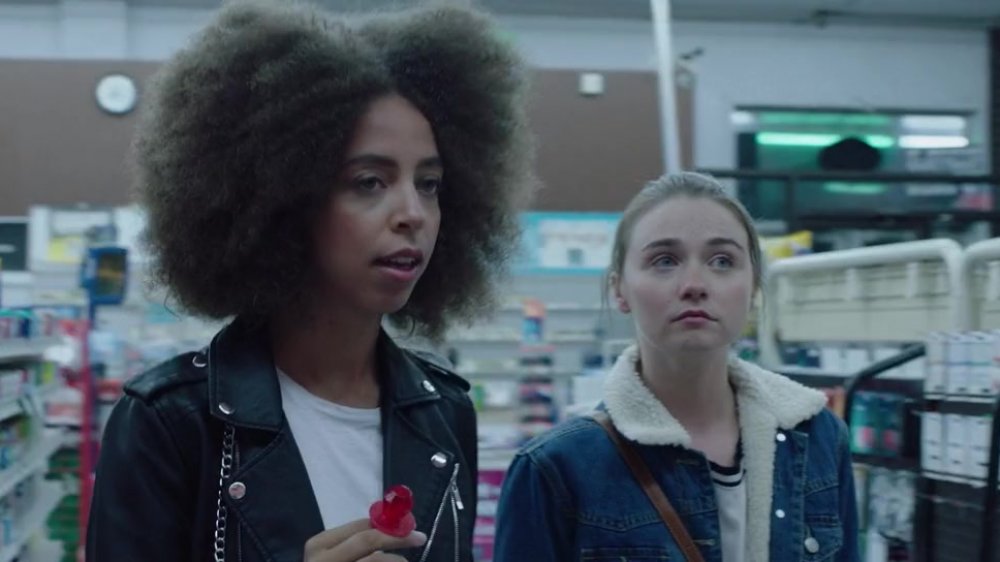 The Orchard
As she's not far removed from teen-dom herself, it should come as no surprise the Hayley Law has featured prominently in teen fare throughout her young career. While Riverdale and Altered Carbon remain pseudo-calling cards for the actor's early career, Law's profile got another serious bump in 2018 when she appeared in the indie teen dramedy The New Romantic.
That film made its premiere in 2018 at the prestigious South by Southwest Film Festival, and told the story of a disillusioned high schooler named Blake (Jessica Barden) who gives up on finding love with her less than chivalrous classmates, instead beginning a sort of pay-for-play relationship with a wealthy, considerably older professor (Timm Sharp). Of The New Romantic's plotting, let's just say it gets about as complicated as you'd expect from there, with Blake struggling to reconcile her new "sugar daddy" situation with her own fiercely independent ambitions. Blake is not alone in that journey, though, as her quippy BFF Nikki, played by Law, is by her side, helping the confused Blake make a few mammoth life choices (even if Nikki makes some questionable choices herself). And while the uber-talented Law is once-again saddled by "best friend" screen time in The New Romantic, the film's crackling screenplay is very much her friend, giving her character the time and space she so richly earns. 
Hopefully, Law will get a starring role sooner, rather than later. In the meantime, though, you can stream her role in Spontaneous.