The Action Thriller That's Taking Off On Netflix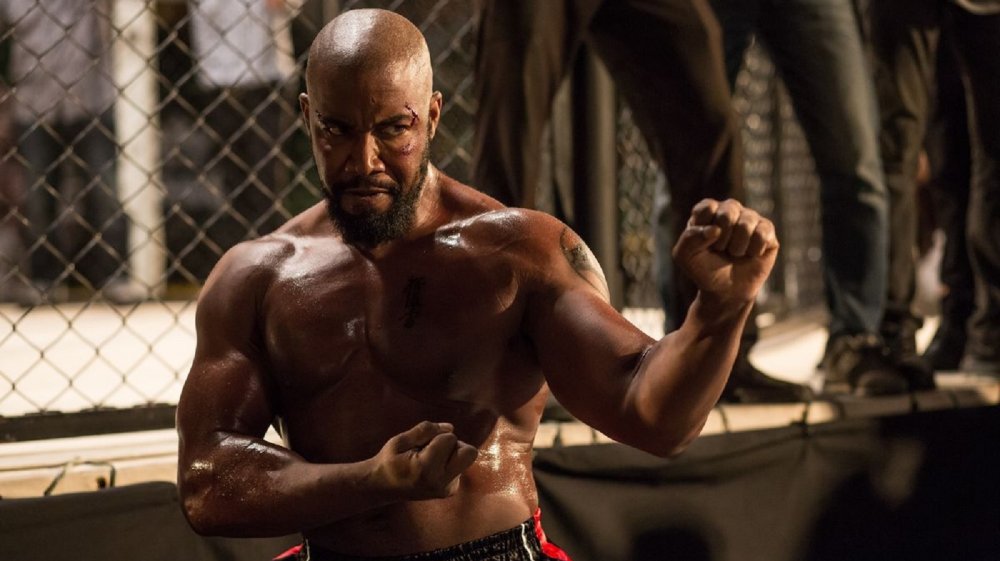 Universal Pictures Home Entertainment
Say, are you in the market for a sports-themed action thriller with a comedic touch and plenty of butt-kicking martial arts? Well, that's an oddly specific request. Fortunately, Netflix has got you covered.
Welcome to Sudden Death, starring veteran B-movie actor and martial artist Michael Jai White, has kicked down the door of the streamer's domestic Top Ten list for film. The flick, which has dropped simultaneously on DVD, Blu Ray, and Netflix, is a sequel-reboot to-of Jean-Claude Van Damme's 1995 action classic Sudden Death.
The 1995 film has been described, not inaccurately, as "Die Hard in a hockey arena," and the main difference this time is ... well, it's a basketball arena now. Also, Welcome is a flick that greatly benefits from its winking self-awareness, and from White's winning performance as Jesse Freeman, a combat vet-turned security guard who must leap into action when terrorists kidnap several high-profile attendees during a basketball game he's working.
The flick is the sophomore feature from writer-director Dallas Jackson, who is also responsible for the 2018 low-budget horror film Thriller (which has apparently thus far escaped the notice of Michael Jackson's estate). Jackson co-wrote the screenplay with Gene Quintano, who wrote the 1995 original, and who also scripted such classics as Operation Dumbo Drop and Loaded Weapon 1.
White's face probably rings a bell for anyone who has ever owned a television, which we'll get to momentarily. The rest of the cast of Welcome to Sudden Death may not look quite so familiar, but they all do their part to make the flick a breezy, fun, action-packed, surprisingly funny watch. The gang includes Michael Eklund (Van Helsing), Gary Owen (Ride Along), Sabryn Rock (Black Mirror), Stephanie Sy (Tales from the Loop), and Kristen Harris (Channel Zero).
What is the plot of Welcome to Sudden Death?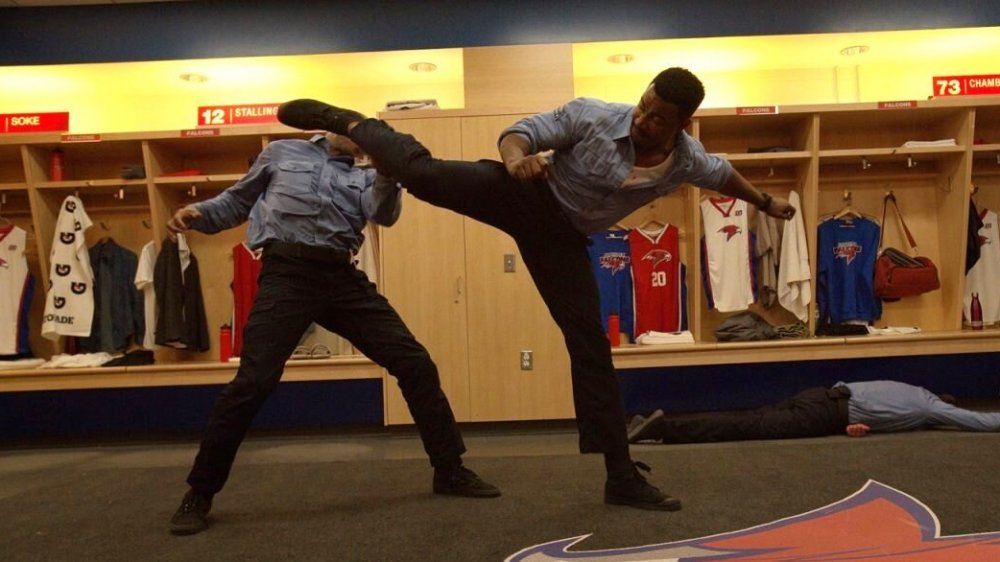 Universal Pictures Home Entertainment
Welcome to Sudden Death opens with White's Jesse beating the tar out of some insurgents in Iraq during the war. When next we see him, he's traded in his BDU for a security guard's uniform and he's hustling his two adorable children into a basketball game in Phoenix. Soon, a fight breaks out between a couple of fans, and Jesse leaves his kids with explicit instructions not to leave their seats. (Spoiler: They end up leaving their seats).
Then, we're introduced to the flick's villains, who are partial to the Greek alphabet and are led by Alpha (Eklund), an ex-military man with a chip on his shoulder. Disguising themselves as Jesse's fellow security guards, they make their way to the VIP area, where they secure the city's mayor (Harris) and a local rapper named Milli (Anthony Grant, Star Trek: Discovery) with the intention to hold them for ransom. Once Jesse becomes aware of the situation, he enlists the help of a friendly janitor (Owen) with extensive knowledge of the arena's service corridors in order to navigate the facility undetected and get the drop on the baddies.
Of course, Jesse's daughter winds up in the custody of the terrorists, raising the personal stakes for our hero's quest to kick every terrorist butt in the building. Will Jesse get her back and foil the crooks' nefarious plot, and how many spectacular roundhouse kicks will it take?
There's something familiar about Michael Jai White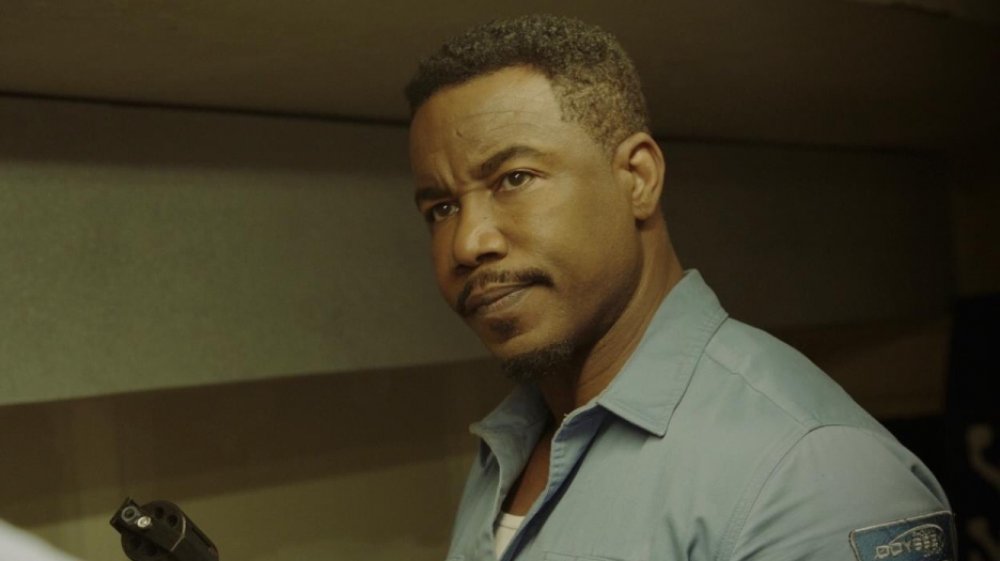 Universal Pictures Home Entertainment
White is a phenomenally gifted martial artist with a terrific screen presence, and he's had one heck of a varied career. He caught what might have been his big break in 1997, when he appeared in the lead role of the Image Comics adaptation Spawn; that flick, despite its popular source material and (for the time) innovative visual effects, was largely ripped by critics, and underperformed at the box office.
Since then, White has put his action chops to use in such largely unheralded flicks as Universal Soldier: The Return, Undisputed 2: Last Man Standing, and the Blaxploitation spoof Black Dynamite (which he also co-wrote). He's also maintained his ties to the superhero genre. He's voiced Doomsday in the Justice League and Justice League Unlimited animated series, performed the voice of Green Lantern John Stewart in the video game Justice League Heroes, and popped up in a bit part in Christopher Nolan's The Dark Knight. Most recently, he appeared as Bronze Tiger on the final season of the CW's Arrow, a role he'll reprise in the upcoming animated film Batman: Soul of the Dragon.
With his charisma and butt-beating skill set, White probably should be a household name — but on the bright side, it's not like he's hurting for work. His IMDb page lists no fewer than eight projects in the pipeline for the actor, so you can bet that you'll be seeing more of his chiseled mug soon. In the meantime, you should probably go ahead and fire up Welcome to Sudden Death, one of the more awesome B-flicks you're likely to come across on Netflix.