The Untold Truth Of Van Helsing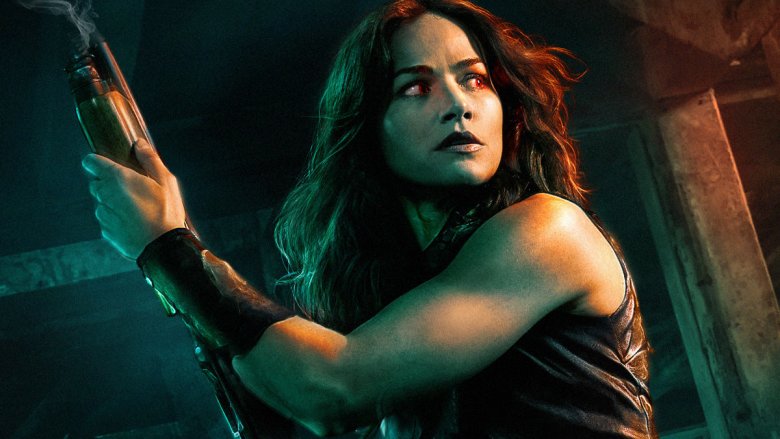 The name Van Helsing was first introduced in the pages of Bram Stoker's 1897 novel Dracula. The character's first iteration — Abraham — is something of an academic jack of all trades, a professor, doctor, scientist, philosopher, and professional vampire hunter. Over the years, many Van Helsings have crossed our screens, from Peter Cushing's varied portrayals between 1958 and 1972 to Anthony Hopkins' take in 1992 and Hugh Jackman's version in 2004.
In 2016, Syfy introduced the world to Vanessa Van Helsing (Kelly Overton), a descendant of Abraham whose blood has the unique ability to turn vampires back into humans. It's a pretty good power to have, especially considering Vanessa woke up from a coma in the middle of a vampire apocalypse. 
If you're getting the impression that Syfy's Van Helsing is a little bleaker than other vampire tales, you wouldn't be wrong. The show is just as much a post-apocalyptic sci-fi story as it is a horror series, and while we've seen countless Van Helsings before, this one is completely new. We've uncovered every untold detail surrounding the Syfy series to bring you the untold truth of Van Helsing.
Van Helsing, the stage play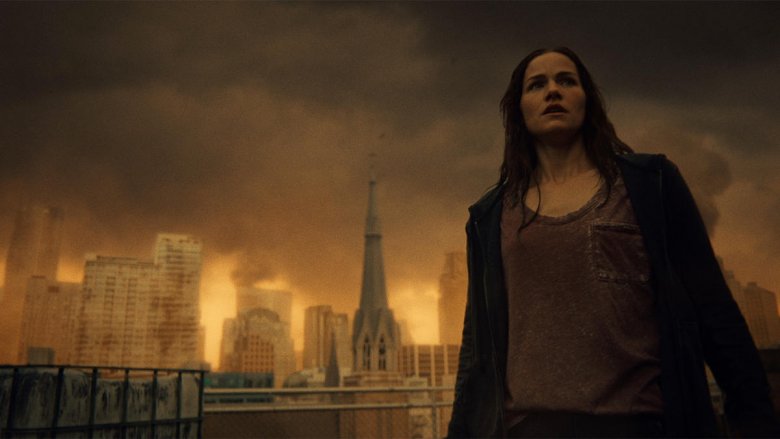 It may come as a surprise that the man responsible for Van Helsing would be an award-winning playwright and screenwriter, but that's exactly who Neil LaBute is — his 1997 film In the Company of Men (which was adapted from his own stage play) was an Independent Spirit and Sundance Film Festival award winner. He's been involved with a number of other well-received projects since, including 2002's Possession and 2003's The Shape of Things. 
The writer, who told IndieWire that he maintains a pretty strict creative voice in the theater, has gone a different route when it comes to film and TV, explaining, "I have not really followed any trajectory so far, and have been more open to things that have interested me." In that regard, Van Helsing was a perfect match.
LaBute had also never worked as a showrunner, but he felt Van Helsing would be the perfect opportunity to learn. He told Syfy Wire in 2016 that his theater background helped to make the adjustment a little easier. "I've gone back and forth as a writer in the theater having people direct my stuff," he said. "Or I direct, so I'm used to the give and take."
The idea of having a female Van Helsing wasn't new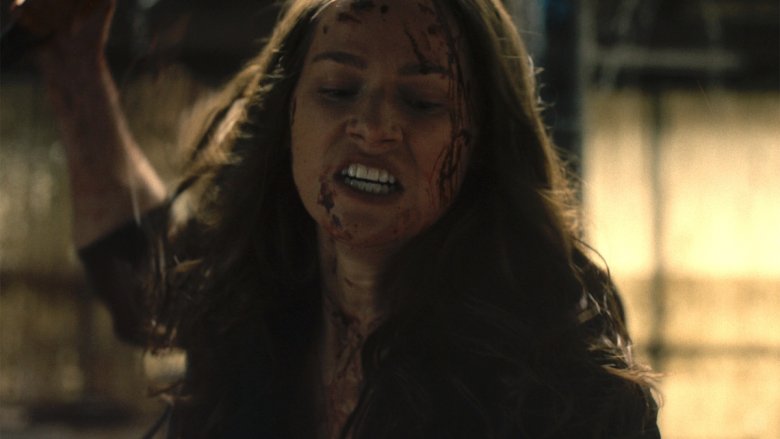 When Van Helsing's producers first approached him, Neil LaBute was working on the set of Hell on Wheels, a show about as far removed from vampires as one could imagine. But, as it turns out, he was already well-versed on the character of Van Helsing and its story origins. "I had actually adapted Dracula to the stage years ago," he told IndieWire. "I had changed the gender of Van Helsing myself, however many years ago." He took the coincidence as a sign to move forward with the project, explaining, "That seemed like a weird connection, and I went, 'This seems like something I should be involved with.'"
According to Syfy Wire, LaBute's female stage version of Van Helsing was a few years older than Kelly Overton's Vanessa, and we're pretty sure she also lacked the vampire-to-human blood magic trick that's portrayed on TV. Still, a female Van Helsing isn't commonly seen in Dracula adaptations (or spinoffs, as the case may be), so to have the same person behind two of them is something worth noting.
Van Helsing really has nothing to do with the comic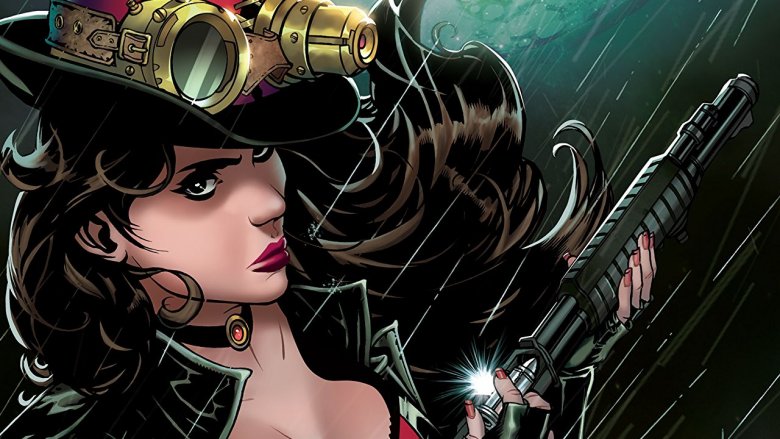 Prior to its release on Syfy, news circulated that the show Van Helsing was going to be based on the Zenescope Entertainment comic of the same name. Zenescope's Van Helsing centers on Abraham Van Helsing's steampunky daughter Liesel, who heads to Europe in search of answers after receiving a mysterious package containing her father's old journal.
Zenescope co-founder Ralph Tedesco all but confirmed the connection in 2016, telling the Philadelphia Inquirer, "Van Helsing is one of our more popular comic-book characters [...] And while I can't yet confirm the degree of our involvement in the TV series, we're extremely excited for what should shape up to be a fantastic show."
According to Neil LaBute, however, the comic was only used as a means to make the sale with Syfy. "We really are not connected to that in a specific or realistic way," he told IndieWire. "We've changed so much of that it's almost its own complete creature now." LaBute did mention, though, that Vanessa's ability to turn vampires into humans was pulled from the graphic novel, calling it "a really nice idea."
Van Helsing's star was interested in the role for athletic reasons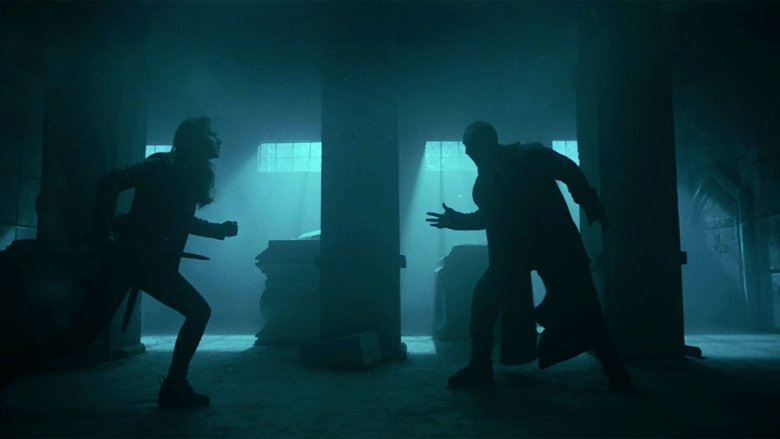 Kelly Overton was no stranger to television work when she landed the role of Vanessa Van Helsing on Van Helsing in 2016. With a resume dating back to a 2000-2001 stint on All My Children, Overton has appeared in everything from detective dramas (including Without a Trace, Cold Case, and two separate CSIs) to the CW's Beauty and the Beast reboot and HBO's True Blood.
Still, Van Helsing is Overton's first leading role. She told Smashing Interviews Magazine in 2016 that although she'd filmed pilots where she had been cast as the lead in the past, this was the first to actually make it to the air. And although she's an admitted sucker for the fantasy genre, the thing that really attracted her to this role in particular was how it would improve her health. 
"I think probably the biggest thing that interested me was just how athletic the role was," Overton admitted. "I knew it was going to be a job that helped me be healthier. I love it. I love when I have to push myself physically." 
The characters' 'vampire voices' are a group effort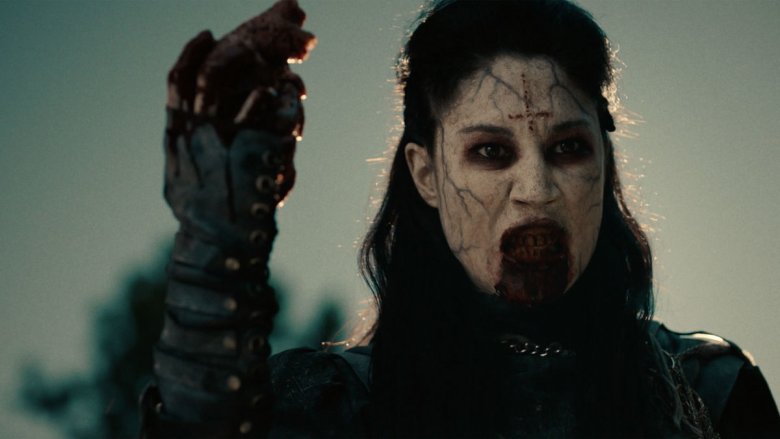 The vampires on Van Helsing don't just look like something straight out of our childhood nightmares — they also sound just as terrifying. There's a guttural tone to their voices that's almost animalistic, and, perhaps unsurprisingly, it requires an entire team of people to accomplish this unsettling effect. The actors are only the beginning of the process.
Neil LaBute told Syfy Wire that the so-called "vampire voices" start with the actors — "where they place the character in their mouth or throat" — but then get passed along to a ton of people in post, including the editor, post-production supervisor, and an entire sound design team, who augment the sound. According to LaBute, "The vampire voices are just one of thousands of details that we carefully manufacture for each episode to give Van Helsing its own unique feel."
Vampire makeup is intense on Van Helsing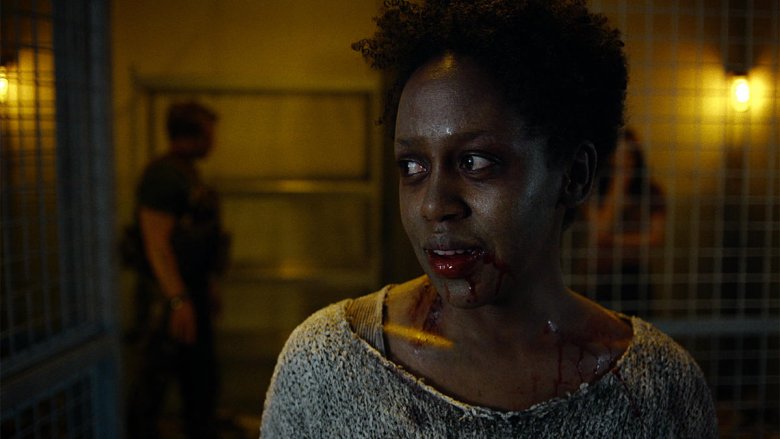 Van Helsing takes a deep dive into potential vampire lore. On the show, there's a hierarchy to vampirism, one that plays out in action as well as appearance. Executive producer Simon Barry explained the difference between the series' "Feeders" and "Ferals" to Den of Geek, pointing out that while Feeders, those that feed solely on human blood, remain "cognizant and pure," the Ferals have been left to their own devices, feeding on animals and themselves.
Rukiya Bernard plays Doc, the once-feral vampire who now struggles as a turned human. But for Bernard, the most fascinating aspect of her role has been the makeup, which she told DailyBloid took two to three hours every day to complete. As she put it, "Sometimes I was at work for 3:30AM just so that we could start shooting by 6:30AM."
Ultimately, though, everyone who's been through the process has wound up coming to appreciate it. Kelly Overton told Showbiz Junkies at 2018's San Diego Comic-Con as much, saying "I think everybody fears being a vampire at some point. Like season one, it was like no one wants to go through all that makeup, right?" But for all the hours required in a prep chair, Overton explained that the general consensus has been that it's an amazing experience.
Van Helsing's focus on human issues is budget-driven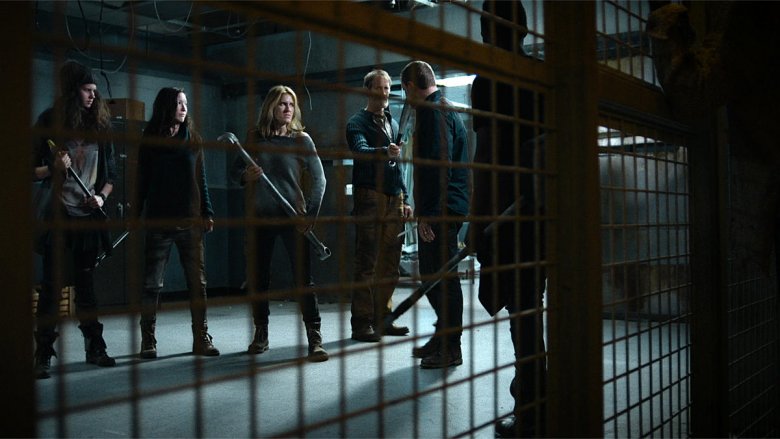 Van Helsing is one of those rare genre shows that manages to explore the relationships human beings have with each other just as much as it does the horror of living in a world overrun by a supernatural entity. The conflict that would exist when a group of individuals are trapped in close proximity with one another is what really drives the series' plot — and it has to.
Neil LaBute explained to Syfy Wire that the reason Van Helsing focuses so heavily on human relationships is because the economics of the show pushes them in that direction, saying, "It's about making all the economic choices look like artistic choices, which is really the game."
That doesn't mean they won't throw some gore in there where they can, though. "We've got a good cast and people who love the genre so they keep throwing blood at the scenes," Labute continued, "and I'll keep the men and women fighting with each other, and hopefully somewhere in there, you'll create a show that make sense to a wide swath of watchers."
A pregnant Van Helsing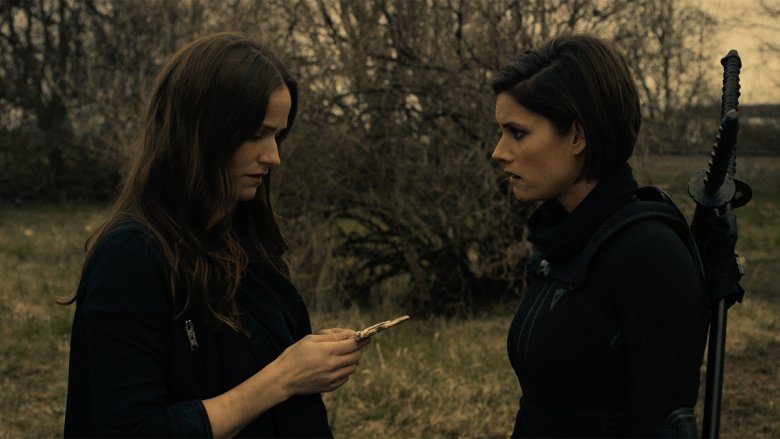 Chances are, if you tuned in for the sophomore season of Van Helsing, you wouldn't have guessed that Kelly Overton was seven months pregnant during her fight sequences. The actress told Showbiz Junkies that she filmed a ton of scenes for season 2 while she was weeks from giving birth, and that carrying her child didn't stop her from her usual workout routine. 
One thing Overton did wish for, though, was for her pregnancy to have been written into the show. "I felt actually really empowered," she said. "Being the star of a strong female-empowered show and being pregnant, I almost wish they would have written it in. I tried. I tried so hard! It would be so badass having me with guns and a belly."
Overton shared some thoughts on how it could have been done, too — imagining that the vampires had been responsible for her character's pregnancy, and suggesting the child had the potential to be either a savior or a destroyer. 
The Van Helsing boxing connection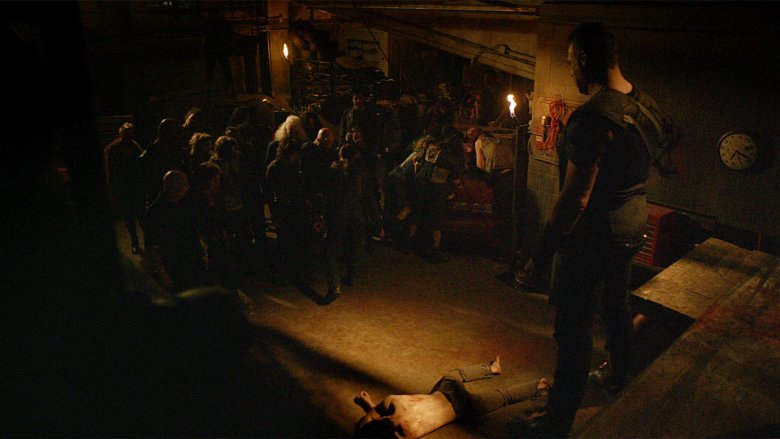 For the entirety of Van Helsing's first season, Aleks Paunovic's Julius was one of Vanessa's most powerful adversaries. A vampire that had been turned sometime before the Rising (the event that prompted them to take over), Julius ruled over an army with a terrifying degree of malevolence. During season 2, he reverted back to human form (mostly), and since then he's become nearly the complete opposite — kind, soft, human.
Paunovic, in spite of his size, is closer in personality to the human Julius than the vampire version, which makes the fact that he was once a champion boxer a little harder to digest. But the actor told MEAWW that boxing has always been more about challenging himself than fighting another person. Plus, there's the fact that he comes from a three-generation boxing family. For Paunovic, it's another creative outlet. "There are boxers who love to hit hard and knock people out but that's not for me," he said. "I love to figure it out — to express in a way that was not intended just for violence."
Hannah Cheramy's talent surprised even Van Helsing's showrunner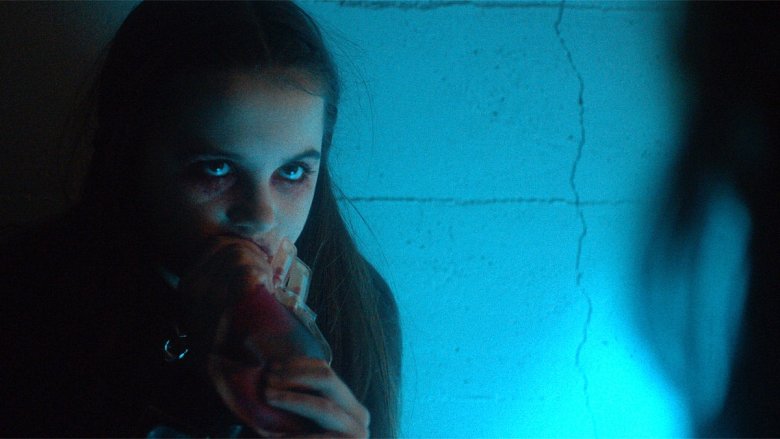 Hannah Cheramy may not have had a very long run on Van Helsing — her character, Vanessa's daughter-turned-vampire Dylan, bit the dust early in season 2 — but she managed to make an impression on fans as well as the show's creators. Neil LaBute told Syfy Wire that Cheramy took everyone by surprise at the beginning of season 2, when it was revealed that Vanessa's season-long search for her daughter had ended in vampire tragedy.
"I had no idea... that Hannah would be so good at burrowing into her character and creating the perfect out-of-control teenager for us," LaBute said. It's almost a shame that Dylan had to be killed off so early on in the season, but ultimately, there was no other option. According to LaBute, Dylan offered a "nice dilemma" for Vanessa, but she would have wound up hindering her progress in the long run.
There's an award winner behind Van Helsing's score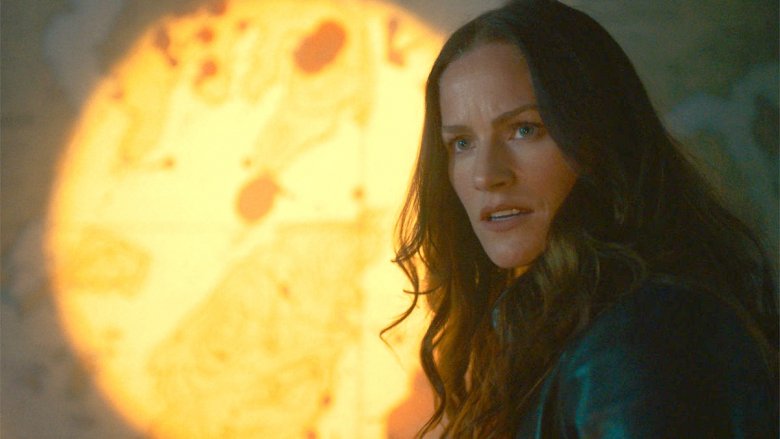 There's a great deal that goes into producing a successful series — a talented cast, decent writing, and a post-production team that knows how to bring it all together. The one thing that generally goes unnoticed, but that happens to play a huge role in the overall tone of a series, is its score. And Van Helsing has a score that plays to every emotion, from sadness to horror. 
Rich Walters is the man responsible for Van Helsing's incredible score. His resume is long and varied, ranging from 2005's Capote to 2015's Chappie. Over the course of his career, he's been nominated for two Primetime Emmy Awards, and he's taken home two individual Leo Awards for Best Musical Score.
Neil LaBute told Syfy Wire that Walters, along with one of the show's producers and its music supervisor, has provided Van Helsing with a wide range of music to work with, along with "a series of unexpected songs" that are typically played over the end credits. 
Van Helsing's cast and crew have been involved in an epic prank war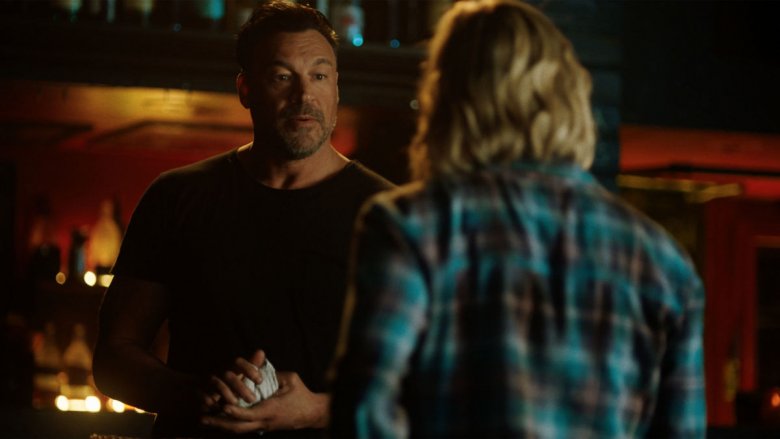 How far is too far? If you ask Neil LaBute and Aleks Paunovic, the answer is death — well, death in that fictional, character sendoff sort of way. Over the first three seasons of Van Helsing, LaBute and Paunovic have been involved in one serious prank war, which was, according to CinemaBlend, started by Paunovic when the actor made a video of himself kicking LaBute's director's chair. 
The pair went back and forth for years with each other, until finally LaBute decided to exercise his power as showrunner and send out a script to the entire cast that had Paunovic's character, Julius, meet his permanent demise. "I told all the writers and just a couple of other people that I'm going to kill [Aleks' character] in the draft that we send out to everybody," he told the audience at 2018's San Diego Comic-Con. "And so it landed on the weekend and I get this call in the evening; [he's] just slightly kind of panicky, but trying to sound like, 'This has been so much fun. I've had such a great time.'"
It's unclear at this point if Paunovic ever managed to outdo LaBute's death prank, but we're willing to bet that if he hasn't yet, he's got something seriously over the top planned.
There's a science to writing and editing Van Helsing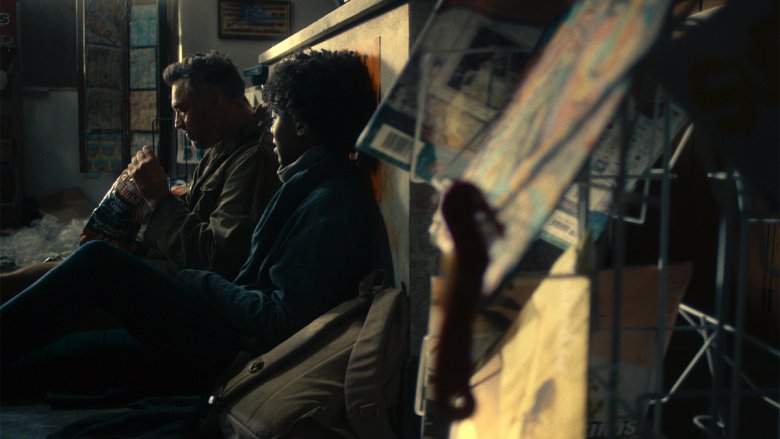 Van Helsing is arguably one of the most creative and original shows on the air (even as an adaptation of sorts). But getting the show ready for air sometimes means cutting a lot of material... and sometimes, it means adding a lot back in. 
In the season 2 episode "Wakey, Wakey," Julius and Doc share a scene during which the two bond over human food. As it turns out, that scene was written as filler because the episode didn't meet Syfy's time limit. Neil LaBute told Syfy Wire that each episode has to run exactly 42 minutes and 30 seconds, in order to account for commercials. "It's an exact science in the case of cable TV," he said, explaining that sometimes they have to replace material that's already been cut to make their necessary length.
The scene between Julius and Doc was a last-minute addition, but it wound up being one of the show's most endearing interactions.