The Tiny Detail In The That '70s Show Finale You Never Noticed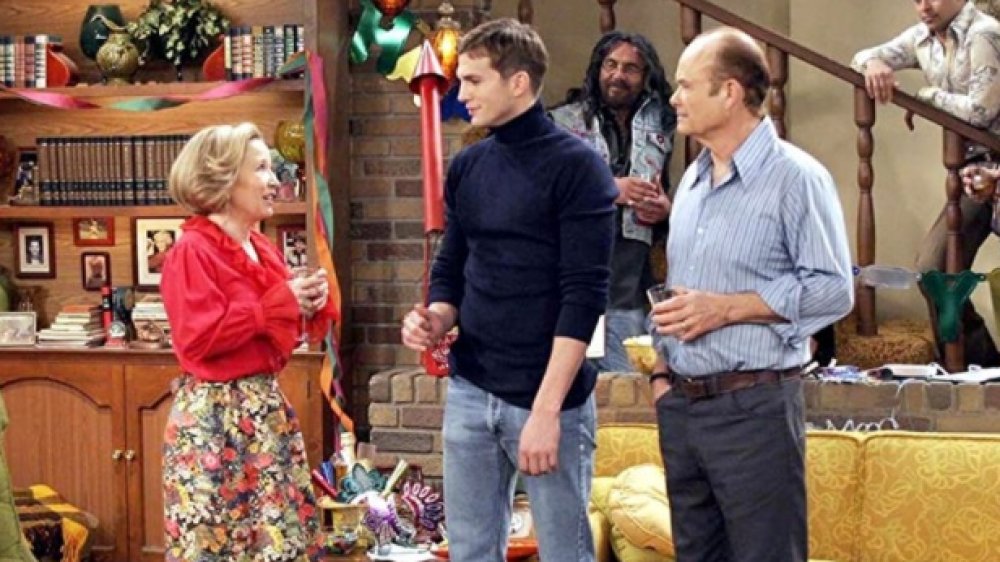 Fox
For eight seasons between 1998 and 2006, the gang from That '70s Show supplied us with groovy laughs aplenty, and in the years since, the show has become a classic — the very definition of televised comfort food. The series' sharp, witty writing helped to make it iconic, but it couldn't have truly reached that status without the talents of its stellar ensemble cast, who breathed life into this gang of teen slackers from fictional Point Place, Wisconsin. Led by Topher Grace as the geeky, sharp-witted teen Eric Forman, that cast also included Laura Prepon as his perennial love interest Donna Pinciotti, Mila Kunis as stuck-up rich girl Jackie Burkhart, Ashton Kutcher as lovable airhead Michael Kelso, Danny Masterson as cynical stoner Steven Hyde, and Wilmer Valderrama as perpetually horny foreign exchange student "Fez" (or whatever his name was).
That '70s Show's adult players were just as strong, including Don Stark as Donna's dad, Bob, Tommy Chong as Hyde's older buddy Leo, Kurtwood Smith as Eric's dad Red, and the undeniable heart of the series, Debra Jo Rupp as Eric's mother Kitty. Kitty was often the only sensible voice in the room (even during her season-long struggle with menopause), and her genuine love for Eric's friends — whom she treated as her own children — was strong enough for both her and Red, who was never terribly keen on "loving anybody [he wasn't] legally obligated to."
Dedicated viewers may have noticed that the show's pilot and finale, creatively titled "That '70s Pilot" and "That '70s Finale," respectively, both gave Kitty character-defining moments in the spotlight in her very first and very last scenes. While the substance of the two scenes couldn't have been more different, the style was the same — Kitty's style, that is. Both of the scenes, shot eight years apart, take place during parties at the Forman home — and in both of them, Kitty is wearing the same red blouse and floral-print skirt.
Introductions and goodbyes on That '70s Show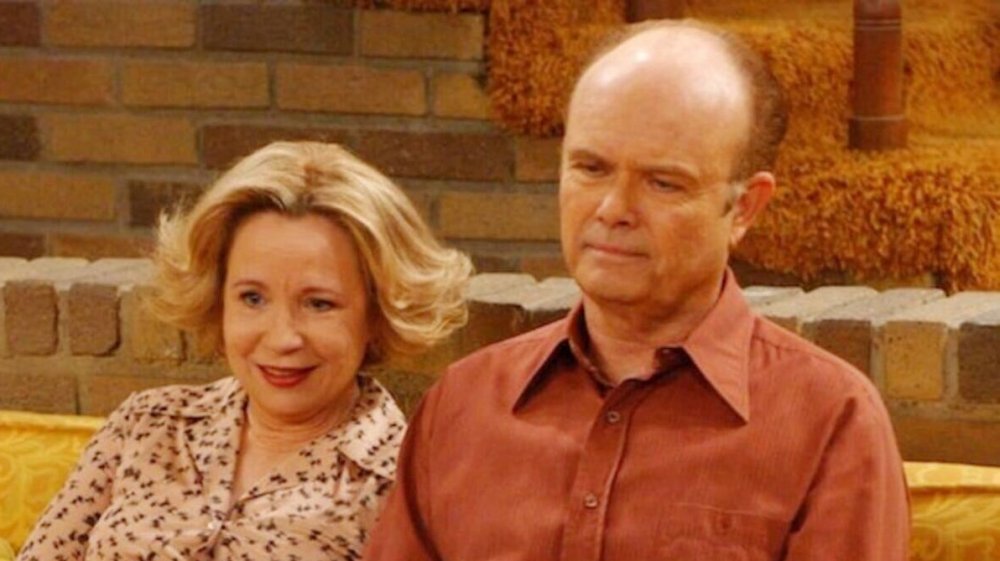 Fox
The scene from the pilot takes place before the opening credits even roll. After a brief introduction to the teen cast, Eric is dispatched upstairs to attempt what will be the first of many, many schemes involving the procurement of beer. Interestingly, what follows is the only point-of-view sequence in the entire series; we see the party through Eric's eyes, and we meet Kitty for the first time as he follows her throughout the house, trying to surreptitiously get his hands on a few cold ones. We're introduced to Bob, his wife Midge (Tanya Roberts), and Red, who somewhat ironically admonishes Eric not to "use the ass word."
In the finale, there's another party going on: a New Year's Eve party, of course, with the gang about to ring in the '80s while waiting for Eric to return from Africa (Grace famously departed the series in its final season to pursue a film career). The Formans, who had been mulling over moving to Florida, announce their intention to stay in Point Place, and Kitty — wearing what must be her favorite party ensemble — essentially performs a loving roast of the entire cast. Only Donna, whom Kitty professes she will "always love ... like a daughter," is spared from Kitty's zingers, and it's all too obvious that the tears Prepon is holding back in the scene are genuine.
Donna departs to compose herself in the driveway, and at that point, Eric — whom Grace was convinced to portray one last time — finally makes it home. They join their friends in the basement for the last smoke-filled "circle" of the '70s, and just before they head upstairs to count down the New Year, Hyde gives us one final callback — beginning to tell the same story of the "car that runs on water" that he attempted in the pilot.
As the countdown to 1980 ends, so does the series — and if you're anything like us, that's when you fire up the pilot, and start all over again.