What Happened To Kurtwood Smith After That '70s Show Ended?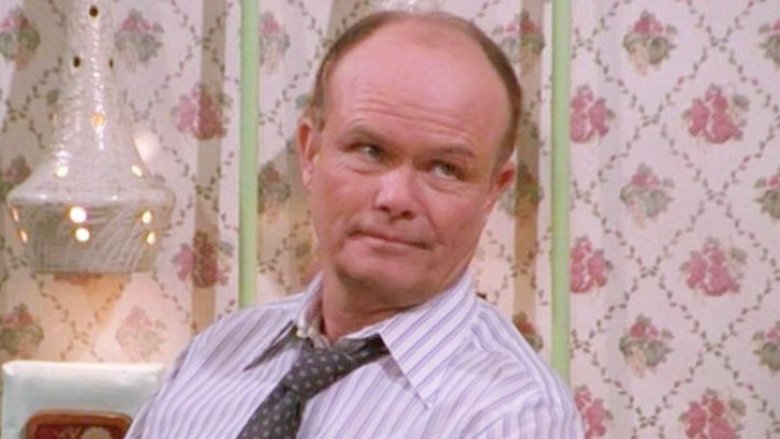 Fox
For eight seasons of That '70s Show, Kurtwood Smith embodied hard-nosed, no-nonsense patriarch Red Forman as only he could. As TV dads go, Red is one of the all-time greats; sure, it was obvious that he had a lot of love for his son Eric (Topher Grace), daughter Laurie (Lisa Robin Kelly), and wife Kitty (Debra Jo Rupp). It's just that sometimes, it was hard to find Red's heart of gold underneath all of the irascibility, sarcastic remarks, and talk of putting his foot in everyone's rear ends. Smith created a sitcom character for the ages — but what has he been doing since That '70s Show ended?
The answer: working, and working some more. The 76-year old actor hasn't slowed down much since his sitcom days, making frequent appearances in film and television — although in order to catch some of those appearances, you may have had to listen close for his distinctive voice. Smith has carved out quite a little niche for himself as a voice actor in animated shows and features, and for those who can't get enough of That '70s Show, it might have been a little jarring to hear Red Forman's voice coming from Shyir Rev in Green Lantern: The Animated Series, or a bumbling army general in the Rick and Morty episode "Get Schwifty."
On the feature side, Smith has stuck to smaller projects such as the 2012 Fox Searchlight biopic Hitchcock (opposite Anthony Hopkins as the iconic film director and "Master of Suspense" Alfred Hitchcock) and the little-seen 2011 comedy Cedar Rapids. Most recently, he popped up in Amityville: Awakening and Netflix's black comedy El Camino Christmas, both from 2017.
On the small screen, he's made live-action appearances in guest roles on shows as varied as House M.D., Medium, Psych, and Children's Hospital — and he's even earned himself a place in the Marvel Cinematic Universe with a seven-episode run on the late, lamented series Agent Carter. 
Beginning in 2017, Smith warmed the hearts of fans with a two-season run on The Ranch, the Netflix series which reunited That '70s Show stars Ashton Kutcher and Danny Masterson. Smith appeared as Old Man Peterson, the next-door neighbor of the Bennett family — and his performance could rightly be described as "Red Forman-esque."
Interestingly, Smith isn't done working with his That '70s Show co-stars. He and Rupp have been cast as a married couple in a forthcoming, as-yet unnamed ABC series from creator Nate Bargatze, a veteran standup comic making his forst foray into the sitcom world. Bargatze will star as a married father to a six-year old girl who moves from New York to his native Tennessee in pursuit of a simpler life — an endeavor which is complicated by the fact that his parents, portrayed by Smith and Rupp, still reside in the area. (via Deadline)
It seems that Smith still has quite an affinity for working with his old castmates, which makes sense considering how fondly he remembers his time on That '70s Show. Speaking with A.V. Club in 2014, the actor waxed nostalgic about the series and discussed its importance to his career.
"It was just a pleasure doing that show. I mean, even if we had a day or two here and there that wasn't fun for whatever particular reason, by and large it was just a pleasure. I loved working with all those folks," Smith said. "Working on those scenes in the house — especially Debra Jo and I — it was a particularly special time. For it to go on that long, eight years, and to have a character that meant as much to me as he did personally... well, that was special. And then, of course, that's why I have money. It's because of that show! I mean, all those other things are nice, but I made money doing that show... as far as being able to have a successful financial career, anyway, it certainly gave me that. So it was special for many reasons. And, of course, I'm reminded of it every day. There are reasons in my house to remind me of it, and if I go outside, I don't have to go too far or too long before someone mentions That '70s Show."
Of course, before landing the role of Red, Smith was best-known for his indelible turn as absolute ruthless scumbag Clarence Boddicker in the 1987 classic Robocop — a character which is, in our humble opinion, one of the greatest screen villains in history. It's really saying something, then, to note that whatever Kurtwood Smith does for the rest of his career, he will always be Red Forman to us — and to everybody else who holds a special place in their hearts for That '70s Show.