The Reason Topher Grace Left That '70s Show After Season 7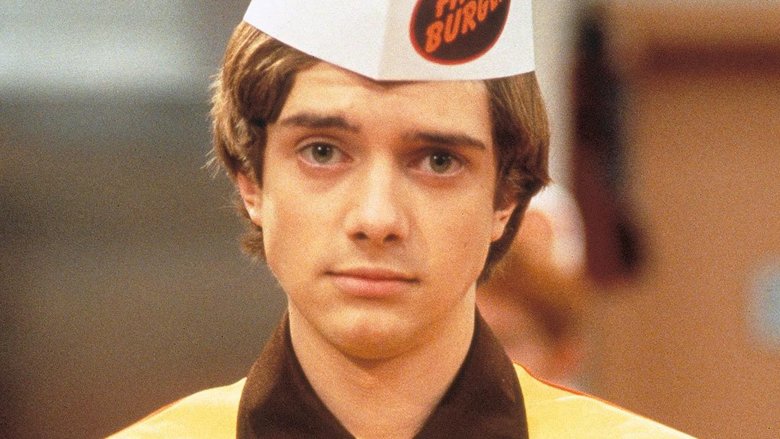 That '70s Show is one of the most beloved sitcoms of recent years, due in no small part to the performance of Topher Grace in the lead role of the geeky, acerbic Eric Forman. Grace held down the part for the show's first seven seasons — but for its eighth and final season, he departed, with his character's absence explained by a year-long commitment to teach English in Africa. Even the show's staunchest fans found it a little bit lacking with no Eric — and many have since wondered, why did Grace leave?
The short answer: the charismatic star felt that he had a future in feature films, one which That '70s Show was holding him back from pursuing. He had done plenty of dabbling in film before leaving the sitcom, first with a brief appearance in Steven Soderbergh's acclaimed 2000 film Traffic, and later with prominent roles in Win a Date with Tad Hamilton!, In Good Company, and P.S. (all from 2004).
He appeared to be making solid inroads to film stardom, and his next appearance in a movie — and first since leaving That '70s Show — was as high-profile as it gets. He was cast as Eddie Brock/Venom in Sam Raimi's Spider-Man 3, which hit screens in the summer of 2007 and would reign for the next dozen years as the highest-grossing Spidey movie until 2019's Spider-Man: Far From Home supplanted it.
It may have made a boatload of money, but the threequel is to this day seen as the weakest of Raimi's trilogy; it suffered from a serious case of villain bloat, a convoluted narrative, and Emo Peter Parker, among other issues. Although Grace threw himself into his role (he claimed to have been a fan of his character since childhood), he was largely seen as having been miscast, and his appearance in the big-budget tentpole did absolutely nothing to advance his film career.
It's unfortunate that Grace left the beloved sitcom that made him a star for the opportunity to appear in a movie that is less than fondly remembered, in a role that Raimi admitted was shoehorned into the film as an act of fan service at the behest of producer Avi Arad. The good news: Grace appeared to learn from the experience, and he has since carved out a niche for himself as a respected character actor. 
Grace has said that this is largely due to the fact that he's able to be choosy with the roles he accepts, for a good reason: his tenure on That '70s Show basically ensured that he wouldn't really have to worry about money. Speaking with IndieWire in 2018, the actor said, "It occurred to me that I was really lucky to have been on a sitcom for a lot of years. I realized... that I didn't really need a lot more money... I didn't care [about exposure or a big paycheck]. It's what I wanted to do with my life... I just want to work with people where I see their film and go: 'I will do whatever your next film is.' I don't have to sit there and decide if it's going to be good or not."
It's largely been a winning strategy. With a couple of exceptions, Grace has largely stuck to smaller indie films since his brush with the superhero genre; he's gotten the chance to work with such revered directors as Christopher Nolan (with an appearance in 2014's Interstellar) and Spike Lee (portraying infamous Ku Klux Klan Grand Wizard David Duke in the Oscar-winning BlacKkKlansman). He's held down the occasional lead, anchoring the underrated 2018 psychological horror flick Delirium, and even appeared as social media mogul Billy Bauer in the 2019 Black Mirror episode "Smithereens."
For his next trick, he'll be popping up in next year's political comedy Irresistible, which will be written and directed by beloved comedian Jon Stewart and will feature Grace as part of a stellar ensemble that includes Steve Carell (Welcome to Marwen), Natasha Lyonne (Russian Doll), Mackenzie Davis (Terminator: Dark Fate), and Rose Byrne (I Am Mother). He'll also soon be making a return to television, as he's slated to star in Sony Pictures Television's upcoming dramedy series Treasure Squad, which he is co-writing and executive producing.
All in all, things have worked out pretty well for Grace since his abrupt departure from That '70s Show, but fans of the series will always wish that lovable, snarky Eric Forman had seen his way clear to stick around for just one final season. Perhaps one day soon, the stars will align for a groovy '70s reunion — a possibility that Grace himself has said he'd be open to as recently as last year. 
Speaking with The Hollywood Reporter, the star said, "I would do [a reunion] for sure because that was a very wonderful time for us. We were all very close, having that experience every single day with each other... I don't think it will happen. It would be so hard to bring that crew together. For me, I'd do it if no one ever saw it. Just 'cause it would be great to hang out with them for a week or something."
We can always hope — because who wouldn't love to see Forman burn Hyde, Kelso take an embarrassing pratfall, and Red threaten to put his foot in someone's keister just one more time?