We Finally Understand Why That '70s Show Was Canceled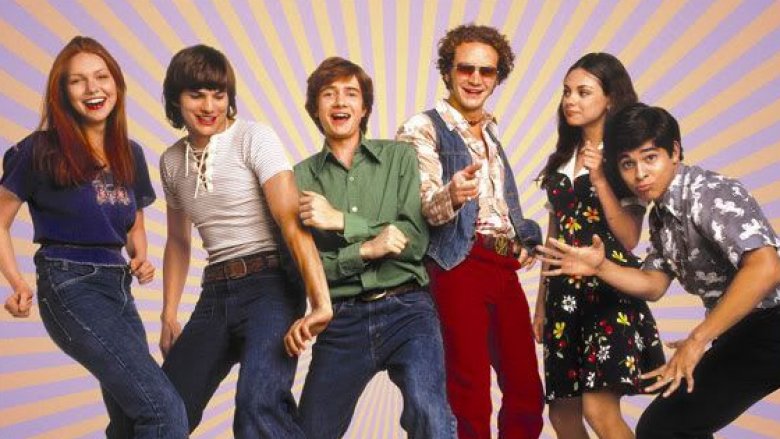 What do you get when you throw a bunch of teenagers from small-town Wisconsin into a dingy basement with nothing to entertain themselves but a TV and a bag of pot? More often than not, you'd probably end up with a lot of giggling and some crumbs between the cushions of your couch — but you might also get a pretty decent sitcom.
For eight seasons, That '70s Show offered a nostalgic view of the '70s for modern audiences to enjoy. Topher Grace, the actor who portrayed Eric Forman, described the appeal of the show's characters by saying, "If you lived through the 1970s or even just survived being a teenager, one of these characters could be you." 
In addition to offering breakout roles to actors who remain recognizable today, like Mila Kunis and Ashton Kutcher, the show also featured a steady stream of cameos from figures who were famous during the '70s, like Betty White, Mary Tyler Moore, and Don Knotts. With a mix of rising young talent and a healthy supply of stars that older fans remember, That '70s Show still has a broad appeal to this day.
However, all good things must come to an end, including That '70s Show. After an eight-year run, why did it all come to an end? Here's why That '70s Show was canceled.
What was That '70s Show about?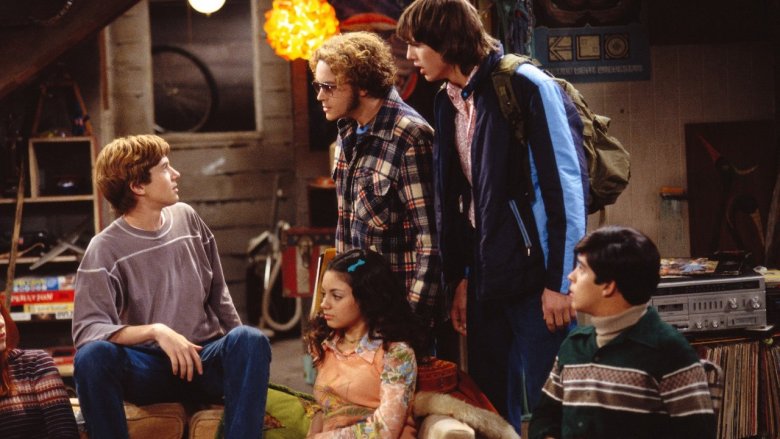 Debuting on Fox on August 23, 1998, That '70s Show followed the Forman family, chiefly through the eyes of their Star Wars-loving son Eric and his group of teenage friends. When we meet them in Point Place, Wisconsin in 1976, the Forman family is headed by World War II and Korean War veteran Red Forman, along with his wife Kitty, who works as a nurse. Eric is friends with pretty boy Michael Kelso, stoner Hyde, and foreign exchange student Fez, along with the Formans' neighbor Donna Pinciotti and snobby rich girl Jackie Burkhart.
The show tackled problems that are universal to teens of any decade: relationship drama, issues with school, difficult domestic situations, and so forth. But despite the near-constant ribbing and snarky jokes, each character cared for each other deep down.
One of the best examples of this throughout the show is the relationship between Eric and Donna. Talking to the New York Times, Topher Grace reflected, "Unlike many sitcoms that play on love triangles or whether the main stars will or will not sleep together, we looked at the nuances of a relationship between two neighbors — Eric and Donna — who had been in love since childhood." Over the course of the show, the couple's relationship grew from a childhood crush to something more complex, helping to keep the series compelling over time. 
The That '70s Show cast gets older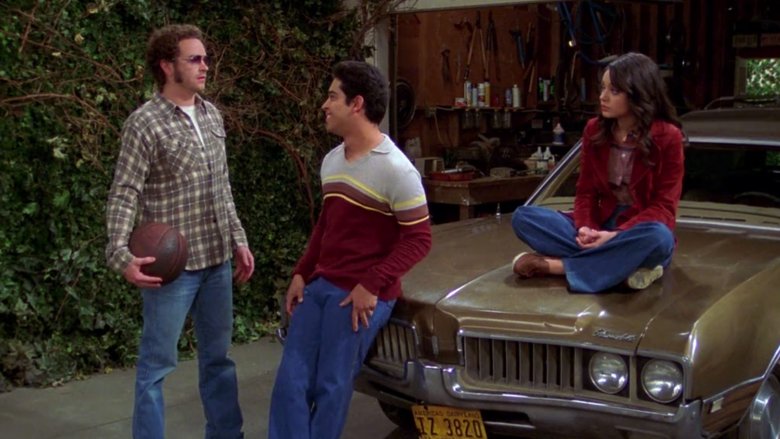 When That '70s Show first aired, the main cast was relatively young, with the oldest of the main crew being Danny Masterson, who was 22 in real life. The stars were also relatively unknown at the time — and the success of the show allowed them to break into the industry, becoming more famous and taking on other roles. 
Ashton Kutcher started a film career, landing early roles in movies like The Butterfly Effect and Guess Who. Topher Grace also broke out, appearing in films such as Traffic and In Good Company. Danny Masterson had no shortage of other roles during the production of That '70s Show, including lead roles in Too Pure, Dirt Merchant, and Puff, Puff, Pass. Laura Prepon starred in Lightning Bug, and Wilmer Valderrama had roles in Four Corners, Summer Catch, and The Sopranos. Arguably the most successful of the bunch was Mila Kunis; although her main outside role when The Family Guy aired came as the voice of Meg in Family Guy, she went on to star in hit films like Forgetting Sarah Marshall and Black Swan.
As the cast got more professional opportunities and expanded their careers, they slowly aged out of their roles. The first season of the show took place in May of 1976 and premiered in 1998. The show went on for another eight years before wrapping up in 2006. As the show progressed, the main cast started to look "a bit too mature still to be partying in dad's basement," as the New York Times put it.
Topher Grace's That '70s Show's departure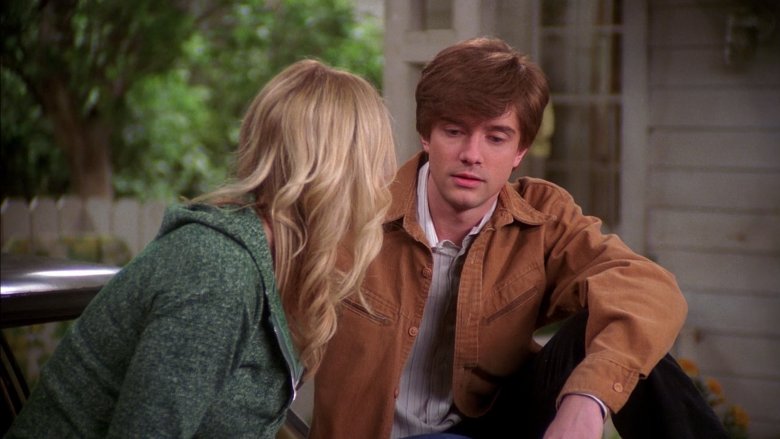 Though That '70s Show was an excellent career breakthrough for Topher Grace, his ultimate goal was always to work with brilliant directors — and the money he earned during his time on the sitcom ultimately afforded him the ability to be very choosy with his projects, holding out for roles that meant something to him rather than taking jobs because he needed to earn a living.
This is not to say Grace didn't keep busy between episodes of That '70s Show, particularly after 2004, the year the series concluded its sixth season. Among other roles during this period, he portrayed Carter in In Good Company, Pete Monash in Win a Date with Tad Hamilton, F. Scott Feinstadt in P.S., Tommy Donegal in Mona Lisa Smile, and filmed a cameo for Ocean's Twelve. 
While taking on these roles, Grace managed to strike a balance between That '70s Show and his other projects. However, at the end of season seven in 2005, he decided to leave the show behind — and almost immediately landed the role of Eddie Brock/Venom in Spider-Man 3. This was undoubtedly an exciting development for Grace, but it left That '70s Show in a bind: with Grace out of the picture, Eric Forman made his departure, leaving the aging sitcom without one of its central characters. 
Ashton Kutcher says farewell to That '70s Show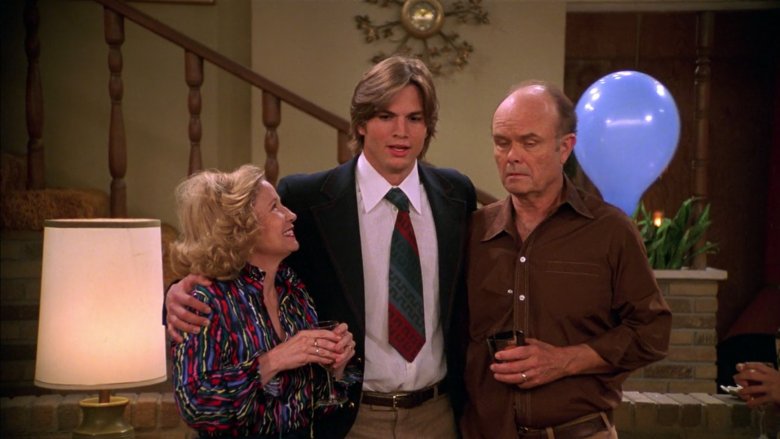 Since the beginning of That '70s Show, Ashton Kutcher's Kelso was a staple of the group. His character often found himself in multiple on-again-off-again relationships throughout the show, with a list of love interests that included Jackie, Eric's older sister Laurie, high school classmate Pam Macy, and Brooke, who is the mother of his daughter. 
Kutcher booked a few other roles while filming That '70s Show, including Evan in The Butterfly Effect, Tom in Just Married, Oliver Martin in A Lot Like Love, and a few appearances on Robot Chicken. Similar to his co-star Topher Grace, Kutcher left the show to explore new opportunities as an actor and producer. 
In the fourth episode of season eight, titled "Misfire," Kelso proposes to Jackie, a request that she ultimately refuses after mulling it over. Relieved that he isn't about to be locked into a marriage, Kelso promptly moves to Chicago to be near his daughter and accept a job as a security guard at the Playboy Club. After this episode, Kelso was absent from the remainder of the season, only returning for the finale. 
That '70s Show stopped fitting into Fox's schedule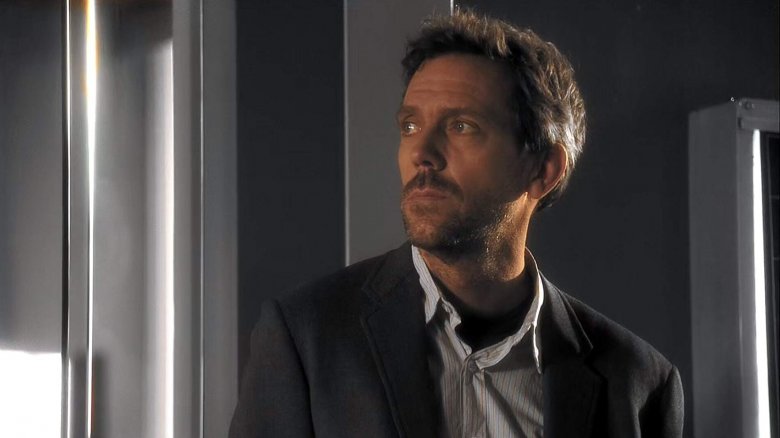 By the time the last season of That '70s Show aired, Fox was in the midst of an especially well-received television season. According to ABC MediaNet, the network's American Idol held both of the top spots in the ratings that year, raking in over 30 million viewers for each Tuesday and Wednesday airing. Fox was also doing well with the second season of the scripted medical drama House. 
Additionally, Fox launched its Animation Domination block in 2005, highlighting adult animated shows. The block included popular titles like Family Guy, King of the Hill, The Simpsons and American Dad!. With a growing collection of well-received shows, Fox no longer needed to depend on aging hits like That '70s Show.
The network's broadcast schedule reflected this shift. According to a Hollywood Reporter analysis of networks for 2005 through 2006, the last season of That '70s Show was moved to 8PM on Thursdays, opposite hits like Survivor, Dancing with the Stars, and Will and Grace. In a new time slot up against stiffer competition, That '70s Show faded in its final season, and what was once a cornerstone hit for the network started to look like a sitcom waiting to be canceled.
A new character for That '70s Show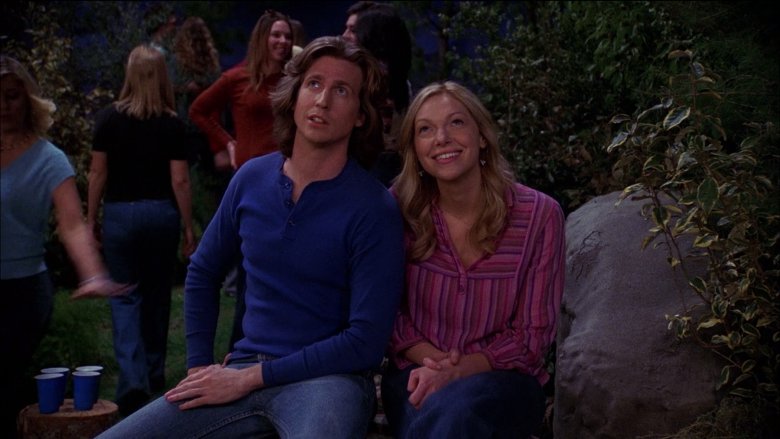 After Eric Forman and Michael Kelso left Point Place, their friend group became a little less lively. Initially, the showrunners considered recasting the role of Eric, but that idea was abandoned in favor of introducing an entirely new character: Randy Pearson, played by Josh Meyers, who quickly became Donna's new love interest with Eric out of the picture. Hired by Hyde to work at the record store, Randy quickly became one of the gang and hung around with the other characters at the Forman house. 
Though Randy became part of the main cast with hopes of maintaining the status quo, the character wasn't exactly liked by fans. It was plainly evident that Randy was meant to be a replacement for Eric, but many viewers didn't find him nearly as charming. It's impossible to know how many more seasons That '70s Show might have lasted with Grace and Kutcher in the cast, but Randy's introduction proved the series was quickly running out of gas and needed to be canceled.
That '70s Show suffers in the ratings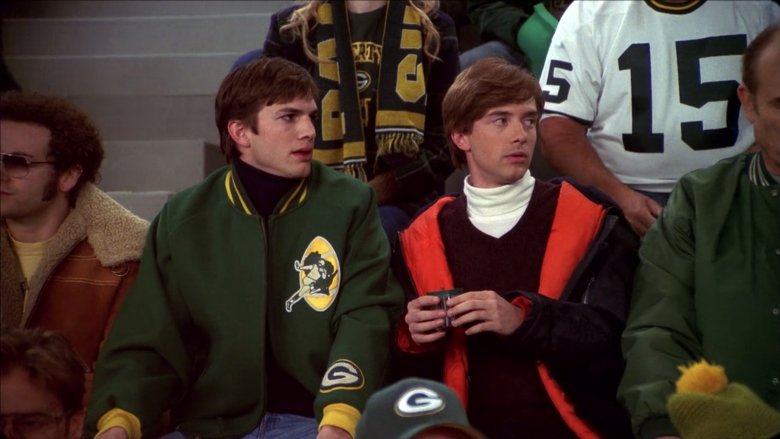 The first season of That '70s Show did relatively well, drawing over 11 million households. The second season was similarly well-received; at the beginning of the show's run, viewers were obviously engaged by and invested in the cast and their shenanigans. 
Carsey-Werner Productions exec Jim Kraus commented on the show's appeal in an interview with the New York Times, pointing out, "The show was a secret pleasure for Fox's core audience, the 18-to-34-year-old concentration of viewers... No matter what night it aired — and it moved constantly — viewers found it and followed it." Unfortunately, that didn't last forever: The last season of the show only reached seven million households, according to Time. 
Despite declining viewership, the show didn't experience a significant drop in critical reception until the final season. Though they did well overall, Rotten Tomatoes audience scores for the first seven seasons gradually declined as the show progressed. Between the show's first and seventh season, audience scores never dropped below 60 percent, the eighth season took a massive dive, dropping all the way to 23 percent. By the end, many fans hadn't just moved on — they actively disliked the final batch of episodes. Even before That '70s Show was canceled, it had clearly stopped being appointment TV for its audience.
That '70s Show didn't have many stories left to tell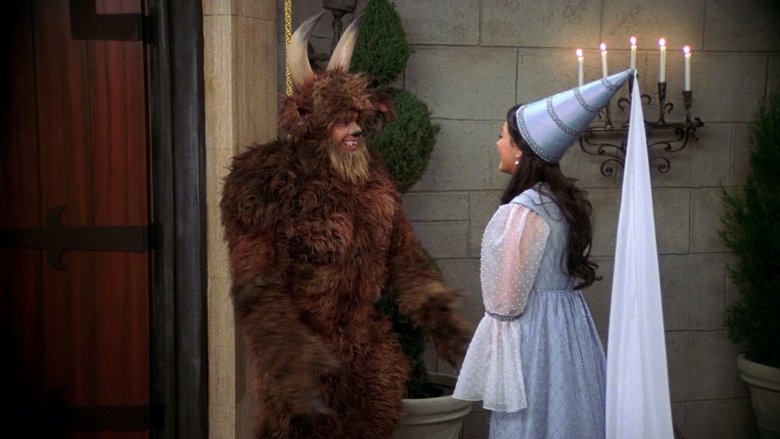 By the time That '70s Show concluded its eighth and final season, many character arcs had reached their natural conclusions, leaving less potential for interesting stories should the series have continued. 
After dating Randy throughout most of the final season, Donna broke off the relationship as the finale drew near and got back together with Eric in the series finale. Red and Kitty decided not to sell their home. Fez and Jackie had their first real kiss, implying that their new relationship was off to a decent start. Hyde was given the record store by his father, making him the new owner. Finally, Kelso became a security guard for the Playboy Club in Chicago, an ironic gig for someone who can't seem to keep his hands off of women. 
Like most long-running sitcoms, That '70s Show tied up basically every significant loose end during its finale. If it hadn't been canceled and had gone on to a ninth or tenth season, other stories might have been told — but it's also very likely that it would have overstayed its welcome more than it already had.
That '70s Show goes out on a high note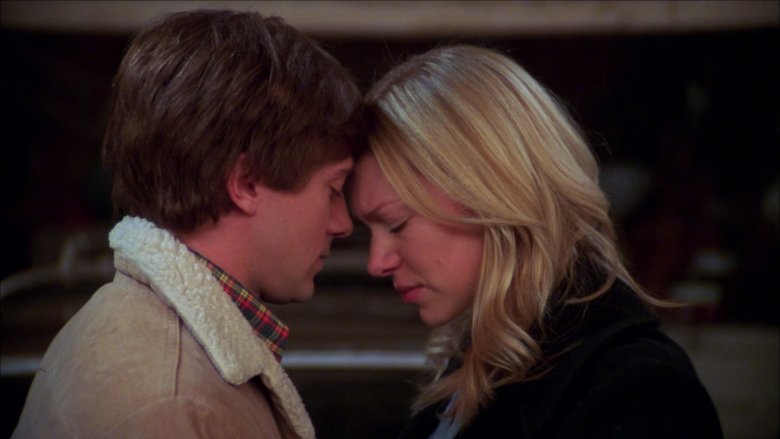 After eight seasons, Fox wanted to give That '70s Show a proper sendoff, and the network honored its long-running hit with some extra room on the schedule: A week before the finale, the network aired a regular half-hour episode alongside a special 90-minute retrospective. 
The finale takes place on New Year's Eve, which also happens to be the last day of the '70s. According to executive producer Mark Hudis, ending the series on the final day of the titular decade was no coincidence; as he put it, "We thought we'd just wrap up the '70s while we wrap up the series."
The finale features the returns of Eric and Kelso — and considering that the episode boasts a near-perfect rating on IMDb, it's safe to assume that fans were excited to see these familiar faces again. It's sad to say goodbye to familiar faces on TV, but at least this series ended on a high note — and looking back, it isn't hard to understand why That '70s Show was canceled.