Chilling Adventures Of Sabrina To Release Special Christmas Episode Next Month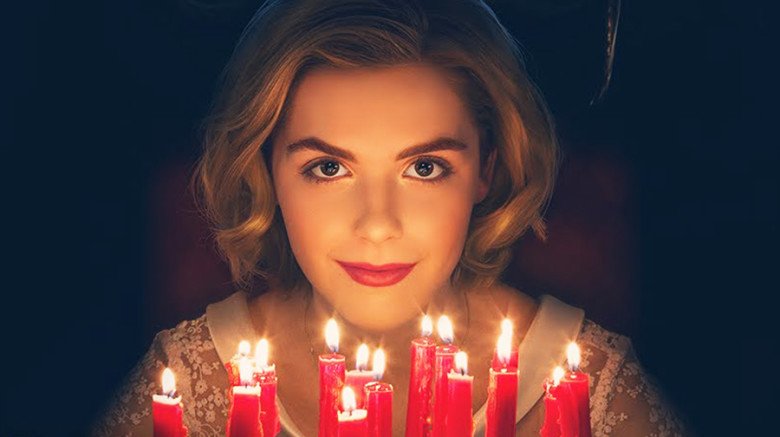 He sees you when your sleeping, he knows when your awake. He knows if you've been bad or good — so be bad for badness' sake. 
We're not talking about the big-bellied, white-bearded Santa Claus here, readers. We're talking about Satan — the dude at the center of Netflix's newest smash-hit series Chilling Adventures of Sabrina, which is set to air a special Christmas episode on December 14.
Chilling Adventures of Sabrina creator and showrunner Roberto Aguirre-Sacasa made the announcement on Monday, November 12, posting to his Twitter account a moving picture of the series' cast sitting on the steps of Sabrina Spellman's (Kiernan Shipka) creepy home with the words "Happy Solstice" stamped across the bottom of the staircase and a flurry of snowflakes swirling over their faces. 
"Praise Satan! I mean, Praise Santa! @sabrinanetflix has a X-mas Special dropping on 12/14!! I love this episode of #CAOS!! @netflix," Aguirre-Sacasa wrote in the caption of his tweet, adding a string of emojis — a crystal ball, a Namahage ogre face, an angel, a Christmas tree, a lightning bolt, a snowman, two champagne glasses, a goblet of red wine, and a skull and crossbones — to tease what fans might see in the upcoming Christmas episode. 
Speaking of what may happen to Sabrina and the gang come mid-December, the fine folks at Deadline got their hands on the official synopsis for the Chilling Adventures holiday special. For starters, the episode is titled "A Midwinter's Tale" — an apropos name given the time of year the episode will drop, but one that could be a reference to William Shakespeare's comedy A Midsummer Night's Dream. "A Midwinter's Tale" won't center around a wedding like the Shakespearean work does, but it sounds like it will feature the same kind of structure: interconnecting plots tied to one another by a shared story. 
Set during the Church of Night's "celebration of the winter solstice" — which marks the first day of winter and the longest night of the year, and falls on December 21, just a week after the episode hits Netflix — "A Midwinter's Tale" sees the families of Greendale "gather around the yule fire to sing pagan carols and tell ghost stories." But, as with everything in Chilling Adventures, it isn't all holiday cheer, eggnog, and gingerbread house-building for long. As the night carries on, "both welcome and unwelcome" guests join the festivities — and a not-so-friendly visitor just might shimmy his way down the chimney. (Satan. It's probably Satan.) 
The Christmas special of Chilling Adventures of Sabrina is a welcome surprise, as the first 10-episode season of the supernatural horror series premiered in its entirety on October 26. But it actually isn't the only piece of Christmas-themed content Netflix will release in December. Alongside "A Midwinter's Tale," the streamer is rolling out a Christmas special for the anime series Neo Yokio, entitled Neo Yokio: Pink Christmas; the Kurt Russell-starring cooler-than-snow Santa movie The Christmas Chronicles, the Christmas-y first episode of Fuller House season 4, and the Vanessa Hudgens-led Christmas flick The Princess Switch – plus a whole host of other films and television specials, all of which Netflix teased in its winter content sizzle reel.
It will be quite the treat to see more of Chilling Adventures of Sabrina next month, and will certainly be interesting to see how a series that's heavy on horror themes will handle the lightness and brightness of such a joyful holiday as Christmas. 
Mark your calendars for "A Midwinter's Tale" on December 14.