Chilling Adventures Of Sabrina Season 4 - What We Know So Far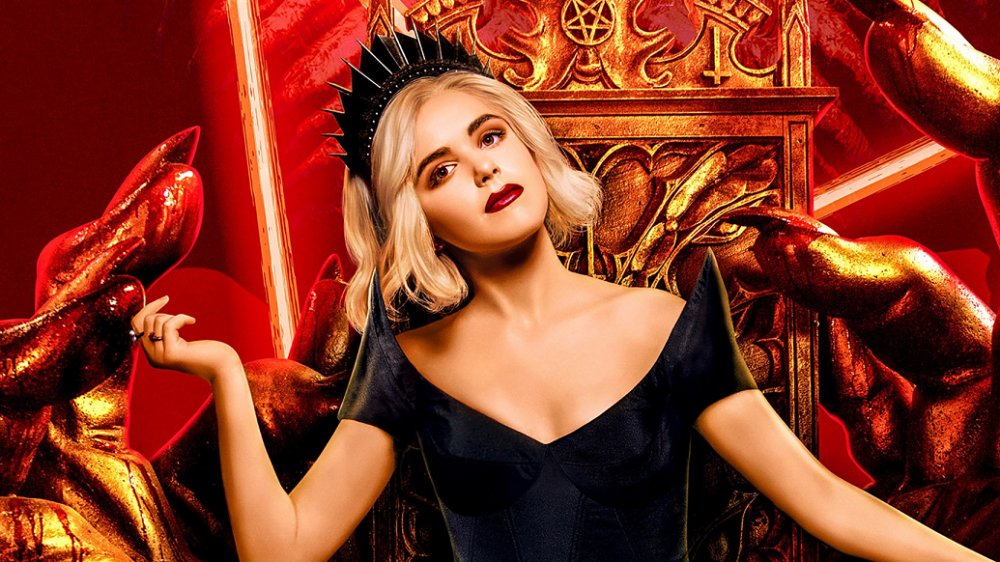 Netflix
Contains spoilers for Chilling Adventures of Sabrina through season 3
As fans of Chilling Adventures of Sabrina have come to know, balancing witch life with human teenager life is dark and messy, and gets really strange really fast for Sabrina Spellman. Such a life comes with great responsibility and routinely making a decision that, as Ambrose Spellman will remind his cousin Sabrina, comes with major implications and is typically a world-altering move.
The half-mortal, half-witch does her best to navigate these dark and witchy waters, and to her credit, she's done a fine job with what she's been given. This coming-of-age story has itself come a long way since Sabrina's dark baptism at the start of season 1. After all, she's now the Queen of Hell, and — HUGE SPOILER — season 3 ends with two Sabrinas. One resides in Hell as the queen and the other takes residence on Earth and gets to spend a life filled with joy, happiness, and mischievousness with her closest friends, two aunts, and cousin Ambrose. That is, until something goes horribly wrong with the time paradox Sabrina created — and it inevitably will, because this show is flooding with Sabrina-induced chaos.
In times of darkness and tragedy, the teen witch and her magical world are here to make our lives a little more fun with cloudy skies, an eerie setting, and pure magic and adventure. Luckily for fans, Netflix long ago renewed the series for a fourth season — which is technically the second part of the second season, as Part 1 and Part 2 make up "season 1" and Part 3 and Part 4 make up "season 2." Whatever you call it, a new season of Sabrina is on the way. Here's everything we know about Chilling Adventures of Sabrina season 4 so far.
What's the release date for Chilling Adventures of Sabrina season 4?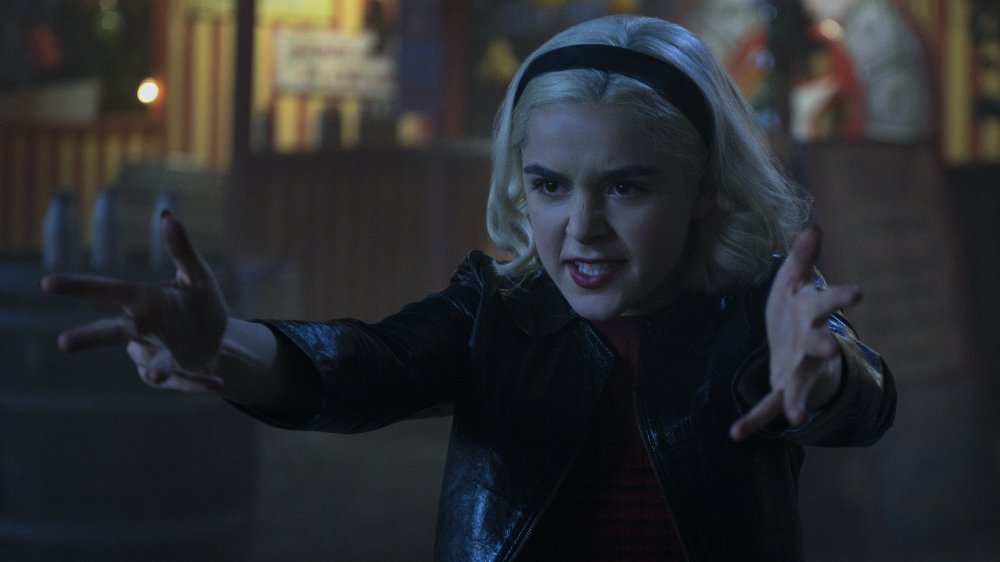 Diyah Pera/Netflix
While a release date for the newest installment of Chilling Adventures of Sabrina has yet to be announced, season 4 has already been given the green light. Two more seasons of CAOS were ordered up back in 2018. The first part came in the form of an eight-episode third season. Similar to Part 3, Part 4 will consist of eight dark coming-of-age episodes, expected to drop in the form of chapters. 
Though Chilling Adventures of Sabrina season 4 is without a debut date as of this writing, we can make an educated guess on when it might roll out on Netflix based on the pattern of release for the previous three seasons. Netflix released Part 1 of the show on October 26, 2018, with a Christmas special dropping on December 14 of the same year. Part 2 debuted on April 5, 2019, and Part 3 dropped on January 24, 2020. If the release pattern is any indication, fans can expect Part 4 of Chilling Adventures of Sabrina to land on Netflix toward the end of 2020. That said, another October release would be ideal, and the perfect way to spend the creepiest month of the year.
Who's in the cast of Chilling Adventures of Sabrina season 4?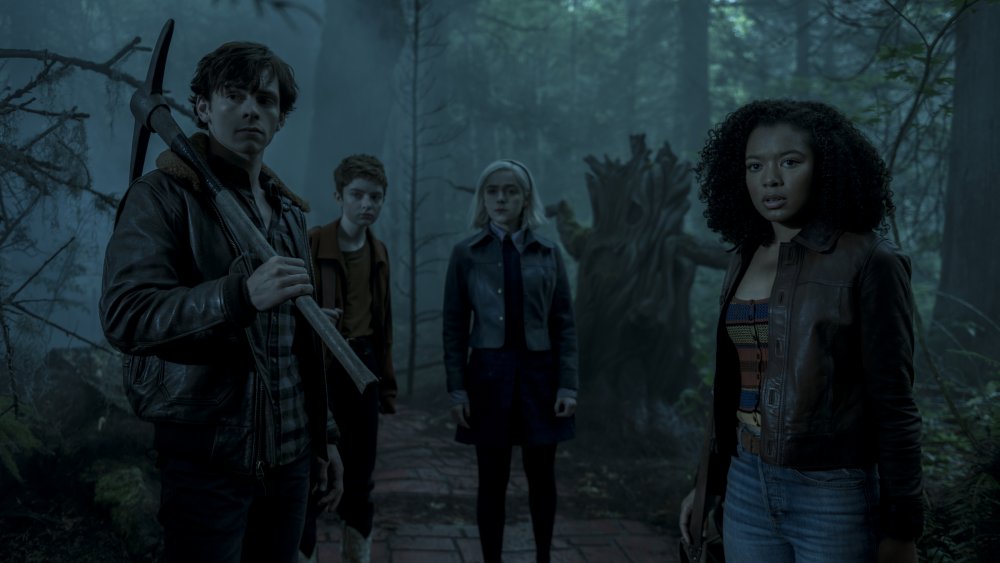 Diyah Pera/Netflix
We won't know the exact entire cast of Chilling Adventures of Sabrina season 4 until Netflix makes the official announcements (and then when the new episodes drop, since there could be surprise additions). Based on the ending of Part 3, though, we have a pretty good idea of who will return for the new season. Of course, Kiernan Shipka as will be back as Sabrina — as will Miranda Otto and Lucy Davis as Sabrina's witchy aunts Zelda and Hilda, and Chance Perdomo as her warlock cousin Ambrose. Ross Lynch, Jaz Sinclair, and Lachlan Watson will surely reprise their roles as Sabrina's mortal friends Harvey Kinkle, Rosalind Walker, andTheo Putnam as well.
Also expected back for more Chilling Adventures are Gavin Leatherwood as Nick Scratch; Michelle Gomez as Mary Wardwell (a.k.a. Lilith, a.k.a. Madam Satan); Tati Gabrielle as Prudence Blackwood; Richard Coyle as Father Blackwood; Luke Cook as the Dark Lord (a.k.a. Lucifer Morningstar); and Adeline Rudolph as Agatha. We can only hope Part 3 newcomers Jonathan Whitesell (who played Robin), Skye P. Marshall (Mambo Marie), and Sam Corlett (Caliban) will return for another go in Greendale. Despite having virtually no lines, returns from Judas and Judith Blackwood (Darius Willis and Whitney Peak) should be expected.
What's the plot of Chilling Adventures of Sabrina season 4?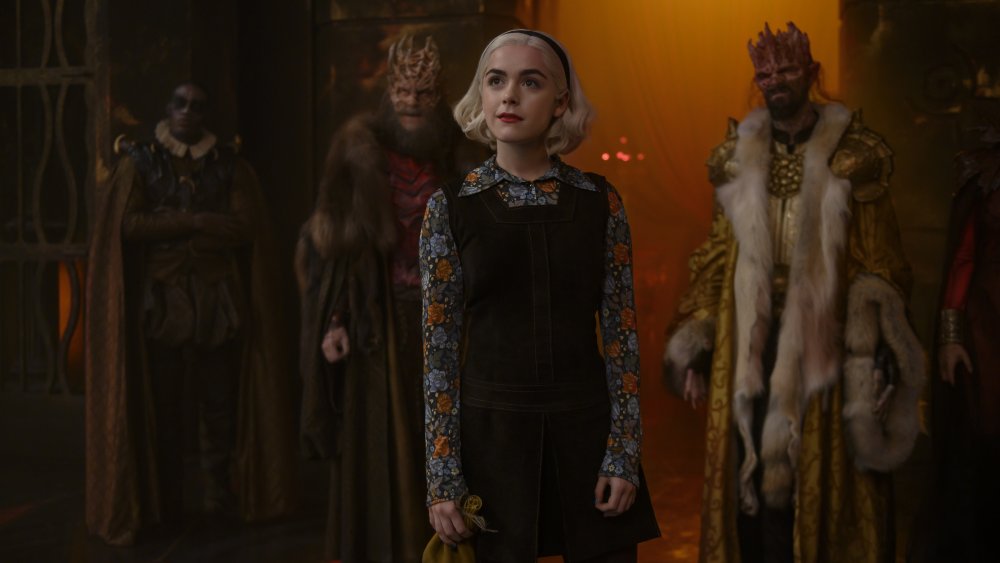 Diyah Pera/Netflix
The plot of Chilling Adventures of Sabrina Part 4 has yet to be revealed, but if the end of Part 3 is a sneak peek, then Part 4 will focus on not one but two Sabrinas. Luckily, show creator Roberto Aguirre-Sacasa dropped some major hints during an interview with TheWrap.
"We are still shooting and we're kind of down to our last few episodes of Part 4, which has been really, really fun," Aguirre-Sacasa said. "Each part has its own kind of identity, and Part 4 is different from Part 3, where a lot of it was set in Hell, we still have that. But each episode of Part 4 is like its own mini horror movie, which is exciting."
That sounds like a setting for the two Sabrinas — and without giving too much away, Aguirre-Sacasa basically confirmed just that: "Without spoiling anything, there is a good possibility' we'll be following both Sabrinas simultaneously going forward."
He even compared Part 4 to a demonic version of The Crown thanks to the power struggle between Lucifer and Lilith. Sabrina's "caught in the middle" of that fight, and now has a little brother (fathered by Satan himself) on the way. Additionally, Aguirre-Sacasa noted that season 4 will have an H.P. Lovecraft vibe, as that's one of his favorite writers. "We're taking very, very old primal ideas of horror and fear and unleashing them on Sabrina, on the Spellmans and on Greendale. And Greendale becomes a battle ground for this really epic battles between evil and good and horror and sanity and it's huge, it's big," he said.
Aguirre-Sacasa further hinted that Father Blackwood's unleashing of Eldritch Terrors at the end of season 3 will play a big role on season 4. Plus, each chapter of season 4 will have a Big Bad that represents this primal terror and fear, and by the conclusion of season 4, it'll be clear whether Sabrina's "endgame" is with Harvey or Nick.
Chilling Adventures of Sabrina season 4 theories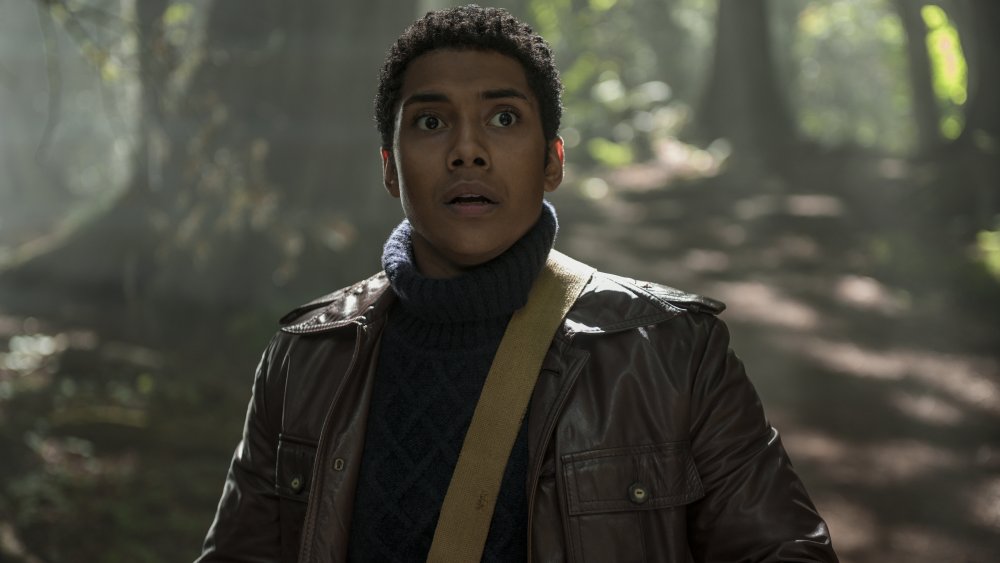 Diyah Pera/Netflix
Although fans know season 3 ends with Sabrina creating a time paradox that will most definitely backfire on her — not to mention the fact that Aguirre-Sacasa has talked about season 4 in great depth — there's still plenty of room for theories. The biggest theory fans have about season 4 is that it will finally reward audiences with the Chilling Adventures of Sabrina and Riverdale crossover they've been waiting for.
Shooting on season 4 wrapped in late February 2020, and when the Chilling Adventures cast were commemorating their time filming through posts on Instagram, the official Instagram page for the series shared a photo of Kiernan Shipka and Riverdale's very own KJ Apa (Archie Andrews) and Casey Cott (Kevin Keller). The caption of the snap reads, "Riverdale is a big, scary place."
We're not saying that guarantees the cast of Riverdale appearing on a crossover episode, but it's a pretty big tease, and at least publicly opens the door for that possibility. There have been subtle and clear references to Riverdale throughout the show, including Sabrina and Ambrose driving to Riverdale, so it's only a matter of time before the creators give fans the ultimate crossover episode.
Until then, Parts 1, 2, and 3 of Chilling Adventures of Sabrina are waiting to be binged on Netflix. Be sure to bookmark this page, as we'll be updating it as news of season 4 is brought from the magical realm of Greendale to our universe.