What To Watch If You Loved Schitt's Creek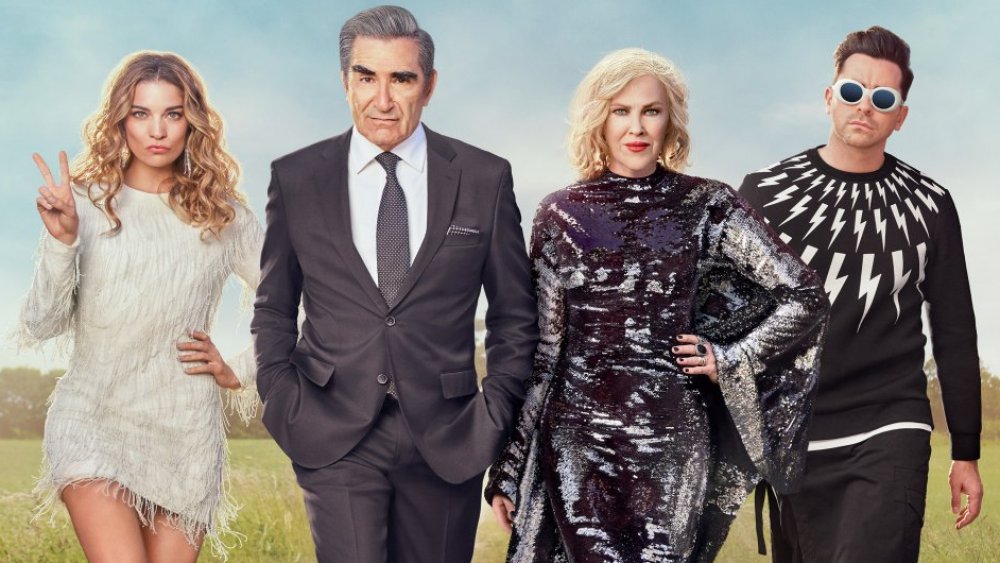 In April 2020, one of the sweetest, most earnest shows on television came to a touching end when Schitt's Creek closed out its six season run on PopTV. Created by Dan Levy, the son of Canadian comedy legend Eugene Levy, Schitt's Creek starred the real life father and son as Johnny and David Rose, who — alongside Eugene Levy's frequent collaborator Catherine O'Hara as Johnny's wife, Moira, and newcomer Annie Murphy as their daughter, Alexis — make up the spoiled, entitled Rose family. After losing their enormous video store fortune when their manager takes off with their money, the Roses are forced to relocate to a small hamlet called Schitt's Creek, which Johnny and Moira once purchased for David as a joke.
However, once they start to make their way in Schitt's Creek, they discover their love for this tiny town with a big heart, creating full lives and even falling in love along the way. If you miss this loving, accepting show that made audiences laugh while simultaneously making huge strides for LGBTQ+ representation on television, here are some you should check out in between your regular Schitt's Creek rewatches, from other Canadian hits to hilarious families to shows that promote LGBTQ+ visibility.
Like Schitt's Creek, Kim's Convenience is all about family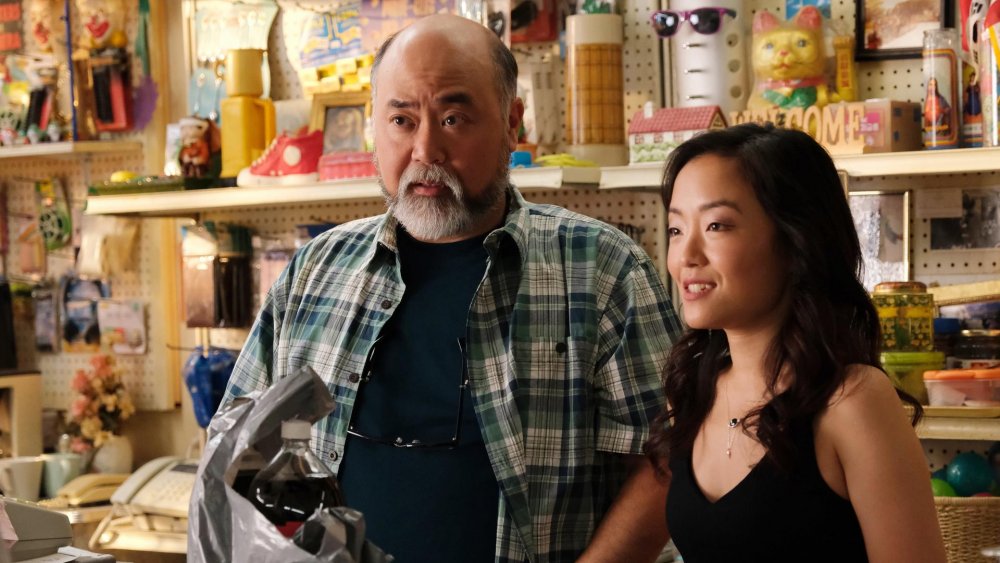 Another Canadian half-hour comedy about a closely-knit family living in a small town, Kim's Convenience, which premiered in 2016, tells the story of the Kim family and their titular convenience store in Toronto's Moss Park neighborhood. Based on the 2011 Ins Choi play of the same name, the series chronicles the day-to-day lives of the Kim children, Janet (Andrea Bang) and her distant brother, Jung (Simu Liu), and their parents, "Appa" (Paul Sun-Hyung Lee) and "Umma" (Jean Yoon), which are Korean for "dad" and "mom."
Throughout the series, Janet tries to grapple with her parents' traditional, often strict attitudes — especially as she tries to get them to support her art career — while Jung, estranged from the family, tries to find ways to reconnect with Appa and Umma. Though the family faces plenty of struggles, they always come together in the end, and between the show's touching storylines and its diverse cast, Kim's Convenience is a must-watch for any comedy fans, especially if you liked Schitt's Creek. Kim's Convenience is available to stream on Netflix.
The Good Place is a show with brains and heart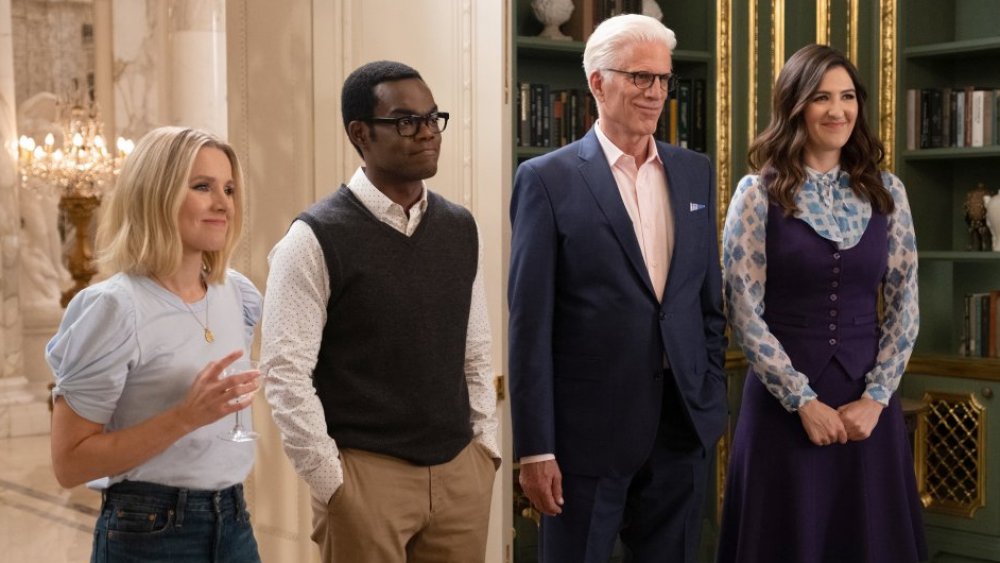 Fans of Schitt's Creek loved the way the series balanced its enormous heart with its sharp sense of humor, which makes The Good Place a perfect follow-up. 
A four-season thrill ride developed by Michael Schur (Parks and Recreation, Brooklyn Nine Nine), The Good Place stars Kristen Bell as Eleanor Shellstrop, a woman who wakes up to find out that she's dead, but on the upside, she's made it into the elusive "Good Place." Guided by Michael (Ted Danson), the architect of Eleanor's specific heavenly neighborhood, and Janet (D'Arcy Carden), a sort of human Siri who knows everything about the world, Eleanor must grapple with a difficult secret. As a self-described "Arizona dirtbag," she definitely doesn't belong in the Good Place.
Alongside Eleanor, there's her assigned soulmate Chidi (William Jackson Harper), neighboring socialite Tahani Al-Jamil (Jameela Jamil), and Jason (Manny Jacinto), a Florida DJ masquerading as a Buddhist monk. And with the threat of the "Bad Place" looming ever closer, Eleanor must learn to be a better person and fast, so naturally, she takes a deep dive into the world of ethics and moral philosophy.
The Good Place came to an end in January 2020, and though the show might be short, it's every bit as razor sharp and touching as Schitt's Creek. If you're craving another show with brains and heart alike, The Good Place is for you. The Good Place is available to stream on Netflix.
New Girl has that same witty banter as Schitt's Creek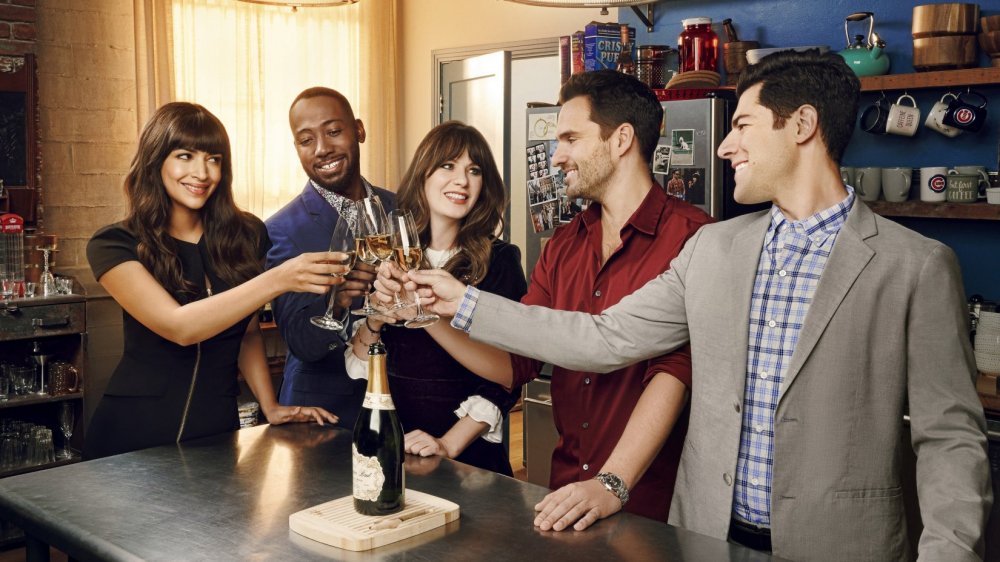 The show that brought the world the word "adorkable," New Girl, which ran on Fox from 2011 to 2018, is a lot better than its manic pixie dream girl exterior might suggest. With Zooey Deschanel as the titular "new girl," Jessica Day, the show chronicles Jess' friendship with her three roommates — Nick (Jake Johnson), Schmidt (Max Greenfield), and Winston (Lamorne Morris) — and their adventures in and out of their Los Angeles loft, alongside Jess' beautiful best friend Cece (Hannah Simone) and Coach (Damon Wayans Jr.), the loft's erstwhile extra roommate.
A rare comedy with a pitch-perfect first season, New Girl gives Jess depth rather than letting her be an utter caricature, and the small details that characterize Nick, Schmidt, and Winston make the characters feel lived-in right off the bat. Schitt's Creek fans will especially love New Girl's banter, which is just as rapid-fire as anything on the former. If you can't get enough of David and Alexis' bickering, you'll love the rapport between Jess, Nick, Schmidt, and Winston on New Girl. New Girl is available to stream on Netflix.
Unbreakable Kimmy Schmidt is a delightful 'fish out of water' story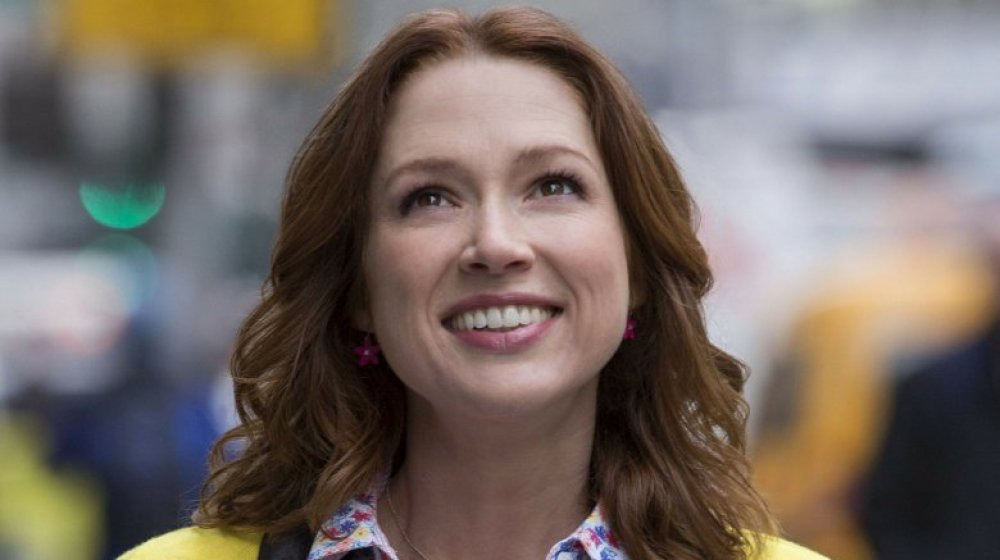 After her success on 30 Rock, fans were extraordinarily excited for Saturday Night Live alum Tina Fey's next project, and she delivered perfectly with Netflix's Unbreakable Kimmy Schmidt. The dark comedy, which started its run in 2015 and concluded in 2019 after four seasons, tells the story of Kimmy Schmidt (Ellie Kemper), a plucky, undeniable young woman who spent the majority of her life trapped in a bunker, thanks to the evil Reverend Richard Wayne Gary Wayne (Jon Hamm). After escaping the bunker, Kimmy moves to New York City and meets Titus Andromedon (Tituss Burgess), a talented but struggling actor, Lillian Kaushtupper (Carol Kane), her insane but caring landlord, and Jacqueline Voorhees (Jane Krakowski), a wealthy woman who hires Kimmy and ultimate becomes one of her closest friends.
Unbreakable Kimmy Schmidt has an undeniably bleak premise, unlike Schitt's Creek, but it balances its darkness with sheer positivity and quick wit in a way that would make the Rose family proud. And beyond that, both are classic "fish out of water" stories. Even after you make your way through all four seasons of Kimmy, there's still another treat for you, thanks to the show's 2020 interactive special modeled after Netflix's first "choose your own adventure" special, Black Mirror: Bandersnatch. (Luckily, the Kimmy special is much more cheerful.) Unbreakable Kimmy Schmidt is available to stream on Netflix.
Parks and Recreation has a whole lot of love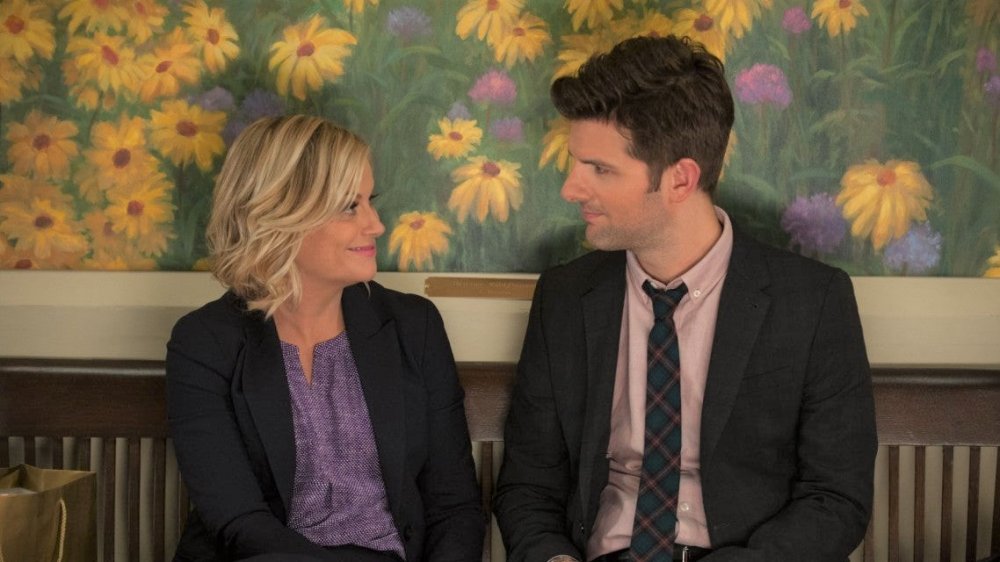 As the Rose family settles into Schitt's Creek and builds a real life in the small town, the show gets much more positive — and if you love that optimistic, upbeat feeling, you'll definitely love Parks and Recreation. Originally intended as a spinoff of The Office, this mockumentary, created by Michael Schur and Greg Daniels, stars Amy Poehler as Leslie Knope, the arguably overenthusiastic leader of the small Parks and Recreation department in Pawnee, Indiana. Despite the fact that she frequently annoys her colleagues with her sheer enthusiasm and insane work ethic, Leslie truly brings out the best in those around her, creating amazing opportunities and helping her friends grow into their best selves throughout the series' seven-season run.
Schitt's Creek and Parks and Recreation share plenty of DNA, from their hilarious performances and writing to their sunny attitudes to their excellent casts — Parks and Recreation famously launched several careers, including those of Chris Pratt, Aziz Ansari, Aubrey Plaza, and Nick Offerman — but the shared characteristic that seems most obvious is that both shows serve as love letters to small American towns. Though Pawnee and Schitt's Creek might seem modest, these two series show that amazing things can happen in the tiniest of places, giving the humblest small towns an earnest, loving spotlight. Parks and Recreation is available to stream on Netflix and Hulu before it moves to NBC's upcoming streaming service, Peacock.
Like Schitt's Creek, Broad City celebrates the LGBTQ+ community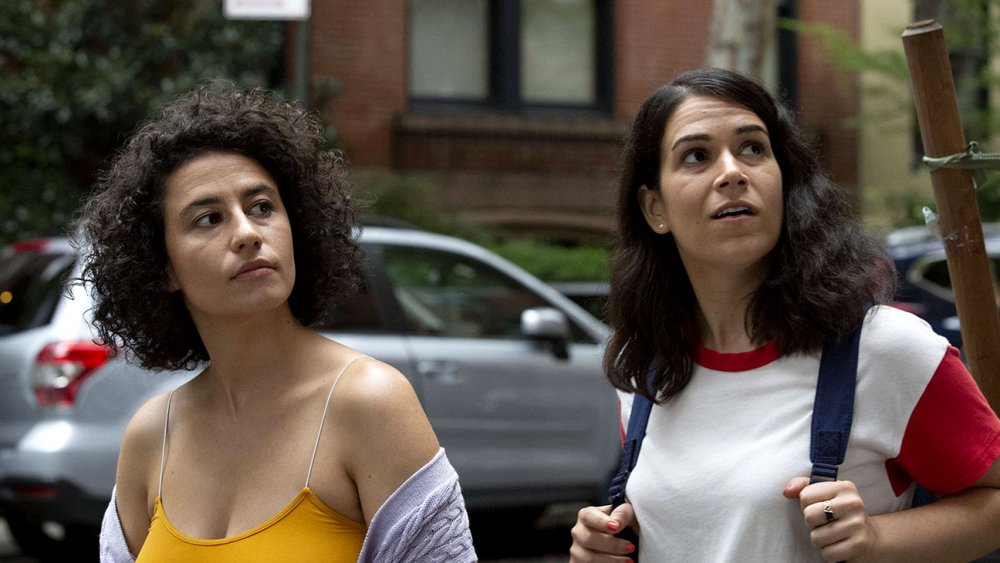 At first glance, you might not think that Comedy Central's Broad City — which ran from 2014 to 2019 and spanned five seasons — has much in common with Schitt's Creek, but you might be surprised. The story of Abbi (Abbi Jacobson) and Ilana (Ilana Glazer), two best friends trying to make their way in New York City, Broad City balances over-the-top, ridiculous humor (Ilana's antics are particularly oversized) with an earnest focus on relationships and friendship, as well as LGBTQ+ issues.
The show, which eventually made its way to Comedy Central after Jacobson and Glazer produced it as a web series, thoughtfully and carefully includes LGBTQ+ visibility, particularly where Ilana is concerned. As an unapologetically queer woman, Ilana is supportive and vocal about celebrating all sexual freedom and identities, and ultimately, both Abbi and Ilana come out as bisexual as the show continues. Broad City and Schitt's Creek differ in some pretty huge ways, but both shows celebrate all sexual preferences and gender identities, allowing their characters to truly be themselves no matter what. Broad City is available to stream on Hulu.
Workin' Moms is a Canadian gem that's perfect for fans of Schitt's Creek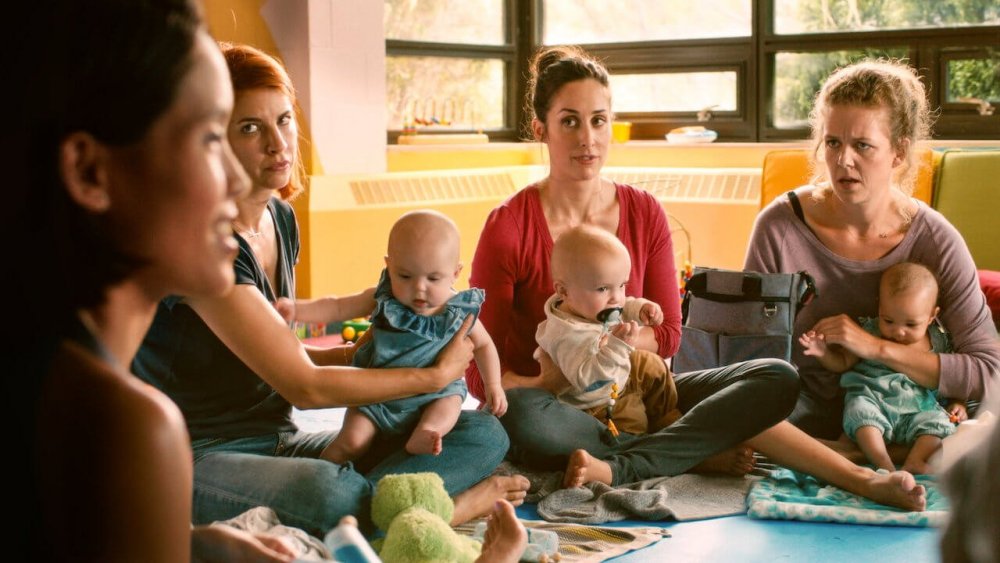 Created by and starring Catherine Reitman, Workin' Moms is another Canadian gem you may not have discovered quite yet. On the show, Reitman leads the cast as Kate Foster, alongside Dani Kind as Anne Carlson, Juno Rinaldi as Frankie Coyne, and Jessalyn Wanlim as Jenny Matthews, who make up a group of working mothers trying to balance parenthood with their busy careers. 
The struggle that women face as they try to "have it all," juggling the demands of motherhood alongside their high stress jobs, is familiar to far too many people, which makes Workin' Moms all the more relatable. Whether the women of Workin' Moms are hiding from their kids just to watch a TV show on their phones, dealing with sexism in the workplace, or simply trying to remember who they are underneath their career and identity as a mother, the show balances a tough topic with light, sweet humor. If the Canadian sensibilities of Schitt's Creek won you over, Workin' Moms is perfect for your next binge watch. Workin' Moms is available to stream on Netflix.
Arrested Development is the ultimate dysfunctional family sitcom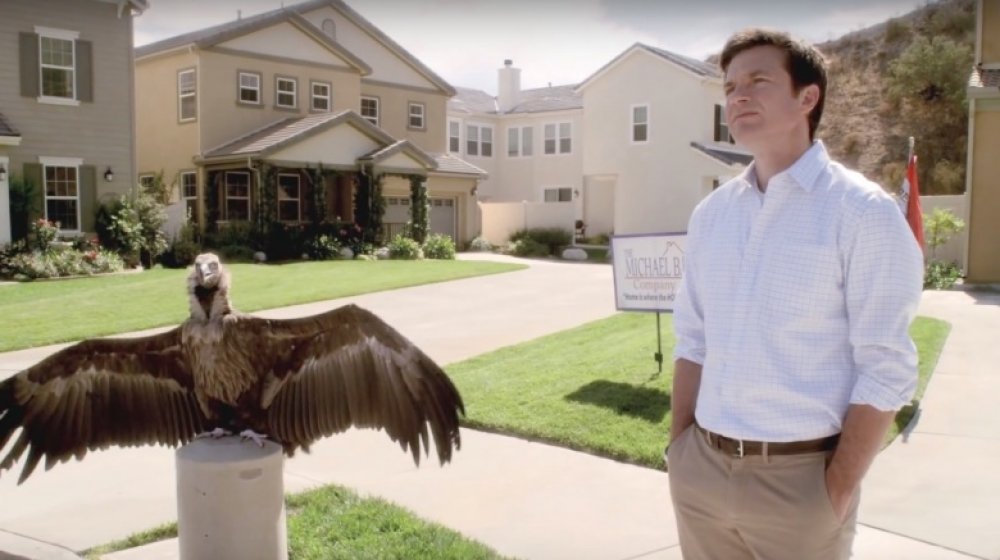 If you like dysfunctional families like the Rose clan, you'll definitely love the Bluths, the central family of Arrested Development. A beloved, critically adored sitcom that originally ran on Fox for three seasons, Arrested Development tells the story of a family that "lost everything" and must depend on one another to put the pieces back together, like the Roses. However, unlike the Roses, the Bluths never really end up banding together, preferring to duke it out among themselves rather than form a united front, which ends up being plenty entertaining in its own right.
With an all-star cast that includes Jason Bateman, Jessica Walter, Portia de Rossi, Michael Cera, Tony Hale, David Cross, Will Arnett, Alia Shawkat and more, alongside Ron Howard as the series' unseen narrator, the first three seasons of Arrested Development remain as beloved as ever — though, unfortunately, Netflix's attempt to revive the series for ongoing seasons wasn't quite as popular. Still, if you're missing the Rose family's riches-to-rags antics, you'll love watching the Bluths squabble over what little capital they have left. Arrested Development is available to stream on Netflix.
Champions is a must-watch for David Rose fans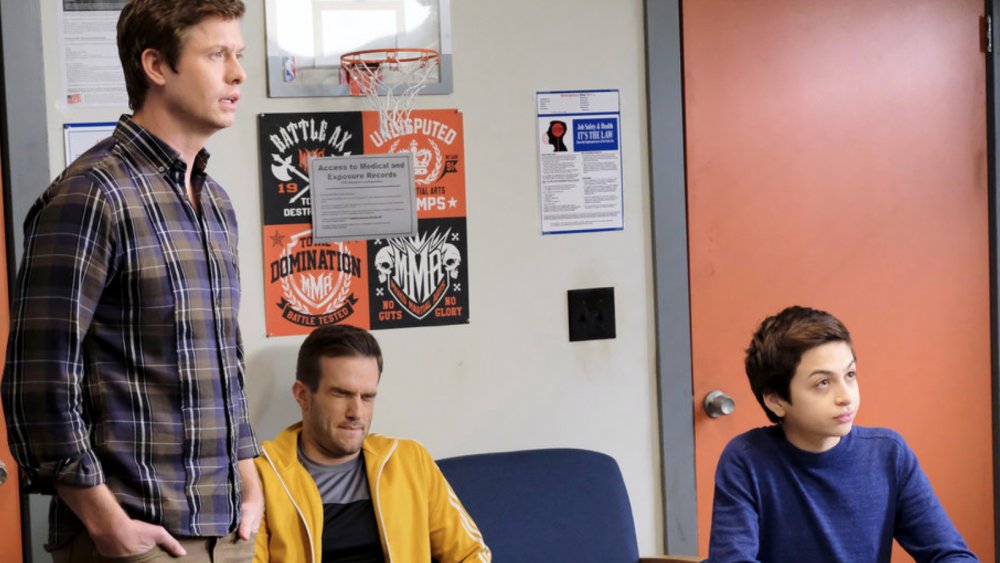 If David Rose, with his exaggerated facial expressions and undeniably dramatic demeanor, is your favorite character on Schitt's Creek, you should probably check out Champions. A short-lived series that only ran for a single season on Fox, Champions is the brainchild of creator Mindy Kaling — who got her start on The Office before moving on to shows like The Mindy Project and Never Have I Ever — that tells the story of Vince (Workaholics' Anders Holm), who lives a carefree life of dating women in Manhattan until his high school fling, Priya (Kaling), arrives to tell him a huge secret. As it turns out, Priya got pregnant and never told Vince, and their 15-year-old son, Michael, now wants to study theater in New York, which means Vince is suddenly responsible for a teenager he didn't even know existed.
As Vince and Michael work through a messy relationship after Michael moves in to attend a performing arts school in the city, Vince turns out to be a sensitive, caring father, especially as he grapples with his son's sexual identity. Much like David Rose, Michael is openly queer, and much like Johnny Rose, Vince is supportive and sweet to his bombastic son who just wants to find his place in the world. Just as David's story balanced sweet, thoughtful moments with outright hilarity, Michael's journey is just as over-the-top as it is grounded. Champions is available to stream on Netflix.
PEN15 is very weird and incredibly clever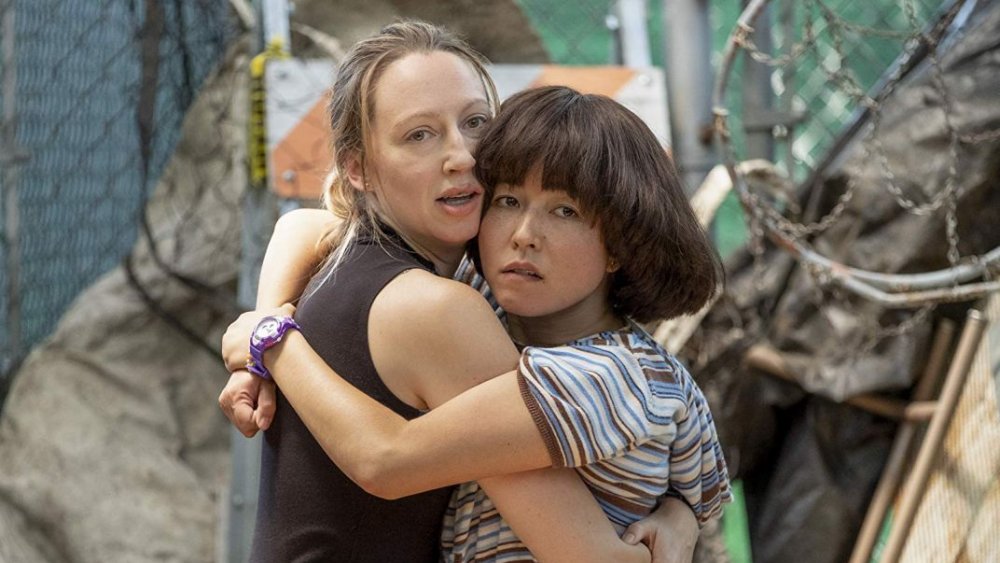 The premise of PEN15 — a Hulu original produced by The Lonely Island and created by stars Anna Erskine and Maya Konkle — sounds absolutely ludicrous at first, in that Erskine and Konkle adorn themselves with braces and butterfly clips to play 13-year-old versions of themselves in a period piece set in 2000. However, if you give PEN15 a chance, you'll see that this crazy gambit pays off, creating a series with plenty of heart despite its obvious absurdity. As Anna Kone and Maya Ishii-Peters, Konkle and Erskine explore every possible struggle and plumb every depth of what it was like to be 13 in the year 2000, from trying beer together for the first time to dealing with puberty. At the same time, they each have their own problems. As Anna's parents prepare to divorce, Maya struggles with a newfound crush and even pushes back against racism when girls in her class exclude her for being Asian.
Much like Schitt's Creek, which features absurd characters like Moira Rose — who speaks in an unidentifiable fake accent and dons a different wig from scene to scene — PEN15 is ambitious in its weirdness, and exactly like Schitt's Creek, it succeeds thanks to its sweet core and extraordinarily clever writing. PEN15 is available to stream on Hulu.
Modern Family set the stage for Schitt's Creek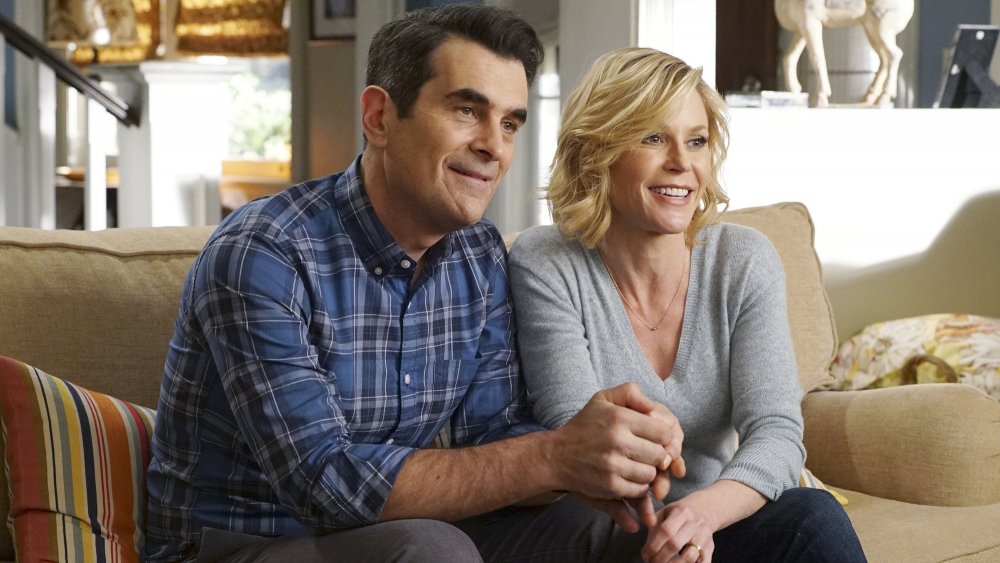 Many shows paved the way for Schitt's Creek, and chief among them is Modern Family, the ABC sensation that ran from 2009 to 2020. The series tells the many stories of a family connected by patriarch Jay Pritchett (sitcom legend Ed O'Neill), who's married to a younger Colombian woman, Gloria (Sofia Vergara). Jay's entire family lives in the Los Angeles area, including his uptight daughter, Claire (Julie Bowen), her goofy husband, Phil (Ty Burrell), and their kids (Sarah Hyland, Ariel Winter, and Nolan Gould), as well as Jay's son and Claire's brother, Mitchell (Jesse Tyler Ferguson), his husband, Cameron (Eric Stonestreet), and their adopted daughter, Lily (Aubrey Anderson-Emmons).
Though Modern Family and Schitt's Creek portray very different families, Modern Family absolutely set the stage for Schitt's Creek to arrive on television years after it premiered, between its unwavering commitment to LGBTQ+ visibility, as well as its depiction of a messy, squabbling, and ultimately loving family that always comes together when it's important. Modern Family is available to stream on Hulu.
One Day at a Time blends tough topics with humor and heart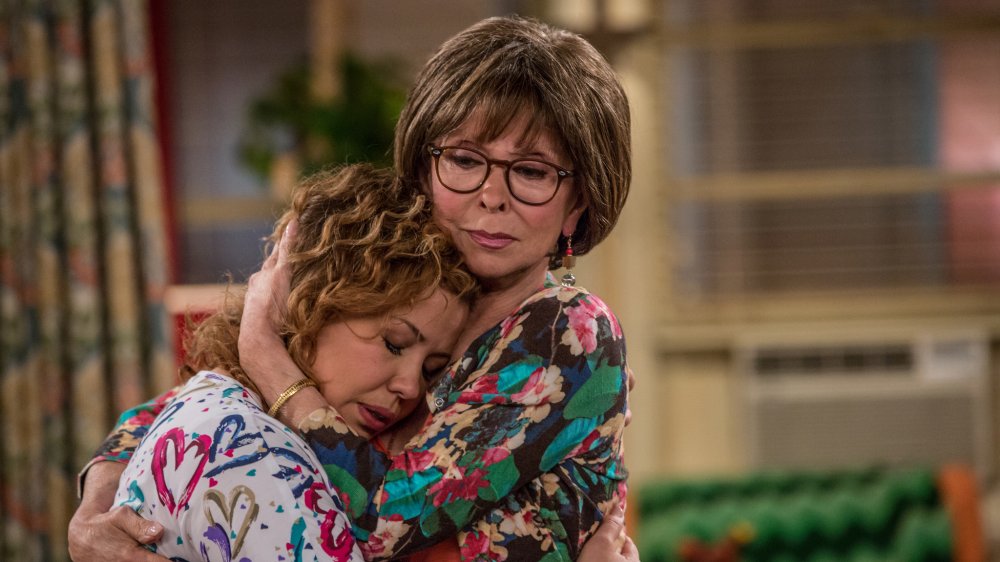 Based on Norman Lear's 1970s sitcom of the same name, One Day at a Time — which originally aired on Netflix before moving to join Schitt's Creek on PopTV — stars Justina Machado as Penelope Alvarez, a United States Army veteran struggling with PTSD and single motherhood in Los Angeles' Echo Park. Though this might not seem like a hilarious premise right off the bat, One Day at a Time perfectly balances hot-button issues like immigration, racism, mental illness, and the Latinx experience in America, all alongside sharp writing and a pitch-perfect ensemble cast, which includes Todd Grinnell (as Pat Schneider, Penelope's friend and landlord), Isabella Gomez (as Elena, Penelope's activist, feminist daughter), and living legend Rita Moreno (as Lydia, Penelope's headstrong mother).
Much like Schitt's Creek, One Day at a Time proudly tackles LGBTQ+ issues, and it features a touching storyline where Elena comes out to her family as gay (as the show progresses, it even introduces a non-binary love interest for Elena, breaking even more barriers). It's possible to combine difficult issues with outright comedy, and as it continues to follow in Schitt's Creek's footsteps, One Day at a Time continues making strides for people of color and queer viewers everywhere. One Day at a Time is available to stream on Netflix.