The Ending Of Schitt's Creek Explained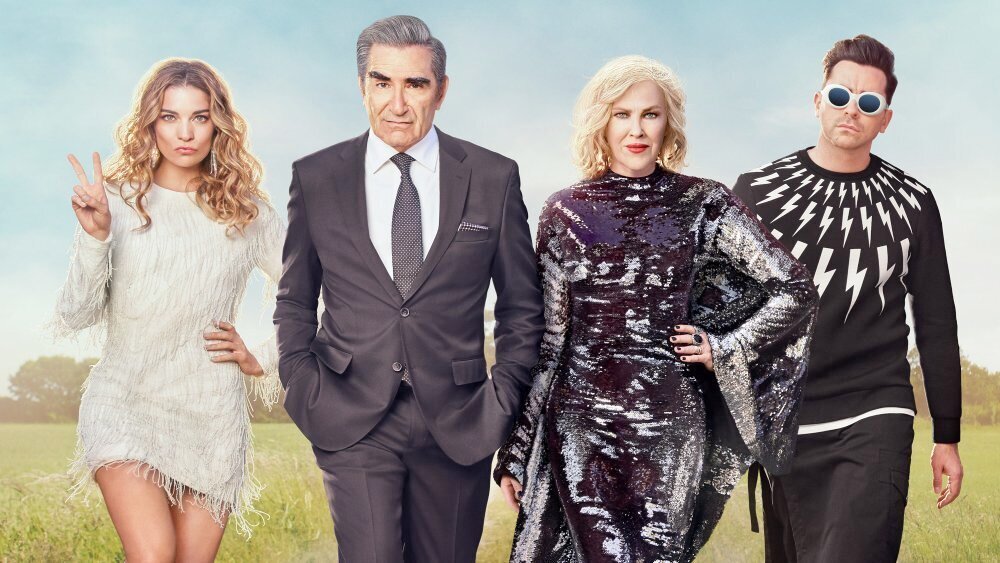 Pop TV
After six seasons, several years, and plenty of laughter and tears, one of the sweetest shows on television, Schitt's Creek, has come to an end. The brainchild of Dan Levy and his father, comedy legend Eugene Levy, this heartfelt yet hilarious show provided the perfect escapist fantasy for its viewers, letting them escape to the small, adorable (and fictional) town of Schitt's Creek week after week.
Both Levys star on the show as father and son Johnny and David Rose, respectively, who — along with matriarch Moira and David's spoiled sister Alexis — are forced to relocate to the town of Schitt's Creek, which they once purchased as a joke, after their video store empire crumbles beneath them and leaves them penniless. Though many of the show's earlier episodes show how dissatisfied the Roses are with their new way of life, the show eventually allowed each member of the Rose family to warm to their circumstances, making friends and living full lives even as they share adjoining rooms at the dilapidated Rosebud Motel. Throughout the series, each member of the Rose family finds fulfillment, joy, and love, whether that means joining a choral group, making the Rosebud Motel into a national brand, finding a new career group, or even getting married — and with a pitch-perfect finale, the Levys and the cast and crew of Schitt's Creek let audiences say an emotional goodbye with one last half hour.
Whether you're a new visitor to Schitt's Creek or you've had a timeshare in the town since the very beginning, the show's ending is sure to satisfy you. Here, we'll explain the entire finale, from happy endings to the Rose family's final goodbye. Spoilers for Schitt's Creek to follow!
A storm almost sinks Patrick and David's wedding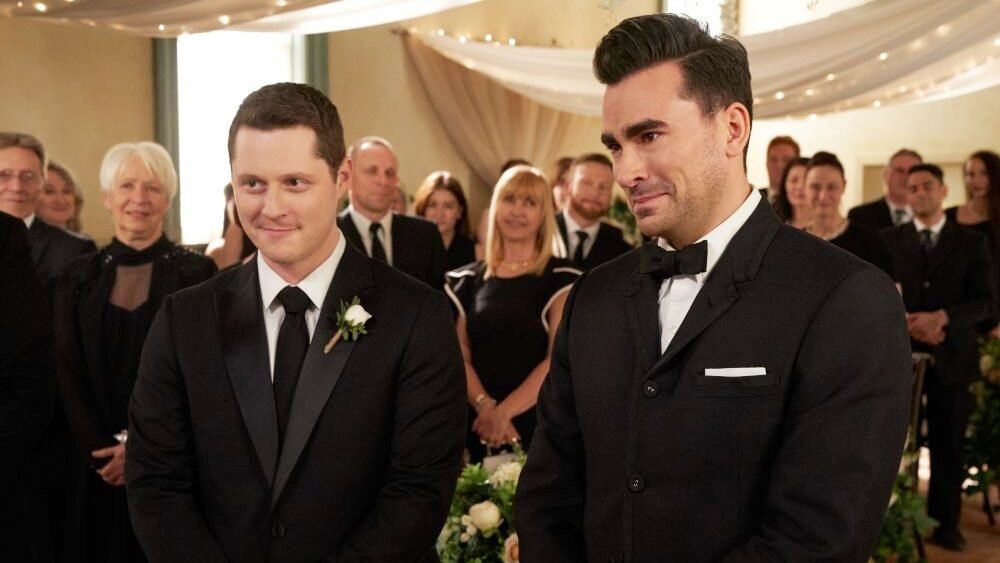 Pop TV
Throughout the sixth and final season of Schitt's Creek, the narrative has led to one point; the wedding of David and his loyal, loving fiancé Patrick (Noah Reid). After the pair got engaged in the fifth season, fans — and David — have been looking forward to this day, but immediately, the proceedings hit a major snag. A storm has hit the town and is slated to last all day, and since David prioritized the outdoor pizza oven over a tent, and the officiant he hired only travels by pennyfarthing (though David is quick to point out that he's a "haikuist"), the wedding has no venue and nobody to preside over it. Everybody else is too emotional to handle the ceremony, so Moira (Catherine O'Hara), who once officiated Pat Sajak's wedding (complete with puns like "Can I buy a vow?"), steps up.
While Patrick and Stevie (Emily Hampshire), David's maid of honor, work to find a wedding venue, Patrick arranges a massage for David, which comes with, well, an extra surprise. After securing the town hall for the ceremony, Patrick and Stevie return to find David in an uncharacteristically good mood, and right away, he thanks Patrick for securing a "happy ending" as a part of the treatment. Horrified, Patrick says that definitely wasn't part of the plan, but realizes that asking the masseuse to treat David very well and leaving an envelope of cash may have sent the wrong message. Thankfully, this doesn't stop the two lovebirds, thanks to Patrick's understanding attitude and David's freewheeling sexuality, and the wedding remains set to continue as planned.
The Roses get the happiest of endings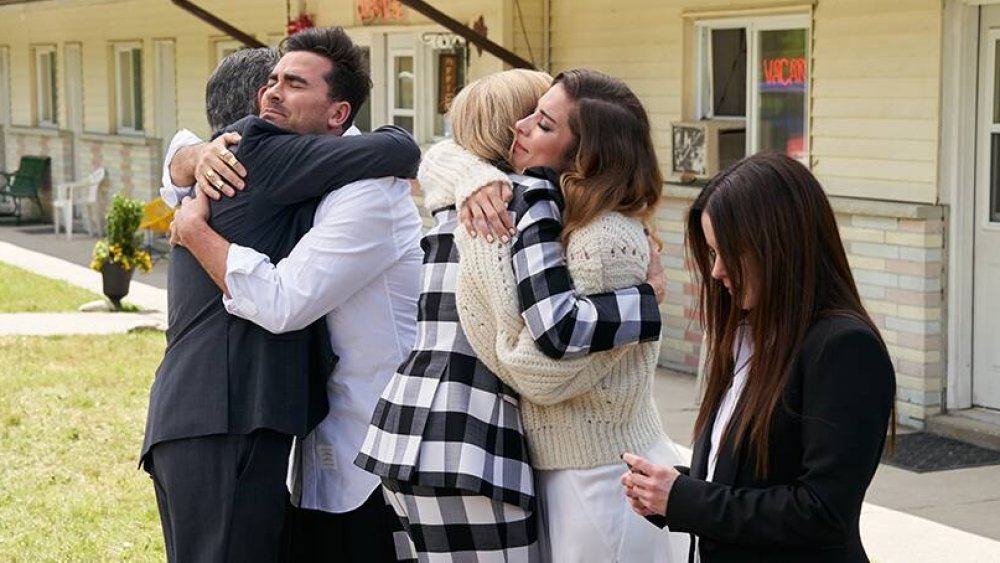 Pop TV
Ultimately, the wedding goes perfectly, despite the fact that Alexis (Annie Murphy) walks David down the aisle in what is very obviously a wedding dress. (Apparently, the fact that it came with a "tulle headdress" doesn't faze her.) Moira, dressed as the Pope in a long blonde wig, delivers a touching yet tearful ceremony, and in case you weren't crying already, David and Patrick deliver an emotional set of vows. Patrick, in a reference to the first time he told David that he loves him, sings Mariah Carey acapella, while David tells Patrick that he's never felt so safe and loved, and that this truly is his "happy ending."
Cut to the next morning, when it's time for the Roses, Patrick, and Stevie to part ways. After a sleepless night celebrating the wedding, Moira and Johnny set off for California — where Moira is poised to resume her role on Sunrise Bay, the soap opera that made her a middling star — while Alexis is set to head to New York, and Patrick and David will remain in Schitt's Creek in their new house.
After an emotional goodbye, which felt as if the actors and characters were simultaneously saying tearful farewells to people and places they truly love, Moira and Johnny set off, stopping for one last look at the vaguely obscene town sign that has been repainted to depict the Rose family themselves.
The first five seasons of Schitt's Creek are streaming on Netflix, so if you want to head back to the beginning after that tear-jerking finale, the streamer has you covered. If you missed it, the sixth season is expected to be available for streaming later this year.