Guardians Of The Galaxy 3 Director Makes A Bittersweet Reveal
James Gunn just caused Marvel fans the world over to breathe a loud, collective sigh — and we're not quite sure if it's in relief or dismay.
The director of the Guardians of the Galaxy movies (as well as cult hits like Slither and Super) continues to use part of his pandemic downtime to chat with fans and filmmakers alike via social media. While Gunn has frequently used such platforms to delight both with quippy responses and insightful video watch parties — like one for Guardians of the Galaxy Vol. 2, during which he shared a treasure drove of fun facts about the flick – his latest Twitter interactions have proven more than a little bit bittersweet. 
The first of them came when Gunn took time to respond to one fan's inquiry about whether or not Guardians of the Galaxy Vol. 3 had originally been slated for a July 2020 release. Back in January 2018, Gunn had shared on Twitter that the third installment of the galaxy-saving heroes' mini Marvel franchise would arrive in 2020 — but he didn't specify when. Considering Marvel only schedules a certain number of films per year, for a while it seemed like Guardians 3 might have been scheduled for a prime summer 2020 launch.
However, according to Gunn's recent tweet, it appears the release date of the hotly anticipated sequel was actually even sooner. "Original date for the release of Vol 3 was going to be May of this year – we would have been delayed because of coronavirus," wrote Gunn. "God works in mysterious ways."
Guardians of the Galaxy Vol. 3's road to production has been a bit rocky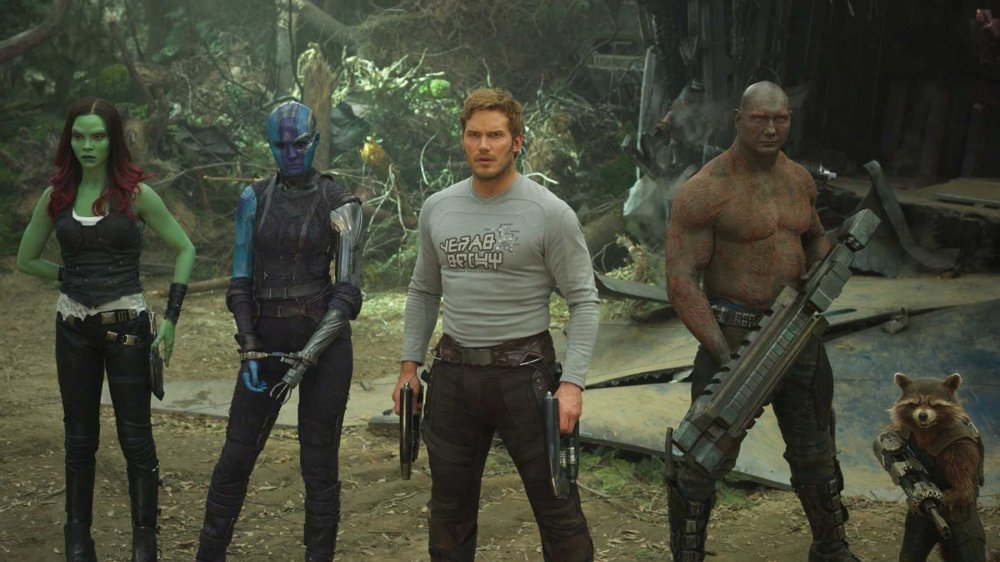 Mysterious ways indeed. In case you've forgotten, Guardians of the Galaxy Vol. 3's journey to the big screen has been one fraught with drama. In a now-infamous decision made in July 2018, executives at the Walt Disney Company, which owns Marvel Studios, fired Gunn from the picture in the wake of online controversy, after past tweets of his resurfaced and were deemed offensive — misaligned with the kind of family-friendly vibe that Disney aims to project. A few months and plenty of public outcry (even by the rest of the Guardians cast themselves) later, Disney re-hired Gunn. 
But by then, the in-demand director had already booked a new gig: helming the reboot-slash-sequel to DC's Suicide Squad. That meant Vol. 3 of his beloved Marvel franchise would have to be put on hold.
While that wait continues to torment Marvel Cinematic Universe devotees dying to dance once again with Star-Lord (Chris Pratt) and the gang, it now seems that even if Gunn and company had gotten Guardians of the Galaxy Vol. 3 done on the original timeline, we still would've had to wait a little longer to see it.
The wait for Guardians of the Galaxy Vol. 3 might be a little longer than we thought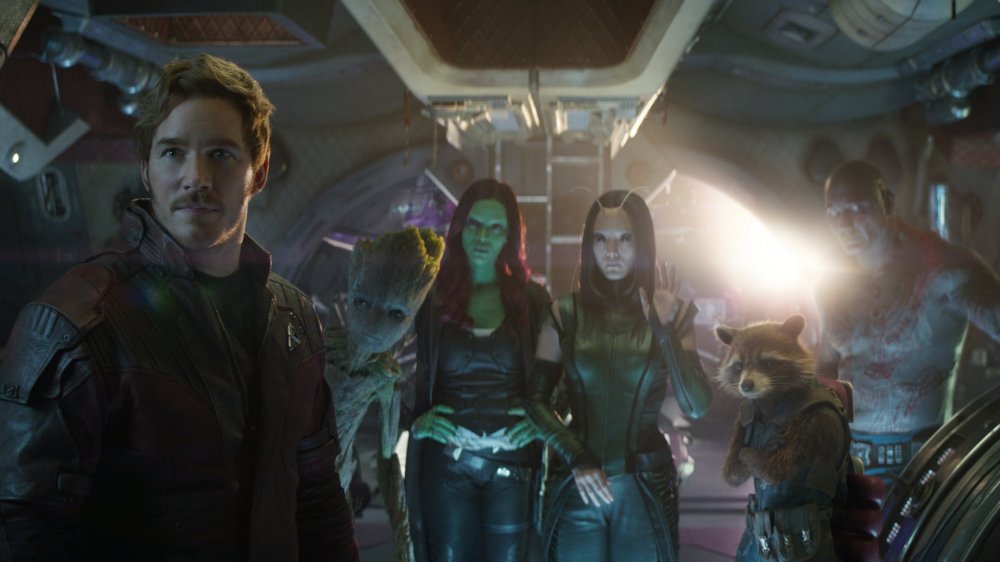 Given the total shutdown of just about every major film and television production, it's obviously very unclear at this point exactly how long fans will wait to get their peepers on more Guardians goodness. Even major theater chains like AMC don't seem to have any clue when the film will actually arrive in theaters. 
The folks at AMC recently tagged Gunn while celebrating the Guardians of the Galaxy franchise with a killer GIF of Peter Quill busting some moves. The problem was that said tweet touted the return of Gunn and the cast for Vol. 3 in 2021. It appears that AMC was working with an old MCU release schedule, as Gunn graciously pointed out in his own tweet, stating, "Thanks for the love, @AMCTheatres (although we won't be in theaters until a little after 2021, unless they've been filming without me)."
That'll hardly come as a shock, of course, as we've known for some time that Guardians of the Galaxy Vol. 3 wouldn't shoot until Gunn was finished with The Suicide Squad. The good news is that filming on that project wrapped prior to all the COVID-19 related delays. Gunn is reportedly editing the DC flick while in quarantine too, so barring unexpected setbacks, his trilogy-capping Guardians of the Galaxy movie should still shoot on schedule. 
Unfortunately, it's unknown when Vol. 3 will actually begin production; Gunn recently shot down reports that the movie would begin production in February 2021, but even if cameras start rolling several months before that once-rumored start date instead of after, a 2021 release seems pretty impossible given how long the post-production process takes.
As it is, Marvel brass has yet to slot Guardians of the Galaxy Vol. 3 into a firm release date. It also appears neither Marvel or Disney have an open release date in place for early 2022 (lest they bump Thor: Love and Thunder from February 11), so there's really no telling when Guardians of the Galaxy Vol. 3 might finally hit theaters.