The Home Improvement Easter Egg You Never Caught In Toy Story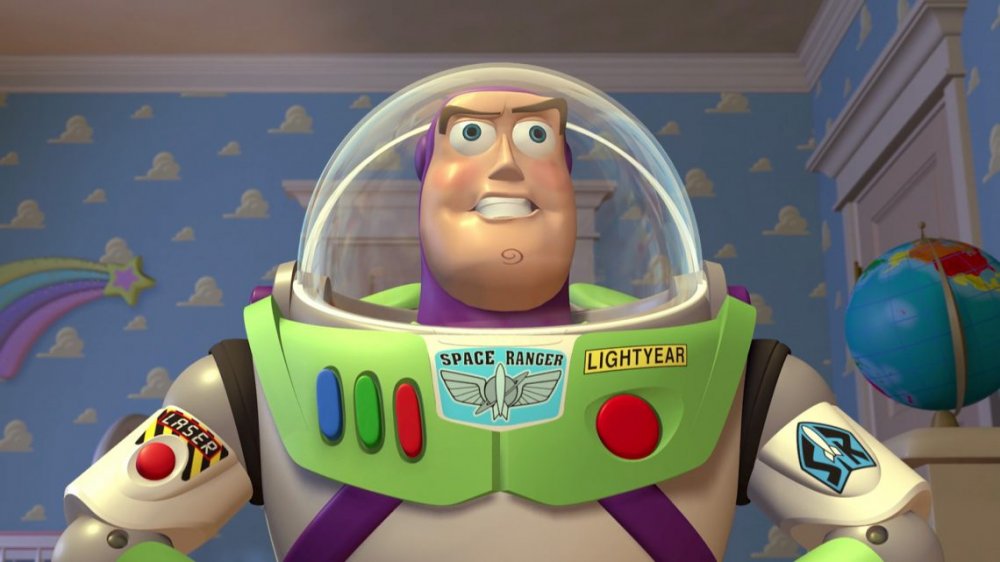 Disney/Pixar
Few network sitcoms are as fondly remembered as Home Improvement, which ran for eight seasons on ABC between 1991 and 1999. The family-friendly comedy made a household name out of its star Tim Allen, who lent his affable everyman persona to the role of Tim "The Tool Man" Taylor, family man and host of the in-series television show Tool Time. The rest of the Taylor clan and their friends and neighbors also became a welcome presence in American living rooms for the better part of the '90s; they included Patricia Richardson as matriarch Jill, Zachery Ty Bryan as eldest sibling Brad, Jonathan Taylor Thomas as middle child Randy, Taran Noah Smith as younger brother Mark, Richard Karn as Tim's buddy and co-host Al, and Earl Hindman as the perpetually partially obscured next door neighbor, Wilson W. Wilson, Jr.
Home Improvement was a massive hit, and as such, opportunities to branch out into feature films came flying at Allen fast and furious in the wake of its success. The first of these was in the 1994 holiday flick The Santa Clause, but the second had even more cultural staying power: Allen provided the voice of Space Ranger Buzz Lightyear in 1995's Toy Story, Pixar's first-ever long-length feature. (Pixar released a number of shorts years before the debut of Toy Story.) The movie has spawned three sequels, all of which are much-loved in their own rights, but the original will always hold a special place in the hearts of fans, as nobody had ever seen anything quite like it before.
With Home Improvement riding high at the time of Toy Story's release, one might think that the film would have slipped in a shout-out. That's a correct assumption — but if you blinked, you might have missed it. Here's the Home Improvement Easter egg you never caught in Toy Story.

Sid's tools in Toy Story came from a familiar manufacturer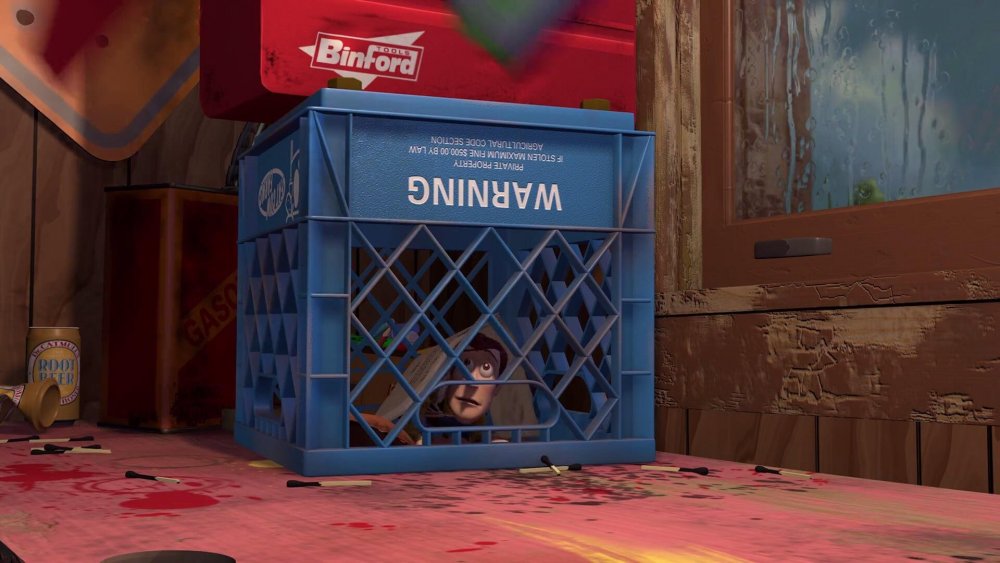 Disney/Pixar
It's easy to forget that in the first Toy Story movie, new arrival Buzz and pull-string cowboy Woody (Tom Hanks) have an antagonistic relationship at first, with the latter futilely attempting to convince the former that he's a toy and not an actual Space Ranger. Woody is also concerned that Buzz will upend the blissful existence he enjoys, along with an assortment of other toys, at the home of his kid, Andy (John Morris). And is he ever right.
During an outing to Pizza Planet, the two get into a scrap that ends with them becoming trapped in one of those maddeningly difficult crane games. Unfortunately for them, they're soon spotted by Andy's next-door neighbor, Sid (Erik von Detten), a kid who doesn't play so nice with his toys (or other kids' toys, for that matter). After fishing Woody and Buzz out of the bin, Sid takes them home, where they observe a most horrifying sight: Sid engaging in his terrible "hobby" of taking toys apart and stitching them back together to create new, Frankenstein-like monstrosities. (One of his sister's dolls ends up with the head of a pterodactyl, as fans will recall.)
The Home Improvement Easter egg comes when we get a glimpse of Sid's tools. It probably slipped past you, what with all of the hilarious mock-horror of the "surgery" scene, but Sid's tools happen to be manufactured by Binford — the fictional company that sponsors Tool Time on Home Improvement. It's a subtle gag, but one that likely prompted many appreciative chuckles from sharp-eyed Home Improvement fans during Toy Story's theatrical run.
Home Improvement returned the favor with a Buzz Lightyear cameo... sort of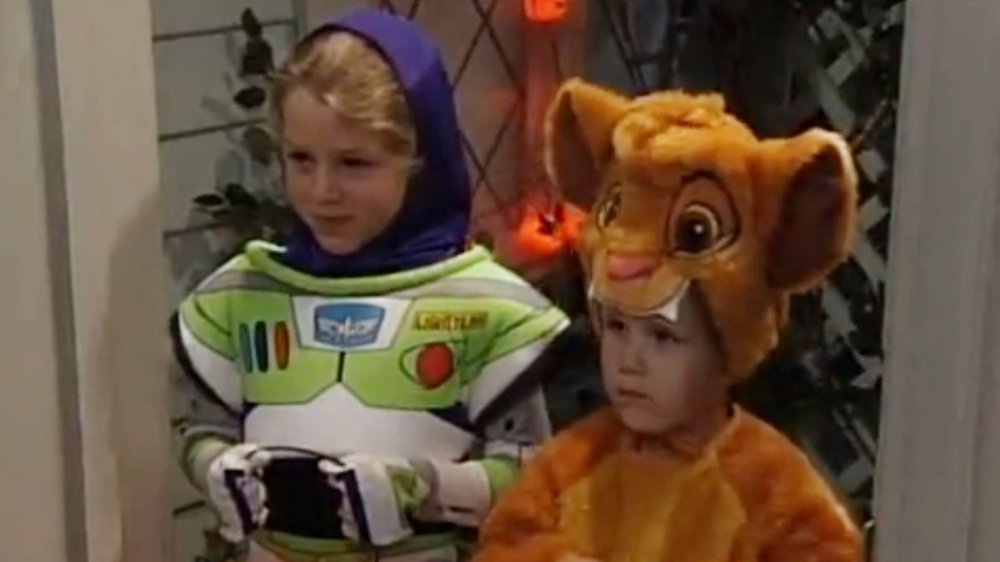 ABC
Of course, Home Improvement's writers couldn't resist including a little nod to their star's smash-hit animated feature during the sitcom's following season — and in fact, they made it a two-fer. Like Tim Allen at the time, Jonathan Taylor Thomas had also done voice work for a major animated movie: he was the voice of young Simba in the Disney film The Lion King, which was released in 1994. The Halloween episode "I Was a Teenage Taylor" from Home Improvement's sixth season contained a gigantic wink at the audience — one that let Taylor get in a friendly little jab at Allen.
Midway through the episode, Taylor's Randy answers the door for a pair of trick-or-treaters — one dressed as Buzz, and the other dressed as Simba. As he doles out candy to the youngsters, he says, "Here's one for the spaceman... and seven for the cute little lion!" Take that, Dad.
This wasn't the last time Home Improvement would refer to Allen's Pixar gig. During the end credits of the season 7 episode "Say Goodnight, Gracie," the Tool Man produces a Buzz doll while playing with his niece, then proceeds to argue with it about which of them is actually Buzz Lightyear. These are some pretty overt shout-outs, though, compared to Toy Story's sly nod. 
If you noticed those Binford tools in the Pixar flick upon first viewing, congratulations — it only took the rest of us a quarter-century to catch up.