Why Taran Noah Smith Was Never The Same After Home Improvement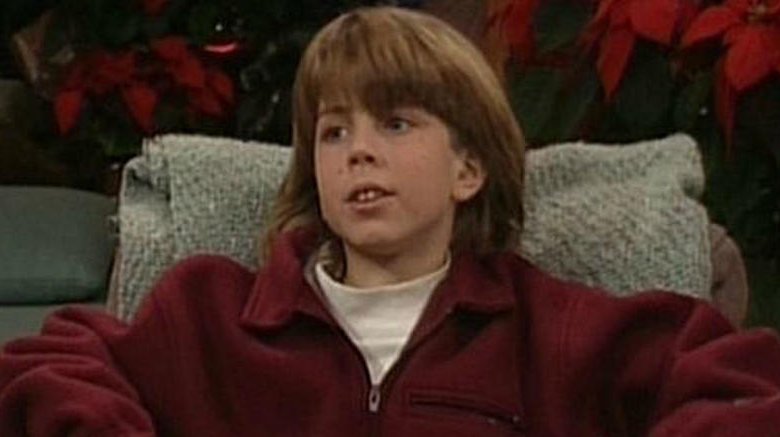 After ending an eight-year stint on Home Improvement, Taran Noah Smith stepped out of the limelight for good.
Being a child actor isn't something that leads to a lot of stability later in life, as time has shown over... and over... and over again. Having the sort of fame that comes with being a Hollywood name at such a young age tends to shuttle people down a path of turbulence. Many child stars see their careers hit the skids as roles dry up and fans move on. Smith, who began acting as Marcus "Mark" Jason Taylor on Home Improvement at the ripe old age of seven, has certainly had his moments of tabloid fodder, but he's been trying to live a life that truly makes him happy after leaving Tinseltown behind.
After Home Improvement ended, Smith revealed that the moment the series wrapped, he knew he wanted to quit acting. He stated at the time, "I started Home Improvement when I was seven, and the show ended when I was 16. I never had the chance to decide what I wanted to do with my life. When I was 16, I knew that I didn't want to act anymore."
Smith again made headlines in 2001 — this time for an interesting life choice. Only 17 years old at the time, Smith married Heidi van Pelt on April 27, 2001. The union managed to make plenty of waves because of the couple's significant difference in age — van Pelt is 16 years Smith's senior. In a move that doesn't seem all that shocking from the outside looking in, the couple filed for divorce on February 2, 2007.
Scandal would follow Smith again, as soon after the marriage, he turned 18 and was granted control of his trust fund, which was worth $1.5 million. This wouldn't have been too noteworthy (it isn't surprising that starring on such a popular sitcom earned him a solid chunk of change) if Smith hadn't alleged that his parents had wasted a significant portion of his money by buying a mansion for themselves while he was still appearing on Home Improvement. But according to his mom, Candy Bennici — who has written a book about raising a child star — her son's allegations weren't an accurate reflection of the truth. In a 2015 interview, she explained "Of course we didn't touch his money... It was in a trust fund. We couldn't have touched it if we wanted to. They were trying to get it when he was 17, and we were trying to protect it. Luckily the Marin courts were very good about it and didn't give it to them." 
After eventually reconciling with his family, Smith would address the dispute a few years later saying, "I'd gotten out of the teenage phase and realized my parents weren't doing anything wrong but were trying to protect me." 
After Home Improvement concluded and he got the majority of the prerequisite child star transgressions out of the way, Smith needed to figure out what he wanted to do with his life. In a 2011 interview with Entertainment Weekly, Smith stated that it was "pretty exciting to leave [Home Improvement] behind and do other things." 
Smith certainly has done other things, trying his hand at numerous different ventures. Being a vegan for the majority of his life, Smith founded Playfood, a food company solely for vegans. After that didn't really hit the ground running, he then became an installation artist for big events like Coachella, telling EW that he "made temples out of trash." Eventually, Smith would move on to help his dad build energy-efficient water purifiers that are now used overseas by military forces. Back in 2014, he provided disaster relief as a volunteer in the Philippines with the not-for-profit organization Communitere. And as of this writing, he's taken on teaching — specifically teaching people how to pilot submarines, a task he fulfills as the Technical Manager for the California-based Community Submersibles Project.
Judging from the wide-ranging career moves he has made, it's clear Smith will continue doing whatever strikes his fancy — and it's evident he's content with staying away from Hollywood cameras. With Tim Allen going on record saying he's interested in a Home Improvement reboot, it's up in the air if Smith could be convinced to return to a life he left behind two decades ago. He seems happy living life however he wants to — no matter what anyone else has to say.