The Tragic Real-Life Story Behind The Fast And The Furious Films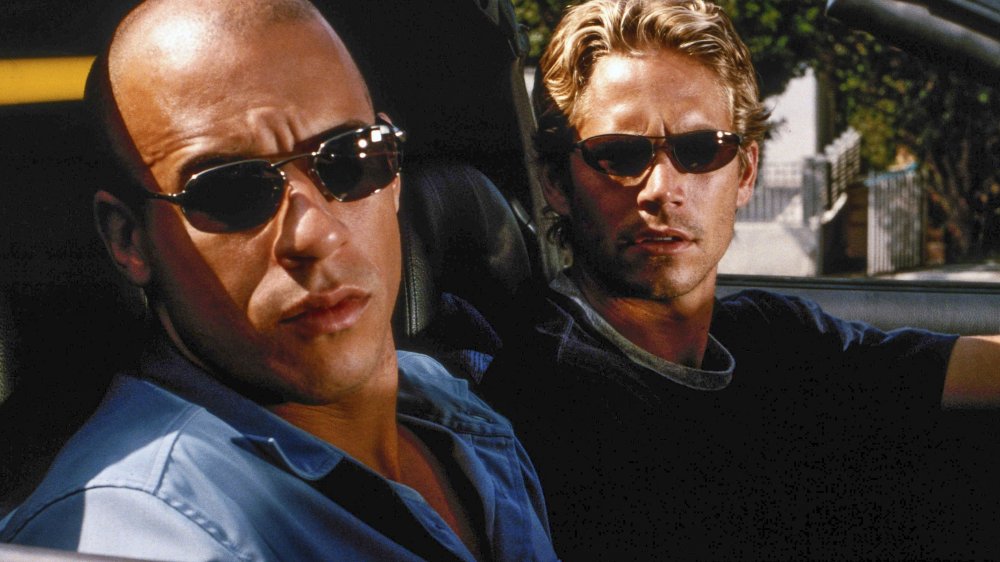 Fast & Furious 9 dropped its first full trailer in January 2020, dropping a joyous bombshell on longtime fans in the midst of all the shots of cars hanging from grappling hooks and magnetized jet planes. While the trailer included the revelation that series protagonist Dom Toretto had a brother — and that brother is a terrorist played by John Cena — the truly insane thing about Fast 9 is the return of fan favorite Han Seoul-Oh.
Actor Sung Kang strolls into the gang's clubhouse, casually snacking as the cast expresses shock over seeing a character who has died onscreen twice in the fictional world of the Fast franchise. In the real world, however, the cast and crew have had to deal with several actual tragedies. The cast have suffered heartbreaks in the making of the movies and as the result of the thrill-seeking they can engender.
Beyond pulse-pounding set pieces, the Fast & Furious movies focus on creating a family wherever you find it. The actors at the heart of the series have done just that in the years since it all began to get through unthinkable accidents and tragic deaths.
A seriously injured stuntman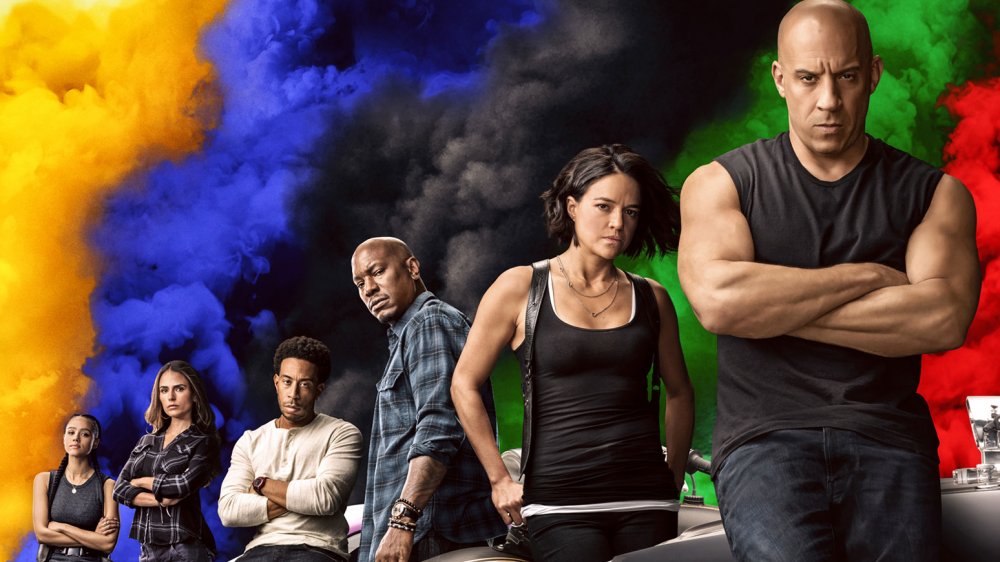 We don't have to stray far into the past to find an example of tragedy on the Fast set. Vin Diesel's stunt double Joe Watts was injured in a terrifying fall while F9 was shooting in the UK in July 2019. According to UK tabloid The Sun, Watts fell 30 feet from an elevated stage at a Warner Bros.' studio in Leavesden, England. The movie's second unit was filming an action sequence, but shut down for the day after Watts suffered a severe head injury.
Watts was put into an induced coma, according to unnamed sources who spoke to USA Today. A little over two weeks later, he was moved from the intensive care unit to the relief of his family and the team behind Fast 9.
"While Joe remains in hospital and there is still a long road ahead, he has been moved out of the ICU and doctors are pleased with his progress," a statement shared by the family read. "We'd especially like to send an enormous thank-you to the air-ambulance crew, all the fantastic doctors, nurses and staff at the Royal London Hospital who have provided amazing care to Joe."
Universal also shared a statement about the news that Watts had been moved out of the ICU.
"Universal Pictures and the filmmakers, talent and crew of Fast & Furious 9, are heartened that Joe is on the road to recovery with the support of his loved ones," the studio said. "We know he'll continue to inspire us throughout his recovery. Everyone in the Fast family sends our heartfelt wishes, and we will continue to support Joe and his family however we can."
Could Vin Diesel leave?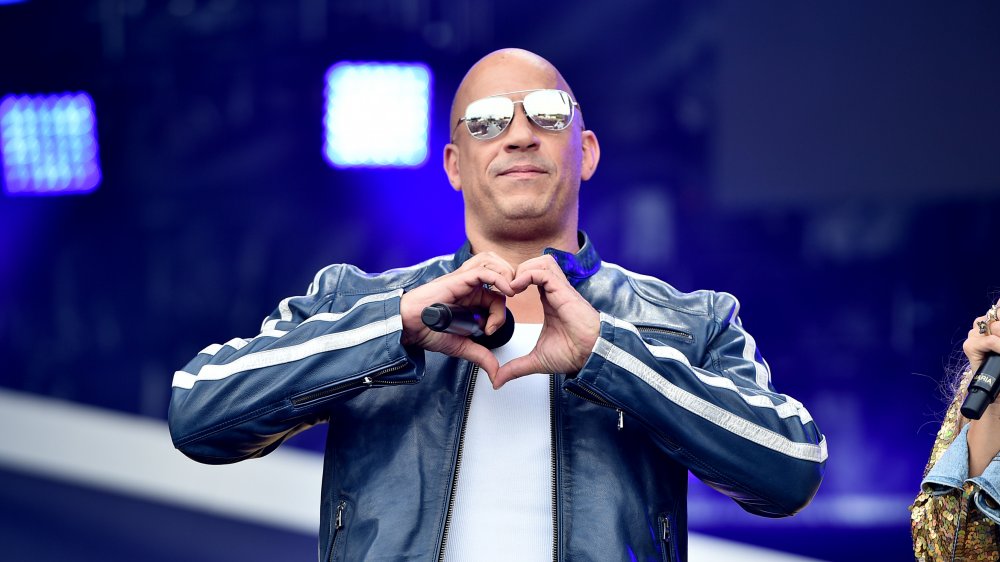 Theo Wargo/Getty Images
In the wake of Watts' accident, rumors swirled that Vin Diesel was considering leaving the franchise behind — a prospect that's been consistent grist for the rumor mill in the later years of the Fast movies. They're easy to sell, given that Diesel sat out the second and third installments — and everyone knows about the long-established animosity between Vin and his recent co-lead Dwayne "The Rock" Johnson.
However, the talk of Diesel leaving appears to be little more than gossip. He has shown no public sign of splitting from the series that made him famous, especially after it has given him just about all he could want. He's been a producer of the Fast movies for years, which notably does not include the two leads he reportedly hated sharing screen time with: The Rock and Jason Statham. With those two busy with their own spinoff franchise via the film Hobbs & Shaw, it's hard to see why Diesel would walk away now.
The death of a core cast member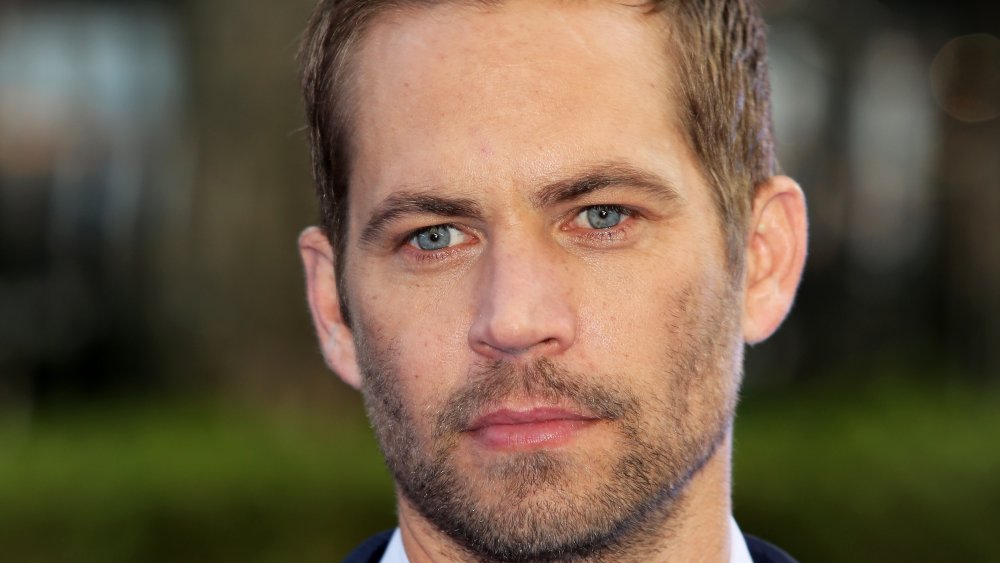 Tim P. Whitby/Getty Images
If there was ever a time that the Fast & Furious movies were going to shake themselves apart, it came when series co-lead — and real-life friend of Diesel  — Paul Walker died in a car crash in November 2013.
Walker played the protagonist of the original film, an undercover cop turned street racer named Brian O'Conner. His sandy, So-Cal look and laid-back attitude was the yin to Dominic Toretto's brooding and guarded yang. It would have been rather easy for the cast to call it a day when he passed, particularly given the specifics of Walker's death.
Walker died while riding in a car with his friend Roger Rodas. The pair were leaving a charity event in Santa Clarita in Rodas' Porsche Carerra GT when Rodas lost control of the car and crashed into a concrete light pole. The car burst into flames as a result of the impact and both men were killed. Further investigation found that the car collided with the post above 80 mph, placing the blame for the accident on speeding by Rojas and worn tires on the Carerra.
The film was put on hiatus, ultimately picking back up with the blessing of Walker's family. Paul Walker's brothers Cody and Caleb worked as stand-ins and the movie was completed using editing and CGI.
The cast reacts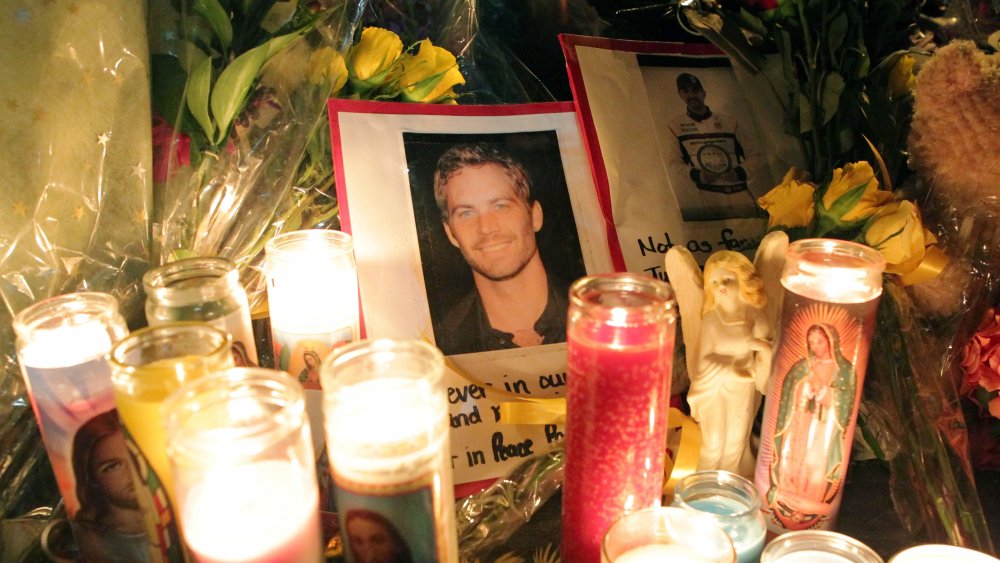 David Buchan/Getty Images
The cast of these movies seem to have taken its core idea of family to heart, so it goes without saying that they were deeply shaken by Walker's sudden passing. Immediately following the news, almost all of the film's major players shared tributes to Paul.
Tyrese Gibson posted a screenshot of his last conversation with Walker, where he told the actor that he loved him. Ludacris shared a photo of the cast sitting together to Instagram along with a brief, rhyming remembrance.
"Your humble spirit was felt from the start, wherever you blessed your presence you always left a mark, we were like brothers & our birthdays are only 1 day apart, now You will forever hold a place in all of our hearts," he wrote in the post's caption.
Dwayne Johnson shared his condolences to Walker's family while paying tribute to his friend. "All my strength, love & faith to the Walker family during this heartbreaking time. We find our strength... in his light," he wrote on Twitter. "Love you brother."
A touching sendoff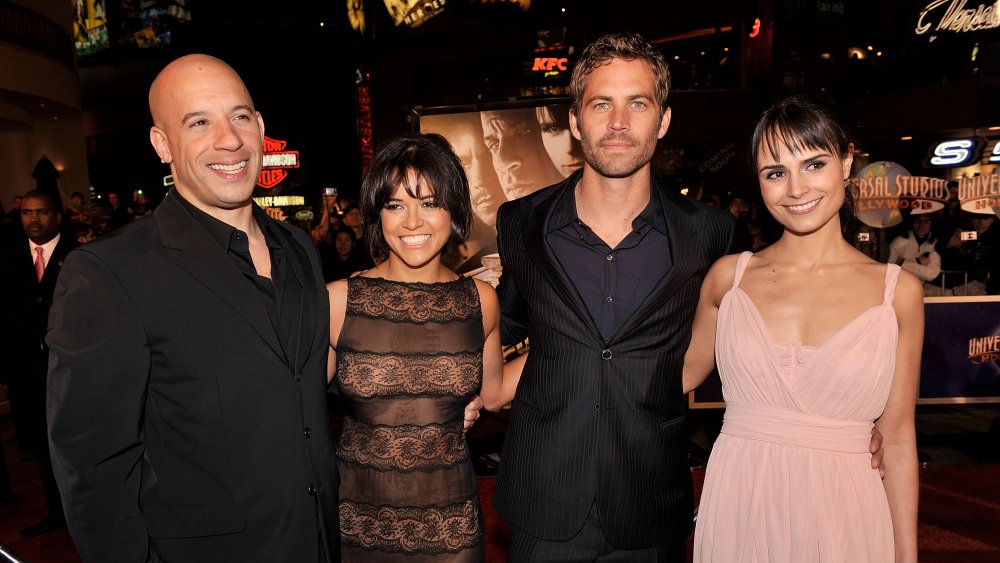 Kevin Winter/Getty Images
Furious 7 clearly poured a ton of the cast and crew's grief into its final scene. After successfully pulling off yet another car-based caper, Walker's character Brian makes good on a promise to retire that he made to his in-universe wife Mia Toretto (Jordana Brewster). The remaining characters observe Brian and Mia playing with their child on a beach and all come to the conclusion that they are ready to let him leave the gang.
The emotional scene that doubles as a moment of grieving for the actual cast appears to end when Diesel's Dom drives off without saying goodbye. However, Brian catches up with Dom and asks him for a rematch of the drag race that ended the series' first movie. As they race, Dom finally gets up the nerve to say goodbye. At that point, Brian peels off down another path while Dom carries on and the Wiz Khalifa and Charlie Puth tribute song "See You Again" plays.
See You Again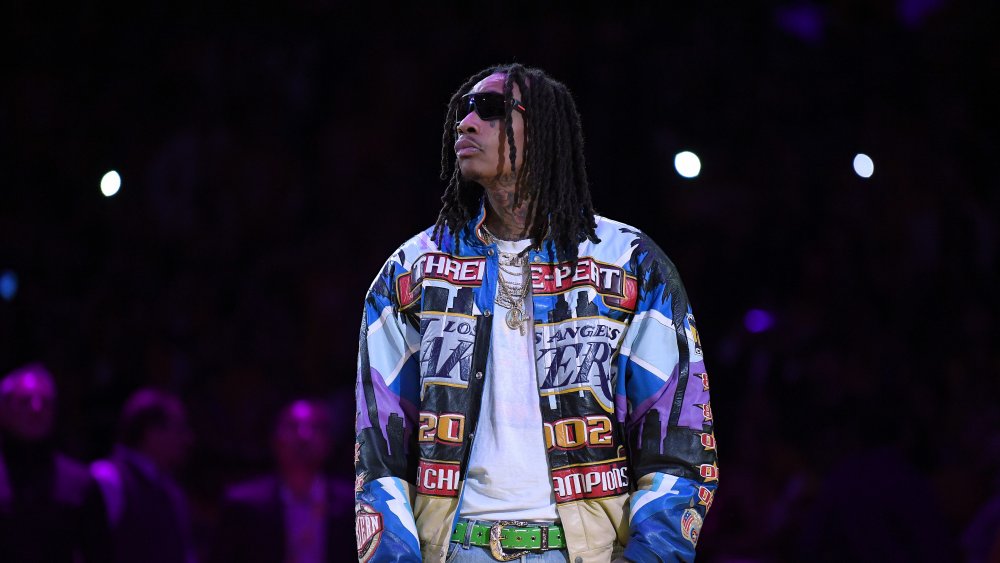 Harry How/Getty Images
While the Fast movies have been derided frequently throughout their run, there's no denying their cultural impact. The Wiz Khalifa and Charlie Puth collaboration "See You Again" is a clear indicator of the insane reach of the franchise.
It's impossible to say that the song's connection to Furious 7 is entirely the reason for its success, even if it was clearly a major factor. The song was no doubt lifted into the Top 40 by its universal themes of grief, a great hook that is somber but memorable, and radio's love affair with Wiz Khalifa's voice.
However, it was much more than just a passing radio hit. The outpouring of grief over Walker's death by the fans of the series helped push the song to astronomical streaming numbers. It broke the record for Spotify's single-day and week streams at the time and ranks among the most-viewed videos in YouTube history. The song was nominated for three Grammys and a Golden Globe and was far and away the best-selling single of 2015.
Charlie Puth wrote the song in 10 minutes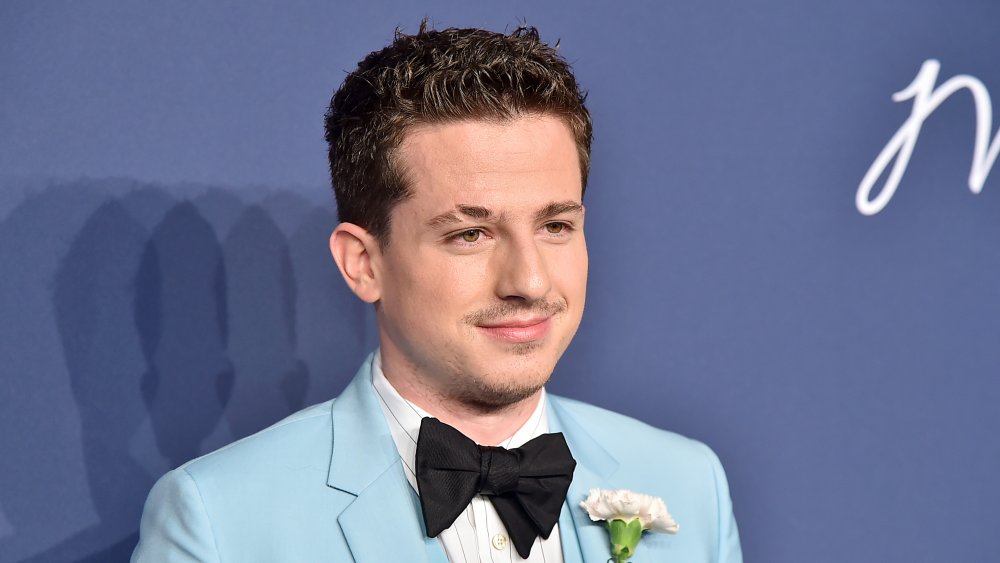 Theo Wargo/Getty Images
"See You Again" has had lasting success and is irrevocably tied to the stories of the Fast & Furious franchise, as well as Paul Walker and singer Charlie Puth. Given its outsized space in the culture, you might think that Puth slaved over "See You Again" to avoid turning an uplifting pop song into a mawkish ballad, but according to Puth, the song fell out of him in a matter of minutes.
As Puth revealed in an interview with Entertainment Weekly, he met with DJ Frank E in a session to possibly create the song for Furious 7. "We were just getting to know each other and he had these chords up. I was like, 'What if we just played this on the piano?' And they were the chords to 'See You Again,'" he said, adding that he improvised the first and final line of the chorus.
Puth said that it took them about 10 minutes to build the chorus from there. Part of the reason he felt it came so quickly is because he was thinking of events from his own life.
"I was thinking of my friend who had passed away in a very similar way. But it worked so well with everything going on with Paul," he said. "I'm really honored that the Furious franchise thought that I captured it the best."
Carrying on without Walker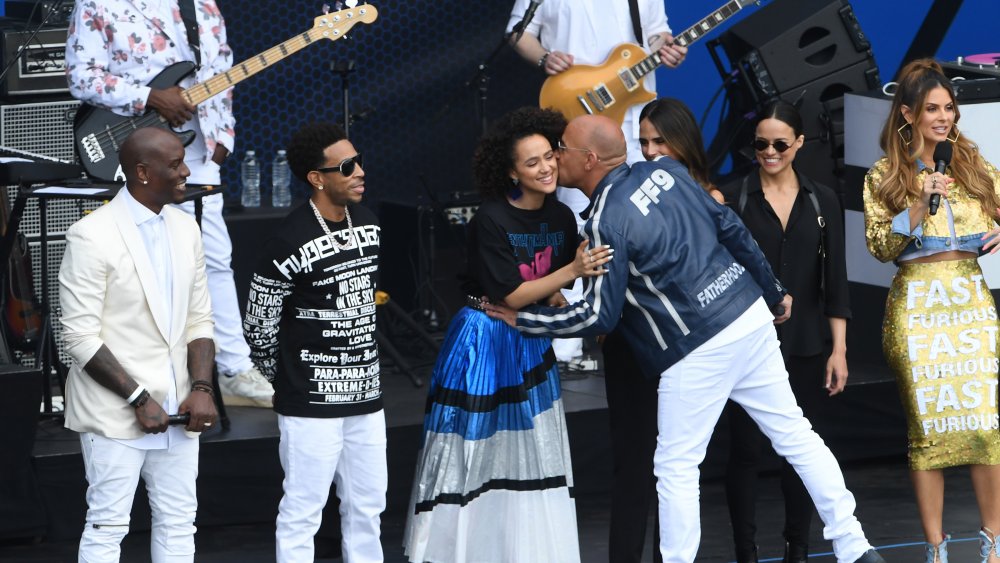 Kevin Winter/Getty Images
The cast have frequently addressed what it's like to carry on performing in their roles without one of the pillars of the series. Vin Diesel was closer to Walker than perhaps any other cast member. He named his daughter Pauline after the actor and admitted that he thinks about Walker every time they set out to make a Furious movie.
"I'm still reeling from the loss, the idea of continuing along without my brother Pablo and what that felt like and the complexities of that," he told ET ahead of the release of The Fate of the Furious.
Ludacris revealed that the cast prays on each movie and intentionally thinks on how to best honor their late friend with each new project.
"We start off with prayers. We always talk about family and how important family is, and this is a whole family, this entire cast. I'm talking about on and off screen. I think that's what makes our chemistry so well," he said at a press event for Fast 9, according to The Associated Press. "And it's always in remembrance and in motivation of how we're doing our duty and honoring Paul Walker."
Diesel echoed these sentiments, adding, "His spirit must live in this saga, because his spirit, in so many ways, is what drives me to continue the saga."