Fast & Furious Fans Have Goosebumps Over Paul Walker's Appearance In The Fast X Trailer
The first trailer for "Fast X" is out and "Fast and Furious" fans sure have some intense thoughts about Paul Walker's brief but welcome appearance.
In true "Fast and Furious" manner, the first look at "Fast X" confirms that the tenth entry in the billion-dollar franchise will retroactively make changes to fold in a new villain. "F9" managed to convince fans that Dominic Torretto (Vin Diesel) had a secret brother this whole time in Jakob, played by John Cena. Now, "Fast X" confirms that Jason Momoa's villain Dante is somehow connected to the family's chaotic exploits in "Fast Five." As the trailer kicks off, "Fast and Furious" fans are treated to a family-hating monologue from Momoa's character, which then cuts to the events of "Fast Five." Quick recap: Brian (Walker), Dom (Diesel), and the rest of the family head to Rio de Janeiro to complete a daring heist. 
As Walker's Brian and Diesel's Dom are stealing the giant safe and parading it through the streets of Brazil, fans see that Dante was there for every major set piece during the fifth film's finale, retroactively making him a pivotal character. How exactly is Momoa's character connected to "Fast Five"? Only time will tell. For now, fans still can't get over how the "Fast X" trailer managed to carefully tie-in moments from "Fast Five" that feature Walker.
Fast and Furious fans miss Paul Walker
"Furious 7" marked the last time Paul Walker appeared in the franchise. The actor died in 2013 from a car crash (via CNN), compelling the creative team behind "Fast and Furious" to retool his character. Since the seventh entry in the franchise, Walker's Brian has appeared off-screen, retiring from the family's action-packed shenanigans. The character was last seen driving to the Toretto residence in the final moments of "F9," closing off the ninth entry in the ever-expanding franchise. While seeing the character's car was certainly a crowd-pleasing moment for "Fast and Furious" fans, seeing Walker via flashbacks in the latest trailer is making fans emotional.
"Goosebumps watching Paul Walker," wrote a fan on the YouTube comment section of the trailer. User Jyoti Kadam echoed similar sentiments, saying their "heart skipped a beat seeing Paul Walker." It was a similar situation on Twitter. User @ThatShyGirlErin expressed how emotional it was to see Brian again, saying "The 'Fast X' trailer just made me so emotional. Like, I know it's not the first movie without Paul Walker, but still [...] can't believe he's gone." Another user expressed how the use of Brian in the "Fast X" trailer made them miss Walker even more. "If Brian O'Connor returns in 'Fast X' I might actually cry," wrote user @sicatreejay.
While plot details on "Fast X" are slim, "Fast and Furious" fans can't help but speculate what the future entry has in store for Brian.
Fans are speculating about Brian O'Connor's future... and family history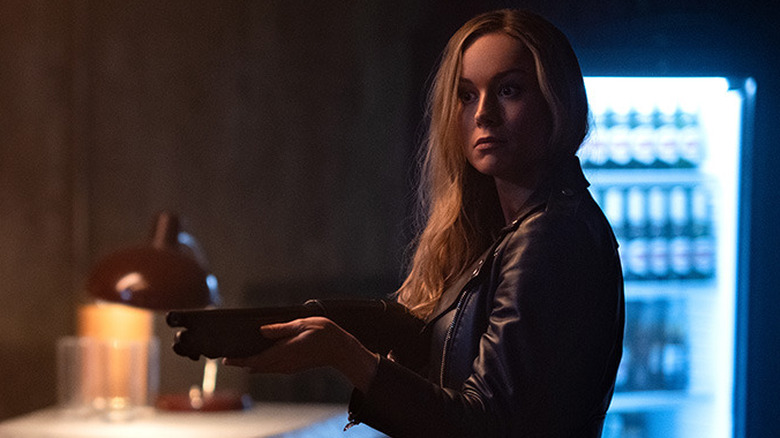 Universal Pictures
Some fans think that Brian O'Connor will return in the latest "Fast and Furious" movie. Following Paul Walker's death in 2013, his brothers Caleb and Cody were brought in as stand-ins to film pivotal scenes for "Furious 7" that hadn't been completed (via The Hollywood Reporter). With the help of visual effects, Brian O'Connor was able to join the family one last time.  After seeing the "Fast X" trailer, fans think Walker's brothers will be brought back.
"I strongly think Brian is going to show back up via deep fake/CGI over Paul Walker's brother(s) as body doubles," wrote Reddit user u/Distance_Runner on a fan subreddit discussing the trailer. Another fan agreed, saying it's time for Brian to come back. "I was okay with Brian playing babysitter offscreen in 'F9' [ ... ] but with the stakes this high it's harder to buy him not getting involved," they said. "Paul and his character were a big part of the franchise and it'd be a shame to not see him be a part of the finale and at least with his brothers doing it, a part of Paul would be a part of it," said user u/AlwaysBI.
Other fans think that Brian will show up in a different, more unique way... kind of. "Brie Larson has to be playing Brian's long lost sister, right?" asked Twitter user @NilstheHirsute. "Brie Larson's Tess is 100% going to be revealed as Brian's sister that no one knew he had because he never mentioned her a single time before, right?" asked fellow "Fast and Furious" theorizer @AlishaGrauso. Another user amusingly suggested that "everyone with blonde hair will be accused of being related to Brian until proven otherwise."