Fast And Furious: How Brian Could Show Up To Say Goodbye In New Footage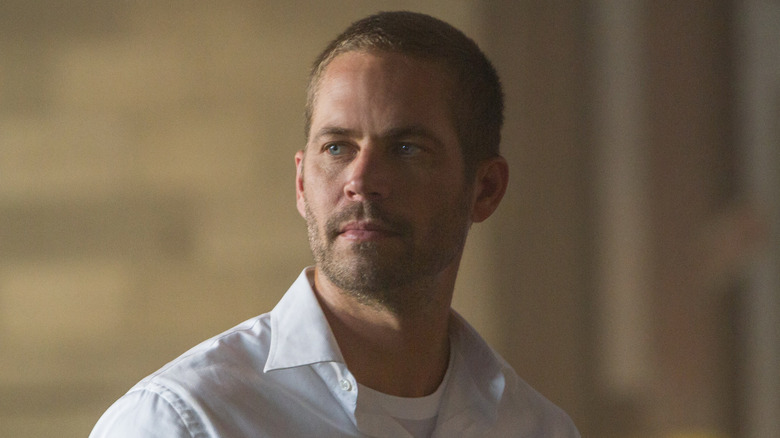 Universal Pictures
Fans of the "Fast and Furious" franchise have been morning the late Paul Walker since the actor's untimely passing in 2013. The series has both moved on without his iconic character, Brian O'Conner, and yet never forgotten him. The tear-inducing scene of Brian and Dominic Toretto (Vin Diesel) meeting on a deserted road during "Furious 7" and saying goodbye to each other with one last side-by-side ride is undoubtedly one of the franchise's most memorable moments.
With the release of "Fast X" approaching this summer and Brian still out there — presumably dwelling his way through a happy and peaceful existence beside his wife Mia (Jordana Brewster) and their family — fans might wonder if they'll ever receive a definitive conclusion to his story. After all, archival footage of Walker appears in both "Fast X" trailers. Speaking to Total Film in March 2023, Director Louis Leterrier reaffirmed what he told the outlet in February: "You will see Brian in the past, you won't see Brian in the present." In his March interview, he also added that Brian will not return outside of the archival footage in "Fast X." But what about in the future?
Series star and producer Vin Diesel also commented on the same issue to Total Film. "That moment in 2013 when the world was struggling with his loss, the studio made a very bold and righteous and daring decision to keep Brian O'Conner alive," the actor said. "I will give you this without spoiling anything: I couldn't imagine this saga ending without truly saying goodbye to Brian O'Conner." Might that mean Brian could appear in fresh, unseen footage?
The stakes are higher in Fast X
Louis Leterrier told Total Film Magazine that reaching the end of the "Fast and Furious" series was actually liberating as a director, as it allowed him to take off the gloves and push some of the characters to their breaking points and beyond. "Only in westerns do cowboys gallop out into the sunset," he said. "This is definitely different. It allowed me some freedom to raise the stakes even more than they've been raised before."
It remains unclear whether or not Paul Walker will run one last victory lap posthumously. There has, after all, been thick foreshadowing regarding Brian's return. In "F9: The Fast Saga" his car is seen briefly when it pulls into Dom's driveway, but we don't see his face. Will fans have already seen all the footage and audio clips that will make up Walker's appearance in "Fast X," or will there be footage rescued from the cutting room floor? Could Vin Diesel mean that the character might pop up once more with something fresh to show, via studio tech and a return from Walker's brothers, as happened in "Furious 7?" Audience members will have to wait until "Fast X" hits theatres on May 19, and possibly for "Fast and Furious 11," to find out.