Sung Kang Breaks Silence On His Fast And Furious Return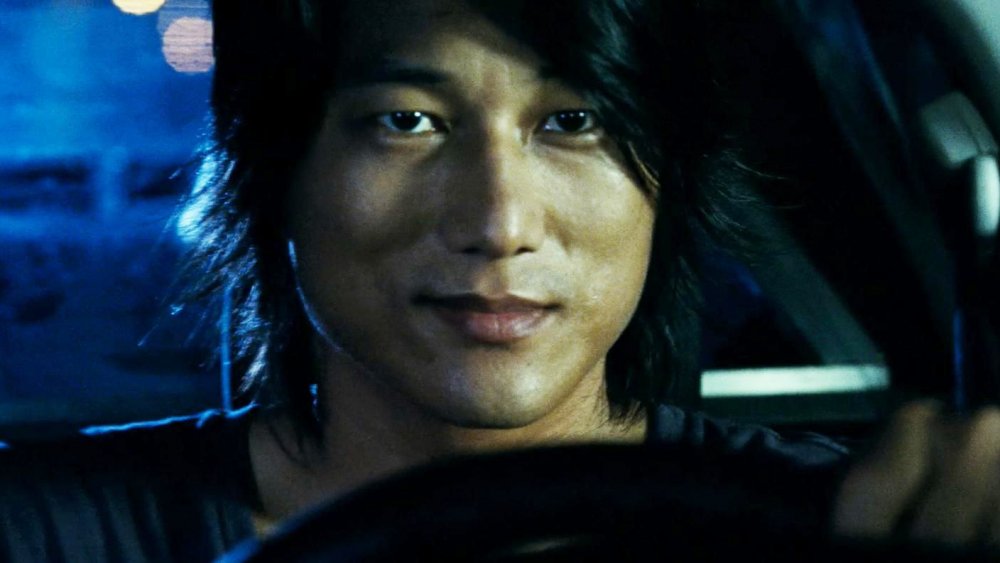 The ninth chapter in Universal's Fast and Furious franchise promises fans a lot of things, and chief among them is the shocking return of Han Seoul-Oh. 
The fan-favorite character's resurrection, which was teased in the final moments of the F9 trailer, has been met with as much gushing praise as genuine head-scratching. On the heels of the trailer drop, F9 director Justin Lin addressed both reactions in kind — pointing to how the franchise's theme of family and the passionate fan campaign #JusticeforHan helped inspire the return of the street-racing snack-fiend of Dom Toretto's (Vin Diesel) crew. 
Now, Han's actor, Sung Kang, is opening up about his return to the Fast franchise.
Speaking to the Los Angeles Times, Kang revealed that coming back to the film series to play Han is "emotional." He continued, "It feels like I'm going back to a family reunion. It's a relationship that has been missing in my life since the last Fast. 
Despite the passionate fans who have supported his return, Kang was initially hesitant about what impact a fan campaign demanding "justice" for his tight-lipped, laid-back drifter could actually have in the long run. "At first, it was easy to dismiss it," he said. "I wondered, does the audience really have a voice?"
It was a collective voice that had grown in volume since the character's final — and seemingly official — demise in Fast and Furious 6, which re-wrote Jason Statham's villain Deckard Shaw as the culprit behind Han's Tokyo Drift crash. But using Han's death to launch a Fast villain's arc would only be the spark of a years-long fan movement. 
Shaw's turn from villain to hero in the Fast saga raised questions about whether Han was being "respected"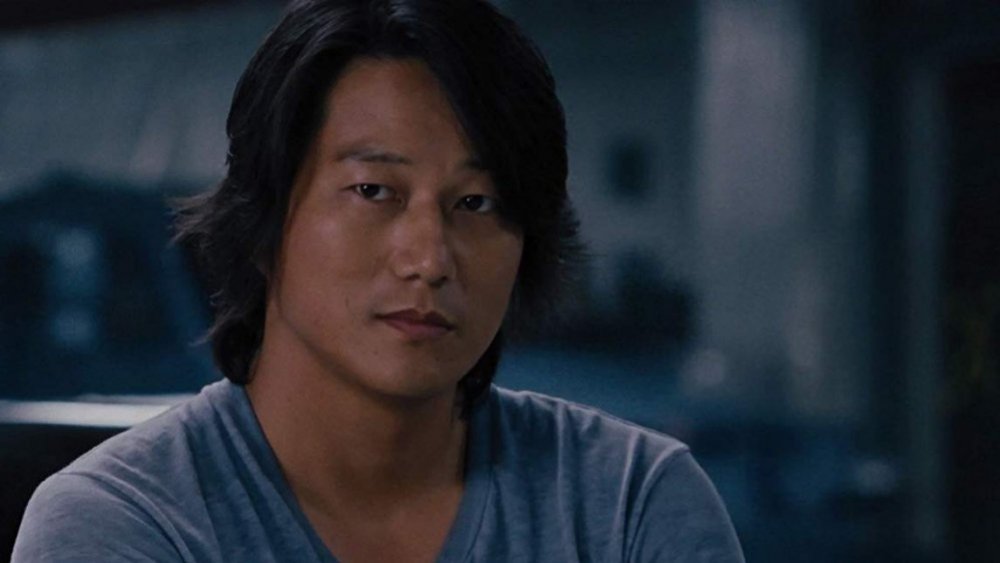 Despite all the fan backlash, Han's treatment in the saga has gone largely unmatched. No other character's death has been replayed three times across three movies, with each rehashing offering fuel for subsequent character and plot development. And before F9, the only other character revived by the saga was Dom's childhood friend, fellow racer, and eventual wife, Letty (Michelle Rodriguez). But not even her presumed death convinced Lin to alter the creative and narrative future of a billion-dollar franchise just to keep her around for a few more movies.
Even with an arc that has spanned more than half of the franchise's releases, Han's posthumous treatment still left a bad taste in fans' mouths. It continued his legacy as a character unparalleled in his Fast saga development, but now for all the wrong reasons. While many other deaths in Toretto's crew resulted in the big villain's demise, Han's retconned killer Deckard Shaw not only lived, but was also then invited to be part of Dom's family before being entrusted by the crew leader to retrieve his kidnapped baby in Fate of the Furious. Shaw also happens to be only one of two former Fast villains to receive his very own title credit with the franchise spin-off film Hobbs & Shaw, co-starring Dwayne Johnson as Luke Hobbs.
Fans noticed that inconsistency in character treatment, and as each new development nail was hammered into Han's fictional coffin, they made sure the saga's creative team knew how they felt — replying to news on social media with #JusticeforHan, and asking questions in person at any chance they got. That persistence and commitment to their message helped Kang understand why fans weren't letting this go. "When Shaw came in and was revealed to be the killer and got invited into the family fold ... that's where you went, 'Well, is this character being respected?'" he told the Los Angeles Times. 
Fast and Furious 9 will answer for past film's treatment of Sung Kang's Han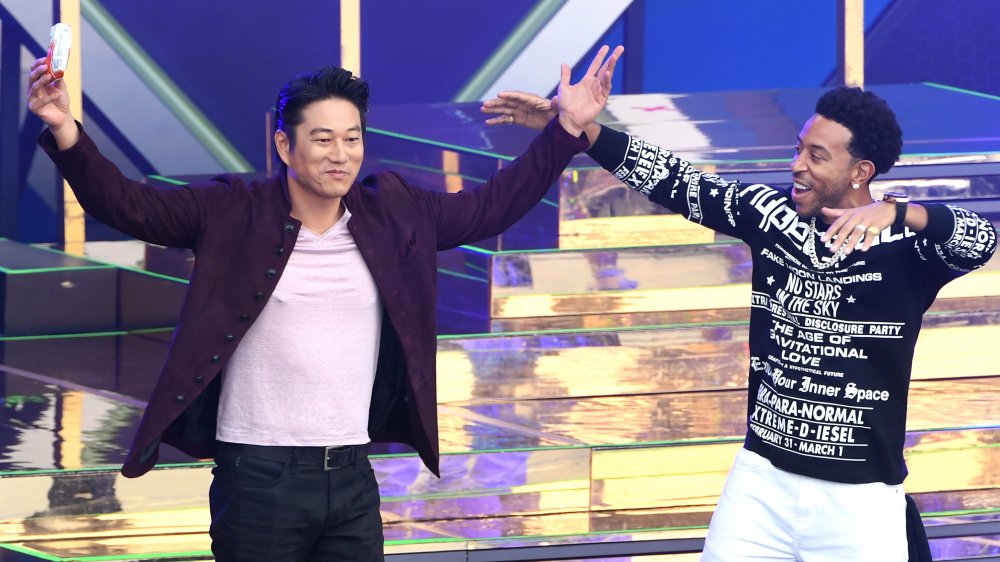 Kevin Winter/Getty Images
Between Han's F9 trailer reveal, his own promotional material signaling that "justice is coming," and F9 director Justin Lin donning a #JusticeforHan shirt while filming, it's clear the latest installment in the Fast and Furious saga isn't shying away from its "Hantroversy." As of now, how the return of Kang's character in F9 will unfold remains a little murky, but it does appear like the creative team genuinely desires to course-correct. In an interview with Entertainment Weekly, long-time Fast and Furious writer Chris Morgan explained that even his Hobbs & Shaw spin-off plays a role in rectifying the franchise's treatment of Han and answering whether Shaw will be held accountable. 
"There's a line in Hobbs & Shaw that is right before the battle in Samoa where Shaw says to his sister, 'There's things I've done that I have to make amends for,'" Morgan told EW. "That line was specifically written and put in there just to let everyone know that he is talking about Han — it is on his mind. It tortures him, and he's going to get to it."
Neither Shaw nor Hobbs will appear in F9, but there's a possibility — if Han makes it to Fast 10 — that he and Shaw could meet again. For now, Kang is staying tight-lipped about how the ninth chapter plans to answer for Statham's character or explain how Han is still alive. The actor told the Los Angeles Times that he hopes the character he and Lin crafted for F9 will do the theme of family "justice." 
"We know who and what Han is," Kang said. "And we're older now. This Han is older. The things that we've learned as men in our personal lives, I hope it can transcend on-screen."
Fans will find out whether it does when Han and the rest of the F9 family speed into theaters on May 22.