Why The Fast And Furious 9 Trailer Means More Than You Think
Forget your cape heroes and austere prestige dramas — the most auspicious franchise season is here again. The Fast Saga has blessed us with a trailer for its latest iteration, the ninth Fast and Furious film, aptly titled F9.
In the trailer, which Universal Pictures released on January 31, the gang's all here in ways we never could have anticipated, and the melodramatic stakes are as delightfully hysterical as ever. Dom Toretto's (Vin Diesel) newest-model Dodge Challenger was thrown off a cliff to perform a Spider-Man-esque swing across a chasm — and that's, like, the seventh most exciting thing that happens in the trailer, so there's little doubt we're in for a treat come May 22. 
Although the trailer for F9 has all the souped-up street racers and banter you're used to, this time it's, well, even more personal than it usually is. There's a new villain in town, teaming up with another we already know and love to hate, and everything feels like it's coming together in a special kind of climax before the Toretto clan take their final bow. Let's take a look at how this trailer embraces and enhances the Fast Saga lore in advance of F9's release, raises the dead, and gives old friends second chances.
Han died -- but he got better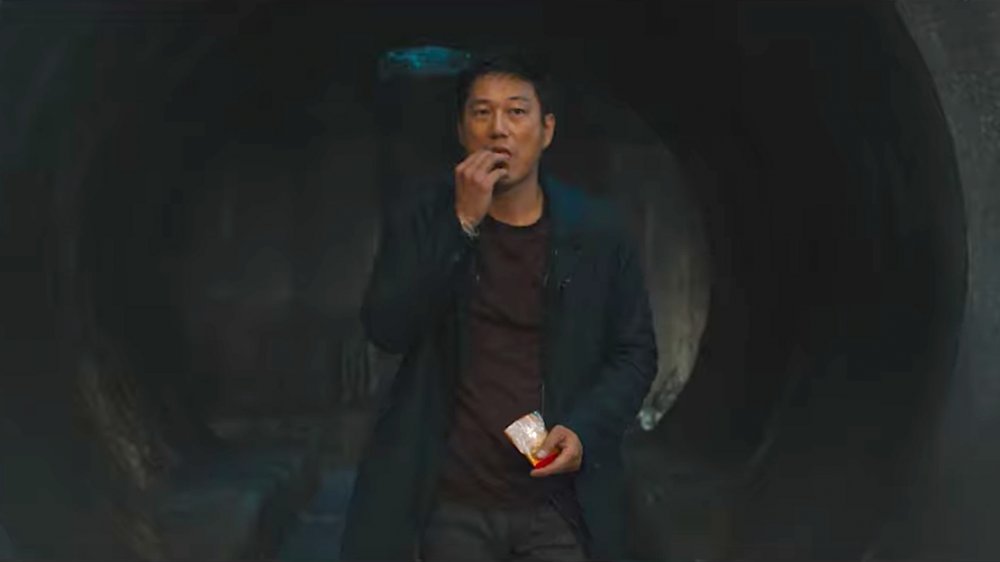 Universal Pictures
It's impossible to talk about the F9 trailer and not talk about Han Lue. If you're a casual consumer of the Fast and Furious franchise or are still catching up on it, you might need some context. The end of the trailer features a Korean man walking in and munching on a snack — that's Han Lue, played by Sung Kang, and he's presumably been having a dirt nap until now. 
Han is at the center of the somewhat awkward timeline shift the Fast and Furious movies operate on. The character was introduced and subsequently died in what appears to be a street racing crash during 2006's Fast and Furious: Tokyo Drift, but Kang's presence proved to be so beloved by fans that the character was included in the fourth, fifth, and sixth films, rearranging the canonical timeline so that Tokyo Drift represents a later point in time. The last scene in Furious 6 creates a twist in using the exact scene from Tokyo Drift in which Han dies, but reveals the crash to be an intentional act by Deckard Shaw (Jason Statham).
Since Han's death and the later recuperation of Deckard to become a good guy (the Fast Saga is basically a shōnen anime that turns enemies into family after they're defeated), the hashtag #JusticeforHan became popular online – both because the character is deeply missed and because it's more unfair that his murderer is now buddy-buddy with Team Dom. Han is probably the most tragic character in Fast canon: his death was one thing, and the passing of his love interest Gisele (Gal Gadot) that came in Fast and Furious 6 (due to the inconvenient realities of actresses getting jobs in the superhero film industry) was another. "Justice is coming" according to Han's F9 character poster, and we couldn't be more excited.
No Shaw family reunion in F9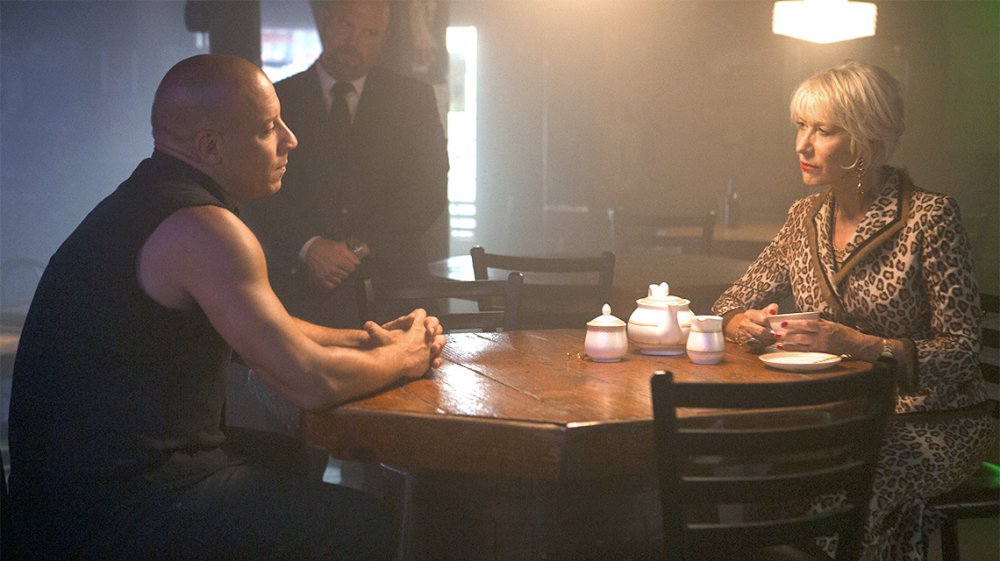 Universal Pictures
We're pleased to see in the trailer for F9 that Helen Mirren, who reportedly "begged" Vin Diesel to join the franchise in Fate of the Furious, is reprising her role as Magdalene Shaw once again. If you didn't see Hobbs and Shaw in the summer of 2019, you wouldn't know that Magdalene was sprung out of prison by Deckard and Hattie (Vanessa Kirby), two of her three children. Unfortunately, due to the productions of Hobbs and Shaw and F9 overlapping, neither of those kids (nor Dwayne "The Rock" Johnson's Luke Hobbs) will be making it into the latter movie. 
Owen Shaw, however, might be a different story. You remember Owen: the major antagonist of Furious 6, portrayed by Luke Evans. Dom's crew really did a number on him, and he ended up in hospital for quite a while, which led to the introduction of big brother Deckard Shaw. The writers for Fast and Furious 9 have obliquely teased that perhaps Owen might be ready to rumble again beyond his brief appearance in Fate of the Furious, though they didn't specify when. It's entirely possible he will appear in Fast and the Furious 10 instead, which is already greenlit and in preproduction. There's no guarantee at this juncture, but longtime fans should keep this little fact in the back of their minds for later, just in case.
An unexpected Toretto family reunion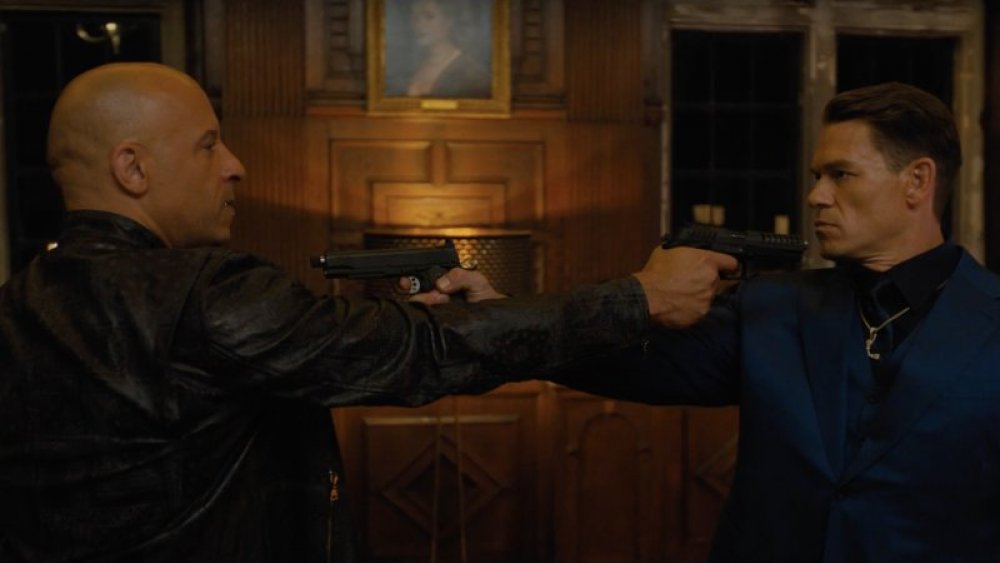 Universal Pictures
As the F9 trailer reveals, Dom and Mia Toretto (Jordana Brewster) have a secret brother now: Jakob (John Cena). This would be too-silly franchise suicide for just about any other intellectual property on Earth, but in Fast Saga-land, this is only exciting news. 
Director Justin Lin is returning to the property after sitting out for the seventh and eighth films, and he did it because he wanted to invert the eternal trope of found family in the Fast and Furious franchise. As he told Entertainment Weekly, "When I left after Fast 6, I really thought that was it, like, there's no more Fast stories I can tell. Then two years ago, I woke up with an idea for the new chapter. And a big part of that is exploring this theme of family that is always tied to Fast, but doing it through blood." As the tagline in the trailer says: not all blood is family."
Turning actual blood relatives into the mortal enemies of our favorite car superheroes makes perfect sense, here in the twilight hours of the franchise. F9 appears to be setting up almost as a two-part epic finale, as it has now been confirmed that the tenth film still in preproduction will be the final entry of the franchise. This is the time to introduce The Final Big Bad, and making it John Cena's Jakob, uber-powerful little sibling to the inimitable Dom Toretto, is a special kind of awesome.
Another surprising full-time return in F9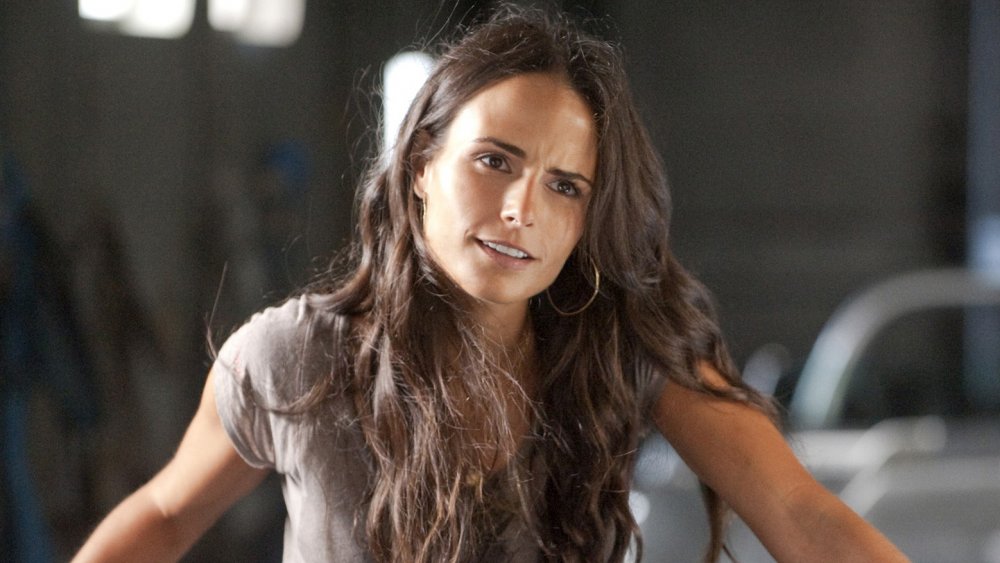 Universal Pictures
Given all the new familial surprises in F9, it looks like there's never been a better time for Dom's sister Mia Toretto (Jordana Brewster) to make a full engine-throttling return to the front lines of the Fast franchise. 
We last saw Mia in action back in Fast and Furious 6, and she took a backseat in Furious 7 due to her second pregnancy and hid out in the Dominican Republic while Dom and her boyfriend Brian O'Conner (the late Paul Walker) drove supercars through skyscrapers. Things became metatexually complicated following the sudden and tragic death of Paul Walker in 2013, halfway through production of Furious 7. An entire coda was added to the end of the film to celebrate Walker's life through his character Brian and his relationship with Mia as part of the overarching story. 
Since Mia's character is so entwined with Brian, her character didn't appear in Fate of the Furious under the guise of the two wanting a quieter, safer life with their children. The entire franchise has had a period of readjustment since Walker's loss, and Mia's place within canon represents the biggest challenge of all: how do you write around the fact that Mia gets to go back on big, superheroic car adventures (especially after Brian and Mia had multiple conversations about how dangerous their lives are in Fast Five), and Brian doesn't? You give her and Dom a secret thief-slash-assassin brother played by John Cena, that's how, because these films have zero sense of subtlety and an incalculable devotion to wild and endearingly earnest self-indulgence.
What suspiciously isn't in the F9 trailer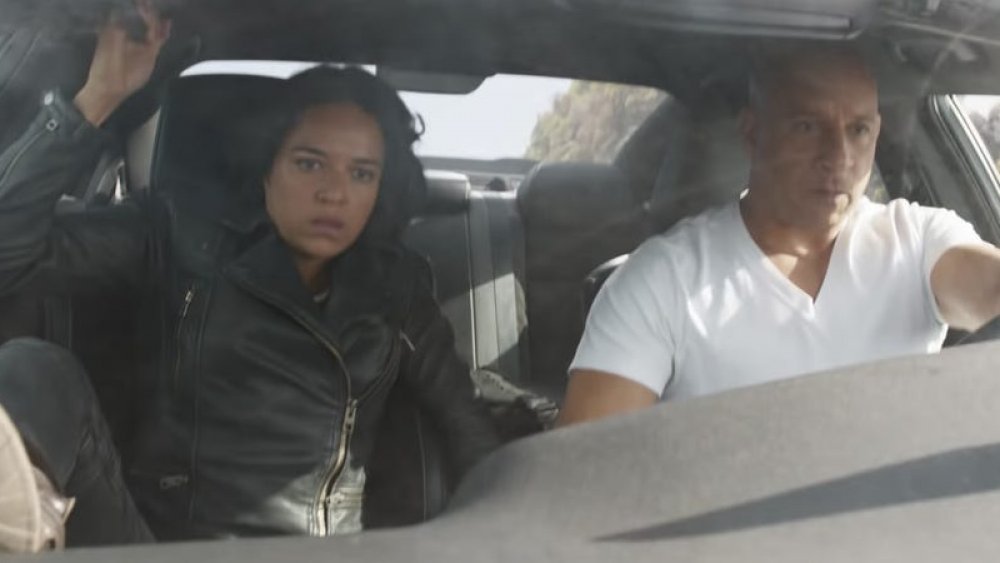 Universal Pictures
This bombastic trailer has plenty of meat on it and an ensemble cast of the familiar and new, but it's also made an interesting omission. One person with what we can only suppose is an important role isn't in the trailer at all: Michael Rooker.
In Michael Rooker's case, it's odd that an actor enjoying a nice career high thanks to the Marvel Cinematic Universe (he played Yondu in Guardians of the Galaxy) wasn't featured in a trailer for another massive franchise. All we know is that his character's name is Buddy, and that Rooker was cast in a last-minute pickup as production set to begin. Considering the timing, it's possible he replaced an actor whose availability suddenly fell through.
Fans will have to wait until F9 drives into theaters on May 22 to see how Buddy fits into the story, how Han really returns, how Mia's reemergence will be depicted, and which Toretto brother will come out on top.