Star Wars: Jedi Temple Challenge - What We Know So Far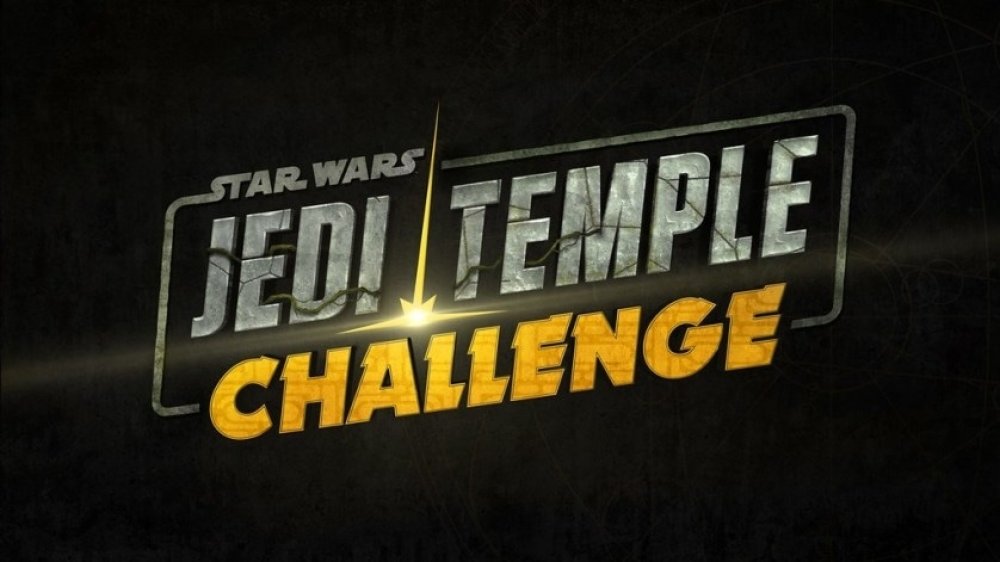 Disney/Lucasfilm
Between the rounds of adorably addictive Baby Yoda memes, stunning space visuals, and high-octane action, Disney+ has proven it has an out-of-this-world hit on its hands with the live-action Star Wars series The Mandalorian. Now, just weeks after the launch of the streaming platform and the release of the newest Star Wars show, Disney and Lucasfilm are expanding even further into space with another series set in the galaxy far, far away: Star Wars: Jedi Temple Challenge.
Executive produced by Lucasfilm, Dean Houser, and Endeavor Content's David Chamberlin and Mike Antinoro, Star Wars: Jedi Temple Challenge will see some of the franchise's youngest fans travel to the edge of the galaxy's universe to compete in a skills-based game show. The very first of its kind for the Star Wars brand, the upcoming series is set to debut on Disney+, and will encourage its burgeoning Jedi contestants to face their fears — and a few fun obstacles — in an attempt to achieve the rank of Jedi Knight. They'll be joined a host and his android sidekick as they navigate a handful of in-universe challenge locations. 
"Star Wars: Jedi Temple Challenge brings together the best of Star Wars – competitive spirit, harrowing obstacles and a hero's triumph over challenges — in a totally new format for the franchise," Dan Silver, vice president of Originals – Unscripted Content at Disney+, said in a statement. "A game show set in the Star Wars galaxy is a perfect fit for Disney+."
From its toys to its TV shows, Disney's brand has always lent itself to content that speaks to children and young teens, and despite its more adult themes and sequences, Star Wars has been as much a story for its older fans as its younger ones. Much of Disney's current and soon-to-be-released streaming slate is live-action scripted drama, but with the forthcoming flick The Rise of Skywalker (which is set to feature the infamous villain Emperor Palpatine in a significant role), so too has come a rise in '90s nostalgia. Competitive kid-centric game shows like Legends of the Hidden Temple, Double Dare, and Guts made teamwork, trivia, and tricky obstacle courses en vogue in the land of kids shows. 
So on the heels of The Mandalorian's success and ahead of the upcoming Obi-Wan Kenobi series, with the broad demographic appeal of the expansive Star Wars franchise and Disney's expertise in young adult content, this newest venture feels like an exciting and even natural next step for Disney and its streaming platform. But who's involved in the Star Wars: Jedi Temple Challenge, and what exactly will it entail? Here's what we can tell you so far.
Who's the host of Star Wars: Jedi Temple Challenge?
No kids game show would be worth its weight — or in this case, its Jedi title — without a host. Disney and Lucasfilm brass know this, which is why they've hired a familiar face and voice from the Star Wars universe to help lead the next generation of Padawans on their intergalactic quests. Ahmed Best — most famously known as the actor behind Jar Jar Binks in the Star Wars prequel films – will be the host of Star Wars: Jedi Temple Challenge.
The American screen and voice actor gained recognition for his motion capture and voice work as Jar Jar beginning in 1999's Star Wars: The Phantom Menace. Best reprised his role as the ungainly though well-meaning Gungan representative from the planet Naboo in Attack of the Clones and Revenge of the Sith. Beyond the Star Wars films, Best also voiced an animated Jar Jar on seven episodes of Star Wars: The Clone Wars, and in the 2012 film Lego Star Wars: The Empire Strikes Out. He has also appeared on series like Alias, Law & Order: LA, and Cougartown. 
According to StarWars.com, the Star Wars prequel star and multihyphenate was chosen to host Star Wars: Jedi Temple Challenge because of his creative versatility — having proven himself not just in front of the camera, but also as a dancer, STOMP musician, expert martial artist and most importantly, a Star Wars fan. 
Even better, Best won't be the only host and mentor for the series' young competing Jedis. He'll be joined a humanoid droid — voiced by Veep's Mary Holland – who will offer humorous insight into the game. 
What's the release date for Star Wars: Jedi Temple Challenge?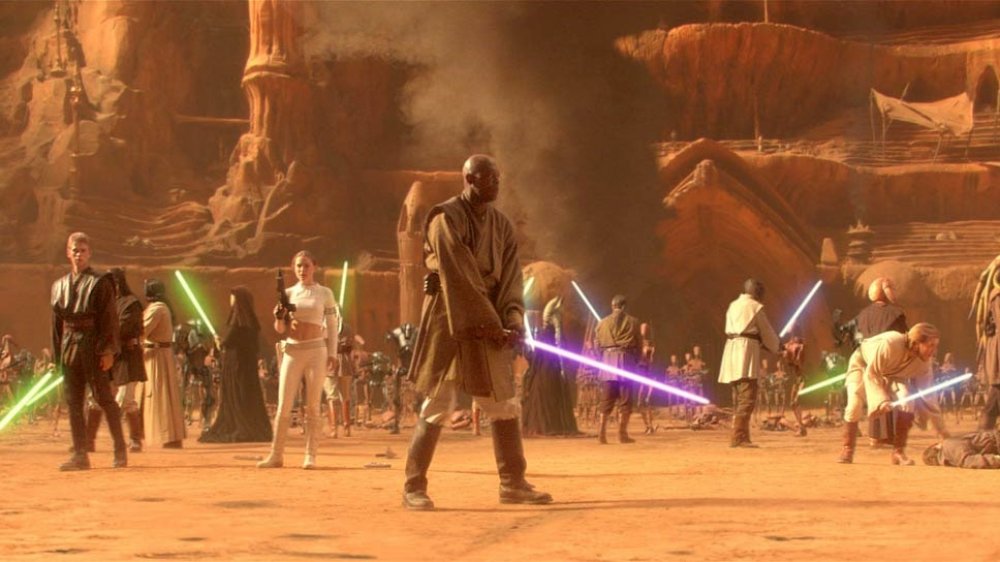 With the slew of new projects premiering on Disney+ in the next year, it seems almost impossible for the streamer to still have room on its packed schedule of originals for yet another show launch. But make room they will. The current plan is to premiere Star Wars: Jedi Temple Challenge on the Disney+ subscription streaming service sometime in 2020. 
Still, it's not entirely clear what part of the year we can expect to see the series launch online. As it had done with its plans to expand the Marvel Cinematic Universe through its streaming platform, Disney has already announced a handful of Star Wars-related shows that need scheduling. The Jon Favreau-created Mandalorian series has obviously already launched, but Disney and Lucasfilm still have in the works a show following Jedi master Obi-Wan Kenobi, as well as a new season of the revived animated series Star Wars: The Clone Wars, which premieres in February. Additionally, there's the Rogue One prequel series underway. That series will see actor Diego Luna reprise his role as the rebellion fighter Cassian Andor, with Alan Tudyk also confirmed to appear as the deadpan, modified security droid K-2S0. 
All that said, it seems likely that Disney and Lucasfilm may prioritize the previously confirmed series over Star Wars: Jedi Temple Challenge, meaning it could be about a year from the time of the project's announcement that it actually drops on Disney+. From our perspective, a late 2020 launch date feels most probable. 
What missions will contestants complete on Star Wars: Jedi Temple Challenge?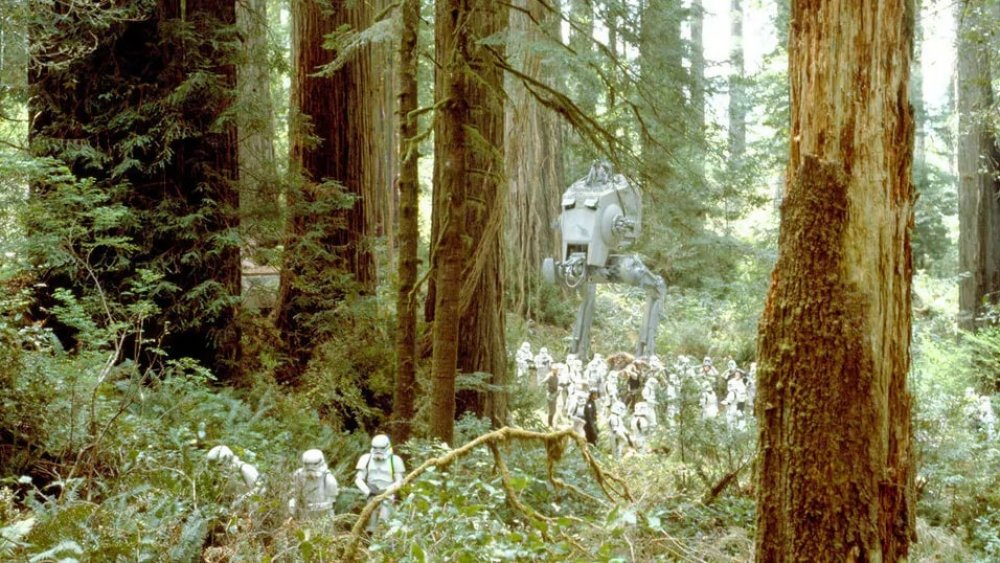 It seems safe to say that no one competing on Star Wars: Jedi Temple Challenge will have to travel thousands of miles across the Star Wars galaxy or, more dauntingly, save it in its entirety. But young Padawans who do make an appearance on the upcoming series will get to visit a few select locations in the Star Wars universe. It's here where they'll face off against each other in missions that test their Force sensitivity, all in hopes of becoming the last Jedi standing.  
As Lucasfilm's senior director of Online Content and Programming Mickey Capoferri explained, "This is definitely a kids game show like no other. The various challenges will test a Padawan's connection to the Force in three locations — a forest planet, on board a Jedi star cruiser, and inside a Jedi Temple — immersing them and the audience in a fun, humorous, and exciting competition."
At these locations, young contestants will see their abilities tested in several core areas based on the Jedi principles of strength, knowledge, and bravery. According to Disney's press release about the show, the missions will feature "thrilling and fun obstacles." However, there are currently no other details about what these challenges might look like — though anything that allows a contestant or two get a lightsaber in their hands seems like it would be a blast.
It would be a fantastic treat for hardcore Star Wars fans to see those locations — the forest planet, the Jedi star cruiser, and the Jedi Temple — mirror environments we've seen throughout the franchise, with the forest moon of Endor or a Venator-class Star Destroyer among possibilities. Unfortunately, with no specifics about what Star Wars: Jedi Temple Challenge guests can expect to see at these various locations just yet, we'll have to keep our eyes peeled for more about this upcoming Star Wars game show.