Andor Season 1 - What We Know So Far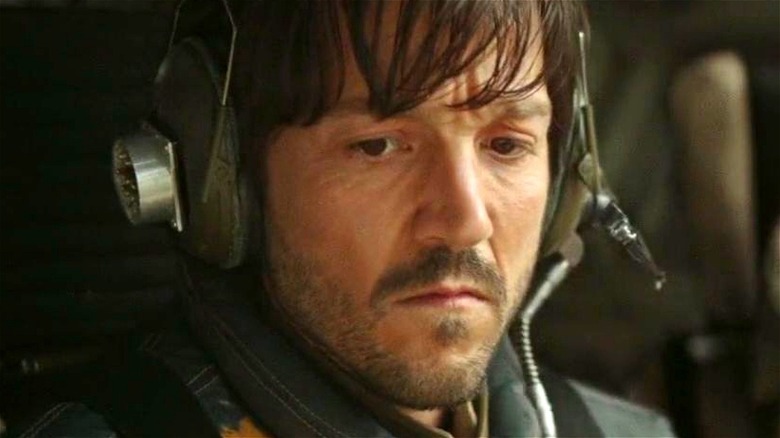 Walt Disney Studios Motion Pictures
When Disney began its modern wave of "Star Wars" TV shows with Season 1 of "The Mandalorian" on Disney+, it was hard to know what to expect. Though the franchise had dabbled in televised series before, the biggest-budget entries had always been reserved for the biggest screens. Fortunately, "The Mandalorian" quickly became one of the most universally lauded "Star Wars" stories in decades, leading to additional live-action shows like "Obi-Wan Kenobi" and "The Book of Boba Fett."
With so many "Star Wars" shows being produced for Disney+, it makes sense that the studio would want to return to one of its best-received films, "Rogue One," for inspiration. "Andor" follows the eponymous Cassian Andor, a driven agent of the Rebel Alliance first played by Diego Luna in "Rogue One." Luna returns to the role in the Disney+ series, which, for reasons that will be readily apparent to anyone who's seen the film, takes place prior to his adventures with Jyn Erso. An extended cast of new and old "Star Wars" characters is set to join Andor in his struggle against the Empire, which has the potential to deliver one of the most grounded and emotionally mature stories the franchise has seen yet.
Hungry for more details about the series? Here's everything we know so far about "Andor," which premiered on September 21.
What is the plot of Andor?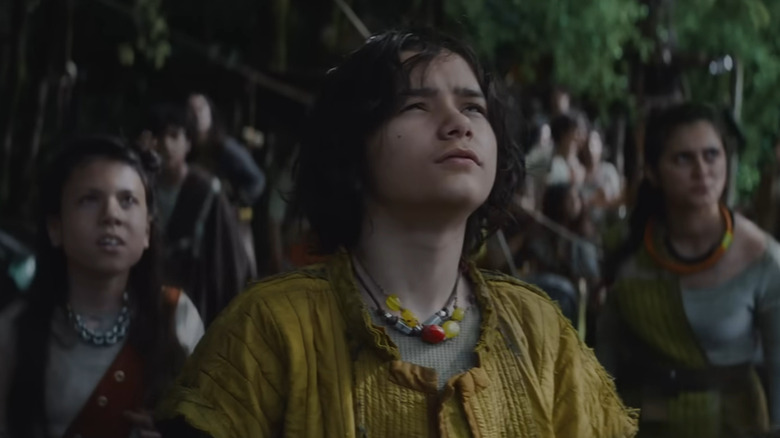 Disney+
Given how long "Rogue One" has been out, it's not exactly a spoiler that Cassian Andor, like most of that film's characters, meets his end by the time credits roll. His noble sacrifice helps the rebellion acquire the Death Star plans, making Luke Skywalker's raid on and destruction of the battle station possible in "Star Wars: A New Hope."
With that in mind, "Andor" will be more of an origin story for Cassian — a tale that shows the brutality of Imperial rule through the lens of his radicalization. In a 2022 interview with Vanity Fair, Diego Luna and series creator Tony Gilroy confirmed that "Andor" Season 1 will begin five years prior to the events of "Rogue One," following Cassian from the destruction of his home planet (what that means in a pre-Death Star era is unclear) to his early involvement with the Rebel Alliance. "It's the journey of a migrant," Luna told Vanity Fair. "That feeling of having to move is behind this story very profoundly." Because of the amount of time covered in the show, it's safe to assume that "Andor" will be a bit of a slow burn in terms of Cassian's arc from refugee to rebel agent.
In the same Vanity Fair interview, Gilroy revealed that Genevieve O'Reilly's Mon Mothma, a character first introduced in "Return of the Jedi," will also play a huge role in the story. As one of the key leaders of the Rebel Alliance from its early days through the end of the war, she's certainly an interesting character to include, and it should be interesting to watch her grow into the leader seen in the original trilogy.
Who is starring in Andor?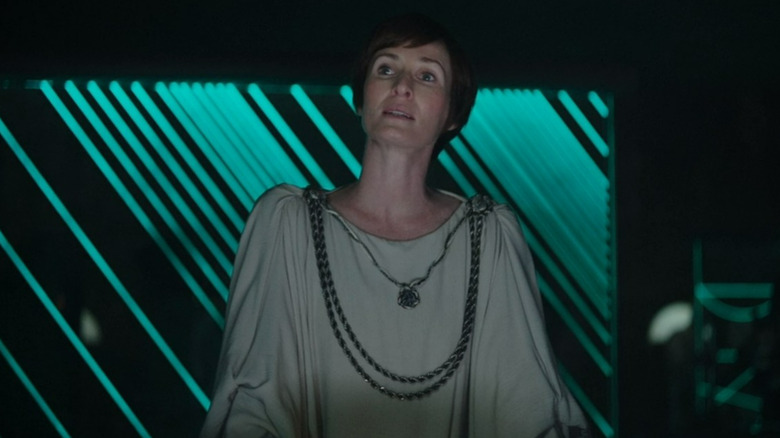 Walt Disney Studios Motion Pictures
Obviously, Diego Luna is the main Star of "Andor," as his character's name is literally the title of the show. It seems that Genevieve O'Reilly will have the next largest role in the series, with her version of Mon Mothma serving as a kind of counterpoint to Cassian (per Vanity Fair). O'Reilly first played the character (originated by Caroline Blakiston) in "Revenge of the Sith," and she has since reprised the role in both "Rogue One" and as a voice actor for "Star Wars Rebels."
In addition to the two leads, a number of other actors have been announced for the show, many in undisclosed roles. Veteran actor Stellan Skarsgård will play a new character named Luthen (per Empire), and Adria Arjona ("Morbius," "Emerald City") will play an as-yet-unnamed character (per Deadline). The rest of the announced cast includes Denise Gough ("Under the Banner of Heaven"), Kyle Soller ("The Titan"), and Fiona Shaw ("Enola Holmes"), among others (per The Hollywood Reporter and Entertainment Weekly). There are also rumors that Forest Whitaker's Saw Gerrera could return in the series, with Stellan Skarsgård saying in a Swedish interview that he filmed a scene with Whitaker for the show (via The Playlist). However, these rumors have not been confirmed.
In his Vanity Fair interview, Gilroy said that his scripts include "211 speaking parts" and "probably 75 people in there who really matter," teasing a massive ensemble cast when all is said and done.
Who is directing Andor?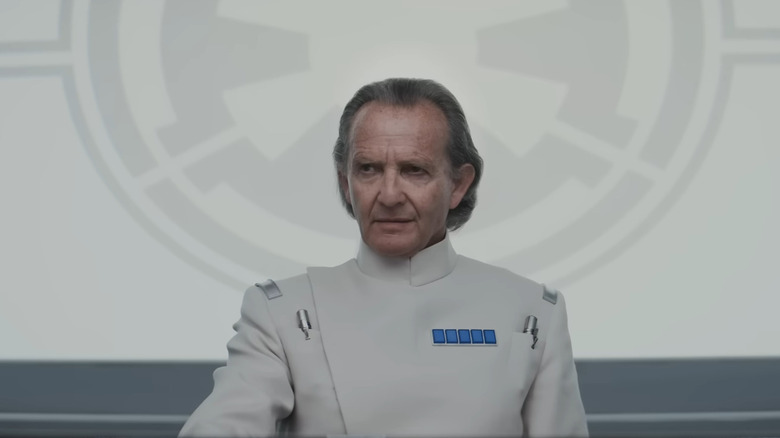 Disney+
Hollywood veteran Tony Gilroy serves as creator and showrunner on "Andor," which should give fans of "Rogue One" reason to be optimistic. Gilroy served as a screenwriter on the original film, so he's definitely familiar with the Cassian Andor character. However, he's probably better known as the writer of the first four "Bourne" movies and as the writer and director of "Michael Clayton," for which he was nominated for two Academy Awards in 2008.
Other writers on "Andor" include Gilroy's brother and frequent collaborator Dan, Stephen Schiff ("The Americans"), and Beau Willimon ("House of Cards"). The episodes of Season 1 will be directed by three different directors: Toby Haynes ("Doctor Who," "Black Mirror"), Susanna White ("Bleak House," "Billions"), and Benjamin Caron ("Skins," "The Crown"). While Lucasfilm president Kathleen Kennedy will serve as an executive producer, other recent "Star Wars" reliables like Jon Favreau and Dave Filoni aren't involved in "Andor." In addition to his starring role, Diego Luna also serves as an executive producer.
Is there a trailer for Andor?
For a while, the only footage that's been revealed from "Andor" comes from the show's first teaser trailer. While there's little dialogue and even less in the form of plot details, the trailer does give a pretty good impression of the overall tone of the show, and it's pretty grim. Fans of "Rogue One" will know that it's one of the darkest "Star Wars" stories to date, with almost every prominent character dying before the end. "Andor" definitely seems to be pulling from that legacy, and the teaser shows the abject terror and torment inflicted on regular galactic citizens by the Empire.
The "Andor" teaser covers a lot of ground. There are shots of a few different planets facing down Imperial invasion (featuring altered versions of the Republic's clone gunships), glimpses of Mon Mothma navigating dangerous political situations in the Imperial Senate, and of course, some exciting action scenes featuring Andor himself. Overall, the footage emphasizes the human aspect of the series — a story that seems to really be focusing on how life under an oppressive regime impacts the lives of ordinary people and rives them to radicalization. If "Andor" dives fully into those deep thematic waters, the result could be the best "Star Wars" series yet. "Rebels" told plenty of its own stories in the same era, but with a massive budget and the permission to be more mature, "Andor" could bring a whole new level of intensity to the Galactic Civil War.
How many episodes of Andor will there be?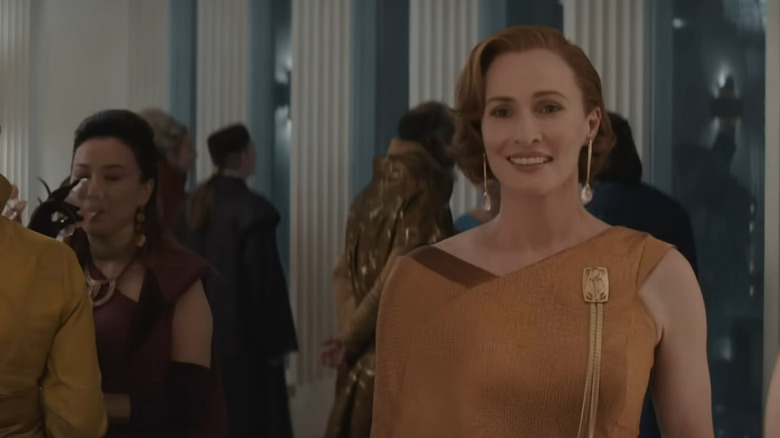 Disney+
In a 2022 interview with Empire, "Andor" showrunner Tony Gilroy confirmed that Season 1 would consist of 12 episodes. That's potentially great news for fans, as it's the longest episode count in a single season of any live-action "Star Wars" show to date. To compare, each season of "The Mandalorian" so far has consisted of eight episodes, "The Book of Boba Fett" ran for just seven episodes, and "Obi-Wan Kenobi" wrapped up after only six.
The higher episode count will hopefully give "Andor" time to develop its many characters, but it could also be an opportunity for the series to slow down a bit and really build out the world of the Imperial era. Because the series will be mostly free of ties to the preexisting canon (no major Jedi, no direct original trilogy tie-ins, etc.), it has the opportunity to really flesh out new corners of the "Star Wars" universe and show previously unseen effects of Palpatine's tyrannical rule.
Will there be an Andor Season 2?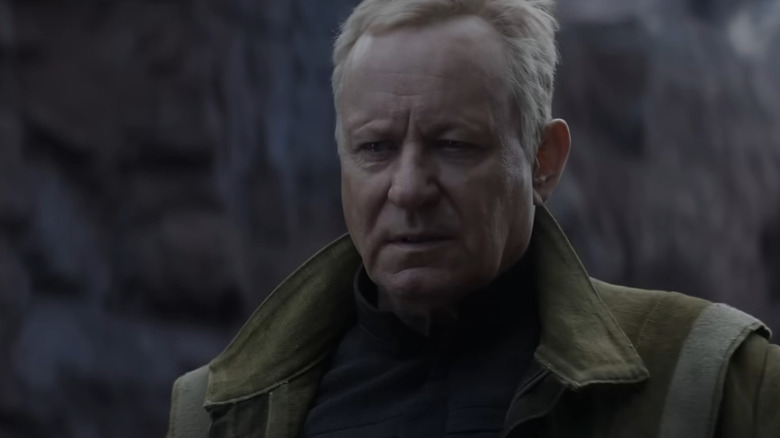 Disney+
While it might be premature to presume the quality of "Andor" at such an early stage, fans may still enjoy learning that preparation for Season 2 is already in the works. Speaking with Vanity Fair in 2022, showrunner Tony Gilroy confirmed that "Andor" Season 2 is on the way, but it sounds like the series may cap out at just two installments. "It is a second season, but it's really, for me, the second half of the novel," Gilroy said. "This first season is about him becoming a revolutionary, and the second 12 episodes take him into 'Rogue One.'"
That quote would seem to confirm that "Andor" Season 2 will be the same length as Season 1, making the full show a beefy 24 episodes. Because the titular protagonist is already known, there's a lot of interesting room in there to explore Cassian's journey. If it's done right, the show could even make "Rogue One" better in retrospect, fleshing out Cassian's motivations and giving his sacrifice even more emotional weight.
Andor's unique narrative structure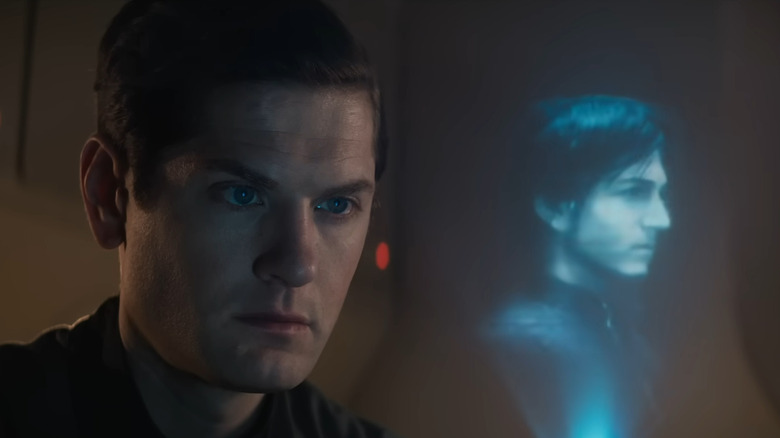 Disney+
"Andor" begins five years before the events of "Rogue One," and according to Tony Gilroy, most of that time will be covered over the course of Season 2, not Season 1. "Directors work in blocks of three episodes, so we did four blocks [in Season 1] of three episodes each," the showrunner explained in a 2022 interview with Empire. When the same filming structure was adopted for Season 2, the team decided to change up the flow of time a bit. "We looked and said, 'Wow, it'd be really interesting if we come back, and we use each block to represent a year. We'll move a year closer with each block,'"
In other words, "Andor" Season 1 will take place over the course of roughly one year, slowly setting the stage for Cassian's prolific career as a Rebel spy, and Season 2 will speed things up by jumping forward about a year every few episodes. This asymmetrical structure could give the two seasons a wildly different sense of pace, which will hopefully keep things feeling fresh. There's also an implicit rise in momentum in the Season 2 structure, which builds naturally towards Cassian's ultimate sacrifice in "Rogue One."
How does Andor fit into the Star Wars timeline?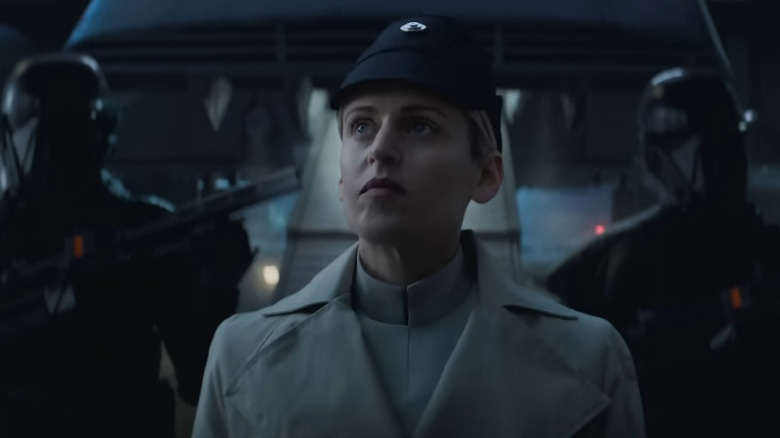 Disney+
With Andor being set five years before the events of "Rogue One," a lot of what occurs will happen at the same time as the events of "Star Wars Rebels." However, due to how divided the Rebellion is at this stage in the "Star Wars" timeline, there won't necessarily be a ton of overlap with the animated series, especially since it's targeted at a much younger demographic. However, "Rebels" does give some good clues about what the state of the universe will be like in "Andor."
Since scenes have been confirmed in the Imperial Senate, high-ranking officers of Palpatine's government and military force could play important roles in the story. This means that "Andor" could finally be the show to bring Grand Admiral Thrawn to live action, as he was very active in the years leading up to "Star Wars: A New Hope," though he hasn't been confirmed or even hinted at so far. "Andor" will also be set just a few years after the events of "Obi-Wan Kenobi," meaning that characters from that show like Moses Ingram's Reva could appear as well. Cad Bane, Fennec Shand, the members of Clone Force 99 — all these characters and more have the potential to show up in "Andor," especially since the show will cover such a large swath of time.
Additionally, "Andor" takes place at the peak of the Empire's power, after all its years of subduing planetary resistances but before the massive rise of the Rebel Alliance. "He's someone surviving in dark times," Diego Luna said of Cassian in an interview with Vanity Fair. "If you know the 'Star Wars' universe and story, these are the darkest times."
What Star Wars content should you watch before Andor?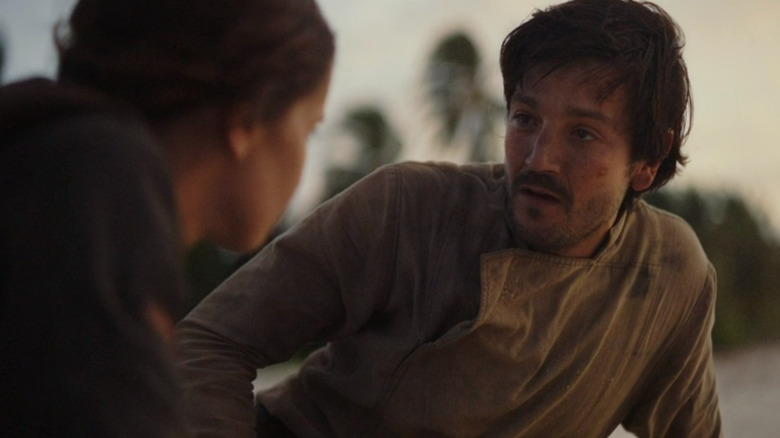 Walt Disney Studios Motion Pictures
Aside from "Rogue One," which seems like required viewing before going into "Andor," there are a lot of other "Star Wars" movies, shows, and even video games that will surely add context and depth to your experience. As it's set during the same spot on the timeline, and because it also deals with the early Rebel Alliance, "Star Wars Rebels" seems like the best place to start. While its tone is quite different from what "Andor" appears to be going for, it covers similar ground in terms of the state of the Empire, public sentiment regarding Palpatine's regime, and the nature of the conflict against it.
"Rebels" is pretty long, though, so if you're looking for some briefer viewing materials to get you ready for "Andor," there are plenty of other great stories set during the Imperial era. "Star Wars: The Bad Batch" shows the very first stage of Imperial rule, and it also spends a lot of time in the seedy galactic underworld that Cassian Andor will likely inhabit in his own series. "Obi-Wan Kenobi" paints a pretty vivid picture of the Empire's power and its methods of silencing rebellion, while "Solo: A Star Wars Story" has some fun details about what life looks like between "Star Wars: Revenge of the Sith" and "Star Wars: A New Hope."
Of course, if you'd rather play a video game than watch a bunch more TV, "Star Wars Jedi: Fallen Order" is a great place to start.
What is Andor rated?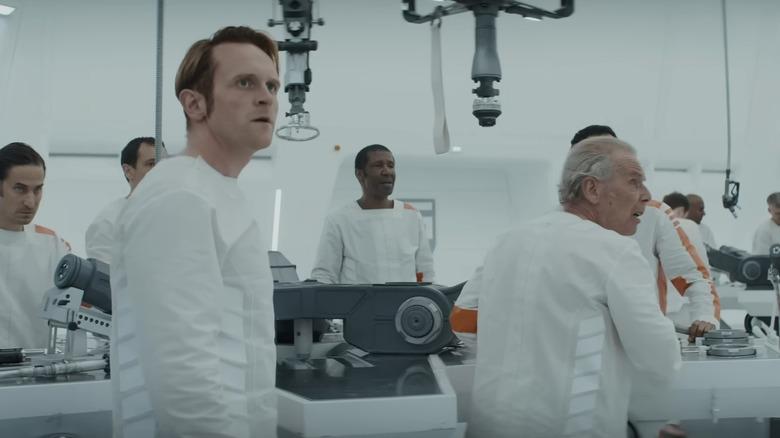 Disney+
Every live-action "Star Wars" streaming series to date has been rated TV-14 — even "Obi-Wan Kenobi," which is arguably the darkest of the lot. Despite its grim narrative and the downtrodden state of the galaxy at the time, "Andor" will likely receive the same rating. At the end of the day, "Star Wars" is still a family-first franchise, and Disney probably won't be compromising that stance anytime soon.
That doesn't preclude "Andor" from handling serious storylines or themes, however. From Cassian's status as a refugee to the oppressive rule of Palpatine's autocratic regime, there's a lot of rich, meaningful, and relevant material for the show to pull from. By its very nature, the series will deal with the concept of radicalization and what it takes to turn a seemingly ordinary person into a martyr. That's a pretty heavy place to start from, and if "Andor" pulls it off, it could deliver a powerful and nuanced "Star Wars" narrative even with a TV-14 rating. That means that while the level of violence and sexual content may be well within what you'd expect for "Star Wars," the thematic content may be a good deal more mature.
Where to watch Disney's other Star Wars shows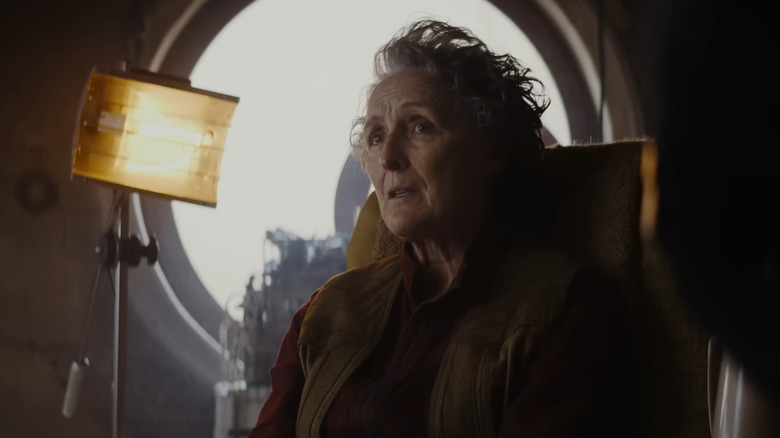 Disney+
Like "Andor," Disney's other "Star Wars" shows are all available to stream on Disney+, along with "Rogue One" and the rest of the feature films. If you want to binge every episode of "Star Wars Rebels" in preparation or just do a quick re-watch of Cassian Andor's big-screen adventure, that's the place to go. If you intend to watch "Andor" through its run on the platform, you likely have a subscription already, which makes catching up easy.
Given the relatively hit-or-miss record that Disney has had with its "Star Wars" shows so far, it should be interesting to see where "Andor" ultimately falls. "The Mandalorian" quickly became a massive hit, but "The Book of Boba Fett" received much more lukewarm reviews, and even "Obi-Wan Kenobi" had its fair share of detractors. With "Andor," Disney seems to be taking a fresh approach to the franchise, which is great news for fans looking for something new.