The Rise Of Skywalker: Emperor Palpatine Is 'Very Instrumental' To The Story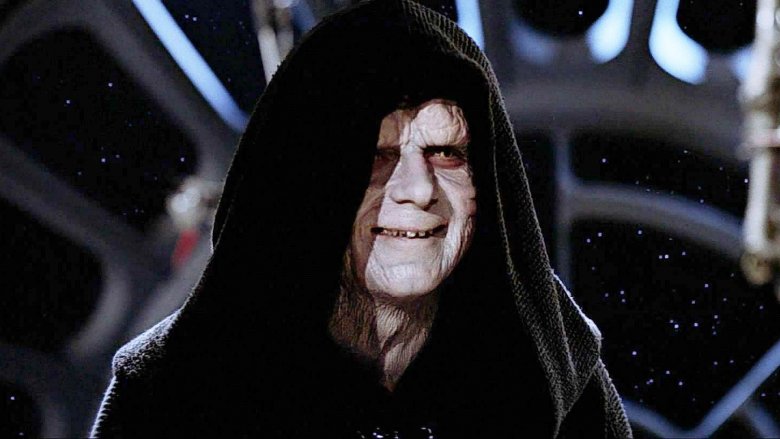 Lucasfilm / Disney
Emperor Palpatine will return in Star Wars Episode IX: The Rise of Skywalker, and he won't be stopping by for a cameo.
Speaking with IGN at Disney's D23 expo, stars Daisy Ridley, John Boyega, and Kelly Marie Tran offered some insight into the importance of the dastardly figure — who was famously thought to have perished at the conclusion of 1983's Star Wars Episode VI: Return of the Jedi — to the flick's story.
Fans were shocked when Palpatine's distinctive laugh was heard at the end of the first teaser trailer for Rise of Skywalker, and it was made explicit that this was no misdirection when the movie's first poster was revealed at D23. It features the Emperor's looming visage overseeing the proceedings as Ridley's Rey and Adam Driver's Kylo Ren face off with lightsabers in hand, and in the same way that his likeness looms over the one-sheet's imagery, Boyega astutely pointed out that Palpatine's machinations loom large over the entire Star Wars series.
"I think the Emperor and his doctrine has trickled down to so many of the characters in the Star Wars universe, and that the Dark Side [of the Force] is what it is because of a lot of his actions and plans," Boyega said. "And so, to have him come back, he's like the greatest foe, and greatest enemy... I mean, we might as well take him down properly." 
Mr. Boyega, we must say that we love your attitude. Ridley similarly called attention to the importance of the character to the overall narrative of the Skywalker Saga, and assured fans that his reappearance after seemingly having met his end at the hands of the redeemed Darth Vader — sorry, Anakin Skywalker — was not a plot development that was taken lightly by the filmmakers. "He's the biggest baddie in Star Wars history... now that we've done the story, I'm like, it couldn't have happened any other way," said Ridley. "Like, it had to be that. But he's very, you know, instrumental to the plot of the film. It's not just like he appears again; it's all explained."
Asked about her take on the way director J.J. Abrams and company brought the epic nine-film saga to its conclusion, Ridley said, "I think it's awesome. When we were doing it, I kept going, 'Oh my god, this is so cool.' And that's nice to be in a film where you're actually saying, 'Oh my god, this is so cool.'"
For her part, it seemed to be all Tran could do to keep from spoiling the entire movie. "I mean, I think that there are so many themes in the Star Wars films... my favorite being redemption, and this idea of, like, whatever comes at you, you can... well, I'm not gonna give you, I'm not gonna tell you what happens, but... the theme of redemption." Pressed on exactly what her comments meant in regards to Palpatine, Tran grinned mischievously and said, "Look, I don't know," demonstrating that she is utterly charming even when lying through her teeth.
Of course, the stars were also grilled over Rey's seeming transformation in the new footage from Rise of Skywalker which was screened at D23. Said footage saw her cloaked and hooded, wielding a distinctive, Darth Maul-esque red, double-bladed lightsaber — suggesting that before it's all said and done, the character could be taking a walk on the Dark Side, a development which could be strongly tied to Palpatine's return. Their responses were right in line with their previous remarks: Boyega's was cheeky, Tran's was carefully worded, and Ridley's was downright evasive.
Said Boyega of the apparent "Dark Rey" reveal, "For me, it's just a mere costume change. I mean, the girl wanted dark. I wear black sometimes, doesn't mean I'm bad. The red? It's a glow stick thing. Rey likes to go out, enjoy times at a party, and red... yeah, she's raving. You know, it's just that time in her life. I don't think the fans should really get into all of that. What you need to look at is how C-3PO got his golden arm back... that's the question for me."
Seriously, every time this guy speaks, we like him more and more. Tran, when asked about the reveal, offered up this cornucopia of vagueness: "I think the most important thing to take from that whole snippet is just that the ending of this film is going to be really... really groundbreaking, in a good way. I think there are a lot of little pieces from the older films, and everyone's together in this one, and it's a really big... we're gonna go out with a bang."
Ridley, while no more inclined toward specificity, did tease that Rise of Skywalker will revisit the themes of the previous films in putting a bow on the Skywalker Saga. "I think [the movie] should, hopefully, show people that we did a big old journey, and we explored some things," the actress said. "So, just you wait 'til the film [comes out]."
Since she's already in Disney's employ, we humbly suggest that Ridley be brought on to coach Marvel Studios' stars as to how to avoid spoiling the heck out of hotly anticipated films; the woman is harder to crack than your average bank vault. Thank you, Ms. Ridley, for stating the obvious: we're all just going to have to wait to see how Emperor Palpatine figures into the final chapter of the epic nine-film saga, and how Rey and friends wrap up their story, until Star Wars Episode IX: The Rise of Skywalker hits theaters on December 20.