The Real Reason Cole Hauser Agreed To Join Kevin Costner On Yellowstone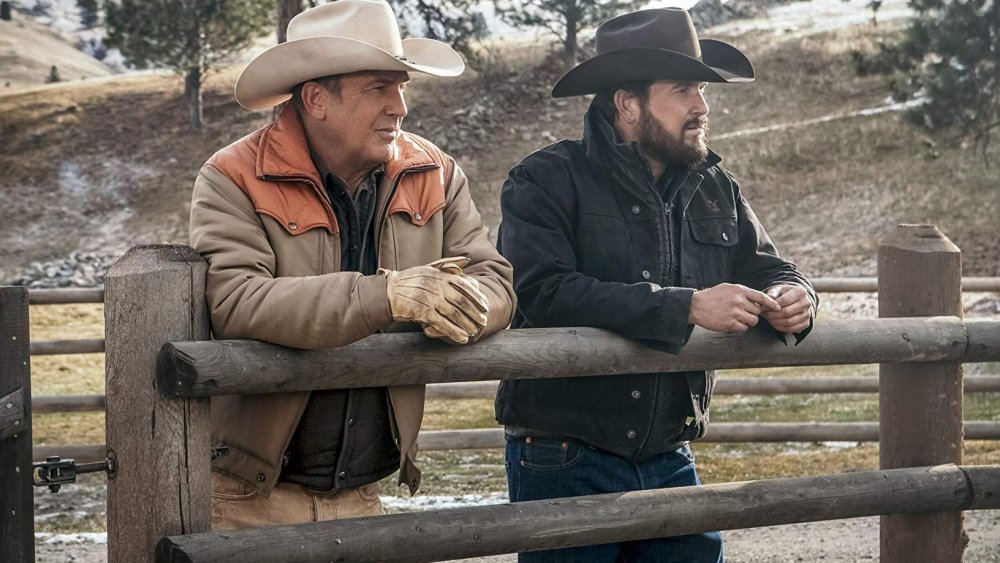 Paramount Network
Over the course of the first two seasons of Yellowstone, Cole Hauser's ranch-hand-slash-henchman Rip Wheeler has served as a loyal ally to Kevin Costner's ranching magnate John Dutton. And to hear Hauser tell it, the possibility of working with a big-name, big-money-making star like Kevin Costner is just one reason why the actor decided to join Yellowstone.
Yellowstone creator Taylor Sheridan told Deadline that Hauser was his first choice to portray Rip Wheeler on the series, but it seems it "took a little convincing" to get the actor on board for the Montana-set Western even with Costner's name attached. However, the chance to work with Costner on Yellowstone was clearly still a deciding factor in Hauser taking the role. Hauser himself admitted as much in an interview with CinemaBlend, saying of Costner, "I have always watched him from afar and think the world of him as an actor and a storyteller and a director, for that matter."   
But Hauser's adoration for his famous co-star wasn't the only reason he saddled up for his bloody trip through Big Sky Country. The actor had even more respect for Sheridan's work, and most importantly for the character the Yellowstone creator had scripted with Hauser in mind. 
"Well, he's a big reason, obviously. Ultimately it was what he wrote for Rip — and it wasn't a lot in the beginning, in the pilot, in the first couple of episodes. But I think over time, him and I talked a lot, and brainstormed and sat together and kind of laid out what Rip was to him [and] what I thought Rip was to me," Hauser said. "We both came to this kind of place where we're like god d**** it, we see totally eye-to-eye, and let's create this really kind of amazing but also dark kind of figure that has the ability to show an extreme anger and also love."
The actor further said of Rip Wheeler, "He's got a lot of colors and I think that's why — I hope that's why — the audience has really enjoyed him as a character on Yellowstone."
Though Hauser's decision to appear on a project with talents like Costner and Sheridan already on board seems like a no-brainer, it was always a bit more of a gamble than you'd think. That has a lot to do with Yellowstone being a full-on cowboy-centric Western — the likes of which haven't exactly played well on the small screen in recent years (HBO's marvelous Western series Deadwood is the one true exception). Yellowstone sets itself apart by being set in the present rather than the far-away part, and sees its cowpokes facing decidedly modern-day problems. No matter the setting, though, it was still a tough sell to get A-list talent to sign onto a Western series that was slated to air on the then-fledgling cable channel Paramount Network. (Costner himself has even admitted that he sometimes doesn't like filming Yellowstone.)
That gamble has, of course, paid off in spades for everyone involved. In just two seasons on air, Yellowstone has become a become a breakout hit for Paramount Network, and currently ranks as one of the most-watched shows on television.  
What's next for Cole Hauser's Rip Wheeler on Yellowstone?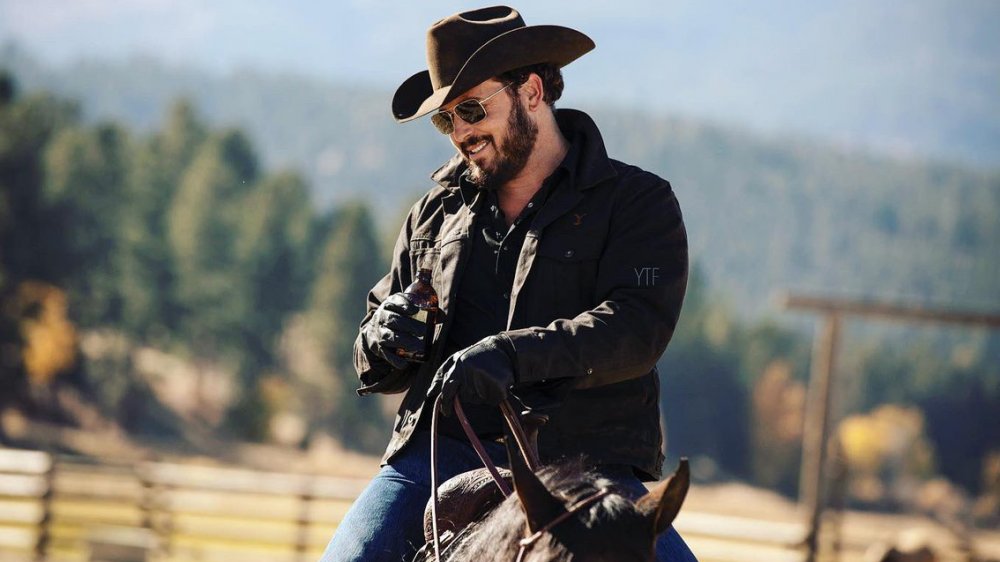 Paramount Network
Cole Hauser has played a large part in the overall success of Yellowstone, with the bad-boy-but-good-guy Rip Wheeler becoming a fan favorite along the way. Along with the characters' complexity, Hauser's perpetually twisted-up inside take on Rip has helped make the character so memorable over Yellowstone's first two seasons — with the actor alluding to untold depths of pain and passion beneath his understated performance. 
Much of Rip's introverted nature stems from a traumatic past that found his father killing his mother and brother, and eventually saw the young Rip putting his old man down for good in particularly brutal fashion. That fateful event is what landed Rip on the Dutton Yellowstone Ranch — and with an all-too-real history of violence simmering below the surface, it's clear why Rip's introversion has often boiled over. 
On that note, Rip has been involved in a number of dastardly deeds across Yellowstone seasons 1 and 2. While it would be easy to see Rip less as a loyal ranch hand and more as John Dutton's brutal stooge, Hauser's quiet performance more than tempers all the violence — as does his character's burgeoning romance with John Dutton's daughter Beth (Kelly Reilly).
Given the many nuances of Rip's personality and his direct involvement in so many of Yellowstone's key storylines, it's safe to assume that he'll be a major player on Yellowstone season 3. As for what exactly is ahead for Rip on that new season (which most likely won't be Yellowstone's last), we're not entirely sure, since plot details are currently being kept under wraps. We do, however, know that season 3 will see love in full bloom for Rip and Beth... and that may cause more friction than usual between Beth and her brother Jamie (Wes Bentley). 
There's a strong chance that Rip will get more blood on his hands as his journey with the Duttons presses forward, and we can only imagine that his own dubious deeds might one day catch up with him. You can find out what consequences Rip Wheeler might face on season 3 of Yellowstone when it premieres on Paramount Network on June 17, 2020.