First-Look Footage From Halloween Kills Is Pretty Epic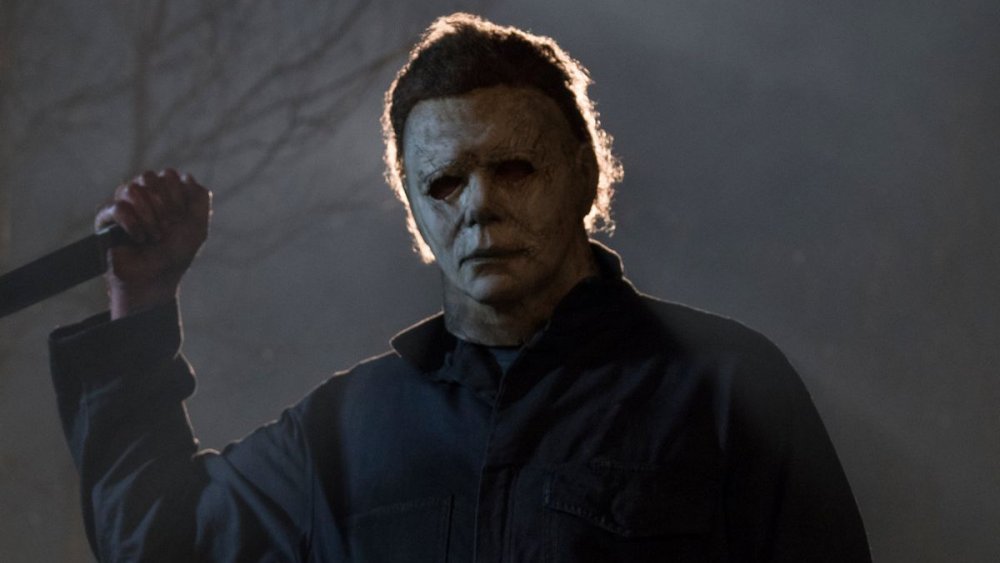 To all the Halloween-heads out there, you should probably start following Jamie Lee Curtis' social accounts immediately — they continue to be ground zero for glimpses behind the scenes of the anxiously awaited slasher flicks Halloween Kills and Halloween Ends.
The iconic scream queen, who portrays Laurie Strode in the Halloween franchise, has been quite busy on her socials since Halloween Kills officially kicked off production in September 2019. So far, Curtis' posts have largely been still shots taken on set or in her trailer. It appears the spooky time of year has the Halloween Kills star in the sharing mood, though, as Curtis recently took to Twitter to offer Halloween fans a tasty treat: a 21-second video that marks the first in-motion look at Halloween Kills. 
Needless to say, but it appears bloody mayhem is in store for the Strode clan in the upcoming sequel to 2018's Halloween.
Penned by David Gordon Green, Danny McBride, and Jeff Fradley (and directed by Green himself), 2018's Halloween served as a direct follow-up to John Carpenter's legendary slasher classic of the same name from 1978. Set a few decades after the events of Carpenter's Halloween, the 2018 movie found Laurie Strode a little older, a lot grayer, and so deeply traumatized by her encounter with knife-wielding psychopath Michael Myers that she'd spent the ensuing years drinking her pain away while training herself (and her family) for a second showdown with the one we've come to call "The Shape."
That showdown indeed came in the blood-spattered madness of Green's Halloween. When it happened, Laurie — with a little help from her daughter Karen (Judy Greer) and granddaughter Allyson (Andi Matichak) — eventually trapped the murderous Myers inside a burning house. Of course, Michael Myers isn't that easy to kill. The basement cage clearly didn't hold, since the grisly gang is back for a pair of sequels that will end the saga of Laurie Strode and Michael Myers. 
Now a couple of weeks into filming, Halloween Kills is the first of those expected sequels — and if Curtis' teaser is any indication, things are heating up on set. Like, literally heating up, as it appears the Halloween Kills team has already shot Michael's escape from the burning basement. At one point in the video, Michael is seen standing on the porch of Laurie's house, fire ablaze behind him, with what appears to be a torrential downpour (or perhaps firefighter's water hoses) damping the raging flames. 
'Tis the season..... to start screaming. First look at the mayhem David has created for all of you. @halloweenmovie #halloweenkills #strodesstrong @universalpictures @miramax @blumhouse @halloweenmovie pic.twitter.com/klrpzk1Ykg

— Jamie Lee Curtis (@jamieleecurtis) October 31, 2019
Though it's unclear exactly how Michael Myers got out of that basement, the video offers a few more glimpses into not just the mayhem to come, but also the return of a couple of familiar characters. Anthony Michael Hall briefly appears as the baseball bat-wielding adult version of Tommy Doyle, and Kyle Richards turns up as an older, gun-toting version of Lindsay Wallace. In the original Halloween film, both characters narrowly escaped Michael's wrath while Laurie was baby-sitting them, and it certainly looks like they were just damaged by the experience as Laurie was. 
Elsewhere in the video, there are glimpses of Laurie and Karen (one bloodied and the other visibly shaken), a few shots of Green and crew working their magic behind the scenes, and, of course, a couple of quick shots of the Shape himself. Basically, it looks like a bloody good time is being had by all. 
What mayhem awaits Laurie Strode in Halloween Kills (and Halloween Ends)?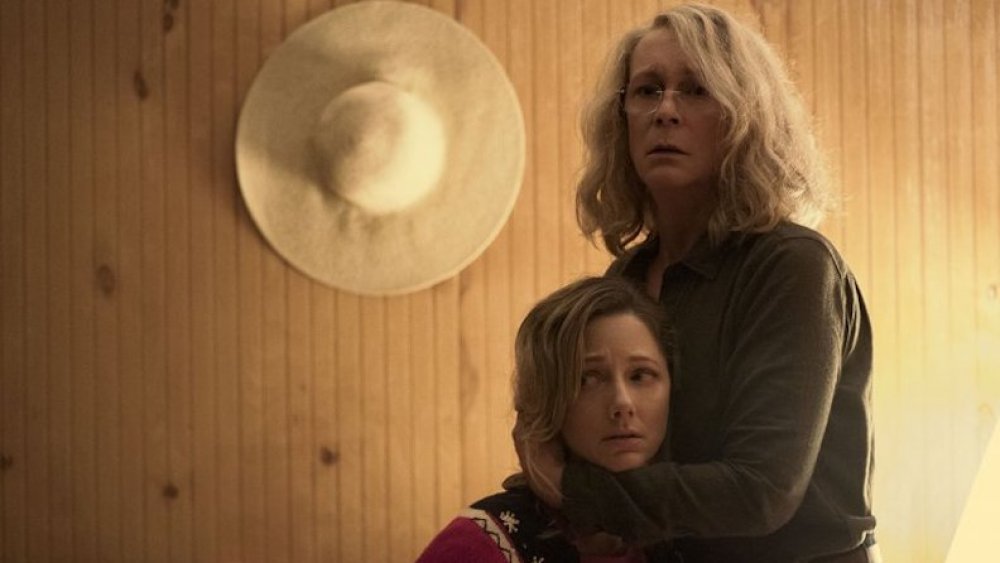 If you're wondering what this video might reveal about the horrors Laurie and her family are facing in Halloween Kills, well, there's really not that much we can glean from it. Likewise, as of this writing, the plots to both Halloween Kills and Halloween Ends are being kept under wraps. 
What we do know for sure is that when last we saw Laurie and her family, they were covered in blood, one man down, and riding off into the night assuming they'd finally beat the beastly Michael Myers for good (though the haunting final shot of the film ultimately called that into question). Halloween Kills will clearly pick up in the immediate aftermath of Halloween. As such, the Strodes are going to be in for quite the rude awakening when they hear fresh bodies are starting to pile up around Haddonfield, and that their long Halloween nightmare is far from over. 
It's also clear that somehow, someway, Laurie (or possibly just Michael?) will come into contact with both Tommy and Lindsay — and that each of those characters will have something to offer the big baddie of All Hallows Eve. Exactly how those characters factor into the overarching Halloween Kills and Halloween Ends narrative is still unknown — as is how (or even if) Laurie and co. plan to survive the night and actually put Michael Myers down for the big sleep. One thing's for certain: the last shot of a badly bloodied Laurie in the set video doesn't portend an easy journey for Halloween's O.G. final girl.
While Green and McBride have both been candid about their sequels bringing an end to the Laurie Strode-Michael Myers saga, they have categorically refused to tip their hands as to whether either character will make it out alive, or if they'll both meet their ultimate dooms. Clearly, Laurie underestimated Michael's mortality in 2018's Halloween — as she did on two separate occasions as a teen in the original movie. That means in the coming sequels she'll likely be forced to reckon with the notion that her decades of prep may have been for naught. We can only hope she's got a backup plan to deal with Michael.
For now, all we can really do is hope that David Gordon Green and the Halloween Kills and Halloween Ends crew are bringing as much fire and fury to the sequels as they did to the 2018 flick. We'll get our first look at those sequels in a little under a year's time, when Halloween Kills hits theaters on October 16, 2020 — with Halloween Ends arriving almost exactly a year later on October 15, 2021. 
Until then, stay tuned to Looper — and Jamie Lee Curtis' social media accounts, evidently — for updates on Halloween Kills.