The Batman Director Finally Confirms Jeffrey Wright's Role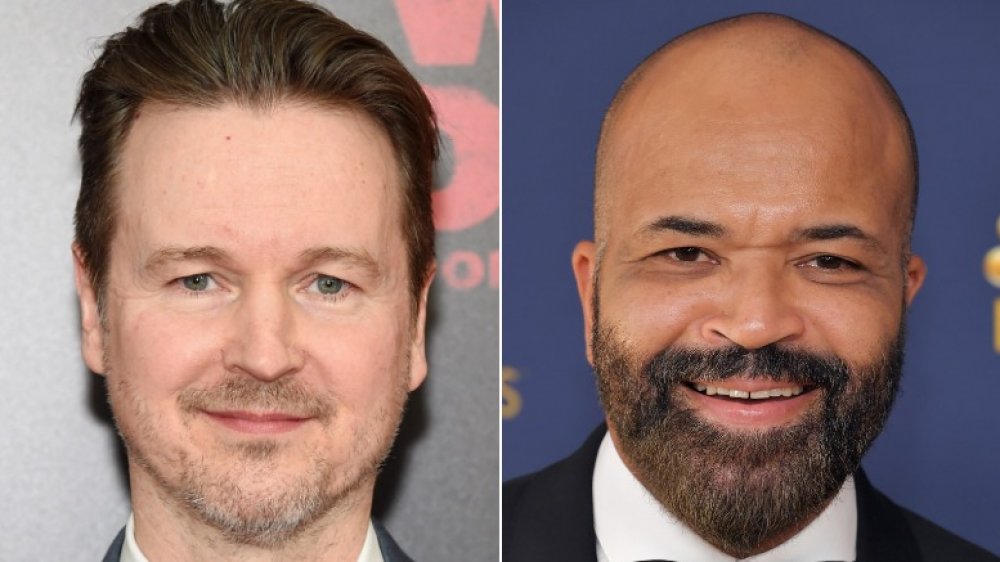 Jamie Mccarthy, Neilson Barnard/Getty Images
For Matt Reeves, brevity is apparently a virtue.
One word, one hashtag, and one emoji was all that was necessary for the writer/director behind the upcoming The Batman to confirm that Jeffrey Wright has joined the cast as Jim Gordon. The actor had been circling the role for some time, but nothing had been officially announced until today.
We first reported that Wright, perhaps best-known for his role in the hit HBO series Westworld, was being considered for the role back in September. He'll be joining a cast that so far includes Zoë Kravitz (Spider-Man: Into the Spider-Verse) as Catwoman, Paul Dano (Escape at Dannemora) as the Riddler, and Robert Pattinson (The Lighthouse) as the Caped Crusader.
Reeves confirmed Wright's involvement with a GIF of the actor saying "Tweet something," which he did, although it wasn't much. The director simply wrote, "Tweet!" followed by "#Gordon," followed by a bat emoji. We suppose it probably a good deal less trouble than putting out a press release.
We are of the opinion that this is a great casting move. Possessed of an authoritative look and a sonorous voice, Wright is a fine actor, as evidenced by the fact that he's been all over screens both large and small as of late. In just the last couple years, he's appeared in the features Game Night, Hold the Dark, The Laundromat, and The Goldfinch; he's lent vocal performances to BoJack Horseman and The Venture Bros., and will soon do the same for Marvel's Disney+ animated series What If...? in the role of the Watcher. 
He'll also be seen next year on the big screen in the Bond flick No Time to Die in the role of Felix Leiter, which he established in 2006's Casino Royale, and he has an additional two features in post-production: director Wes Anderson's The French Dispatch and All Day and a Night, a drama from Black Panther co-writer Joe Robert Cole. With his Westworld role ongoing, it's safe to say that Wright has more high-profile gigs than you can shake a stick at (or a Batarang).
Jim Gordon has appeared in live-action DC movies many times over the years, played most recently by the great Gary Oldman in Christopher Nolan's Dark Knight trilogy and by J.K. Simmons in 2017's Justice League. He was also, of course, the main character (portrayed by Ben McKenzie) in the recently-ended Fox TV series Gotham, in which he was initially a green police detective before rising through the ranks to become Commissioner.
Oldman's Gordon also took awhile to ultimately earn that title, which raises the question: just where in his career will Wright's version of the character be?
Will Jim Gordon be Police Commissioner in The Batman?
Reeves has promised that The Batman will be a gritty, noir-influenced tale focusing on the early days of theDark Knight's crime-fighting career, and playing up his detective skills — a vital aspect of the character in the comics which has not exactly gotten due representation onscreen before. For that matter, it's been speculated that any number of Batman's rogues' gallery in the movie (which sources say might number as many as six) may be in the nascent stages of their criminal careers, as well.
It stands to reason, then, that Wright's Jim Gordon may not have ascended to the top spot in the Gotham P.D. by the beginning (or even the end) of Reeves' narrative. Of course, it should be noted that everyone involved with The Batman has been extremely coy about the number of pictures on their contracts, and they all seem to be going out of their way to avoid any mention of the words "sequel" or "franchise" — but if Warner Bros. and DC Films don't have their heart set on a long, profitable series of films starring Pattinson as Bruce Wayne, we'll slap our hats between a couple pieces of bread and chow down.
The plot of The Batman is rumored to involve a brutal series of murders which have Gotham on edge, and which ol' Bats is intent on getting to the bottom of. It would surprise us not at all if the film's version of Gordon were still in his detective days, and it would surprise us even less if he just happened to be assigned to the case, which would put him on a course to cross paths with the Caped Crusader early and often.
It would also leave room for the character to grow into his classic position over the course of multiple films, and for his relationship with Batman to develop over that same period. Obviously, we're speculating — but all signs are pointing to Reeves playing a long game with The Batman, with careful character development being the name of the game. We'll certainly get to see Gordon lighting up the Bat Signal so the two can put their heads together on how best to deal with some crazy costumed nemesis threatening Gotham at some point, but something tells us it won't be in Reeves' first movie.
At any rate, it's great to finally have official confirmation of Wright's role, and with the casting of Kravitz and Dano having just been announced in recent weeks, it certainly looks like the production is starting to put together its roster of players in earnest. We'll be keeping our ears to the ground for all the news worth reporting on The Batman, and we'll keep you up to speed; the flick hits theaters on June 25, 2021.