Movies You Didn't Realize Were Secretly Christmas Movies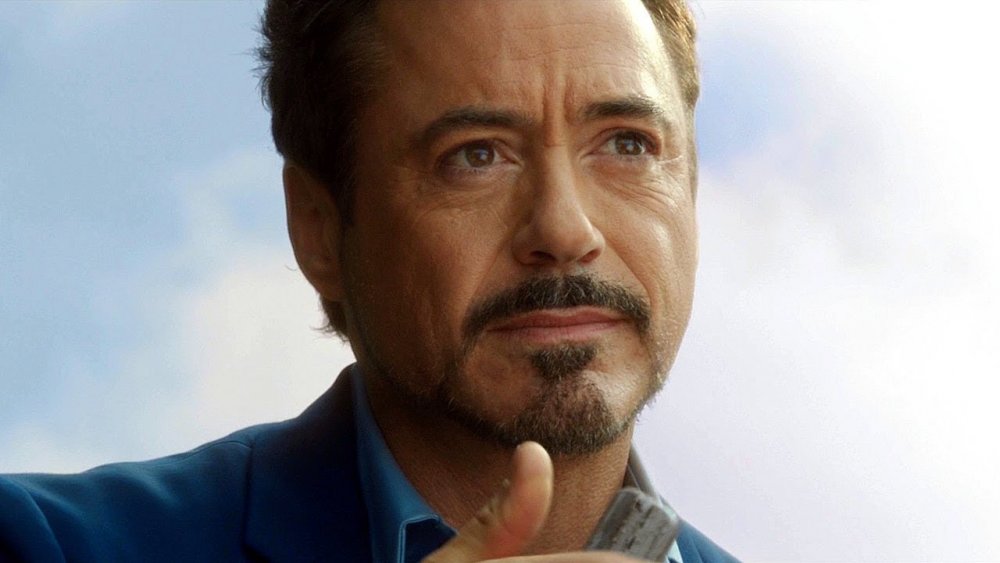 Ask nearly any group of movie buffs to name their favorite Christmas movies, and there will inevitably be at least one person who proudly states that theirs is Die Hard, the quintessential "favorite Christmas movie" of people who don't want to name a film that is actually about Christmas. Perhaps there was a time when Die Hard being a stealth Christmas film was a little-known fact, but if there was, it's far in the past. Now, it's such common knowledge that Die Hard is a Christmas film that you can't turn on the TV around the holidays without stumbling upon a John McClane movie marathon. 
However, if you're all Die Hard-ed out, but you still want something seasonally appropriate to watch around the holidays that isn't a traditional holiday movie, there are a surprising number of other movies where Christmas plays out in the background, sometimes so subtly that you may not have even noticed. Below, we've rounded up some of the very best movies that you didn't realize were secretly Christmas films, and they're perfectly suited for yuletide viewings, even if traditional Christmas flicks aren't typically your jam.
Trading Places is a 1980s Christmas comedy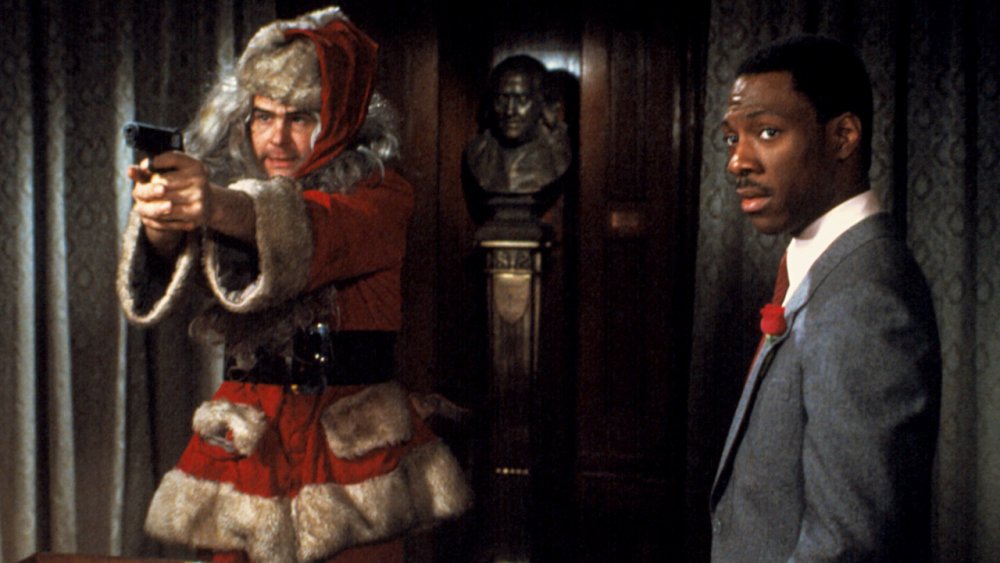 At first glance, there's not much that feels particularly Christmas-y about the 1983 comedy Trading Places. Starring Dan Aykroyd, Eddie Murphy, and Jamie Lee Curtis, the story is about a wealthy businessman and a convicted street hustler who wind up swapping social statuses due to being the unwitting subjects in a bet placed by a pair of wealthy, scheming brothers. However, Christmas does feature prominently in the plot of the film, as well as the soundtrack, which features Brenda Lee's cover of "Jingle Bell Rock."
One of the pivotal scenes of Trading Places takes place during a brokerage firm's annual Christmas party, which sees Aykroyd's character dress up as a bedraggled Santa Claus in order to sneak into the party and plant evidence that will get Murphy's character arrested. Things don't go according to plan, and Aykroyd leaves more despondent than ever, still dressed in the Santa suit. Additionally, Trading Places certainly seems to have a sense of Christmas spirit in the second chances that both main characters receive and in their windfall of good fortune at the end of the film. 
Rocky IV is a holiday-themed slugfest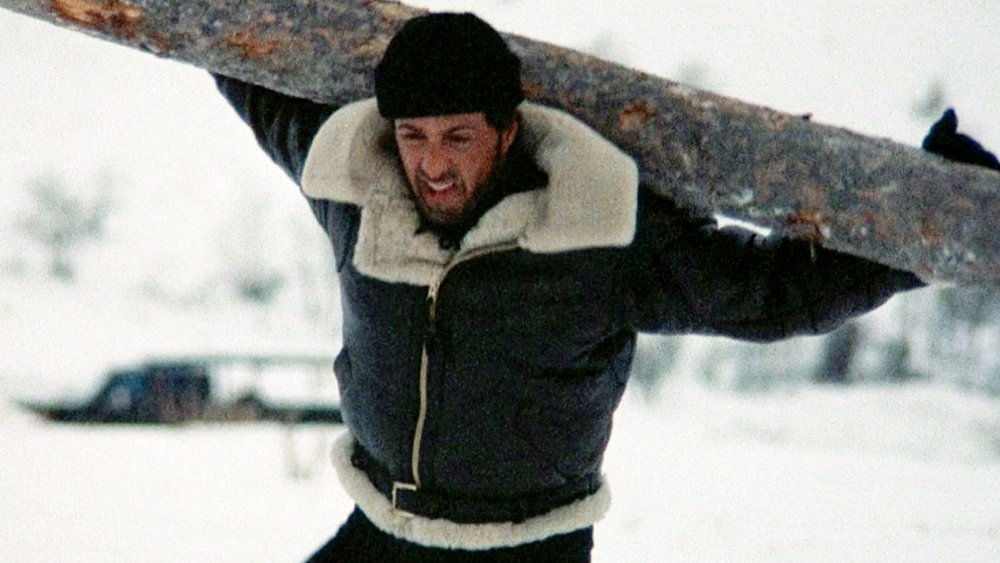 The Rocky franchise is no stranger to holidays, with Rocky Balboa's (Sylvester Stallone) big fights with Apollo Creed (Carl Weathers) taking place on New Year's Day in the first Rocky and on Thanksgiving in Rocky II. Although Rocky III didn't continue the festive tradition, it still shouldn't have come as much of a surprise when Rocky IV returned to form, setting its climactic showdown between Rocky and Ivan Drago (Dolph Lundgren) on Christmas Day. 
Aside from the timing of the final Soviet Union-set fight, though, there's not much that feels Christmas-y about Rocky IV, unless you count Rocky's snow-covered training regimen, which includes jogging through snow, pulling a sleigh, and chopping down trees, although not of the Christmas variety. Mostly, though, Rocky IV still feels much more like a boxing movie than a Christmas movie, with most of the characters seeming to ignore the holiday until the very end, when Rocky wishes his son a merry Christmas. 
The Princess Bride is a Christmas gift for audiences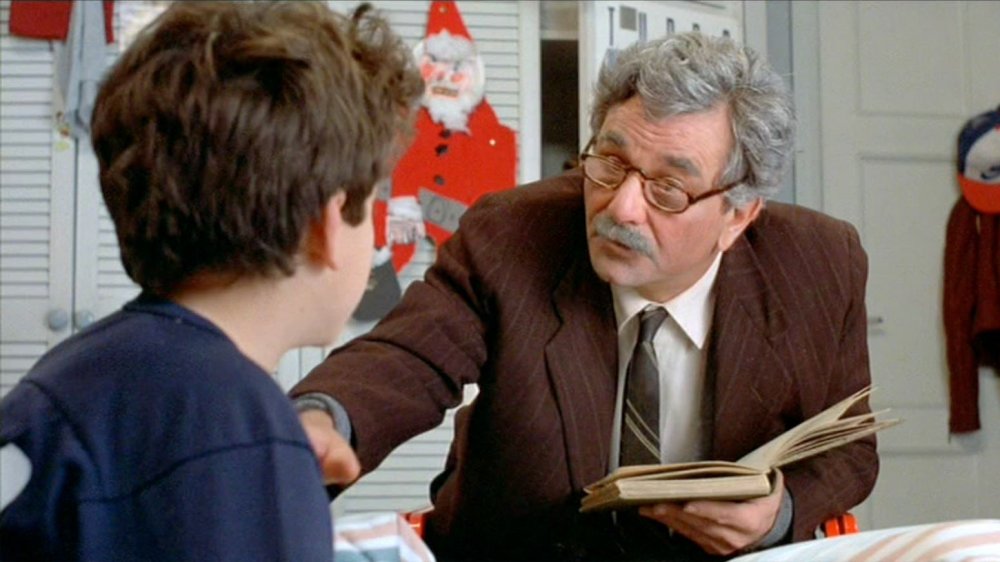 The Princess Bride is one of those rare movies that's almost universally beloved, and it's not uncommon to meet someone — or be someone — who has it practically memorized. Yet, even if you've seen the fantasy film a hundred times, you may not have realized that the grandson's (Fred Savage) sick day actually takes place over Christmas. Not only are there Santa decorations scattered all around the grandson's bedroom — including a prominent Santa that can be viewed right behind the grandfather (Peter Falk) in each of his reading scenes, hanging on the closet door — but there's also a mini-tree with festive lights on the hallway table outside his bedroom door and snow-covered, light-trimmed houses visible through the window.
While all of that could still indicate that the movie takes place just after Christmas, the biggest clue that The Princess Bride is indeed a Christmas movie comes in the form of the book itself. The grandfather gives the S. Morgenstern-penned novel to his grandson wrapped in Santa Claus-themed wrapping paper. And of course, if the book is a Christmas gift for the grandson, then the film that tells the story within can definitely qualify as a Christmas present for us. 
Lethal Weapon is one of the greatest holiday action flicks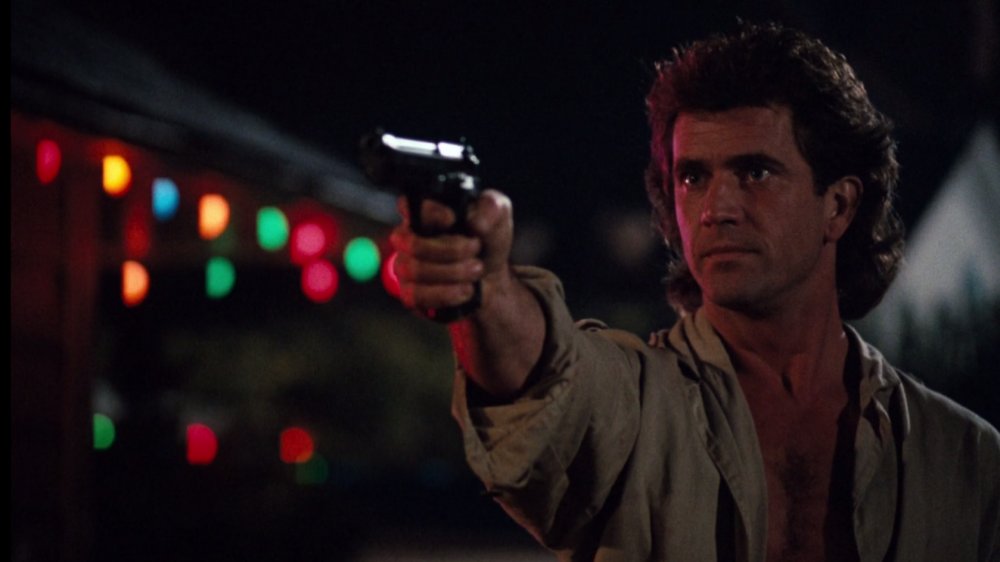 Unlike some of the other films on this list, the 1987 buddy cop comedy Lethal Weapon doesn't play coy with its Christmastime setting, with "Jingle Bell Rock" playing merrily over its opening credits. The jovial melody soon gives way to more ominous music that underscores a deadly scene, but it still takes place in an apartment festooned with a Christmas tree and multicolored lights. This is just one of many scenes in Lethal Weapon that makes it clear that the story is set during the holidays, even if the plot of the film tends to ignore it.
Although there's nothing particularly Christmas-y about the sunshine-filled Los Angeles setting, the film occasionally uses Christmas as an incongruous backdrop for its darker scenes. In addition to the opening sequence, a Bugs Bunny holiday special plays out during a moment where Riggs (Mel Gibson) ponders suicide, and a drug bust/shootout takes place in a Christmas tree lot. Then the film ends warmly, with Riggs joining Murtaugh (Danny Glover) for Christmas at his merrily decorated home to share dinner with Murtaugh's family. 
Edward Scissorhands is actually a magical Christmas movie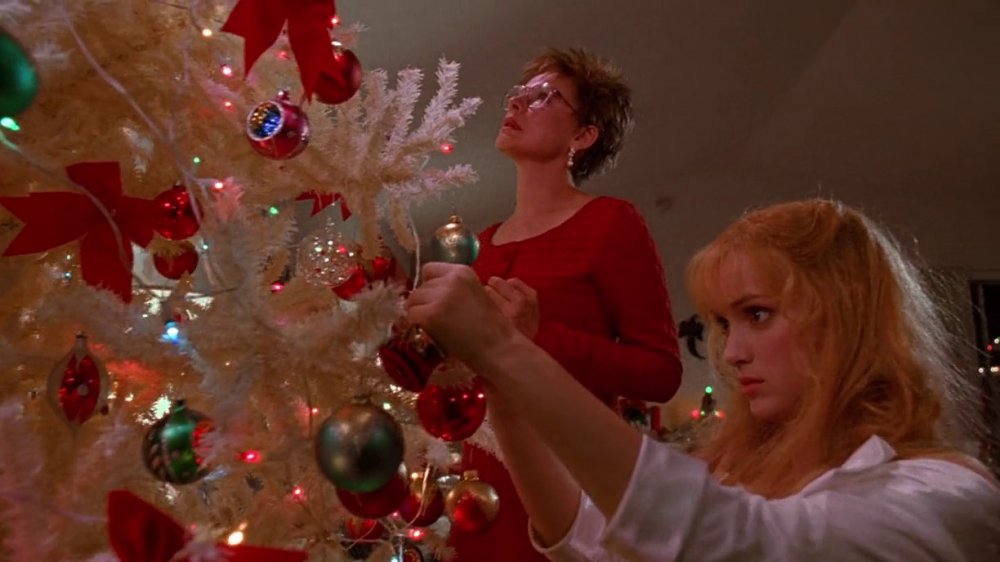 Although much of Tim Burton's 1990 film Edward Scissorhands takes place earlier in the year, the entirety of the final act of the film is set around Christmas. Peg (Dianne Wiest) spends much of the end of the movie trying her best to get the people in her neighborhood to attend her annual Christmas party, hoping it will calm down the animosity that people feel towards Edward (Johnny Depp) and allow the feelings in their neighborhood to go "back to normal." We see Peg and her daughter, Kim (Winona Ryder), decorating the tree, the house is lit up for Christmas, and Peg's husband, Bill (Alan Arkin), is up on the rooftop, rolling out swaths of fake snow while singing "I Saw Three Ships" at the top of his lungs. 
Christmas is implicit in the scene of Kim dancing in the "snow" created by Edward's ice sculpture of her, as she twirls in her white dress against a backdrop of Christmas lights. The elderly Kim at the end of the film also evokes feelings of Christmas, as she tells her granddaughter the story of Edward while wearing a bright red dress, sitting in front of a roaring fire in a room that has wallpaper covered in a pattern that resembles red flowers, or possibly red stars, both of which feel vaguely Christmas-y. Additionally, Edward Scissorhands' themes of love, family, forgiveness, and goodwill toward others all seem very in tune with the Christmas spirit. 
Hook has a lot in common with A Christmas Carol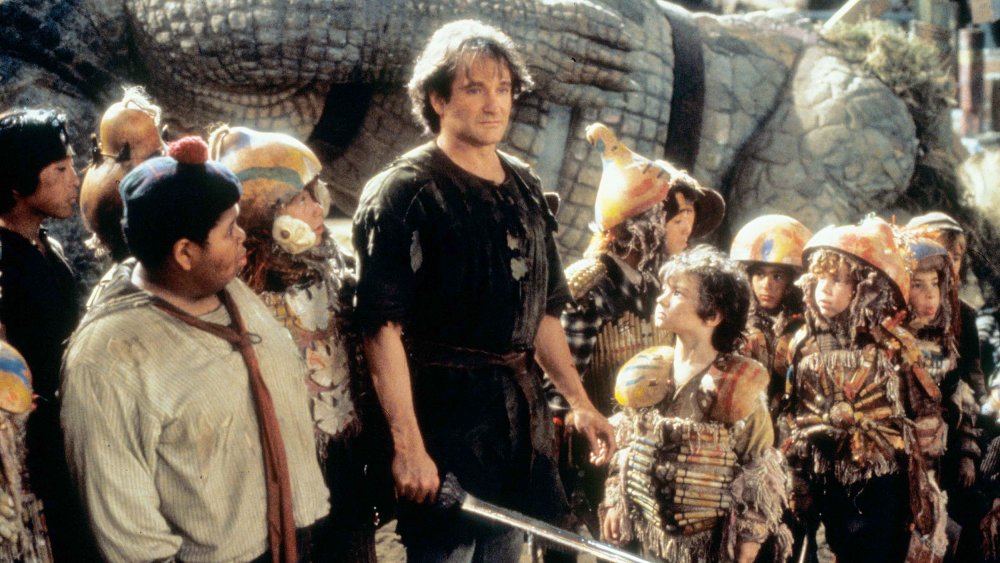 It's easy to miss the Christmas spirit in Steven Spielberg's 1991 film Hook, given that most of the film takes place in the timeless Neverland. But before Peter Banning (Robin Williams) and his children are swept away to that magical land, they travel to London in order to spend Christmas with Granny Wendy (Maggie Smith). It's snowing when the Bannings arrive at Wendy's home. A Christmas wreath hangs on her front door, and "God Rest Ye Merry Gentlemen" plays softly underneath the scene. When the Bannings enter the house, we can see a large, beautifully decorated Christmas tree in Wendy's living room, housing a panoply of presents underneath. 
What's more, after Peter remembers his origins, defeats Captain Hook (Dustin Hoffman), and returns to London with his children, he wakes up in the snowy morning a changed man, grateful to be reunited with his family and determined not to miss another important moment. While it's not clear whether Peter returns on Christmas morning or merely one of the days around it, the ending still strongly channels Charles Dickens' A Christmas Carol, with Peter's Neverland adventure mirroring Ebenezer Scrooge's encounter with the three Christmas spirits who enable him to truly appreciate the holiday. 
Batman Returns balances holiday cheer with gruesome imagery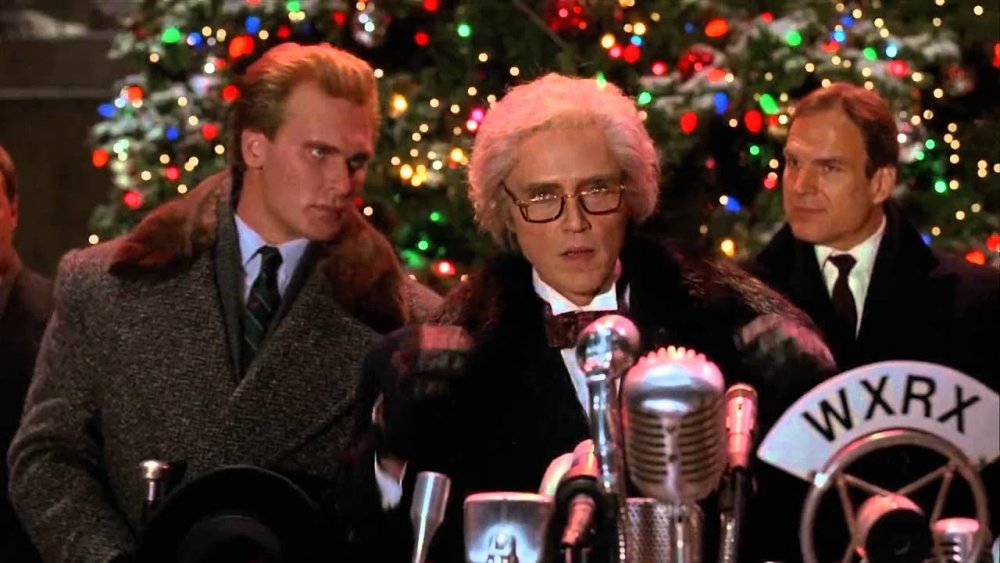 Batman may be the Dark Knight, but in 1992's Batman Returns, much of the Caped Crusader's typically shadowy aesthetic gives way to the bright, rainbow-hued glow of Christmas lights. The film opens with the wintry birth of Oswald Cobblepot, who will grow up to be the villainous Penguin (Danny DeVito), and features a disturbing scene in which a caged baby Oswald grabs — and presumably eats — a house cat right in front of an elegant white Christmas tree. 
From there, Batman Returns continues to juxtapose the merriment of Christmas with the unsettling darkness of a Batman story, using Gotham's Christmas tree lighting ceremony to establish the character of the sinister Max Shreck (Christopher Walken), and later, interrupting the same scene with an attack by the Penguin's minions, who burst out of a gigantic red-and-green-wrapped present. Batman Returns also makes sure to insert Christmas into the background as often as possible, in the form of Christmas decorations, characters carrying gifts and trimming trees, a baby dressed in a Santa suit, and a character named "the Ice Princess" who dresses like a bedazzled, fur-lined snowflake in a candy cane-striped dressing room. To top it all off, we know that even Batman himself has caught some of the Christmas spirit when he speaks the closing words of the film, "Merry Christmas, Alfred. And good will toward men ... and women." 
While You Were Sleeping is a festive romcom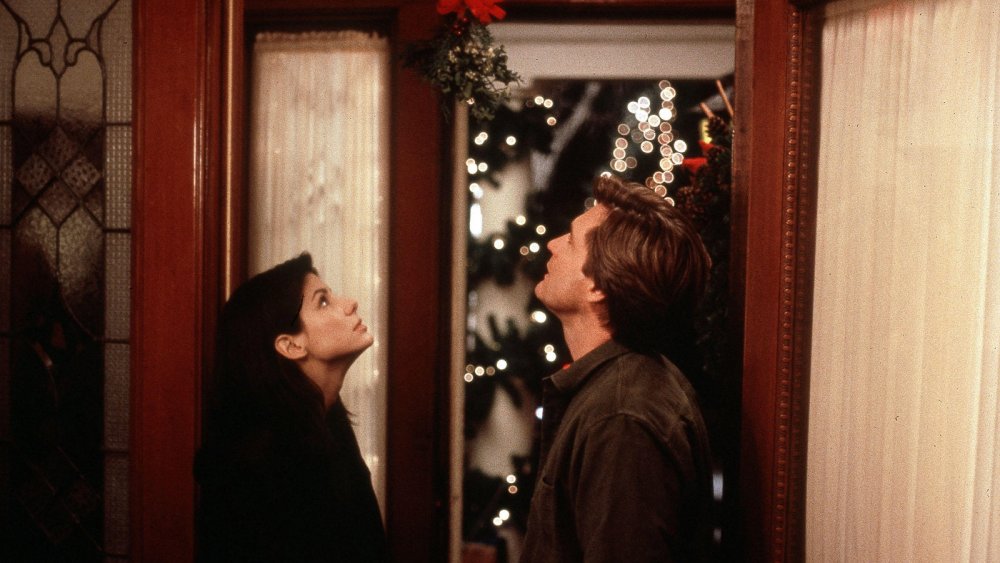 Although the 1995 romantic comedy While You Were Sleeping can definitely be watched and enjoyed at any time of year, Christmas is actually the event that kicks off the entire plot. At the beginning of the film, fare token collector Lucy (Sandra Bullock) is asked to work Christmas Day, since she doesn't have any family or friends to spend the holiday with. It's because of this holiday shift that she's able to save the life of handsome stranger Peter (Peter Gallagher) and subsequently get mistaken as his fiance and adopted by his entire family, including his brother, Jack (Bill Pullman), with whom she gradually falls in love. 
While You Were Sleeping also treats us to scenes of Lucy attempting to bring her Christmas tree into her apartment (and subsequently dropping it through a window), spending a belated Christmas with Peter's family, falling (literally) for Jack on a snow-covered street against a backdrop of Christmas lights, and of course, the iconic "leaning" scene, which technically takes place following a New Year's Eve party, but also occurs right outside a house still fully decorated for Christmas, so it counts. There's also no shortage of scenes that feature Christmas lights, Christmas trees, Christmas wreaths, Christmas stockings, and Christmas gifts, so we're comfortable saying that While You Were Sleeping definitely counts as a Christmas movie. 
L.A. Confidential has more Christmas lights than Christmas spirit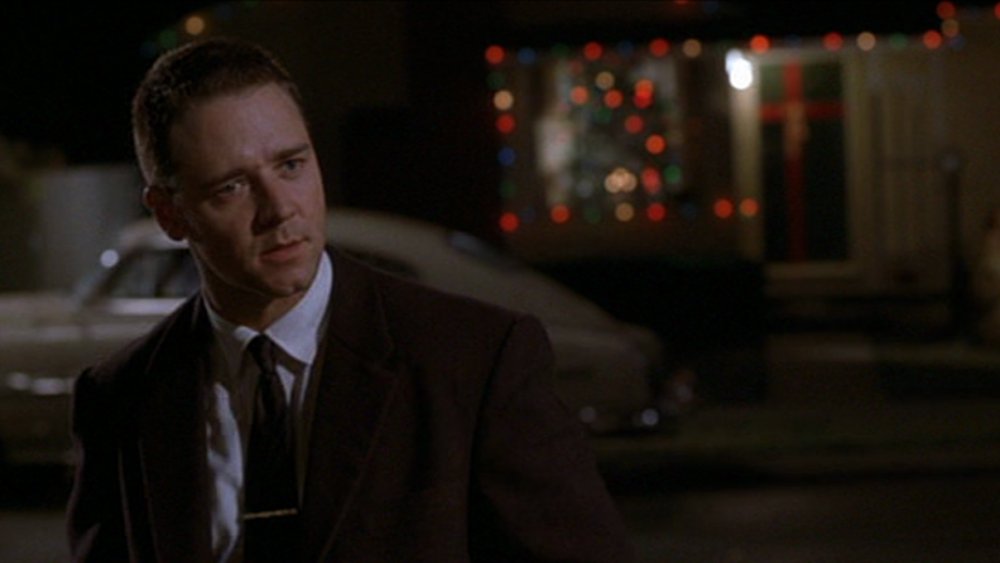 The California-set 1997 neo-noir film L.A. Confidential may not seem like much of a Christmas film at first, but rest assured, the holiday is there, sparkling merrily just below the surface. For starters, early on in the film, there's an important scene that takes place on Christmas Eve (although the real-life event that the opening is based on took place on Christmas Day), with a police precinct Christmas party and a bowl of generously spiked eggnog. Sadly, the festivities quickly turns brutal when a group of officers badly beat a group of Hispanic men who were just brought into the station. Labeled "Bloody Christmas" by the press, this event helps drive a wedge between Ed Exley (Guy Pearce) and his fellow officers when Exley agrees to testify in exchange for a promotion. 
Earlier on that same Christmas Eve, Jack Vincennes (Kevin Spacey) arrests two Hollywood starlets, after which reporter Sid Hudgens (Danny DeVito) spitballs the lede, "It's Christmas Eve in the City of Angels, and while decent citizens sleep the sleep of the righteous, hopheads prowl for marijuana not knowing that a man is coming to stop them!" Meanwhile, "Bud" White (Russell Crowe) lures a man who's been beating his wife outside by tearing down his Christmas decorations before beating him bloody. Additionally, numerous scenes display Christmas decorations, even if they're not explicitly about Christmas. There may not be many tidings of comfort and joy in L.A. Confidential, but the film still unmistakably plays out during the most wonderful time of the year. 
Kiss Kiss Bang Bang definitely takes place in December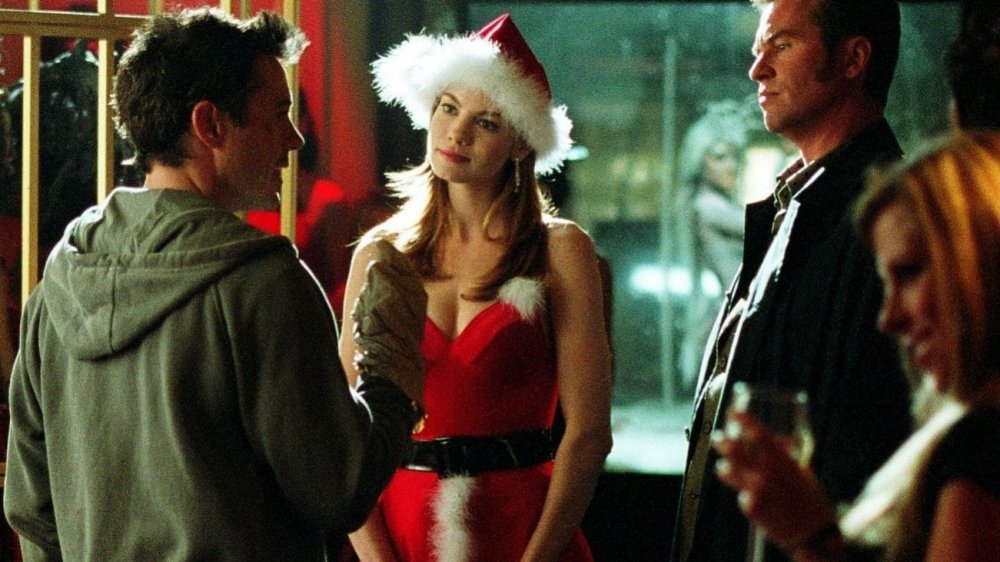 Any parent or doting adult relative to a beloved young child can probably relate to Robert Downey Jr.'s character, Harry, at the beginning of the 2005 black comedy Kiss Kiss Bang Bang. Sure, he's a crook, but he robs a toy store for — in addition to cash — a hard-to-find Christmas present from his niece's Christmas wish list. And of course, he can't find it. What follows is a twisting caper in which Harry gets mistaken for an actor, auditions for the role of a detective in a movie, and winds up swept along in an actual murder investigation.
Nothing about the plot is particularly Christmas-y, but like many of director Shane Black's other films (which include a couple of the others mentioned on this list), the whole shebang plays out against a Christmas-infused backdrop. There are bright lights and other traditional Christmas decorations everywhere, there's a woman painted to look like a reindeer, and Michelle Monaghan spends a good chunk of the movie in a "sexy Santa" dress. Perhaps it's not the most thematically relevant Christmas movie ever, but as far as aesthetics go, Kiss Kiss Bang Bang has got Christmas in the magical, oversized, toy-filled bag. 
Rent is bookended by everybody's favorite holiday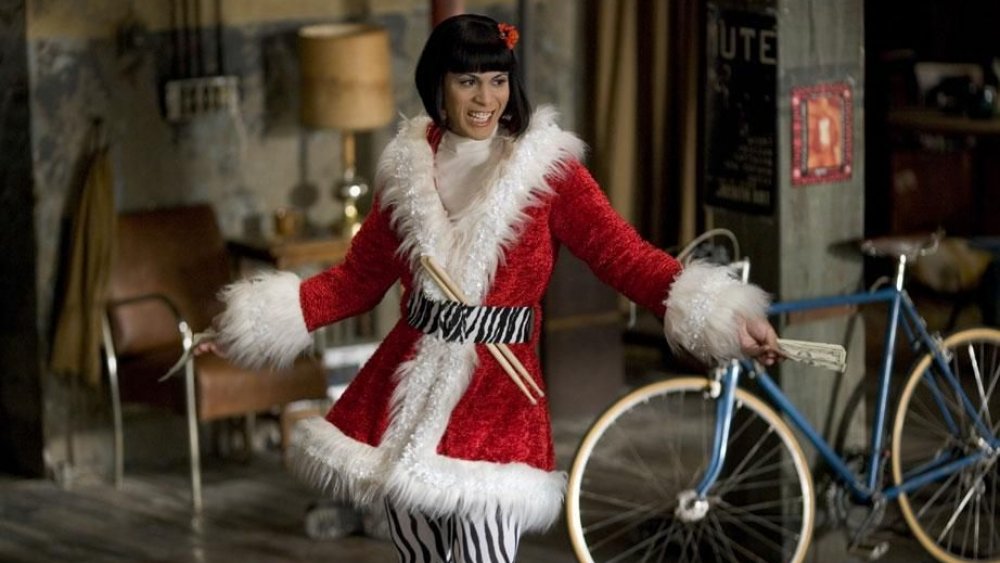 The opening song of the 2005 musical Rent asks how you measure a year, and while the answer given in the song is both "525,600 minutes" and "in love," the answer given throughout the rest of the movie seems to be Christmas to Christmas. The film opens on Christmas Eve of 1989, as roommates Mark (Anthony Rapp) and Roger (Adam Pascal) learn they either have to pay their year's worth of overdue rent by the next morning or risk eviction. Characters burn their eviction notices and drop them off of balconies draped in lights and garlands, and elsewhere, Collins (Jesse L. Martin) and Angel (Wilson Jermaine Heredia) meet for the first time as a homeless man sings, "Christmas bells are ringing, somewhere else — not here." Then on Christmas Day, Collins and Angel drop by Mark and Roger's apartment, bearing both Christmas drinks and Christmas cash, with Angel making a grand entrance in a bright red Santa dress. 
The film then goes on to span the following year, following the characters and their changing relationships throughout the shifting seasons, with many of them drifting apart and Angel eventually dying of AIDS. But they all reconcile again on Christmas of 1990, as Mimi (Rosario Dawson) miraculously comes back from the dead, and the friends all reconfirm their love for and commitment to one another. If that's not a true Christmas miracle, we don't know what is. 
Iron Man 3 is Marvel's secret Christmas movie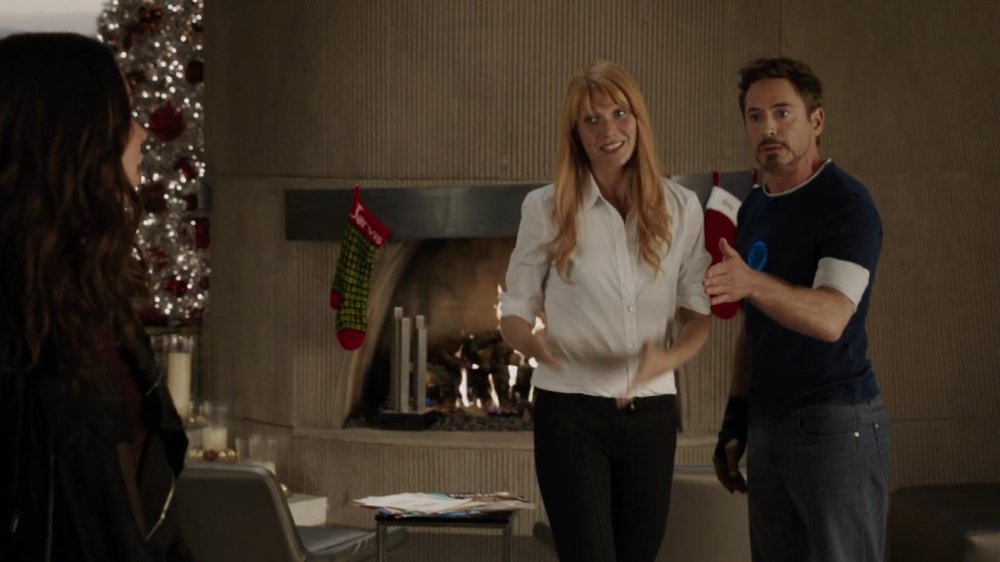 The Marvel Cinematic Universe is probably not the first thing to come to mind when most people attempt to name festive franchises, and for the most part it's true. Most of the films in the MCU don't feel tethered to any particular season, holiday or otherwise. The exception is 2013's Iron Man 3, which finds Tony Stark (Robert Downey Jr.) working in his lab during one of its earliest scenes, grooving to "Jingle Bells" next to a light-adorned Christmas tree as he tries to perfect the newest version of his Iron Man suit. He later gives Pepper (Gwyneth Paltrow) a comically large, two-story stuffed bunny as her Christmas present.
There's also a number of subtler Christmas nods all throughout the film, as various locations are decorated for the holidays, snow covers the ground, several characters wish one another a "merry Christmas," and holiday music plays in the background. And while Tony and Pepper killing Killian (Guy Pearce) on Christmas Eve in front of a curtain of Christmas lights doesn't feel entirely in keeping with the spirit of the holiday, Tony's resolution to turn over a new leaf by stepping away from being Iron Man so he can devote more time to Pepper feels like the perfect Christmas gift.