BoJack Horseman Season 6 - What We Know So Far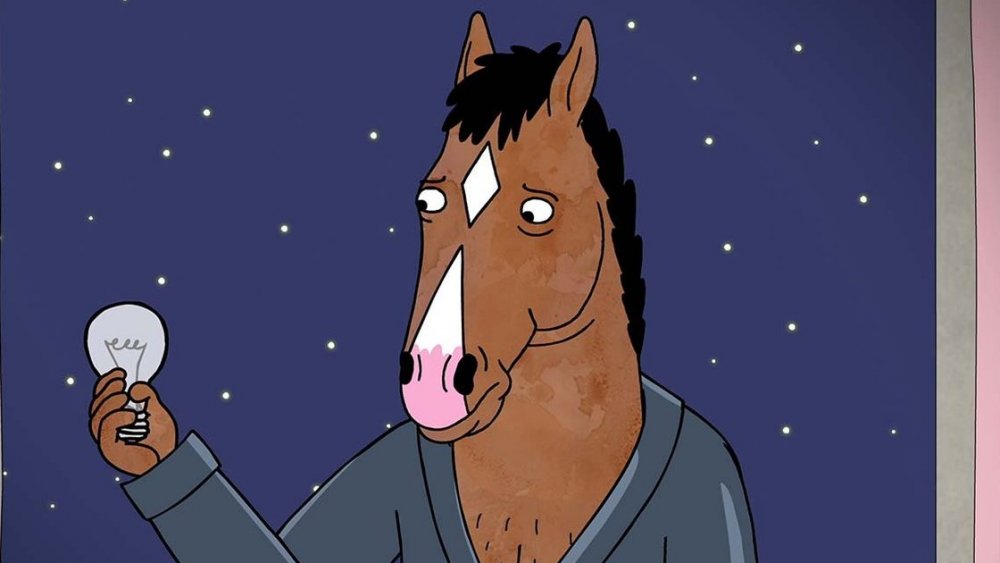 In case you hadn't heard, one Netflix's best shows is coming to an end.
No, we're not talking about Stranger Things. Nor are we talking about Mindhunter, or Ozark, or even GLOW (though that series is also ending soon). We're talking about BoJack Horseman – and yes, that is the animated series about a talking horse named BoJack (voiced by Will Arnett) and his endless struggles with superstardom in the calamitous Hollywoo landscape. 
If you've seen even one episode of BoJack Horseman, you already know the titular humanoid horse hasn't had trouble attaining superstardom (he was a big deal back in the '90s thanks to his TV show Horsin' Around). Instead, the now-washed-up BoJack has been dealing with a perpetual fall from grace while spiraling into a bottomless pit of sex, booze, pills, and self-hatred en route to... well, we're not sure. BoJack's ultimate destination has been the driving question throughout the first five seasons of Netflix's hilarious, groundbreaking, and often emotionally arresting animated series. As BoJack Horseman strides headlong into its sixth and final season, it seems longtime fans are set to finally get an answer to that burning question — along with the dozens of other uncertainties surrounding BoJack and his splintered inner circle of Todd (Aaron Paul), Diane (Alison Brie), Princess Carolyn (Amy Sedaris), and Mr. Peanutbutter (Paul F. Tompkins). 
Though it's unclear what exactly series creator Raphael Bob-Waksberg has in store for BoJack and co. in the coming episodes, here's what we do know about BoJack Horseman season 6. Spoilers are ahead for previous seasons of BoJack Horseman. 
What's the release date for BoJack Horseman season 6?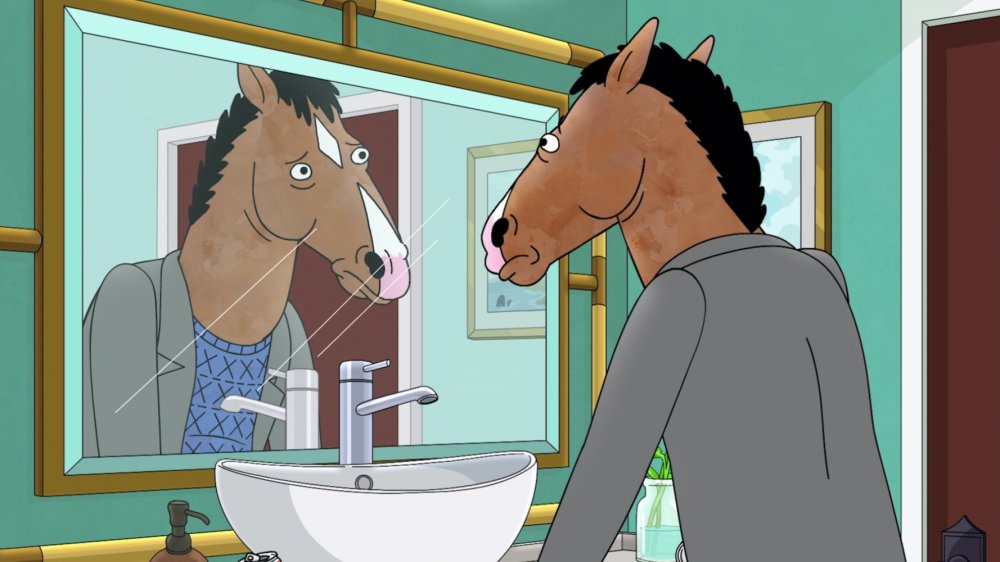 The end is indeed nigh for BoJack Horseman. One of the biggest questions surrounding the final run of BoJack Horseman episodes is whether or not the creative team has any sort of happy ending in mind for the series' titular character. More to the point, we've got to wonder if the infamously unscrupulous Mr. Horseman even deserves a happy ending. Given the perpetually up-and-down narrative that's run through the first five seasons of the series, it's as likely that BoJack and his pals will all ride off into the sunset with smiles on their faces as it is they all die in a fiery accident on the set of BoJack's new movie. Even with so much uncertainty surrounding the final season of BoJack Horseman, there are a couple of factors regarding the coming run of episodes. 
First and foremost, the final season of BoJack Horseman will unfold over a total of 16 episodes, and will arrive on the streaming platform as two separate mini-seasons. The first of those seasons will hit Netflix on October 25, 2019. The second half is set to don on January 31, 2020 — which should give all of you non-bingers out there plenty of time to watch and digest the first half of the season before jumping into the end of days for BoJack and the gang.
Who's in the BoJack Horseman season 6 cast?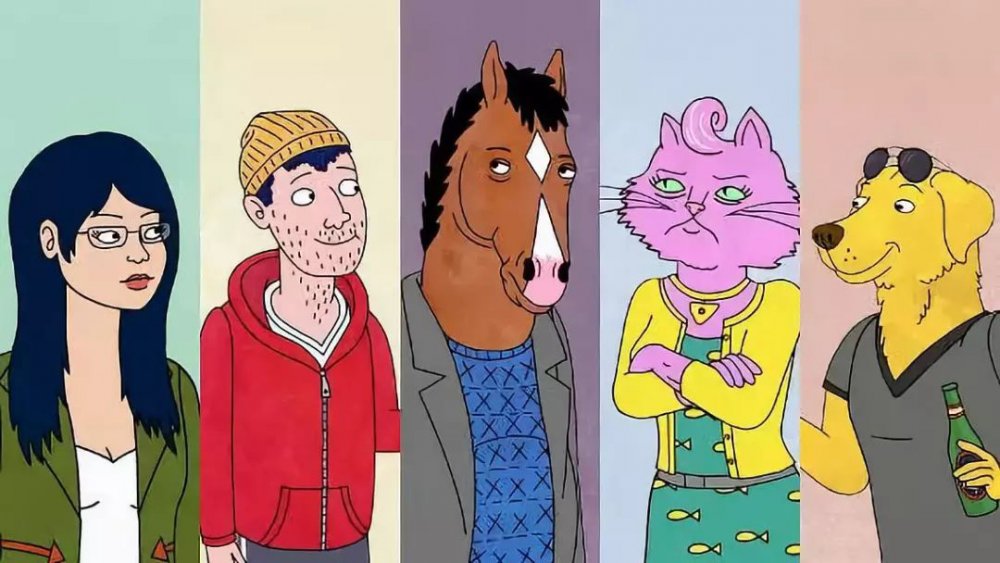 As for who will be joining BoJack on screen for season 6, there are quite a few narrative threads still hanging from the first five seasons of BoJack Horseman, so the final run of episodes should feature many familiar faces — not to mention a slew of very familiar voices — in order to tie things up. 
One of the most important characters we're guaranteed to see on the sixth season of BoJack Horseman is BoJack's wanna-be do-gooder gal-pal-slash-conscience Diane Ngyuen (Alison Brie), who gave the actor a savage and sage dose of reality while dropping him off at rehab during the season 5 finale. Speaking of savage doses of reality, Diane's ex-husband and BoJack's former rival Mr. Peanutbutter (Paul F. Tompkins) got a few of his own on season 5, so the coming season should chronicle how the perpetually positive pooch sorts through the mess of his life. 
Regarding BoJack's feline agent Princess Carolyn (Amy Sedaris), she's just become a mother, and that storyline will absolutely play out on season 6. Additionally, BoJack Horseman season 6 should spend a great deal of time with the aimless Todd Chavez (Aaron Paul), following him on his ongoing search for a place in the universe.
As for who else might be in the BoJack Horseman season 6 cast, the first five seasons of the show featured a massive turnstile of cameos by A-listers and comedic ingenues alike — including Jessica Biel, Jake Johnson, Stephen Colbert, Anjelica Huston, Adam Pally, Jeffrey Wright, Issa Rae, Stephanie Beatriz, and too many more to list here. That said, fans can expect the final season of BoJack Horseman to feature a few fun cameos — like Cindy Crawford as Cindy Crawfish — plus the return of recurring characters like LaKeith Stanfield as Guy, Aparna Nancherla as Hollyhock, Kristen Schaal as Sarah Lynn, and Hong Chau as Pickles Aplenty. And if you're anything like us, you're desperately hoping the final season will devote some time to "Character Actress" Margo Martindale, the criminally insane version of the real-life actress. We'd also be a-okay with the re-appearance of Vincent Adultman, voiced by Alison Brie.
The first trailer for BoJack Horseman season 6
What's that? You want to know if the trailer for the sixth and final season of BoJack Horseman has been released yet? Yes, yes it has — and it's every bit as sincere, sardonic, and silly as you'd expect. If you've been too busy to watch it, here's a quick rundown of the action contained within the 90-second teaser.
The BoJack Horseman season 6 trailer opens with BoJack penning a letter to Diane from rehab. It also finds him trying to make the best of bettering himself in truly BoJack fashion. It then cuts to Princess Carolyn, who's struggling to get by as a new mom and a working woman. (In fact, she hasn't even settled on a name for the adorable little, well, we think it's a porcupine?)
Back to BoJack's letter, and we find that Mr. Horseman is still embroiled in the existential crisis that has consumed him emotionally for much of the series. That crisis has also been a major motivator in his unerring devotion to destroying himself and his life via the sex, booze, and pills we mentioned earlier. Turns out that Diane (who we see reading the letter) is having some troubles of her own in the wake of the Mr. Peanutbutter debacle. Meanwhile, Todd is having his own issues — though he appears to have a lead in tracking down his long-lost mother — and Mr. Peanutbutter is still very much trying to put on a happy face, even as there appears to be more trouble ahead with his new love, Pickles Aplenty. 
Anyway, all you really need to know about the trailer for BoJack Horseman season 6 is that it ends on a dourly hopeful note: BoJack admits to himself, "I spent so many years being miserable because I assumed that was the only way to be," before adding, "I don't want to do that anymore."
That elusive happy ending may be in the cards for BoJack, though we'd wager good money that show creator Raphael Bob-Waksberg will find a way to once again twist the dramatic dagger leading to a finale that's more likely somewhere between happy and soul-crushingly sad. 
The second trailer for BoJack Horseman season 6
Anyone who's ever worked in Hollywoo knows that nothing lasts forever — nothing except for Mr. BoJack Horseman's Horsin' Around residuals, at least. In the case of the Netflix series, it's fated to last just eight more episodes. We've known that for a while now, of course, with Netflix announcing last year it would release the final season of BoJack Horseman in two parts, the first of which landed on the platform back in October 2019. Still, with the release of the latest trailer for BoJack Horseman, the end of the lauded series is a little realer than it's ever seemed. And if the somber tone of the new trailer is any indication, series creator Raphael Bob-Waksberg is set to send his ever-confounding creation off with a suitably dramatic wallop.
Given where the first half of season 6 left off, it's safe to assume much of the personal progress BoJack himself made is about to be tested. As for the trailer, it follows the same voice-over strategy as the trailer for the first half of the season — only this time, BoJack appears to be bearing all to his therapist. As he does, we see glimpses of BoJack's crew (including a look at character actress Margo Martindale!) at various stages in their own narratives. Though the overall tone of the trailer is somber, it closes on a distinctly uplifting tone with the sort of swelling, emotive music you'd expect in a prestige drama.
So the question now becomes, will Raphael Bob-Waksberg actually give BoJack a happy ending?
Theories about what will happen on BoJack Horseman season 6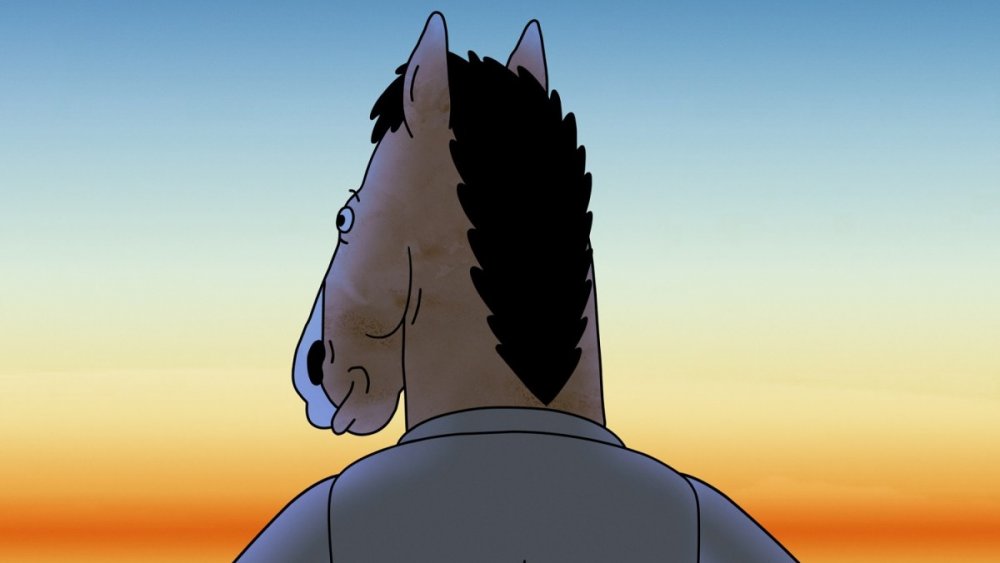 Raphael Bob-Waksberg generally keeps a tight lid on narrative arcs for any season of BoJack Horseman, which only adds to the overall emotional experience of actually watching the series. It should come as no surprise then that he and the cast are remaining fervently tight-lipped about what's coming for BoJack and his pals on season 6. 
That tactic has led BoJack Horseman's fiercely dedicated fanbase to do some theorizing about possible story arcs for the gang. Though we don't normally give credence to unsubstantiated rumors and unverifiable conjecture, BoJack Horseman is a show worth bending the rules for — but only to discuss what people are predicting will happen on the upcoming season. Here are a handful of (completely unconfirmed) BoJack Horseman season 6 theories from across the far-reaches of the internet.
The first fan theory comes via Reddit — and if it turns out true, it will put a potentially irrevocably bleak plot twist into play for season 6. Said theory involves Alison Brie's Diane, whom her therapist refers to as "Princess Diana of Wales" during a season 5 episode of BoJack Horseman as she's recounting Diane's tale to her spouse. The name change is mostly played for laughs, though Diane's therapist also does it to avoid a possible HIPAA violation by disclosing details about one of her patients. However, as many savvy fans have pointed out, the final image we see of Diane on season 5 is of her driving into a tunnel — and we never see her come out of it. (As a reminder, the real Princess Diana died in a car accident in a tunnel.) Now, the BoJack Horseman season 6 trailer would seem to discount the idea that Diane experienced some sort of calamity in that tunnel, but BoJack Horseman is a series that's often used foreshadowing to hint at dramatic plot points, so there may be more to this theory than we'd like to think.
Another bleak addition to the BoJack Horseman season 6 theory pile is that Mr. Peanutbutter isn't at all the half-witted, too-nice-for-the-world canine the series has regularly made him out to be. The idea goes that season 6 will reveal a dark truth: Mr. Peanutbutter is really a Machiavellian manipulator who's calculating enough to use his dimwitted persona in service of forwarding his career, destroying his buddy-slash-competitor BoJack, and controlling the women in his life. This one seems a bit far-fetched, but Mr. Peanutbutter isn't on the best of paths currently. Plus, let's be honest, BoJack Horseman has definitely gotten darker than this before. 
In another downer of a theory (that may have substantial backing after five seasons of manic ups and downs), it's also possible that BoJack and his newfound sister Hollyhock both might be suffering from schizophrenia. Over the past few seasons they have, after all, admitted to hearing frequent voices in their heads that push them to act out in often tragic ways. Factoring into the mix that their father wasn't exactly the picture of stability, and you've seemingly got a perfect storm for personal troubles that will need to be addressed on the coming episodes of BoJack Horseman.
Of course, there are many more BoJack Horseman season 6 theories out there. And yes, it seems most of them are quite grim in their possible ramifications. Rather than wallow too long in the misery, though, we'd encourage fans to let the final season of BoJack Horseman play out as it will — even if we legitimately cannot imagine a scenario where everything comes up roses for Team BoJack.