What The Rotten Tomatoes Reviews Are Saying About Zombieland: Double Tap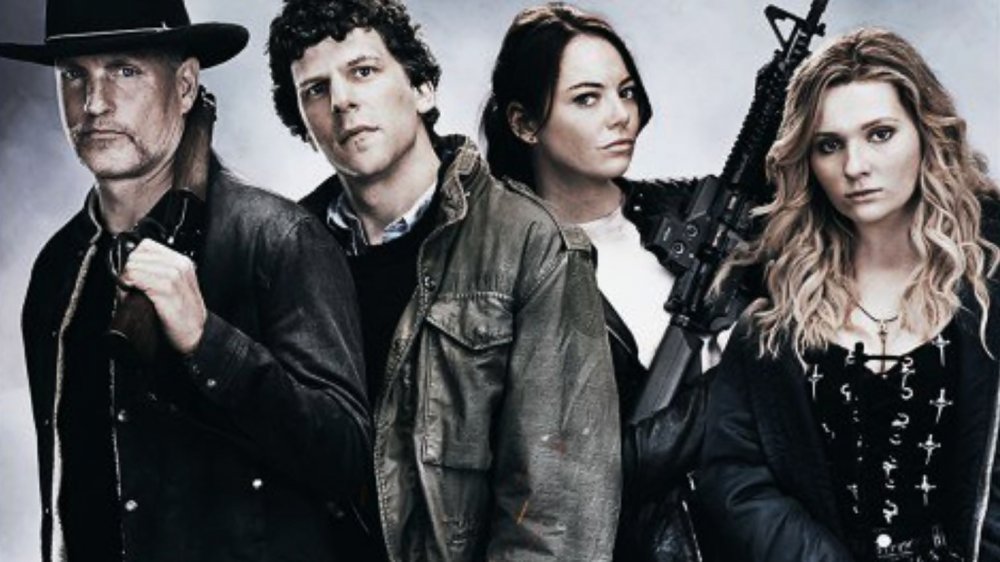 It's been a long time... better hope you haven't forgotten The Rules.
Zombieland: Double Tap, the long-awaited sequel to the 2009 horror/comedy flick Zombieland, has been screened for critics — and early reviews are indicating that fans of the first movie will find a lot to like.
In case you're not in the loop, the first film — which was as hilarious as it was gory — told the story of the makeshift family formed by geographically-monikered heroes Tallahassee (Woody Harrelson), Columbus (Jesse Eisenberg), Wichita (Emma Stone), and Little Rock (Abigail Breslin) as they navigate the zombie apocalypse. 
Sporting a singularly gonzo tone, plenty of deadpan humor, and perhaps the most awesome Bill Murray cameo of all time, Zombieland was a modest hit, raking in just over $100 million dollars worldwide on a $23 million dollar budget — but it quickly became a cult classic.
The sequel likely would have come along a lot sooner if not for... well, Deadpool. Zombieland writers Rhett Reese and Paul Wernick revealed in a recent interview that the first several drafts of Zombieland: Double Tap were written in the year or so after the first flick's release — but not long afterwards, they were tapped to write the starring vehicle for the Merc with a Mouth, and between that 2016 film and its 2018 sequel, Deadpool became their full-time job "for five or six years." (via Uproxx) The pair returned to write Double Tap, with an assist from Dave Callaham (Wonder Woman 1984).
Zombieland director Ruben Fleischer, meanwhile, went on to helm the smash hit 2018 superhero film Venom, and while that flick's success ensured that he has plenty of work on his plate — including the Chris Evans starrer Jekyll and an adaptation of Manuel Gonzales' comedy novel The Regional Office is Under Attack — he apparently had just enough space in his schedule to knock out the highly-anticipated sequel to his awesome feature debut. 
All four of the principals returned for the sequel, and joining the cast this time around are Rosario Dawson (Luke Cage) as Nevada, Luke Wilson (The Goldfinch) as Albuquerque, Zoey Deutch (The Disaster Artist) as Madison, Thomas Middleditch (Godzilla: King of the Monsters) as Flagstaff, and Avan Jogia (Shaft) as Berkeley. So, was Zombieland: Double Tap worth the wait?
Is Zombieland: Double Tap Certified Fresh?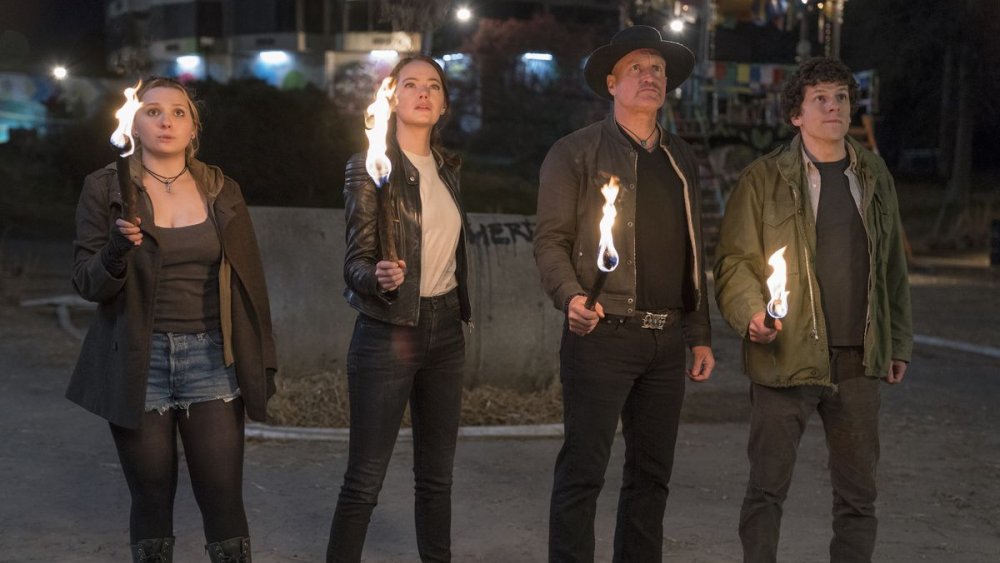 So far, the film is indeed Certified Fresh with a score of 81% on Rotten Tomatoes. The flick's positive notices tended to focus on the unique chemistry of its cast, and on the surprising amount of heart at the center of a film which is, after all, an incredibly violent picture about zombies.
John DeFore of The Hollywood Reporter recommended the film while acknowledging that it doesn't exactly break any new ground. "Rounding up all the original's stars and throwing several more surviving human characters into the mix, the pic is plenty entertaining," he wrote. "Few of its new ingredients are home runs, and some elements play out like obligations... [but] taking another road trip with this crew is certainly worth a fan's time."
DeFore also joined many of his peers in praising Deutch's scene-stealing performance, writing, "Bubbly, brainless and suffering a terminal case of vocal fry, Madison might well have been a throwaway dumb-blonde caricature. But Deutch brings her to life, scoring laugh after laugh while the film maneuvers her into position as a foil for Harrelson."
Simon Thompson of IGN praised Double Tap as a sequel that won't let down the original's fans. "Recapturing, replicating, and improving on everything the original movie brought to the table was never going to be easy," he wrote. "However, director Ruben Fleischer and the film's writers have succeeded where others have failed with sequels to great original movies. Zombieland: Double Tap is a more than worthy sequel and companion piece to the original movie." He also added his voice to the chorus praising Deutch's turn, which he called "comedy gold."
Even many of the film's positive reviews, however, noted that Double Tap doesn't feel essential; it's simply a revisitation of the things that made the first film work, and surprise, those things still work. "Double Tap has the feel of a movie where everyone got back together because they had a good time making the first movie and the studio wanted a sequel rather than having a story that needed to be told," wrote Matt Goldberg of Collider. "No one really swung for the fences here because everyone's in their comfort zone... Wernick [and] Reese still know how to tell good jokes, Fleischer shows more flash than he has in any film since the first Zombieland, and the cast continues to gel."
Of course, for some critics, more of the same simply wasn't enough. Wrote Kate Erbland of IndieWire, "Every movie sequel is inevitably beholden to certain elements of its first film, but Zombieland: Double Tap cribs so liberally from the original that it robs the entire outing of any narrative tension whatsoever... after 10 years of anticipation, it would have been nice to see a zombie movie with more on its mind than the same goofy undead routine."
Other observers — oddly enough — took the film to task for its violence, displaying something of an unfamiliarity with (or perhaps a contempt for) zombie movies in general. "Humor turns every kill into a sick punchline, and while the writers do a fine job of making them funny... the movie's tone negates a fundamental respect for human life," wrote Variety's Peter Debruge. "Yeah, yeah, it's just a movie, you say. But... society can't just passively sit back and accept an attitude that mocks pacifism and makes light of such extreme violence. Or else we're the zombies, and the joke's on us."
Well, that seems like overthinking it just a bit. But, for the most part, critics appreciated Zombieland: Double Tap for what it is, which was spelled out most plainly by Chuck Yarborough of the Cleveland Plain Dealer: "It's just fun," he wrote. "Pure, bloody, gory, silly, laugh-provoking fun."
Sign us up. The flick hits the big screen on October 18.