Zombieland 2 - What We Know So Far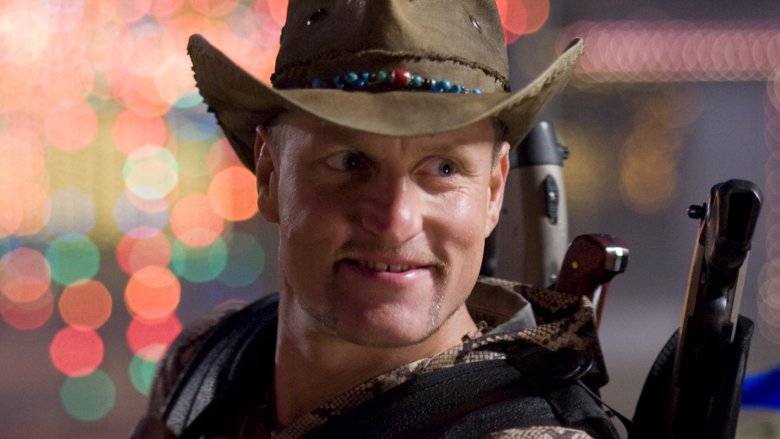 The 2009 film Zombieland captured the hearts and minds of audiences with a lovable band of survivors named after the various U.S. cities they all hailed from. And even though it's been a decade since the last film, the wild ride across the United States is far from over. Last year, it was officially announced that Zombieland: Double Tap was out of development hell and on its way to theaters. With a slew of the original cast and creative minds returning, as well as some fresh meat joining the film, the sequel is poised to be everything that intrepid, rule-following zombie survivalists were hoping for. So what's going to happen when Columbus, Tallahassee, Wichita, and Little Rock make their way back to the big screen? Well, for devoted fans who've been waiting for years, as well as people who are just now discovering the first film, we're about to examine everything we know about Zombieland 2: Double Tap.
What is Zombieland 2's release date?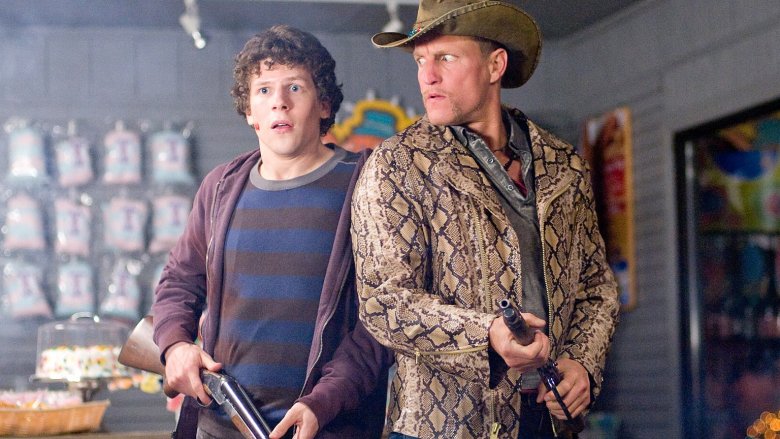 Zombieland 2: Double Tap is currently scheduled to release on October 18, 2019, according to Deadline. Given its proximity to Halloween, it's the perfect time for a horror comedy to hit theaters. However, there's another good reason for the release date. It may be hard to believe, but the first Zombieland came out ten years ago — October 9, 2009 to be exact. So, it seems the sequel is poised to come out right around the one decade anniversary, offering a look at where the four survivors landed after so many years on the road as a zombie-bustin', highly dysfunctional family. Deadline also notes that October 11 was the original release date for the film, but it was pushed ahead a week, where it will open against Maleficent: Mistress of Evil. If Columbus and Tallahassee can defeat the undead, we're pretty sure they'll be able to hold their own against the cinematic competition.
Who are we going to see in Zombieland 2?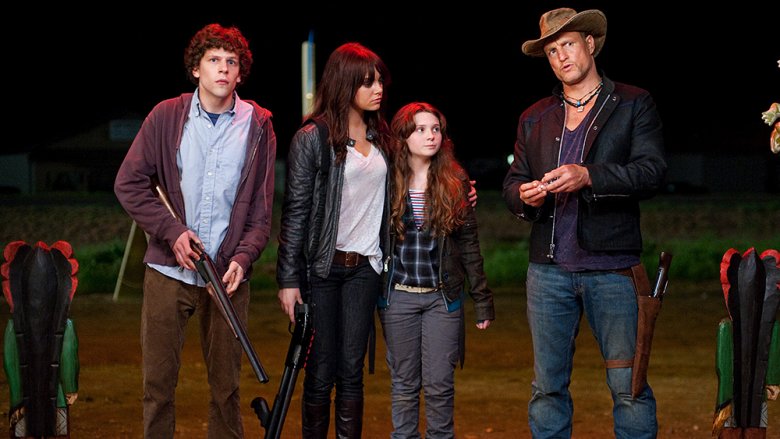 The first Zombieland didn't have a huge cast, but the ones it did have are all coming back. Emma Stone, Abigail Breslin, Woody Harrelson and Jesse Eisenberg are reprising their roles. In other words, our four heroes stuck to their survival rules and made it through the last decade in one piece. In fact, it looks like even Bill Murray is coming back, which doesn't make a lick of sense, as he met his unfortunate (and hilarious) demise in the first movie.
While some logic will clearly have to be bent to accommodate Murray's return, it'll be worth it as he's expected to bring along his former Ghostbusters star Dan Aykroyd. But he won't be the only new addition to the cast. Avan Jogia joined as Berkeley, a bad boy musician, and we're also getting Zoey Deutch as Madison and Rosario Dawson as Nevada. Meanwhile, Silicon Valley star Thomas Middleditch has also signed on for an unknown role along with Luke Wilson. 
While it's still not a lot of people, it's already nearly double the size of the first film's cast, assuming we're not counting zombies. It's an impressive thing to have everyone returning, given that Jesse Eisenberg is now an Oscar-nominated actor, Emma Stone is an Oscar winner, Abigail Breslin is hot off a run on Scream Queens, and Woody Harrelson is still Woody Harrelson. With all that talent on the silver screen, we're expecting a thoroughly entertaining sequel.
Where did things leave off in the first Zombieland?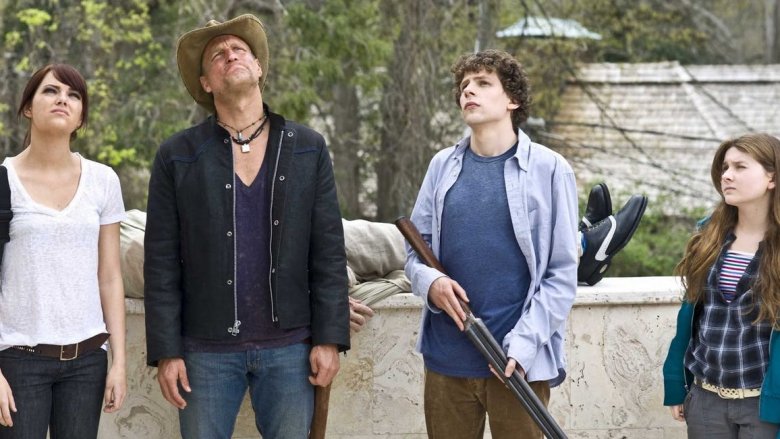 At its heart, Zombieland was a movie about needing people to survive, in both the apocalypse and real life. Columbus (Eisenberg) meets Tallahassee (Harrelson), a zombie-killing redneck who reluctantly agrees to travel with the anxious survivor, despite knowing that attachments to others typically ends in disappointment (such as the loss of his young son). They also get conned twice by sisters, Wichita (Stone) and Little Rock (Breslin), only to bond with them later on. However, Wichita eventually abandons them, as she shares Tallahassee's fears of getting attached to others. But in the end, after some zombie-killing mayhem at an amusement park, Columbus breaks one of his many rules for surviving Zombieland, the band gets back together, and the quartet of badasses ride off into the sunset with everything they'd always wanted: a family. 
Oh, there was also some pretty important stuff about how great Twinkies are. 
Something else that might be relevant to a sequel is how the zombie apocalypse got started. The first movie took place two months after a particularly gnarly strain of mad cow disease mutated into "mad person disease," eventually becoming "mad zombie disease." We're pretty certain that the epidemic extends to the entire United States. However, it's unclear how other countries are faring in the midst of a zombie apocalypse. What we do know is the tradition of referring to people by their hometown is alive and well, with newcomers like Madison and Berkeley along for the ride.
What are the plot details of Zombieland 2?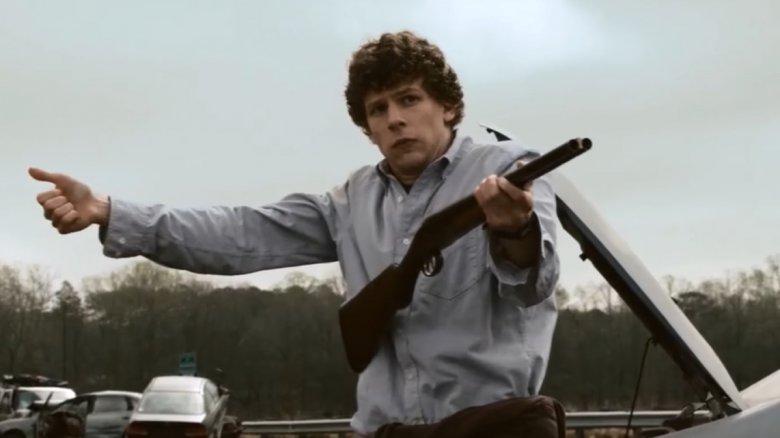 So what's happening in Zombieland 2? Well, unfortunately, plot details have been kept under wraps. We know that it takes place ten years after the original, and that we'll see old and new characters in a world where zombies are way more dangerous.
According to The Hollywood Reporter, the sequel will send the group "from the White House to the American heartland as they face off against new kinds of zombies that have evolved since the first Zombieland, as well as some new human survivors." But perhaps toughest of all, our heroes will have to "face the growing pains of their snarky, makeshift family." 
It's clear that everyone involved is excited for part two. But when it comes to quality, sequels have often failed miserably in the past. Fortunately for nervous Zombieland fans, Jesse Eisenberg told the Toronto Sun that his involvement in the movie should come as a sign that something good is brewing. "We would never have made another one if we didn't think it was going to be great," Eisenberg said. "They wrote a ton of scripts for this movie, and we went through a lot of different ideas. Finally, we have something I think people are going to love."
Who's behind the camera for Zombieland 2?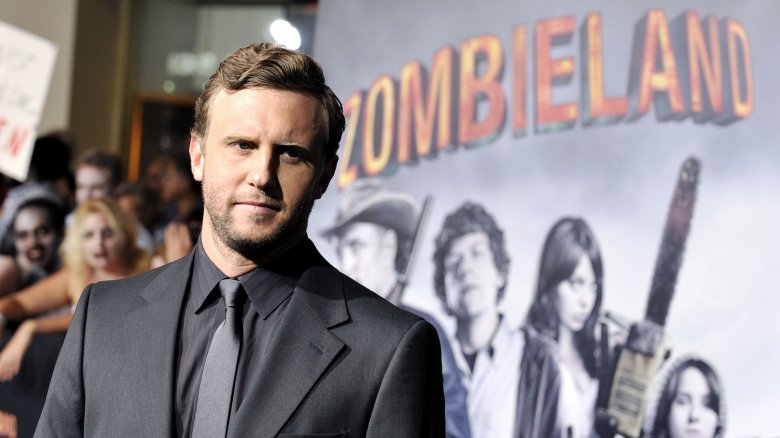 Kevin Winter/Getty Images
When it comes to filmmaking talent, everybody is coming back for Zombieland 2, on both sides of the camera. Ruben Fleischer, who's dusting himself off after helming Venom, will return to the director's chair for Double Tap. On top of that, original writers Paul Wernick and Rhett Reese are also coming back. (Of course, these guys have been pretty busy in the last few years, as they're the minds behind the Deadpool franchise.) The Hollywood Reporter also notes that Gavin Polone is returning as a producer.
While nothing is confirmed, the gap in time is expected to play a large part in Wernick and Reese's story. And speaking to Latino Review Media, Ruben Fleischer wanted everyone to know the Zombieland creative team waited so long for a sequel because they wanted to ensure they had a good idea. As the director put it, "I'm proud to say I think our script is really great, in that the movie will be as good as the original if not better, and that's why we're all back."
The first look at Zombieland 2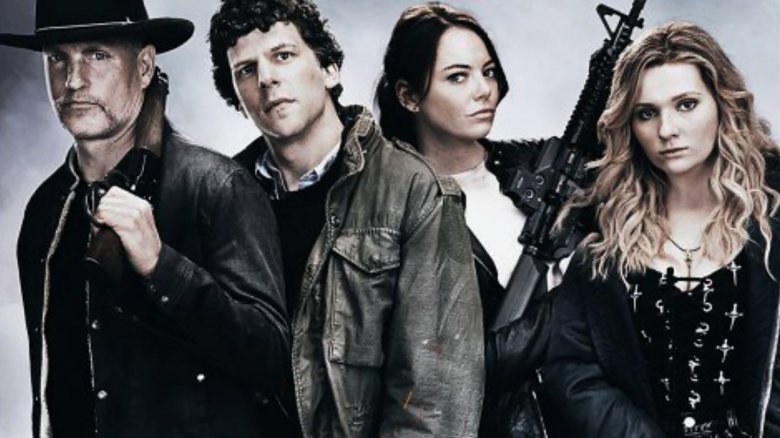 Sadly for Zombieland fans around the world, there's no trailer for the sequel just yet. However, we're not working completely in the dark here, as we have a pretty good idea of what Wichita, Tallahassee, Little Rock, and Columbus will look like when they're back in action.
Remember the flash-in-the-pan "ten-year challenge" that went viral a while back? Well, the Zombieland marketing team took advantage of the online sensation to announce the film's official title and show the cast together again for the first time. In the image shared on the official Zombieland Twitter account, Harrelson, Eisenberg, Stone, and Breslin recreate similar poses to how they appeared on the poster for the first film. This time around, obviously, they're all ten years older, even if a few of them don't look it. 
Obviously, Breslin looks the most different of the bunch. The 23-year-old actress was only 13 when the original movie hit theaters. While her adult co-stars look largely the same, it's clear that Little Rock is a full-grown adult now, one who's got a lot of experience in the zombie-killing game. Still, we're expecting her attitude hasn't changed much since her scheming, gun-slinging days as a preteen obsessed with going to Pacific Playland.
What's the budget for Zombieland 2?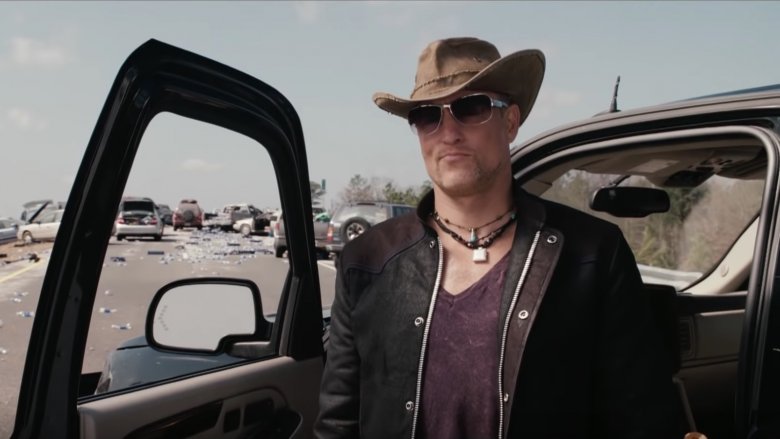 Zombieland came onto the market in 2009, in a world oversaturated with undead monsters. Thanks to movies and shows like The Walking Dead, Dead Snow, Z-Nation, and countless other projects, it was entirely possible that Zombieland's gang of misfits could've been lost in all the brain-splattering noise.
Fortunately, that didn't happen, and Zombieland grossed a little over $100 million worldwide against a $23.6 million budget. The movie was also a big hit with critics, and its legend has grown ever since. All that money and mojo were more than enough to merit a sequel. However, the folks at Columbia/Sony haven't released an official budget for Zombieland 2: Double Tap, but it can be assumed the Hollywood suits are giving the film a heartier budget than $23 million. However, that doesn't necessarily mean a lot of that money will go to special effects. In the years since the first Zombieland, almost everyone involved has shot to fame. We're guessing the price tag to get some of these people back was pretty big.
We almost got a TV show instead of a sequel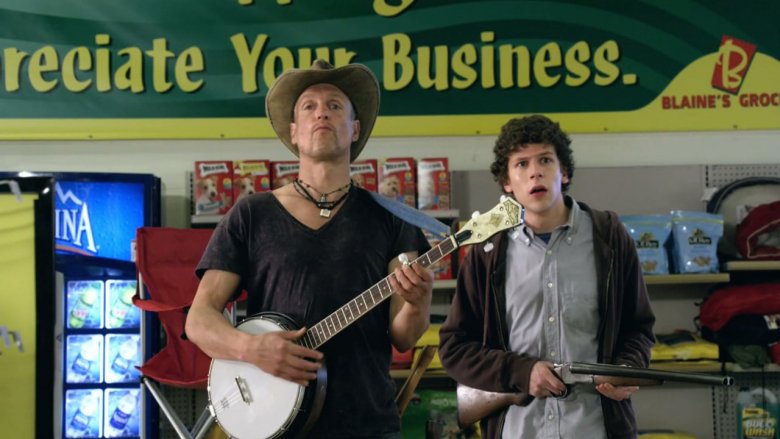 While Zombieland 2 was a movie ten years in the making, that doesn't mean the creative team behind the first film were just ignoring their undead universe all that time. In 2011, Vulture reported that original writers Paul Wernick and Rhett Rheese had pitched the idea of a Zombieland TV show, complete with a "Zombie Kill of the Week." For a little bit, it looked like Fox and Sony Pictures Television might actually make this thing happen, but while the show never crystalized, the infected monsters were about to rear their ugly heads over on Amazon.
In 2013, Amazon Studios released a pilot for a Zombieland TV sequel that essentially picked up where the movie left off ... without any of the original cast returning. Long story short, the pilot was so reviled by fans that Rhett Reese essentially blamed them for bullying Amazon to scrap the show. "I'll never understand the vehement hate the pilot received from die-hard Zombieland fans," Rheese tweeted. "You guys successfully hated it out of existence." And honestly, it's probably a good thing for movie fans that neither of these TV shows got off the ground, as everyone at the time speculated the possible series had killed any chance of a sequel. And honestly, if we're getting more Zombieland, we definitely want those original actors we all know and love.
The cast really wanted another Zombieland movie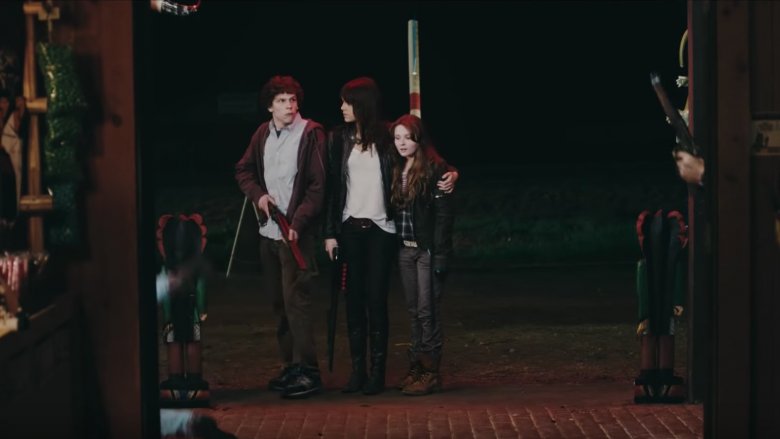 What really helped Zombieland 2 get off the ground was that everybody involved wanted to return to this gory world as soon as production wrapped on the first film. As Columbia Pictures president Sanford Panitch explained, "This is one of those projects that fans have wanted to see happen for a long time — and no one wanted to see it happen more than Emma, Woody, Jesse and Abigail."
And this wasn't just the corporate suits talking. Emma Stone told Jimmy Fallon that she was excited to get back to work given that they all stayed in touch as their respective careers took off. "We all have stayed friends this whole time," Stone joked on The Tonight Show, "so it was like, we've hung out with each other in the interim, but it was like — we were all in Atlanta again, but 10 years older ... and you could feel it."
Woody Harrelson echoed those sentiments, telling MovieWeb, "What we've shot so far, I'm really impressed with. Getting to hang out with these guys — Emma, and Abbie, and Jesse, and Ruben — I feel so lucky, really, really lucky." With that kind of enthusiasm and camaraderie on set, we're certain that Zombieland 2 will be a ghoulishly good time.
The first trailer for Zombieland 2
Zombieland: Double Tap dropped its first trailer, giving fans a look at the gang back in action alongside some of their new co-stars. Fortunately, the world still seems to be in need of their unique brand of zombie-killing action. 
The trailer finds the unlikely family unit ten years after their romp at Pacific Playland. They've clearly stepped up their game, given that they're clearing out the White House lawn in an effort to squat in the seemingly abandoned D.C. residence. In addition to shots of Tallahassee putting his feet on the Resolute Desk in the Oval Office, we get a look at how the group's dynamic has progressed after all these years.
It seems that they've settled into a comfortable life as a family, with Columbus and Wichita still pursuing their relationship. They're even making strides toward normalcy, as we can tell by a glimpse at their Christmas celebration. However, things are thrown out of whack when the zombie survivors must adapt to newcomers among the living, including the bubbly Madison, bad-boy Berkeley and even badder-girl Nevada. 
The trailer also shines a light on some plot details for the film as well. In addition to killing zombies from coast to coast, Double Tap will see Tallahassee, Wichita, and Columbus chase after Little Rock when she decides to venture off on her own with a new boy, Berkeley. The footage concludes with a better hint as to Luke Wilson and Thomas Middleditch's characters, who definitely seem to be mirrors of Tallahassee and Columbus, respectively.