Jamie Lee Curtis Teases Something Big In First Halloween Kills Set Photos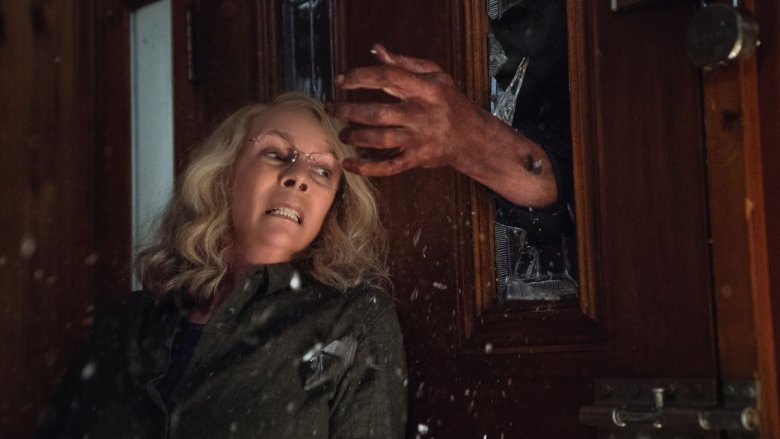 The Shape is coming back — and he'll have his murderous hands full in trying to dispatch with his "one that got away — then got away again" in the upcoming sequel films Halloween Kills and Halloween Ends. 
Even after Jamie Lee Curtis' Laurie Strode once again out-witted the menacing Shape we've come to know and fear as Michael Myers in last year's Halloween reboot-slash-sequel by locking him in the basement of her house and setting the whole thing on fire, it appears that nothing in the Halloween cinematic universe ever really dies. Scratch that — it appears that everything in the Halloween cinematic universe can die except Michael Myers, proven by the mere existence of the two upcoming Halloween sequels. 
Currently shooting back to back, the films will see Laurie facing off against the monstrous foe that's haunted her in one way or another for her entire life. Curtis took to Twitter on Wednesday, October 8 to tease fans with a first look at herself in character — and if the photo is to be believed, life is certainly not going to get any easier for the iconic final girl in Halloween Kills and Halloween Ends. 
The actress captioned the snap, "NEVER SAY DIE. First day back in the battle for my life." With Curtis appearing battered, bruised, and utterly filthy in her makeup, it seems possible Laurie's impending battle is going to get dirtier than anyone might expect. 
This makeup job could simply be depicting Laurie in the aftermath of the harrowing final moments of 2018's Halloween — moments that saw Laurie, her daughter, and granddaughter narrowly escaping doom at the hands of Michael Myers. Given that the original sequel to 1978's Halloween actually picked up in the immediate aftermath of the first film's grueling climax, its worth wondering whether Halloween Kills (which sees the return of director David Gordon Green and co-writer Danny McBride) might dare to take a similar narrative track. 
What does this mean for Halloween Kills?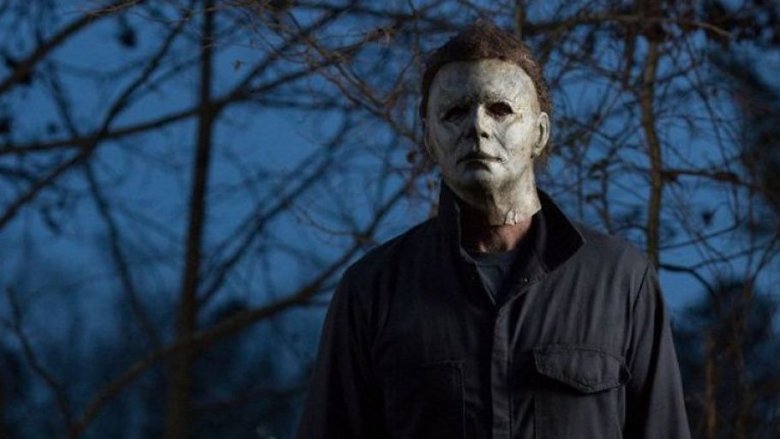 Green and McBride's Halloween left things off with a fateful last shot of the empty, burning basement where Michael was previously trapped and included his breathing in an eerie post-credits moment, so it seems like picking up shortly thereafter would Halloween Kills well. And even if the upcoming movie lets a little time pass between the end of Halloween and the beginning of its own narrative, Curtis' battered look certainly implies that Laurie and Michael are getting ready to throw down in an even bigger way over the course of the next two Halloween films. 
That should hardly come as a surprise to anyone who's ever dipped a toe into the twisted world of Halloween series — first glimpsed via John Carpenter's groundbreaking, 1978 film Halloween. Though Carpenter originally conceived the film as a standalone project, it fared so well at the box office that a sequel was quickly green-lit (without him on board as director), as were several increasingly dull sequels after that. Even if Curtis returned for that first sequel (and for the ill-advised Halloween H20 two decades later), her initial showdown with Michael "the Shape" Myers remains the series' highlight.
The first real contender to the slash-terpiece crown that Halloween has held for over four decades finally came in 2018, when Green and McBride set out to bring Laurie and Michael back together in a Halloween movie that ignored all of the prior sequels, and served as a true sequel to Carpenter's original. That daring concept landed the support of Carpenter himself, and earned the duo a shot at working with the final girl that started it all — Jamie Lee Curtis. The result was a surprisingly effective return to form for a series that had long since lost its luster — a fact bolstered by the film's impressive box office take.
Not surprisingly, talk of a sequel was buzzing just hours after Halloween premiered. Thus, Green and McBride came up with an idea and got their talent back on board. Now here we are, anxiously awaiting not one but two new chapters in the Halloween saga. 
As for what we can expect from the next two films, Green and McBride have stated that the films will indeed close the book on Michael's bloody entanglement with Laurie, though neither will confirm the ultimate demise of the preternaturally deadly Michael Myers. Though little is known about the plot of each film as of this writing, Curtis recently told Collider that Halloween Kills and Halloween Ends will tackle heady themes surrounding "the cultural phenomena of violence" and "the trauma that occurs" in the aftermath of such violence. 
Fans can rest assured that Curtis' Laurie Strode will also bring the hurt in the new movies. And from the looks of that first set photo, Michael is definitely set to dish out some pain of his own. Who will prevail in the franchise-closing two-parter? Your guess is as good as ours — though we can't imagine that Laurie won't have the last laugh in one way or another. We're just going to have to wait and see. 
Halloween Kills is slated to hit theaters on October 16, 2020. Halloween Ends arrives almost a year later to the day, on October 15, 2021.