Zombieland: Double Tap Red-Band Trailer Reveals The Return Of An Epic Character
Oh my God, they're back again. 
Sony Pictures Entertainment has lifted the lid off the red-band trailer for Zombieland: Double Tap, the hotly anticipated Zombieland sequel that will hit theaters a full decade after the original. 
The footage features all that fans love about the Zombieland property — big action, zombies getting their brains blown to bits, and lots of banter between the core four characters Tallahassee (Woody Harrelson), Columbus (Jesse Eisenberg), Little Rock (Abigail Breslin), and Wichita (Emma Stone) — and teases the kind of high-octane, laugh-out-loud antics the undead-creature-crushing crew will get up to in their second adventure. Much of what's shown in the red-band Zombieland: Double Tap trailer isn't anything we didn't see or get a taste of in the first trailer, but there's one brand-new moment that will have Zombieland loyals hollering in their seats.
About 30 seconds into the new trailer, it's confirmed that Bill Murray will indeed be back in action in Zombieland: Double Tap. The red-band trailer shows a super-meta scene in which Murray is sitting opposite weather forecaster and television personality Al Roker for an exclusive interview. He seems to give a reason for his behavior in the original Zombieland movie, saying that "drugs cost money." 
As fans will recall, Murray appeared in the first Zombieland flick as a fictionalized version of himself who masquerades as a zombie. Believing he really was a zombie, Columbus shot Murray square in the chest near the end of the film. By the looks of the Double Tap trailer, Murray pretended to be an undead brain-eater in the first movie because he needed drug money. 
It's still relatively unclear how Murray mixes into the Zombieland: Double Tap narrative, though it's a given that he survived the bullet wound Columbus inflicted and may have even gained additional fame for pretending to be a zombie during the apocalypse. Whether Murray will cross paths with Tallahassee, Columbus, Little Rock, or Wichita again in Double Tap remains to be seen, but even if it's a solid "no," the main gang will make plenty of new friends and foes in the upcoming film. 
What will happen in Zombieland: Double Tap?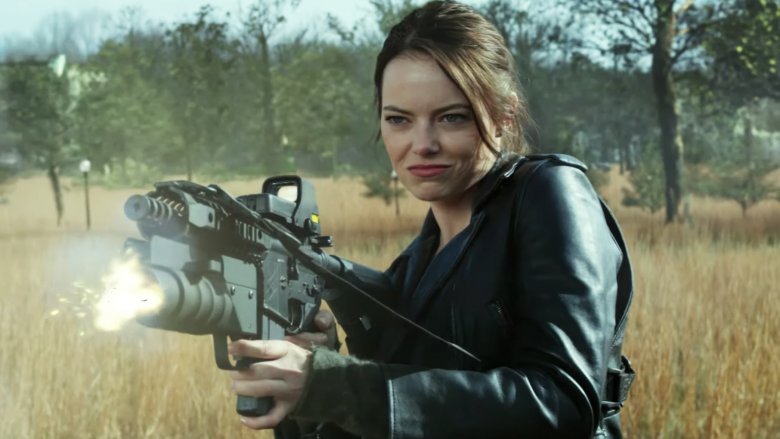 Directed by Ruben Fleischer (who is hilariously promoted as "the director of Venom" instead of "the director of the original Zombieland" in this new red-band trailer), Double Tap picks up a full 10 years after the events of the first flick. The foursome are living in the heartland of America, fighting against evolved zombies, taking up residence in the White House, and continuing to work through the growing pains of their ever-sarcastic "family." Along the way, they meet a handful of new human survivors — including Nevada (Rosario Dawson), Madison (Zoey Deutch), and Berkeley (Avan Jogia), with whom Little Rock runs away. There are also two strange "survivors" that the group encounter while looking for Little Rock: Albuquerque (Luke Wilson), who speaks and acts oddly like Tallahassee, and Flagstaff (Thomas Middleditch), who behaves in a way that mirrors Columbus' personality almost perfectly. Could these two be another strain of evolved zombies — quasi-doppelgängers that trick real survivors into thinking they're human before they attack them? It's quite possible. 
In any case, Zombieland: Double Tap looks to be a total riot. It's self-aware (when Tallahassee references a line from the original film, Albuquerque says that the saying is "very 2009"), action-packed (all that zombie-killing!), and filled with twists and turns we've yet to figure out (including but not limited to Murray's epic return). 
Stock up on some Twinkies and re-read the list of rules for surviving the zombie apocalypse before Zombieland: Double Tap arrives in theaters on October 18.