Zombieland 2 Casts Rosario Dawson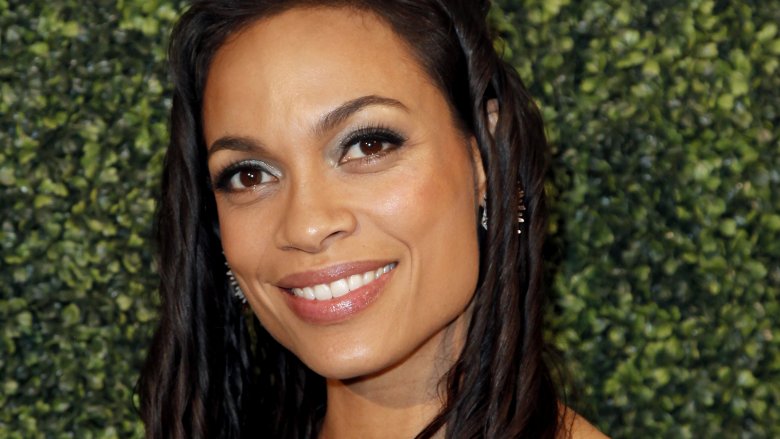 Getty Images
Survival rule number 426: Cast Rosario Dawson in your sequel movie. 
Sony Pictures has just expanded its Zombieland 2 cast by adding the dazzling Dawson to the roster. Dawson — known for her role as Claire Temple on the Marvel-Netflix series Daredevil, Iron Fist, Luke Cage, Jessica Jones, and The Defenders — will show off her action skills and comedic chops alongside original Zombieland actors Jesse Eisenberg, Woody Harrelson, Emma Stone, and Abigail Breslin. 
Deadline broke the news on Dawson's casting, but unfortunately, Sony didn't dish up any details on the role she will step into. 
Dawson is the third Zombieland franchise newcomer to get the literal double-tap for the sequel, which is now formally titled (you guessed it) Zombieland: Double Tap. Sony made that announcement via the sequel's first poster, displayed at the bottom of this article. In November of 2018, Everybody Wants Some!! and Set It Up darling Zoey Deutch joined the film; The Year of Spectacular Men and Son of Shaft star Avan Jogia boarded just two days after Deutch did.
In Zombieland: Double Tap, Deutch will reportedly Madison, "a ditzy blonde who Columbus [Eisenberg] hooks up with after Wichita [Stone] freaks out from the lack of zombies and leaves." Jogia, on the other hand, will take on the role of Berkeley, "the epitome of the bad boy musician that you would hate for your daughter to fall in love with." Eisenberg, Harrelson, Stone, and Breslin will reprise their respective roles as Columbus, Tallahassee, Wichita, and Little Rock.
According to yet-unconfirmed story and character details published by SlashReport, a few other new characters are set to pop up in Zombieland: Double Tap. These include Reno, "the Eve to Tallahassee's Adam," who is "everything he could ever dream of badass, skilled, strong" and his perfect match "if only she would take him"; TB, "Tallahassee's spitting image, essentially the same person" as he is; and Cleveland, a mirror character of Eisenberg's Columbus. These new characters are said to bring a unique dynamic to the existing foursome that will "make for some of the most entertaining scenes in the entire franchise," despite being "pretty thin as individual personas" given that they're "mainly just extensions" of the OG Zombieland crew. 
Using these details (and these details alone) as the basis for speculation, one could assume that Dawson will portray Reno in the forthcoming sequel, engaging in a cat-and-mouse flirtationship with Harrelson's Tallahassee. We would 100-percent pay to see that happen. Imagine the chemistry! The antics! We're excited just thinking about it.
Directed by Ruben Fliescher (who helmed the original) from a script written by Paul Wernick and Rhett Reese (who penned the original), the Zombieland sequel chronicles the gang's journey from the White House through the heartland of America as they battle against evolved zombies — "giant, muscular, incredibly tough beings that are only able to be killed through a headshot" — and meet human survivors. Facing off against the undead and sizing up fellow zombie-slayers are just the start of Columbus, Tallahassee, Wichita, and Little Rock's troubles in Zombieland: Double Tap, as they must also work through the "growing pains of their own snarky, makeshift family."
Catch Dawson, Eisenberg, Harrelson, Stone, Breslin, Deutch, and Jogia in Zombieland: Double Tap when the film opens wide on October 11. 
#10YearChallenge? Challenge Accepted. #Zombieland2 pic.twitter.com/EeCuR8QVx6

— Sony Pictures (@SonyPictures) January 29, 2019