The New Horror Movie That's As Scary As Hereditary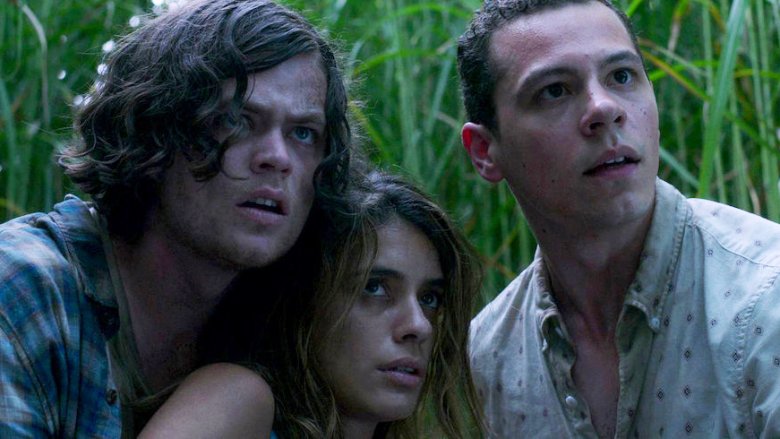 Netflix
Spooky season is officially upon us, and Netflix is kicking off the most frightful time of year with a film that promises scares in line with 2018's genre-smashing shocker Hereditary.
Horror author Joe Hill recently told Entertainment Weekly that Netflix's new flick In the Tall Grass is "really disturbing [...] like Hereditary-level scary."
In the Tall Grass follows a pair of siblings (Laysla De Oliveira and Avery Whitted) who, after hearing the cry of a lost boy, walk into a field of unusually tall grass and can't find their way out. Trapped in the perilous, seemingly endless field, they soon stumble upon other trapped citizens (including The Conjuring's Patrick Wilson) and discover that there may be some sinister force at work — and that being lost among the tall grass is the least of their worries. 
The son of gothic-horror guru Stephen King, Hill is hardly impartial when it comes to In the Tall Grass. The film, which hit Netflix on October 4, is actually based on a novella Hill wrote with his legendary papa. Said story — which the father-son team reportedly penned in a mere six days — first appeared in the pages of Esquire magazine in the summer of 2012 before being published as an e-book and released in audiobook format later that year. Though beloved by fans of Hill and King, In the Tall Grass didn't receive a proper publication until recently, as the horrific tale appears in Hill's just-released short story collection Full Throttle. 
You can count director Vincenzo Natali (Cube, Splice, TVs Hannibal) among the tale's original fans. Natali had been championing the story for the cinematic treatment since 2015, even hailing it as "some of the most disturbing horror fiction I have ever read." Apparently, Netflix was paying attention, and when the streamer scooped up film rights to the story a couple years later, Natali was tasked with adapting and directing the In the Tall Grass movie. 
According to King, Natali has more than done the story service, saying, "I'm happy with it. It's great to look at, too. It's a visual trip." In regards to how much input father and son had in Natali's adapted screenplay, it appears neither had much to offer in terms of feedback. Hill said, "It so great, you don't want to screw it up." King then added, "I don't think I made a single suggestion, based on what was there."  
Your worst fears might come true within the Tall Grass
While only time will tell if In the Tall Grass actually delivers on Hill's Hereditary-sized claims, one look at the trailer will tell you that the film has some sweaty-palmed chills in store for those who walk blindly into its grassy fray. And if nothing else, In the Tall Grass seems likely to bolster the so-called golden age of Stephen King adaptations.
After the successes of 2017's adaptations of Gerald's Game (directed by Haunting of Hill House mastermind Mike Flanagan) and 1922, Netflix is certainly doing its part to ensure that the "golden age" continues. And with season 2 of Hulu's King-centric Castle Rock series about to drop, the likes of Pet Sematary and It: Chapter 2 having received critical praise and box office bank earlier this year, and Flanagan's take on Doctor Sleep on the way, In the Tall Grass should indeed make 2019 another banner year for King on big and small screens — though we're sure many of you are less familiar with the tale that inspired this latest King adaptation.
Will In the Tall Grass actually scare viewers in the same soul-devouring manner as Ari Aster's unholy masterpiece Hereditary? Well, it certainly will be difficult for Vincenzo Natali's latest feature to fill those Paimon-sized shoes, but we can't wait to see for ourselves. Luckily, we won't have to wait at all to find out – In the Tall Grass is now available to stream on Netflix. See you on the other side, folks!