The Most Disturbing Movies Of 2018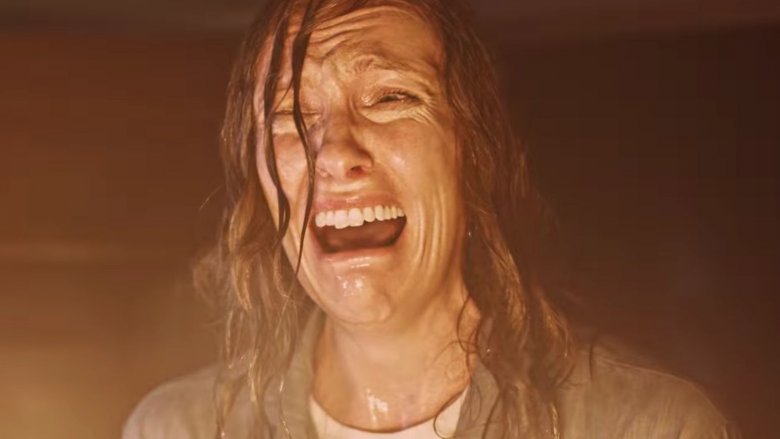 Perhaps it's a reflection of the wildly unstable times in which we find ourselves, but 2018 has been a seriously intense year at the movies. One that's seen even the lovable Paddington Bear spend time behind bars, and the Avengers' heroic numbers cut dramatically in half — with as much of the universe's population in tow — by the snap of a finger. While we all wait for heroes to rise and battle the evil forces at work in our own world, it seems that for the time being, Hollywood will continue mirroring the general unease around us while sometimes papering over it with the sunnily distracting confections we desperately need.  
While darkness reigns, know that it's also helped deliver some of 2018's best, and most shocking, cinematic journeys. From a harrowing bit of pulpy detective fiction to a bloody tale of revenge, a racially charged farce, a troubling story of biological appropriation, and all manner of nervy narratives in between, these are the most disturbing movies of 2018.
You Were Never Really Here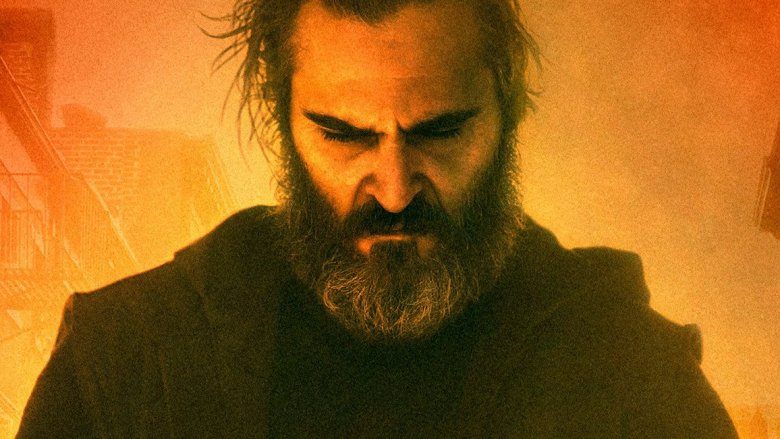 To some pop culture enthusiasts, Jonathan Ames is best known as the creative force behind HBO's marvelous but short-lived comedy/detective series Bored to Death. To others, Ames is an incisive raconteur-of-all-trades whose essays, novels, graphic novels, and screenplays convey complex yet grounded stories that shift effortlessly between comedy and drama. For his 2013 novella, Ames left the laughs completely off the page, and crafted the corrosively bleak piece of detective fiction You Were Never Really Here. At a sparse but brutal 92 pages, that story seemed tailor-made for a big-screen adaptation. The only question was whether a filmmaker could do justice to Ames' frenetic tale of a troubled, violent war vet tasked with finding the kidnapped 13-year-old daughter of a U.S. senator.
Indie auteur Lynne Ramsay answered that question and then some when she unleashed the slow-burning beast that was the theatrical version of You Were Never Really Here in the spring. Not surprisingly, Ramsay didn't change much in adapting Ames' novel for the silver screen, opting instead to bolster that tightly wound narrative with stylistic flourishes that ratchet the tension to near-suffocating extremes. The result is a frenzied, bloody, deeply paranoid fever dream of a film that — anchored by a passionately opaque performance from Joaquin Phoenix — hammers its way into your head like a nightmare incarnate — one you won't easily wake from.
Thoroughbreds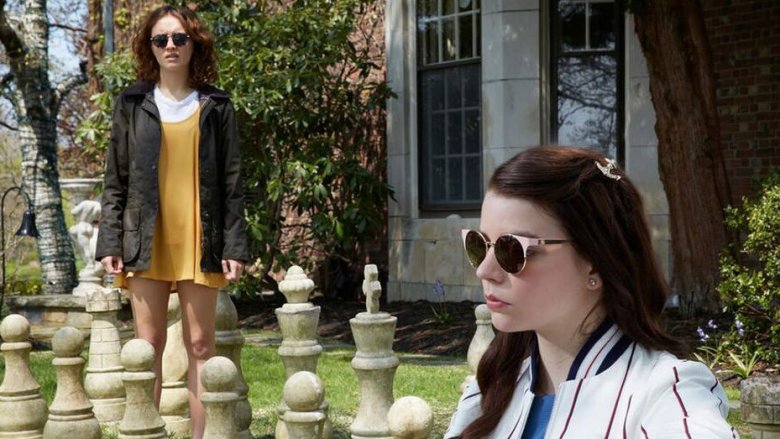 Whether you're talking about a classic like Rebel Without a Cause or more modern fare like Heathers and Kids, it's clear Hollywood loves a good tale of teenagers running amok. Joining the ranks of those lauded tales of youthful rebellion is Cory Finley's Thoroughbreds — and as far as tales of youthful rebellion go, Finley's sly, bracingly immersive crime dramedy is one for the ages.
Thoroughbreds follows two once-friendly upper-class teens who live on opposite ends of the human emotional spectrum — one incapable of feeling anything, while the other feels everything. When they're reunited after years apart, each finds themselves in a position to help the other right a perceived wrong. That help comes at a high cost for each, and together the disparate teens hatch a dastardly plan to take control of their rapidly spiraling lives.
Said plan involves a brutal act of violence which the pair eventually enact with unnerving precision. Finley wisely allows the crime itself to play second fiddle throughout Thoroughbreds, focusing instead on the tragically inventive young minds behind it. Those minds are brought to vivid life by Olivia Cooke and Anya Taylor-Joy, whose penetrating performances draw you into the human side of Finley's drama even as his crisp, incisive scripting both bolsters and betrays their seemingly hardened wisdom. While that callous duality lands some of Thoroughbreds' biggest laughs, it also lends an exacting edge to the film's final moments, which may leave you giggling while also fighting a nasty chill in your spine.
First Reformed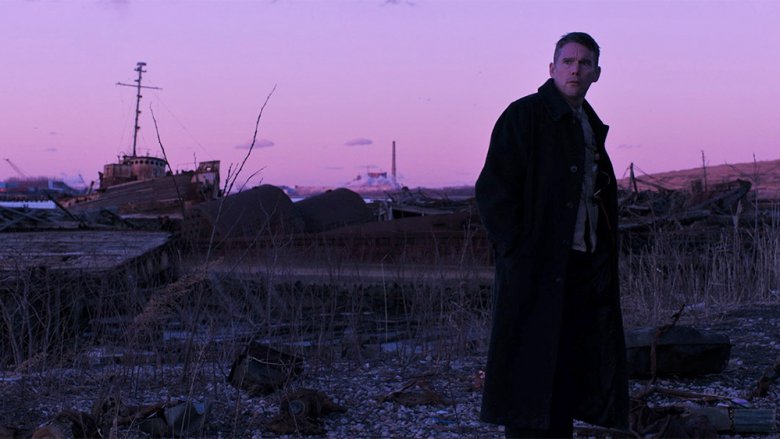 After bursting into Hollywood as the scribe behind Martin Scorsese's legendary breakout film Taxi Driver, Paul Schrader has continued to make a name for himself as a screenwriter of unyielding vision, uncommon humanity, and some very specific opinions about the world at large. People tend to forget that Schrader has also directed his share of classics, with titles like American Gigolo, Affliction, and Auto Focus among them. He returned to the director's chair this year to unleash the unholy animal that is First Reformed, reminding us that he's not a filmmaker to be taken lightly, and that he's still got plenty to say about the state of society.
While Schrader's latest certainly fits the mold of "classic Hollywood filmmaking" in its relatively straightforward approach to narrative, with its politically charged narrative of societal despair, environmental calamity, religious ambiguity, and righteous indignation, First Reformed is a film unmistakably of the times. One that pits a troubled, well-intentioned priest against a world where moral duplicity has led to big business corrupting not just society, but also the environment, and the church itself. Anchored by a career-best performance from Ethan Hawke, First Reformed is a devastatingly desolate piece of work driven by soul-piercingly insightful writing, unforgettable imagery, and an atmospheric energy that teeters ever on the edge of horror. It's also a bone-chilling call to arms that we can only hope has not come too late.    
Revenge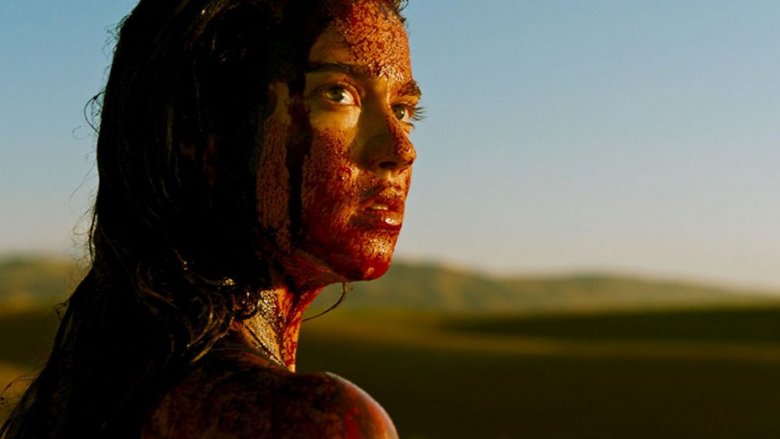 Some say revenge is a dish best served cold. Coralie Fargeat would likely disagree, and her debut feature, set in the sweltering Moroccan desert, is her proof. Part nerve-wracking survival story and part full-tilt tale of righteous vengeance, Revenge unfolds in the suffocating heat of a sun-bleached valley, and while its blood-soaked narrative uses that setting to serve up a steamy helping of primal payback, it does so while embracing another classic saying; the one about hell having no fury like a woman scorned.
The woman in question is a pampered American party girl named Jen whose sexy desert getaway with Richard is interrupted when his pals show up early for a hunting trip. That sexy weekend pivots dramatically after a deplorable act of sexual violence that leads Richard to make in impetuous decision that sees Jen left for dead in the unforgiving desert.
Only Jen (played with steely sensuality and simmering savagery by newcomer Matilda Lutz) doesn't die, and wakes to find herself in the midst of a deadly cat and mouse chase. Her transformation from object to avenger — which admittedly requires a degree of willful suspension of disbelief — leads to one of the best "hunters become the hunted" narratives in recent memory. Said narrative is brutal and bloody and inventive in ways we can't go into without spoiling the fun. Just know that Fargeat gracefully guides the almost dialogue-free action to a final showdown that will leave you gasping, clapping, and absolutely shaken to the core.
Hereditary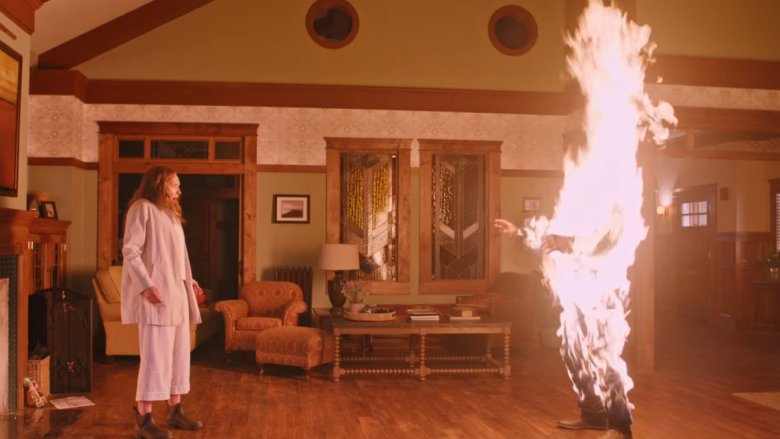 Every so often, we get a scary movie that transcends its genre roots to take horror gurus and neophytes alike on a harrowing journey into dark, panic-inducing places rarely glimpsed by even the most devout of genre fans. This year, that movie is unquestionably Ari Aster's taut and utterly terrifying "family drama" Hereditary. For those who haven't seen Hereditary, the less you know going in the better, but we can say that this film begins in a dark, tense place, that Aster spends the next hour tightening the screws to build a near unbearable sense of atmospheric dread, and amidst that dread, he leads you unsuspectingly into one of the most shocking moments in horror movie history.
If you've seen Hereditary, you know exactly we're talking about. If not, well, we both pity and envy the fact that you've yet to experience that moment in all of its trauma-inducing renown, and we wholly respect your right to do so unfettered by spoilers. Just know that you'll never see it coming, that it'll shock you in ways you've probably never experienced in a movie, and that, as impossible as it may seem when it happens, Hereditary is about to get a whole lot darker. Know as well, that if you're tough enough to stick with it, you'll be able to brag to friends that you made it through one of the best, most disturbing horror films not just of 2018, but likely of all time.
Sorry to Bother You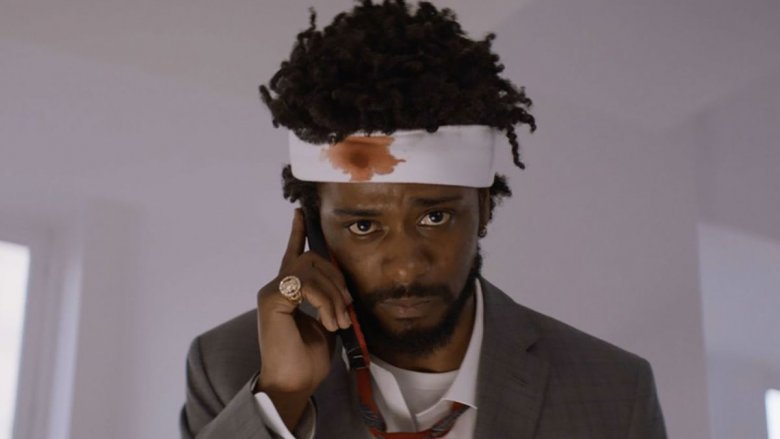 Many American filmgoers had never heard of Boots Riley before Sorry to Bother You hit theaters this year — not as a filmmaker, and not as the frontman of politically charged hip-hop groups the Coup and Street Sweeper Social Club. They know him now — that sort of thing tends to happen when you write and direct one of the year's most deeply disturbing, yet wildly entertaining, and refreshingly original movies.
Unfolding in a beautifully realized alternate version of present-day Oakland, the film follows the story of a young black telemarketer (Lakeith Stanfield) who experiences a meteoric rise to success after uncovering his inner "white voice." What follows is a hilarious, often horrifying madcap farce that plays like a mashup of Being John Malkovich and Get Out, only angrier and more perceptive than both.
Sorry to Bother You may be chock full of comically inspired moments, but it's absolutely venomous in its presentation of gender and race relations, economic structures, and geopolitical naiveté in the U.S., and never misses a beat as it pivots effortlessly from one acidic topic/shocking moment to the next. Riley's cast — including Tessa Thompson, Danny Glover, Steven Yeun, and a never creepier Armie Hammer — doesn't miss a beat either, and they keep Riley's politically charged, sci-fi fantasia grounded in a particularly hard-hitting ways — though it may leave you wincing the next time you see a horse, man.
Mandy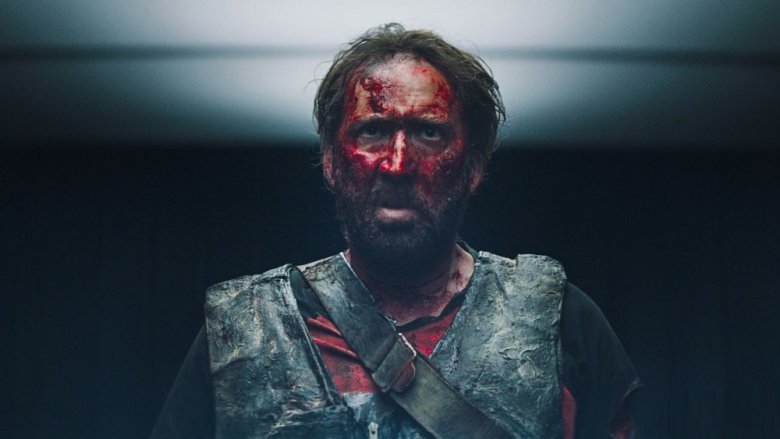 If you'd been told a few months back that Nicolas Cage had a movie coming out about a man hellbent on avenging the murder of his lover, you probably would've shrugged and thought, "well, that sounds like just the sort of thing Cage has almost exclusively churned out in recent years." If anyone had tried to convince you that it would end up being one of the most memorable films in Cage's cagey filmography, you probably would've laughed — yet here we are, talking about Panos Cosmatos' "certified fresh" action/horror freak-fest Mandy, a film whose atypical revenge narrative certainly fits the B-movie mold even as it mercilessly transcends expectations.
It's what Cosmatos does within that construct that makes the film so uniquely disquieting, peppering the action with a murderous cult of hippies led by a folk-singing wannabe demigod, a masochistically demonic biker gang, copious amounts of hallucinatory narcotics, intensely surrealistic imagery, and enough fake blood to float an ark. There's also a chainsaw fight that (coupled with an inspired, maniacally unhinged turn from Cage) instantly earned Mandy a spot in the vaunted "cult classic" canon. Yes, Mandy is every bit the B-movie it seems, but it's also one of the most visually striking, vividly realized, and wholly original films of the year, and its unbridled insanity simply must be seen to be believed.
Annihilation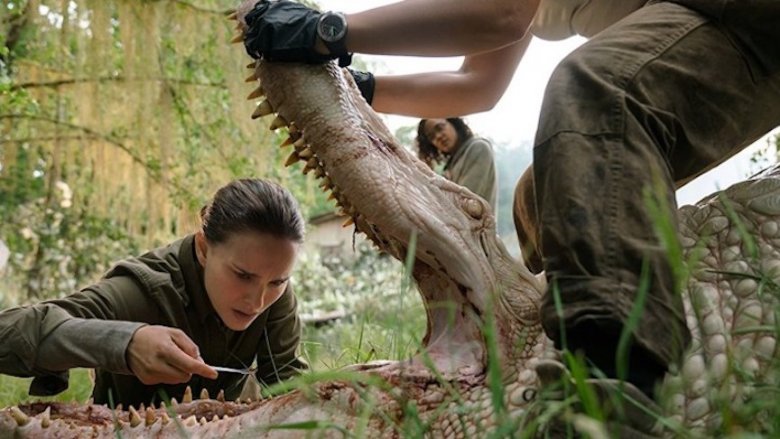 When Jeff VanderMeer published Annihilation a few years ago, the book's hard sci-fi edge and brooding, Lovecraftian narrative made it an instant classic of modern science fiction literature. That reputation also made it an easy target for a big-screen adaptation. To say fans of VanderMeer's book were excited when hearing that Alex Garland (fresh off directing 2014's sci-fi masterpiece Ex Machina) was handling that adaptation would've been an understatement, though they were likely a bit confused when Garland's Annihilation finally arrived in theaters after months of delays and behind the scenes troubles.
That's because the Annihilation that arrived in theaters wasn't exactly VanderMeer's Annihilation. Garland took some serious liberties with the story's general construct — an all-female expedition into a mysterious disaster zone where the laws of nature don't apply — to craft a narrative all his own. Given that biological appropriation is a key plot device in both book and film, it sort of seems natural; his Annihilation works as both a direct adaptation and a wholly original story that's every bit as effective, horrifying, and emotionally charged as the original. Garland even bests VanderMeer's source material when it comes to scares, with a blood-curdling bear/woman beast that serves as one of the most unsettling creature creations of this or any year. If only Garland had left the door open for a sequel, we might've gotten to see even more of his haunting, unearthly delights.
Unsane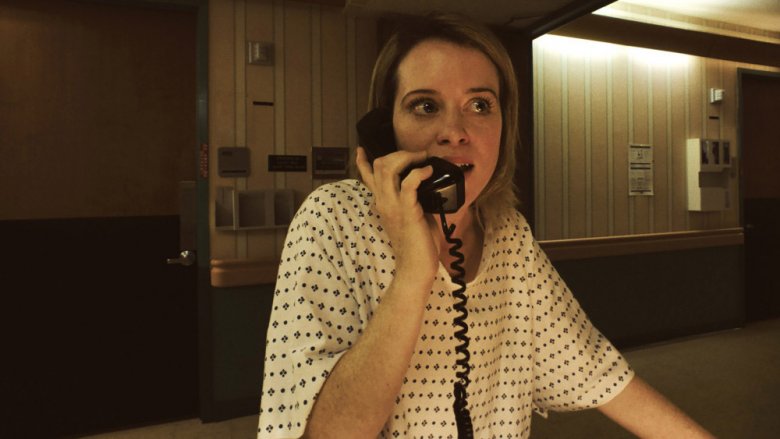 Over the past three decades, Steven Soderbergh has established himself as not only one of Hollywood's most stylish cineastes, but also one of their most versatile and inventive. The director's free-spirited approach to storytelling has led him to direct engrossing indie fare like Sex, Lies, and Videotape, blockbusters like Ocean's 11, and awards-friendly fare like Traffic. It came as no surprise, then, that Soderbergh would be interested in making a feature-length movie with an iPhone. What was surprising was just how disturbing that film would be.
For the uninitiated, Unsane follows the travails of a disturbed woman who, in seeking help for her emotional problems inadvertently commits herself to a mental institution, then finds it alarmingly difficult to get herself out. Making matters worse is the appearance (possibly real or imagined) of the super creepy stalker she's been in hiding from.
From that setup, Soderbergh spins a moody, obsessive little film that features a stalker, a PTSD-suffering victim/heroine, and some shockingly gory violence. What makes the film so damned scary is just how plausible Soderbergh makes all the inherent insanity seem. At the very least, Unsane will have you reading every single word of fine print on the next document you sign. At most, it'll leave you terrified to visit a hospital for any non-life threatening reason for the foreseeable future.
Like Me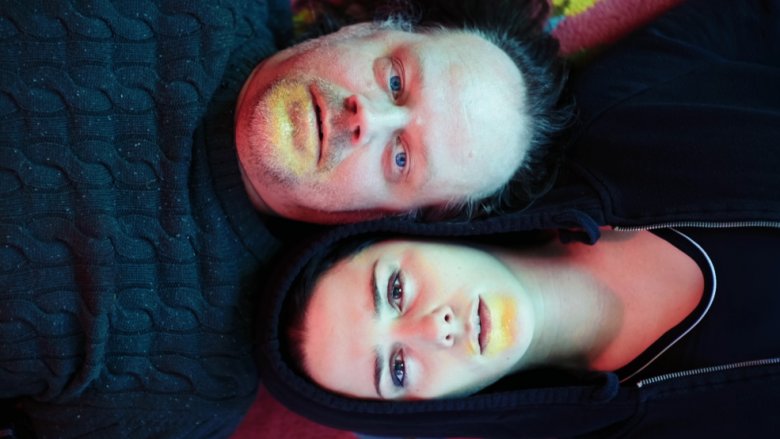 With no fewer than a couple dozen or so films utilizing society's "like/share" obsessiveness to varying degrees of effectiveness, social media has proven ample fodder for cinema in recent years. Rest assured, Robert Mockler's sobering social media drama Like Me is nothing like those movies. In fact, this incisive feature debut is not like any film you've ever seen before.
That's a good thing. Even from its jarring opening moments, Mockler's film is clearly out to shock. His tragic tale of a young woman (played with breathtaking austerity by Addison Timlin) broadcasting her own crime spree across social media is tailor made to do exactly that. Part road movie, part hallucinatory crime thriller, and part isolationist chamber drama, it opens with an attention-grabbing heist and ends with a brutal act of violence. The moments in between find Mockler skillfully laying the groundwork for a hushed and harried character study uniquely tuned in to the emptiness that accompanies a life lived on social media.
It's no surprise, then, that Like Me is most alive emotionally when the woman hits the road with a kidnap victim (the always amazing Larry Fessenden) in tow, or during a surprisingly prescient moment with a homeless man. Still, the film's vivid photography and kaleidoscopic editing ensure that even its muted moments come and go with galvanizing energy. That manic mix of styles makes Like Me the sort of soul-crushingly spirited film you simply cannot unsee... so make sure that you do.  
Ghost Stories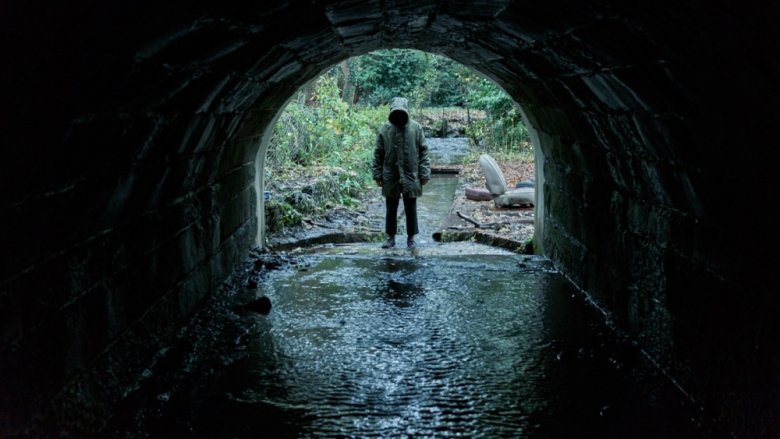 Let's be honest, not many spooky movies manage to keep you spooked for the entirety of their runtime. That would seem to make the anthology approach — with briefer but no less bloodcurdling encounters — a good fit for the horror genre. Whether it's because they tend to use different directors (with contrasting styles), or because they never find a satisfying narrative device to weave their horrifying tales together, even the best horror anthologies (Creepshow, Trick 'r Treat, V/H/S) haven't made the most of the format's obvious potential.
In adapting and directing the adaption of their own play, Jeremy Dyson and Andy Nyman solve both of those problems with their horror anthology Ghost Stories. They solve the first by directing every one of the tales in Ghost Stories themselves. They solve the second by using the same skeptical supernatural sleuth as the star of each.
On paper, Ghost Stories presents as a classic anthology comprised of a haunted house chiller, a beastly creature feature, and a thrilling poltergeist drama, each providing their own harrowing scares. But it's a shocking fourth story — a traumatic psychological drama — that ingeniously turns the formula on its head. The filmmakers take their time in presenting that final story, utilizing a savvy mix of gothic imagery and gore to build a relentless sense of unease behind their overarching narrative, then going sadistically surreal when unleashing that narrative on viewers. When they do, they manage to deliver the biggest scares of their own panic-inducing movie — which happens to be one of the best horror anthologies ever produced.
Apostle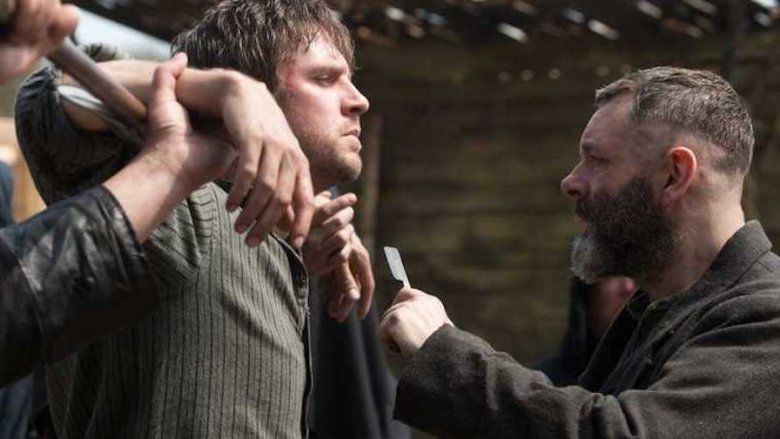 After unleashing his sweaty-palmed cops vs. gangsters action epic The Raid in 2011, Gareth Evans proved himself a pure action stylist with keen dramatic instincts. It was no surprise, then, that Evans followed that film with the equally bonkers (if slightly less satisfying) sequel The Raid 2 — even if said sequel proved Evans not just a master of staging, but more than capable of finding human drama in all that bombast.
All of which is to say there was good reason to be excited when Netflix announced they'd be producing Evans' new film Apostle. Even more so that the film would see the director tackling the horror genre for a slow-burning period thriller about a troubled man tasked with retrieving his sister from a creepy, island-dwelling religious cult... who heedlessly worship the bloodthirsty deity holding their harvest hostage for human sacrifice.
At least, that's how things appear in the first hour of Apostle. That hour sees Evans admirably ignoring his action instincts, instead swinging a hypnotically unholy pendulum before viewers' eyes, imbuing Apostle with a near-suffocating gothic energy along the way. He spends the next hour smashing that pendulum into bloody, pulpy bits, and making you long for the time when a bloodthirsty deity was all you had to fear. What can we say of that last hour except it's full of dastardly deeds, unspeakably gruesome acts, fantastically grotesque imagery, and a soul-choking sense of dread — and that Evans executes it so well, you'll be glued to the screen for every nightmarish moment?
Suspiria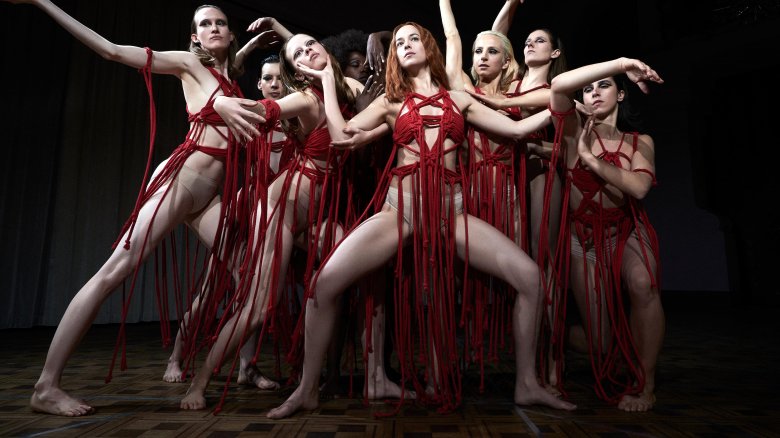 As much as audiences seem primed to embrace stark, original concepts, we are undoubtedly living through the age of the remake. The horror genre has proven particularly fertile ground for studios who've remade everything from Poltergeist to Evil Dead. Needless to say, even the best of those remakes have failed to match their source material in shocks or in spirit. 
Luca Guadagnino's Suspiria (a fresh, ferocious, and surprisingly political take on Dario Argento's bloody, brooding 1977 horror classic) is not your typical remake. In fact, Guadagnino's reimagining of Argento's twisted tale about an enigmatic dancer being tormented by dark forces while enrolled at a prestigious German dance academy actually bests the film that inspired it in both scope and scares.
Suspiria 2018 also dances past Argento's original in runtime, clocking in at a hefty 152 minutes. Guadagnino fills his version with welcome narrative additions like character development and — gasp — actual dancing, and uses them to bolster a stifling sense of atmospheric unease that often trumps Argento's. Guadagnino's Suspiria tends to eschew blind bloodlust in favor of mood and menace as well, ratcheting up the tension with fiery flourishes of nightmarish imagery that heartily punctuate the gruesome acts of violence throughout. Even if you've seen Argento's Suspiria, you won't be prepared for the gritty, grisly carnage Guadagnino brings to the table, making his Suspiria not just one of the most ambitiously unsettling remakes ever produced, but also one of the best.
Overlord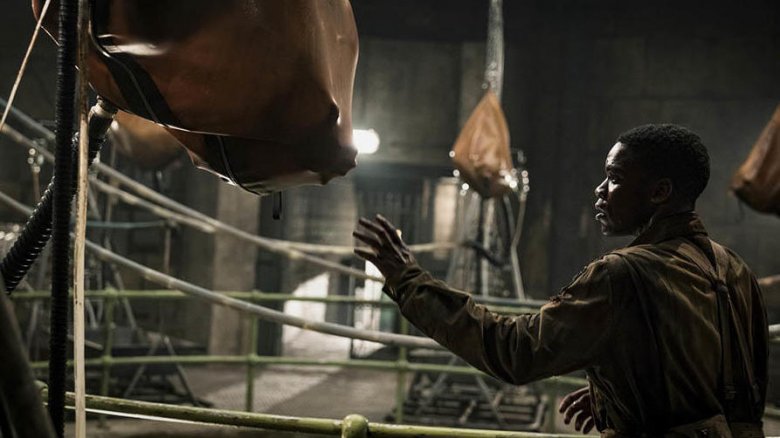 Even as we endure the age of remakes, we're also privy to a virtual golden age of genre mashups, with J.J. Abrams' Bad Robot Productions almost single-handedly spearheading the movement. The latest edition to their genre-jumping oeuvre is the gloriously unhinged World War II horror thriller Overlord, and few 2018 films arrive as well equipped to delight and disturb in equal measure.
Odds are you've heard Overlord categorized as a "nazi zombie horror flick." Such a description is not wholly inaccurate, but it's a little bit misleading. Yes, there are lots of evil nazis in Overlord. And yes, the dead aren't always exactly dead in the film. But we can tell you there's a lot more more going on in Overlord than meets the eye.
The film — set on the eve of D-Day — is first and foremost an excellent WWII movie, one that opens with a harrowing parachute drop behind enemy lines and morphs into a traditional story following a band of soldiers on a suicide mission that will turn the tide of the war. That mission leads them to a French village teeming with nazi soldiers and scientists seeking to... well, the less said about that, the better. Just know that the stomach-churning things uncovered in that village are the stuff of nightmares, that they twist the film in ways you'll never anticipate, and that they help make Overlord the action-packed, blood-soaked war/horror hybrid we never knew we needed.
Burning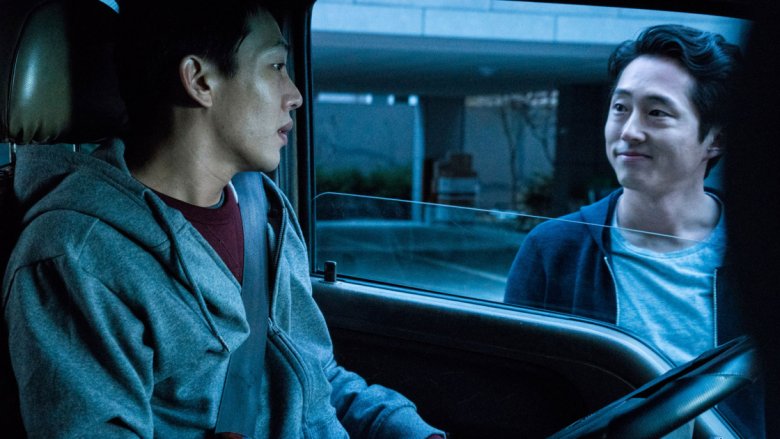 South Korea has become one of the more prominent countries on the international film scene in recent years. If you've been paying attention to movies coming out of the region, then you know that South Korean filmmakers— with visionary works from Chan-wook Park (Oldboy, The Handmaiden), Bong Joon Ho (Snowpiercer, Okja), and Na Hong-jin (The Wailing) — have also been producing some of cinema's most artistically ambitious and wildly unsettling films of late.
On the strength of the masterful Secret Sunshine alone, Chang-dong Lee should already have earned a place amongst his peers as one of South Korea's best filmmakers, yet he remains one of the more frequently overlooked cineastes in the region. Burning may finally right that wrong.
Adapted from a short story by Haruki Murakami, Burning follows a would-be writer toiling through life as a delivery man. That life is upended when he becomes romantically entangled with a woman from his youth, who complicates matters further by ushering a wealthy, enigmatic stranger into the mix (Steven Yeun in a positively revelatory performance). While the table is seemingly set for an atypical love triangle, Lee and his crew cleverly subvert that expectation at nearly every turn, delivering instead a beautifully scripted, meticulously paced, flawlessly acted puzzle box of a film that winkingly withholds its many disparate pieces. Burning instead revels in ambiguities, allowing its slow-burning, head-spinning narrative to lead its characters into some seriously murky moral waters — and delivers a brutal, haunting finale that you'll not soon forget.
The Kindergarten Teacher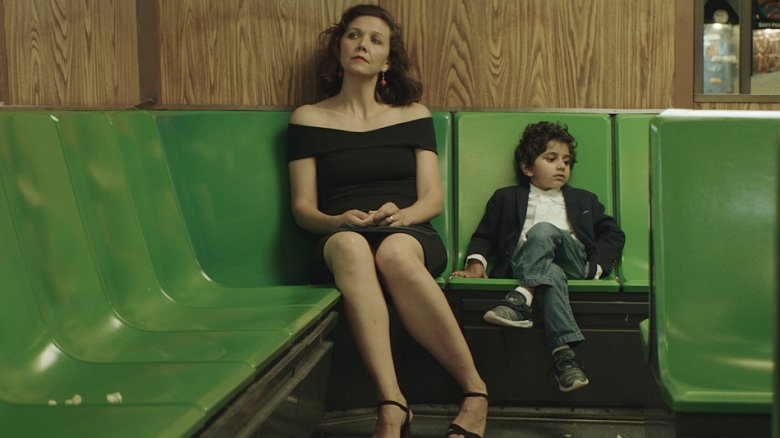 Speaking of obsessive, slow-burning dramas with complicated narratives and challenging characters, Sara Colangelo's The Kindergarten Teacher is one for the ages. This devastating film follows an emotionally dissatisfied, poetry-loving kindergarten teacher (Maggie Gyllenhaal) who finds a ray of light when one of her young students displays a gift for words. Believing the boy to be a genuine prodigy, she begins putting extra time and effort into helping flesh out the child's creative instincts. But what begins as a noble endeavor to help nurture a gift quickly spins into a near predatory need to be a part of not just his process, but his life.
Nothing can prepare you for where this film goes, and the less you know about it before jumping in, the better. Colangelo lets the action unfold with an assured, calculating cool that belies her years, and Gyllenhaal's passionately internalized work as the kind-hearted but deeply disturbed teacher is quite possibly the best of her massively impressive career. With its soul-crushing blend of soulful intellect, ethical insight, and cringe-inducing unease, The Kindergarten Teacher is not just one of the best movies you'll see this year, but it's an absolute must-watch for parents, and teachers, and pretty much anyone with a child in their life — and you can currently do from the comfort of your own couch, because it's on Netflix.