This Game Of Thrones Actress Offered An Interesting Response To The Series' Finale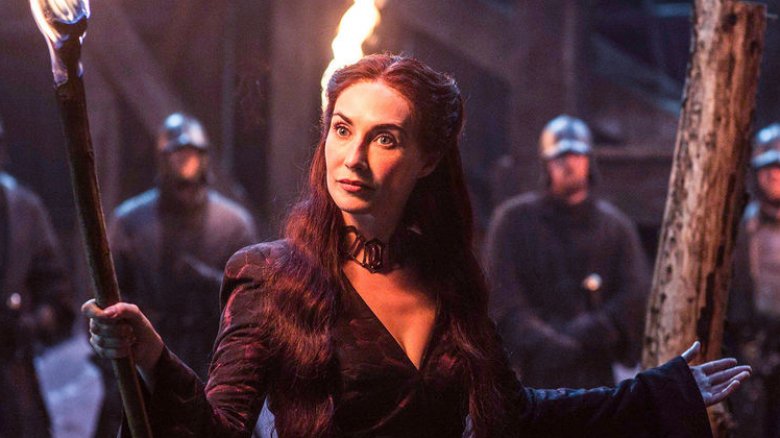 HBO
As Game of Thrones' mysterious Red Priestess Melisandre, Carice van Houten was always extremely cryptic, but now that the show is over, she's saying exactly what she thinks.
In a conversation with The Hollywood Reporter, van Houten opened up about Game of Thrones' extraordinarily divisive eighth and final season, dished some dirt on some of her biggest brain waves on set (turns out she more or less improvised the scene where she revives Kit Harington's Jon Snow), and revealed her feelings about that finale. 
As you'll recall, after all the bloodshed and turmoil, the disappointingly unlikely candidate Bran Stark (Isaac Hempstead-Wright) was crowned as the King of the Six Kingdoms (plus the North, which his sister Sansa — played by Sophie Turner — retains as an independent kingdom). Van Houten found the outcome "silly," drawing an interesting parallel to the way a real-life election played out.
"I just love the fact that the whole throne was blown away. The whole thing was gone. I really loved it, and also the randomness of talking about who's going to be king. The silliness of it was very smart," van Houten admitted. "I thought, 'This is what life is. Some dumbo can become president.'"
Taking a pragmatic approach and tossing in just a bit of shadiness, van Houten continued, "That's the world we live in. We just sort of go, 'Uh, that guy.' It was smart that it was just sort of silly. I really liked it, to be honest."
Plenty of people have connected modern politics to Game of Thrones since the series premiered in 2011, and the show's over-the-top, enormous stakes often provided a fitting contrast (or disturbing similarity) to the political landscape. Presidents have also acknowledged the show throughout their tenures in one way or another; President Barack Obama was an avid fan of Thrones, while current president Donald Trump got in trouble with HBO after using the show's signature font in a tweet. It's easy to compare what's happening in Washington to what was going on in Westeros, and van Houten's remarks here aren't the first time a Thrones actor has made that connection.
What do other cast members think of that Thrones ending?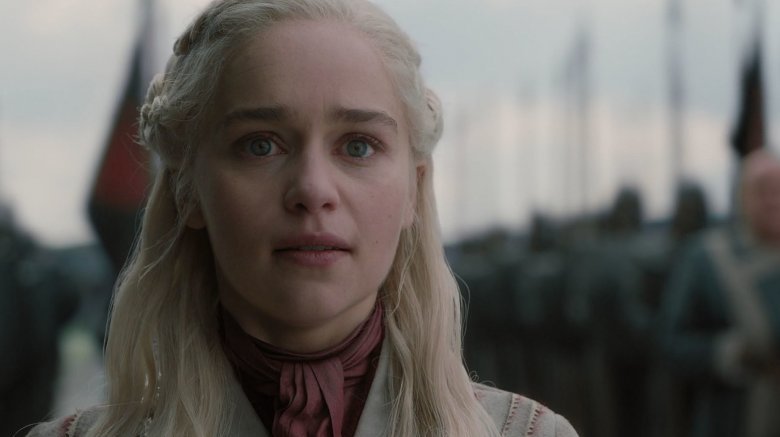 Not everyone on the Thrones cast was particularly thrilled with how the show ended, however. While some of the leading actors, like Kit Harington (who played Jon Snow) and Emilia Clarke (who played Daenerys Targaryen) defended the finales, others weren't all in on the controversial conclusion.
Most notably, Lena Headey — who played one of the show's cruelest characters, Cersei Lannister — eventually confessed she was pretty frustrated with her final arc, which saw her crushed to death by rocks in the arms of her twin brother and longtime lover, Jaime Lannister (Nikolaj Coster-Waldau). Maisie Williams, who portrayed the formidable Arya Stark, was on the same page in the aftermath of the finale, specifically mentioning that she wished she could have worked with Headey more. 
Beyond the biggest stars, even supporting actors had problems with the last season of Game of Thrones. Nathalie Emmanuel, who played Daenerys' right-hand woman Missandei, was extremely open regarding her disappointment at the series' treatment of the only remaining female character of color. Additionally, some Thrones actors who didn't even appear on the final season had some strong words for the series. During a recent interview, Natalia Tena, the actress who portrayed the wildling Osha over several seasons, absolutely tore the final season apart, criticizing it from top to bottom. 
Fans and stars alike might be disappointed with how Game of Thrones ended, but as far as van Houten goes, it looks like between her character's fitting finish and the show's final decisions, she, at least, is happy. And clearly, plenty agree with her, considering that the show took home the top prize at the 2019 Emmys after all.