How Kit Harington Really Feels About The Ending Of Game Of Thrones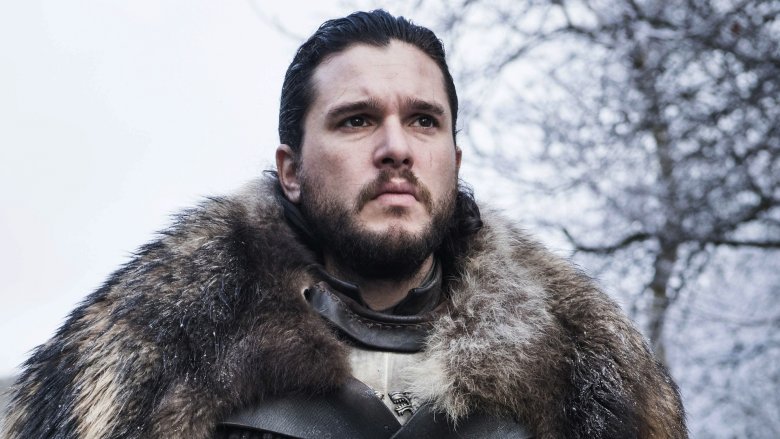 Jon Snow himself is speaking out about the ending of Game of Thrones.
After a few months, the dust has mostly settled after Thrones' divisive final season and series finale, but now that critics have had their say, everyone from former cast members to series author George R.R. Martin has commented on how they felt about the show's big finish.
In a roundtable discussion with The Hollywood Reporter, Kit Harington, who grew up on the show as he played alleged bastard and secret royal Jon Snow for eight seasons, dished on how he really felt about the ending — and offered up his real reaction to that Night King twist.
During the interview — which also included acclaimed actors like Bill Hader (Barry), Mahershala Ali (True Detective), Ted Danson (The Good Place), Sterling K. Brown (This Is Us), and Jared Harris (Chernobyl), among others — Harington got real about his initial reaction to the show's ending, noting that he purposefully had not read any scripts in advance of the final table read. As he read the scene where he kills his aunt-slash-lover, Daenerys Targaryen (Emilia Clarke), he "was completely surprised by it, even though you can kind of see the path through the season of how it was getting there — and even the previous couple of seasons before that, once you can look back. But it was still a big shock to me." 
Harington also divulged that it took three or so weeks to film the emotionally harrowing sequence. Diehard fans already knew that Harington was pretty shocked by this twist, since the post-finale documentary, The Last Watch, featured footage of Harington's unedited reaction to the final script.
So how does Harington feel about Jon's controversial decision to slay his queen for the good of the realm? Some would argue that he did the right thing after Daenerys' dangerous murder spree, as she sacked King's Landing in the show's penultimate episode — and Harington agrees, taking it to an even deeper level.
"But what it really comes down to, the real crux of it, is the decision is made when she puts it between her and his family. Jon essentially sees it as Daenerys or Sansa and Arya, and that makes his mind up for him," the actor said. "He choose blood over, well, his other blood. But he chooses the people he has grown up with, the people his roots are with, the North. That's where his loyalties lie in the end. That's when he puts the knife in."
Harington then delved into Jon's final moments in the show, which find our underdog bastard-turned-hero return to the Night's Watch as punishment for committing regicide.
"As far as an ending for Jon Snow, this character that I loved for so many years and had grown so close to, and had meant so much to me ... seeing him go beyond the Wall back to something true, something honest, something pure with these people he was always told he belongs with — the Free Folk — it felt to me like he was finally free. Instead of being chained and sent to the Wall, it felt like he was set free," he stated. "It was a really sweet ending. As much as he had done a horrible thing [in killing Daenerys], as much as he had felt that pain, the actual ending for him was finally being released."
He also dished on some of his less happy memories on Thrones, especially when it came to riding dragons. As a secret Targaryen, the product of Prince Rhaegar (Daenerys' brother) and Lyanna Stark (the sister of Ned Stark, who pretended Jon was his son), Jon was able to ride dragons just like Daenerys. In real life, Harington wasn't a fan. He said he didn't think it could be that bad at first, but ultimately admitted, "It's not acting at all. It is not acting, it never will be acting, and it is not what I'd signed up for. But it looked great, right? It just felt horrible! It is very uncomfortable as a man."
Harington then laughed, "I don't think I can have children now." Hopefully that's a joke, because if not, that's a pretty steep price to pay for a fake dragon ride.
The actor also had a lot to say about "The Long Night," the third episode of Game of Thrones' eighth and final season that featured the long-awaited Battle of Winterfell and contained the longest battle sequence in film and television history. Considering that the cast and crew for this episode spent 55 consecutive nights shooting in freezing cold Belfast, it makes sense that most of them have admitted it was grueling and even downright hellish to film. But as Harington looks back on it, his memories are much fonder: "As tough as it was, it was Thrones, man. It was Thrones! It was everything Thrones should have been. It's a full set built, hundreds of extras throwing everything they had into it, all of us as a big ensemble cast — I loved it. I hated it at the time, but I love it, looking back on it. I have some really fond memories of that whole experience."
However, he did admit to feeling some disappointment over that episode's big twist: when all hope seemed lost and the Night King (Vladimir Furdik) was inches away from victory, Arya Stark (Maisie Williams), the show's resident silent assassin, leapt from the darkness to deliver the final blow to the Night King and his entire undead army. Most people assumed Jon Snow, who had previously faced down the Night King and killed a high-ranking White Walker, would be the one to take him down — including Harington. 
"I was a bit pissed off, only because I wanted to kill the Night King!" he said. "I think I felt like everyone else did, in that it had been set up for a long time, and then I didn't get to do it." 
Harington did qualify that statement, immediately adding, "But it was a really great twist, and it tied up Maisie's journey in a really beautiful way. Over the seasons, we've seen her build up these skills to become this hardened assassin, and she uses it all to kill our main antagonist." 
He also took the time to debunk a burgeoning fan theory that Jon was trying to distract the Night King's undead dragon to help Arya, saying, "What, the big man goes and tells the little girl to go and [do it]? No thanks. That's crap. She did it all on her own. It had nothing to do with Jon."
Finally, Harington finished the interview with some more whimsical details, including the fact that he played Sister Sledge's "We Are Family" to pump himself up for his final scenes. He also revealed his favorite line from the final season (delivered by Sansa regarding Daenerys' good looks) and the prop he'd still most like to steal from set — your move, HBO. Send the man Jon's sword!
Harington, who spent some time at a wellness retreat in the intense aftermath of Thrones' finale, is nominated for his second Emmy for the show. Come September, he may have even more to say about his career-defining role; but for now, fans can rest easy knowing that he answered some of the final season's most pressing questions.