The Birds Of Prey Teaser Trailer Explained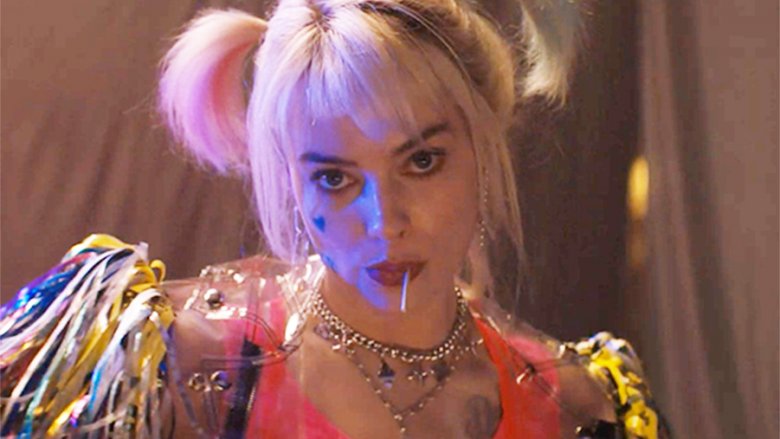 It's time to stop clowning around. 
A new teaser trailer for Warner Bros.' upcoming film Birds of Prey (and the Fantabulous Emancipation of One Harley Quinn) has been floating around the internet over the last few days — and while we're not in the business of revealing any leaked material, we are here to break down what's featured in the footage. 
Starring Australian actress Margot Robbie as Harley Quinn, a role she first played in 2016's Suicide Squad, Birds of Prey sees the pigtailed comics character leading a new life after ending her toxic relationship with Joker. Now that Joker's out of her head and Batman's out of Gotham City, Harley teams up with a handful of other vigilantes — Jurnee Smollett-Bell's Black Canary, Mary Elizabeth Winstead's Huntress, and Rosie Perez's Renee Montoya — to protect the young Cassandra Cain, played by Ella Jay Basco, who is threatened by one of Gotham's most nefarious crime lords after she discovers a diamond that belongs to him. To keep Cassandra safe and to bring Black Mask, portrayed by Ewan McGregor, to justice, Harley and co. stylize as the Birds of Prey — kicking butt, taking names, and giving zero Fs. (There's a terrifying serial killer named Victor Zsasz, played by Chris Messina, that the Birds of Prey will have to deal with as well, but that doesn't appear to be their main focus.)
Given Birds of Prey (and the Fantabulous Emancipation of One Harley Quinn) heavily features its titular character, it isn't surprising that the new teaser opens on Harley herself. However, she shows up after the footage tricks audiences with the It theme tune and 18 seconds of bright red balloons drifting up the screen. This fake-out moment is meant to tie into the upcoming release of It: Chapter Two, as the teaser is said to be a cinema-exclusive shown in some countries ahead of the horror sequel and in others ahead of the Spider-Man: Far From Home re-release. 
Once viewers are sufficiently confused at the sight of Pennywise's balloons floating over the Warner Bros. Pictures and DC logos, Robbie's Harley Quinn appears, swings her hammer to pop a few balloons, and sassily says, "I'm so f***ing over clowns." This is, of course, a shot fired at both Pennywise, the clown form of the demonic entity It, and Joker, Harley's Clown Prince of Crime ex-boyfriend. 
The Birds of Prey teaser trailer then drops the needle on the Yeah Yeah Yeahs' "Heads will Roll," signaling that just because Gotham is without the protection of Batman doesn't mean that criminals will get their way with the Birds of Prey roaming the streets. 
What follows is a fast-paced sizzle reel that rifles through the biggest elements of the film. The teaser is only 39 seconds long — 18 of which, as we said, were reserved for the It balloons — so there isn't much that's shown off. Still, we see shots of the Birds of Prey getting down to business — with Huntress pulling off her hood and whipping out her crossbow, Black Canary kicking a bad guy square in the chest, Harley Quinn sending her hammer flying toward a criminal's face while fighting inside a fun house, and Renee Montoya looking over her shoulder in an alley. There's also a larger fight scene that seemingly includes the entire Birds of Prey flock, plus a moment where Cassandra Cain is hiding from those who are out for her blood.
Also featured in the new Birds of Prey footage is Black Mask (real name: Roman Sionis) inside a night club — presumably the Iceberg Lounge as seen in the DC comics. Black Mask began operating the Iceberg Lounge, once owned and run by Batman adversary the Penguin as a cover for his criminal activities, after he chased the Penguin out of Gotham City. The most interesting thing about this moment in the teaser actually doesn't involve Black Mask at all — it involves Black Canary. She's seen behind Black Mask, singing on stage. This is an apparent nod to DC's New 52 reboot, in which Black Canary briefly acted as the lead singer of a band called Ashes on Sunday. Eventually, she formed her own band, aptly named Black Canary, fit with a drummer, keyboardist, guitarist, and tour manager. 
The Birds of Prey teaser ends just as cheekily as it began: with a shot of Harley chowing down on a burger and winking directly at the camera. Though it is tempting to ponder whether Harley is Team Shake Shack or Team In-N-Out, the burger she bites into isn't really what's important here. What fans should pay more attention to is the fact that Harley broke the fourth wall with her wink. Arguably the most famous fourth-wall-breaker in current pop culture is Deadpool, whose two turns on the silver screen in Fox's Deadpool and Deadpool 2 have proven wildly successful and legitimately groundbreaking. Now that Warner Bros. and DC are focused on reinvigorating the DC Extended Universe with the same kind of lightheartedness that paid off with Aquaman and Shazam!, which certainly seem to have influenced Birds of Prey, it stands to reason that the studios might also be looking to other superhero movies for inspiration. Will Harley Quinn repeatedly speak directly to the audience in Birds of Prey à la Deadpool? Maybe! Are we looking too deep into this? Also maybe!
Before promising that Birds of Prey will fly into theaters in February 2020, the teaser reveals the title logo. Almost every letter features an Easter egg tied to the main characters: between the I and the R is an arrow (for Huntress), inside the D is a bow (also for Huntress), serial killer Victor Zsasz's knife cuts through the S, Harley's Suicide Squad-era baseball bat sits inside the O, Black Mask's diamond that Cassandra finds is inside the P, the R holds Harley's mallet-shaped hammer, and the E is made from a pair of brass knuckles, which DC fans will know Batman has used before, suggesting he may not be gone from Gotham for good.  
In all, Birds of Prey looks to be a continuation of the action-packed — and actually fun — antics of Warner Bros.' latest DCEU offerings and a fresh start for Harley Quinn. It'll certainly be far better than the first attempt at bringing the Birds of Prey team to the screen, which happened in 2002 with a live-action television series that lasted only 13 episodes. 
As of now, it appears that the Birds of Prey teaser trailer won't be uploaded online — at least not by Warner Bros. The hope is that a full-length trailer is just around the corner, possibly slated to drop around the time Warner Bros. releases Joker, starring Joaquin Phoenix, in theaters on October 4. 
Directed by Cathy Yan, Birds of Prey (and the Fantabulous Emancipation of One Harley Quinn) will open on February 7, 2020.