Why Robert Pattinson Was 'Furious' Over His Batman Casting News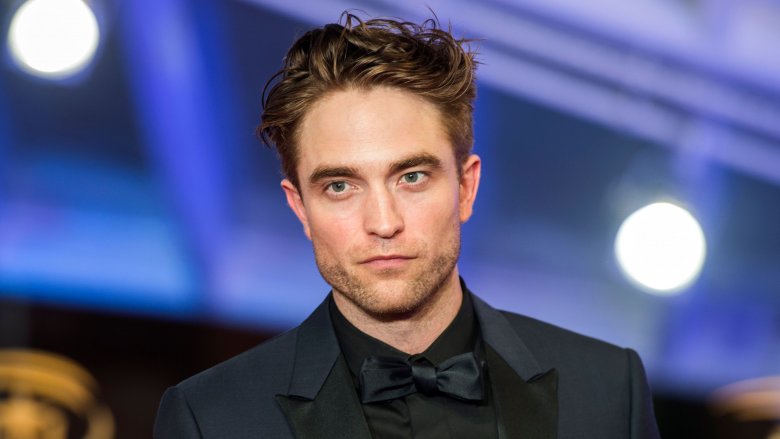 Fadel Senna/Getty Images
By Hollywood standards, Robert Pattinson has been around for what seems like a lifetime already. Truth is, it's been just 14 years since Pattinson made his big-screen debut in Harry Potter and the Goblet of Fire, and not even a decade has passed since he stole the hearts of tweens the world over as The Twilight Saga's brooding vampire Edward Cullen. In the year's since the actor left his sparkly skin behind, Pattinson has carved out one of the most intriguing careers in Hollywood by continuing to claim challenging and quirky roles in independent fare like Cosmopolis, The Lost City of Z, Good Time, and Damsel. 
It was hardly a surprise then that when it was announced the actor was returning to tentpole fare by claiming the coveted lead in Warner Bros.' beyond-high-profile superhero flick The Batman, the internet nearly imploded at the prospect of Pattinson donning the cape to play the Dark Knight. But it wasn't all sunshine and excited social media posts — many fans were quite displeased at the casting news. 
Turns out, die-hard Bat-fans weren't the only ones miffed when that news broke. In a recent interview with Variety, Pattinson himself admitted that he was "furious" when the casting news was leaked — though he was upset for a very different reason.
"When that thing leaked, I was f***ing furious. Everyone was so upset. Everyone was panicking from my team," he said. "I sort of thought that had blown up the whole thing."
It seems that when Variety initially broke the casting exclusive, the deal to bring Pattinson to Gotham was far from done. In fact, the actor hadn't yet officially auditioned for the role, and talks with Warner Bros. and The Batman director Matt Reeves were very much ongoing at that point in time. The reason Pattinson was so upset was because he really wanted the part, and was afraid all the premature chatter from internet fandom (a far more perilous landscape than it used to be) might actually scare Warner Bros. away from casting him. 
In a hilarious turn of events, on the day the Batman news broke, Pattinson found himself unwittingly Googling his own name for news about the expected fallout in the company of current Mission Impossible guru Christopher McQuarrie. Luckily, McQuarrie didn't think too badly of Pattinson's Googling once the actor explained the quandary. And luckily, Warner Bros. eventually stood up for their casting decision regarding The Batman, confirming Pattinson would indeed portray the Caped Crusader in Reeves' upcoming film.
Ironically, even after flipping out about someone else leaking his involvement with The Batman before it was a done deal, Pattinson himself accidentally let slip a spoiler for another hotly anticipated Warner Bros. movie: Todd Phillips' Joker, starring Joaquin Phoenix as failed comedian Arthur Fleck, who snaps and becomes the Clown Prince of Crime. During his chat with Variety, Pattinson is said to have made a "mundane comment" about Phoenix before "asking to retract it," as it apparently spoiled part of the film despite feeling relatively unexciting in the grand scheme. The actor admitted that he's not used to thinking about spoilers during interviews, telling Variety, "Oh s***. I definitely should not say that. I'm so used to pretty art-house movies, where you can watch the movie three times and still not know what it's about."
Pattinson's panicked anger over his Batman casting side, that news also put to rest months of speculation as to who would take over the role from Ben Affleck. The casting also confirmed that Warner Bros. did in fact want to go younger for the next iteration of Dark Knight lore. 
For our money, Pattinson is an absolutely inspired casting choice who should be more than capable of bringing the pathos and physicality to one of the most complicated superheroes ever penned. If you don't believe that, we'd urge you to look past Pattinson's Twilight years and seek out some of the indie gems he's been cranking out of late — particularly this year's astonishing sci-fi flick High Life.
Unfortunately, Reeves and co. have yet to announce any more casting for The Batman, and the flick has not yet begun filming. Currently, The Batman is slated to hit theaters in June 2021, so we've got a bit of a wait ahead to see what Pattinson brings to the complex dual roles of Bruce Wayne and Batman. Here's hoping he delivers the goods when The Batman finally swings into action in a couple of years.
But fear not, Team Pattinson — the actor's chiseled features will be more than visible on big screens in the intervening years, with Robert Eggers' The Lighthouse on the immediate horizon and David Michôd's The King hitting Netflix soon after. Pattinson's also hard at work shooting Christopher Nolan's Tenet this very moment, with that film scheduled to hit theaters next year. 2020 will also see Pattinson appear in the anxiously awaited adaptation of Donald Ray Pollock's beloved novel The Devil All The Time.