Halloween Kills Casts Kyle Richards As Lindsay Wallace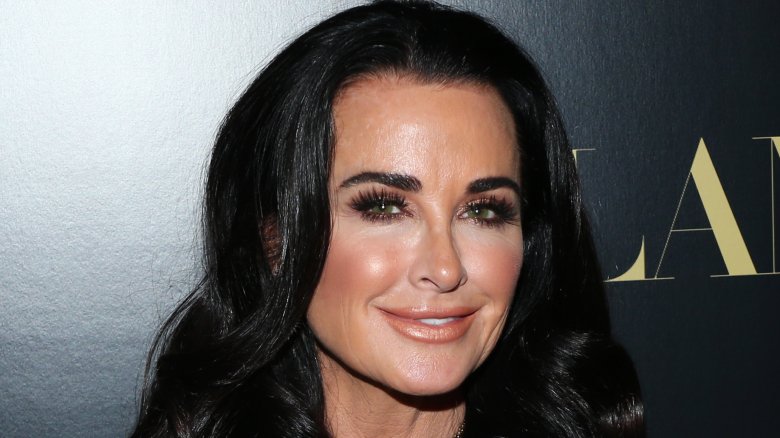 Phillip Faraone/Getty Images
Halloween Kills is shaping up to be quite the little reunion.
The upcoming sequel to director David Gordon Green's 2018 fright-fest Halloween has cast Kyle Richards as Lindsey Wallace, one of Laurie Strode's friends' young babysitting charges in John Carpenter's iconic 1978 original. Richards will reprise her role from that film, which she appeared in when she was only nine years old. (via Collider)
The news comes hot on the heels of the casting of Anthony Michael Hall as Tommy Doyle, the youngster whom Laurie was looking after on the fateful night that Michael Myers first returned to Haddonfield, Illinois. Doyle was portrayed in Carpenter's film by Brian Andrews, who has notched only a handful of acting credits in the years since.
Richards has popped up in small roles in film and television regularly over the last few decades, with perhaps her most significant gig being a recurring spot on the NBC medical drama E.R. These days, however, she's best known for being one of the Real Housewives of Beverly Hills, having appeared in over 200 episodes of the long-running reality series.
In case you're not up to speed, 2018's Halloween ignored every single sequel in the franchise's astoundingly convoluted narrative, positioning itself as a continuation of the story begun with the original. Jamie Lee Curtis returned to the role of Laurie Strode for the first time in 20 years, with her previous appearance being 1998's Halloween: H2O, which was released 20 years after Carpenter's film and also ignored the bulk of the sequels that came before it. For those keeping score at home, this created a situation which Hollywood is unlikely to ever see again: a lead actress returning to her role for a canon-negating sequel after exactly two decades... twice.
Original Michael Myers Nick Castle even returned for the 2018 edition, although his turn was brief: he appeared behind the mask for one shot, in which Laurie spots Michael for the first time through the window of a neighbor's house. Actor and stunt performer James Jude Courtney portrayed Myers for the bulk of the film; it appears that this dynamic will continue, as both Castle and Courtney are confirmed to be returning for Halloween Kills and three-quel Halloween Ends, which are being shot back-to-back.
The return of Tommy and Lindsey is an interesting wrinkle. Being small children, the characters were little more than mere plot devices in the original film, although certain bits of Tommy's dialogue has become iconic. He was the first to refer to Myers as the boogeyman, and it was he who informed Laurie that the boogeyman cannot be killed, a statement which proved to be remarkably perceptive.
The pair did not make an appearance in 2018's Halloween, and it's not known how major or minor their roles will be in the upcoming films. One can imagine, though, that the events of that long-ago Halloween night must have made quite an impression on the youngsters; perhaps the news of Myers' return to Haddonfield 40 years later to pick up where he left off will prompt them to return to help Strode discover if there is, in fact, a way to kill the boogeyman.
Both Richards and Curtis took to Instagram to celebrate the casting, with Richards posting "then and now" side-by-side shots of herself with Curtis. "It's true," she wrote. "I am beyond honored and thrilled to be a part of #halloweenkills And reprising my role of Lindsey Wallace."
Curtis posted the exact same side-by-side pics while teasing that Richards will not be the last of the original film's cast to return for the sequels. "Completing the circle," Curtis wrote. "THRILLED to confirm that @kylerichards18 is coming back to the @halloweenmovie family where she belongs. She will join MANY original characters and their performers. Can't wait for you to see!"
The 2018 edition of Halloween was a resounding return to form for the franchise; Green and screenwriter Danny McBride enjoyed the unreserved blessing of Carpenter, who served as a producer and even contributed an updated version of his iconic score to the film. Halloween raked in $255 million dollars at the worldwide box office (making it the highest-grossing flick in the franchise by a very, very wide margin) and generally scored with critics, making a continuation of the story all but inevitable. 
Even if Halloween Kills and Halloween Ends should post similar numbers, though, Green insists that they will constitute the end of the road for the Michael Myers/Laurie Strode story, at least in its original iteration. In an interview with Collider, the director said, "They're never done telling the Frankenstein story, and at this point, Michael Myers is a classic movie monster. But our Jamie Lee Curtis as Laurie Strode/Michael Myers saga will be done. The fun of it is also seeing it end and knowing that it can [end]. If you just keep trying to elongate it and milk it for all of the money, then that's boring."
Only time will tell if Strode will finally be able to dispatch the boogeyman, but at the very least, she'll have help from a few former acquaintances who are well-versed in its ways. Also returning from the original movie is Charles Cyphers as Sheriff Leigh Brackett; in addition to  Curtis, Castle, and Courtney, returning cast members from the 2018 flick include Judy Greer (Archer), Andi Matichak (Assimilate), and Jibrail Nantambu (Preacher).
Halloween Kills hits the big screen on October 16, 2020; Halloween Ends follows on October 15, 2021.