What The Critics Are Saying About It: Chapter Two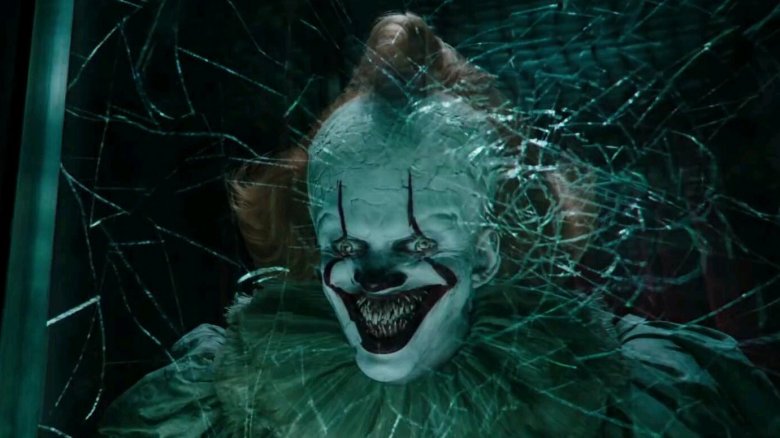 Warner Brothers
It: Chapter Two has been screened for select critics, and while there's still an embargo on formal reviews, many of them have taken to Twitter to give their hot takes. So far, reactions are mixed, but most observers agreed on two things: the film is wildly ambitious, and features an amazing performance from Bill Hader.
The movie and its predecessor, 2017's smash hit It: Chapter One, are adapted from Stephen King's masterful 1986 novel. The first film followed a group of young outcasts who dub themselves "The Losers' Club" facing off with an ancient, shape-shifting, evil entity — appearing most often in the guise of Pennywise, the Dancing Clown — which rises from hibernation to torment their small town of Derry, Maine, every 27 years.
The children manage to severely wound It and drive It back into hibernation, but fail to do it in once and for all. It: Chapter Two focuses on the Losers' Club as successful adults who are all called back to Derry when It emerges from Its slumber to finish what they started — and this time, they face a Pennywise who remembers all too well the kids who made It feel fear for the first time. Suffice to say, It's eager for a rematch.
Initial critical reactions mostly praised the flick's ambition in tackling one of King's most dense, challenging works, and largely pulling it off. Wrote Collider's horror editor Haleigh Foutch, "#ITChapterTwo is big and ambitious and can't quite handle the weight of its aspirations, but it's still a fine piece of heartfelt horror. The parts that work, work REALLY well and Bill Hader is every-bit the scene-stealing standout we all hoped he'd be."
Hader — who plays the motor-mouthed Richie Tozier, portrayed as a child by Stranger Things' Finn Wolfhard — was the cast member most consistently singled out for praise. The Saturday Night Live alum and star of the HBO's dark comedy series Barry has never taken on a role in a horror project before, and by all accounts, he absolutely kills it in It: Chapter Two. Fandango managing editor Erik Davis was also among the chorus of voices singing Hader's praises, writing, "#ITChapterTwo is a terrific companion to #ITChapterOne. Similar vibes, great ensemble chemistry [with] a nice mix of humor and horror. Part 2 plays heavier in tone, dealing [with] defeating the burden of childhood trauma, [and] I definitely teared up at the very end. Bill Hader steals it."
Even those critics who weren't particularly impressed with the film were wuick to lavish praise on Hader, with CinemaBlend's Sean O'Connell offering up pretty much the highest compliment that could be paid. "So, #ITChapterTwo: it's [very] good, but not great. I liked it, but didn't LOVE it," he wrote. "First movie is a tough act to follow. TWO is gruesome, strange but rarely scary. Nails important aspects from the book, but feels overlong. Cast is aces, though, [and] Bill Hader SHOULD be in Oscar convo."
JoBlo editor-in-chief Paul Shirey felt that the flick's flashbacks to the time period of It:Chapter One didn't do the adult cast many favors, but still considered the flick a triumph. "It was great to see the kids return in flashbacks, but I'm not sure if it helps or hurts the older cast, who could've used a little more screentime. Still, they all live up to their young counterparts well. The time jumps can be jarring at times, but you settle in."
In a separate tweet, Shirey continued, "Ultimately, I think people will struggle over which part they liked best, but I like to think of them both as one film and the second chapter delivers a satisfying and emotional conclusion to one of the best horror films ever made."
Critic William Bibbiani had a different, and less magnanimous, take on these same issues. "#ItChapterTwo has some excellent set pieces and a few great performances, but it's also got big problems," he wrote. "It's very contrived, the jokes get in the way of the scares and it relies too heavily on flashbacks about the kid Losers instead of developing the adult versions."
Of course, there were some critics who simply panned the film, with most of the negative reactions focusing on its massive, nearly three-hour run time and frequent callbacks to Chapter One. Wrote critic Scott Menzel, "It: Chapter Two is the biggest disappointment of the year. A dull [and] bloated mess that spends too much time rehashing things from the first film. While there are a few good moments, the film ultimately lacks suspense and scares. The performances are also a mixed bag."
Uproxx senior entertainment writer Mike Ryan had a different gripe, and although it's apparent he's not the biggest fan of the novel, we feel like it's one he should probably take up with King. "I am not an IT expert but I get the sense, even in the book, IT's powers/motivations aren't always well defined," he wrote. "That vagueness works with the kids, but I wish this one had some basic rules? Because it feels like IT could kill any of these people at anytime and just doesn't."
For the most part, though, critics acknowledged that the one-two punch of the It movies constitutes a feat that very few filmmakers have been able to pull off over the last few decades or so: a very successful King adaptation, one that sports a deep knowledge of and affinity for the Master's writing style. Wrote Slashfilm's Chris Evangelista, "Several issues aside, this is one of the rare Stephen King adaptations that actually understands King's voice and successfully translates it to the screen. It captures that unapologetic earnestness mixed with a kind of aw-shucks corniness that King does so well."
Obviously, we'll have to wait for the actual reviews to come rolling in before we can get a more detailed analysis of the flick's strengths and weaknesses. But, two things seem certain: It: Chapter Two swings for the fences, and Hader is the film's MVP.
In addition to Hader, the movie stars James McAvoy (X-Men: Dark Phoenix) as Bill Denbrough, Isaiah Mustafa (Shadowhunters) as Mike Hanlon, Jessica Chastain (Molly's Game) as Beverly Marsh, James Ransone (Captive State) as Eddie Kaspbrak, Jay Ryan (Fighting Season) as Ben Hanscom, Andy Bean (Transformers: The Last Knight) as Stan Uris, and Bill Skarsgård (Castle Rock) as Pennywise. It: Chapter Two hits screens on September 6, and of course, you can expect loads of our signature expert analysis the moment it drops.