A Quiet Place Part II - What We Know So Far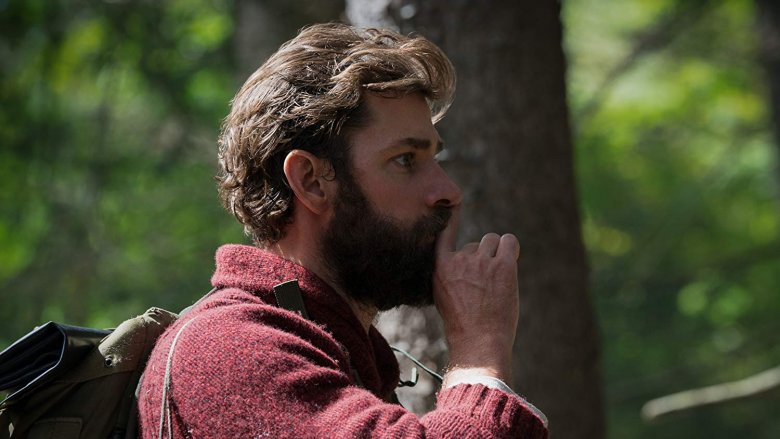 In the spring of 2018, an original horror film from a guy best known for starring in The Office premiered at SXSW, and much like the murderous creatures at the heart of the story, the buzz quickly spread. Within weeks, A Quiet Place was one of the most talked-about films of the year, and one of the biggest horror hits of the 2010s. It was also a film with an ending that left plenty of room to think about a sequel. 
Within months after the release of A Quiet Place, we got word that a sequel would officially be on its way, and in the time since that news we've continued to piece together every possible detail about the film and exactly what it will contain. We still don't know much about what exactly A Quiet Place Part II will scare up for us, but we do know we can't wait to see what writer/director John Krasinski and company have in store for us. To that end, we've gathered together everything we know about A Quiet Place Part II so far, from the film's stars to some potential plot points to its release date. If you're among the many fans eager to head back to this silent world, you're in the right place.
What's the release date for A Quiet Place Part II?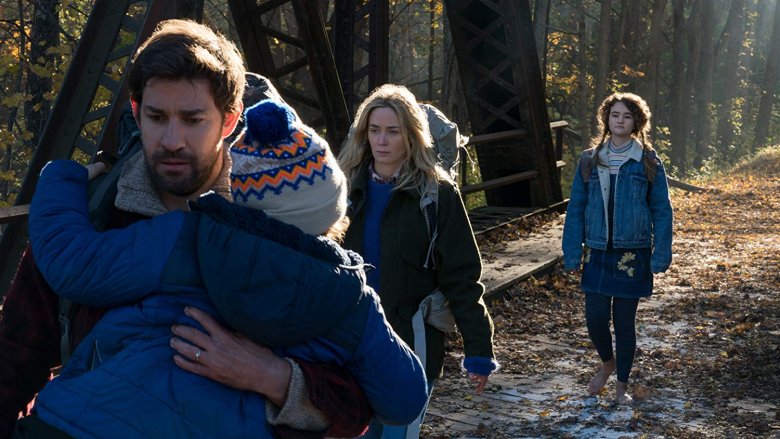 Almost immediately after it was released to critical acclaim and commercial success in 2018, it became clear that A Quiet Place was not a story that would remain relegated to a single hit film. Like so many horror sagas that have come before, this was a film that built a story and a world that created plenty of opportunities for sequelization, and it didn't take long for Paramount Pictures to push ahead with making that happen sooner rather than later.
By the summer of 2018, just months after the film hit theaters, Paramount confirmed that A Quiet Place Part II was on the way, and that it would arrive around two years after the original film. The sequel's original release date was penciled in for May of 2020, but Paramount later adjusted that, pushing the film up to March 20, 2020, very nearly two years to the day after the first film's debut at SXSW 2018.
Just as the film was about to creep into theaters, though, it became one of many events affected by the Coronavirus outbreak, with Paramount announcing on March 12 that the release of A Quiet Place Part II would be delayed, with no new date announced. "We believe in and support the theatrical experience," the studio said in a statement, "and we look forward to bringing this film to audiences this year once we have a better understanding of the impact of this pandemic on the global theatrical marketplace."
The first teaser for A Quiet Place Part II sets the tone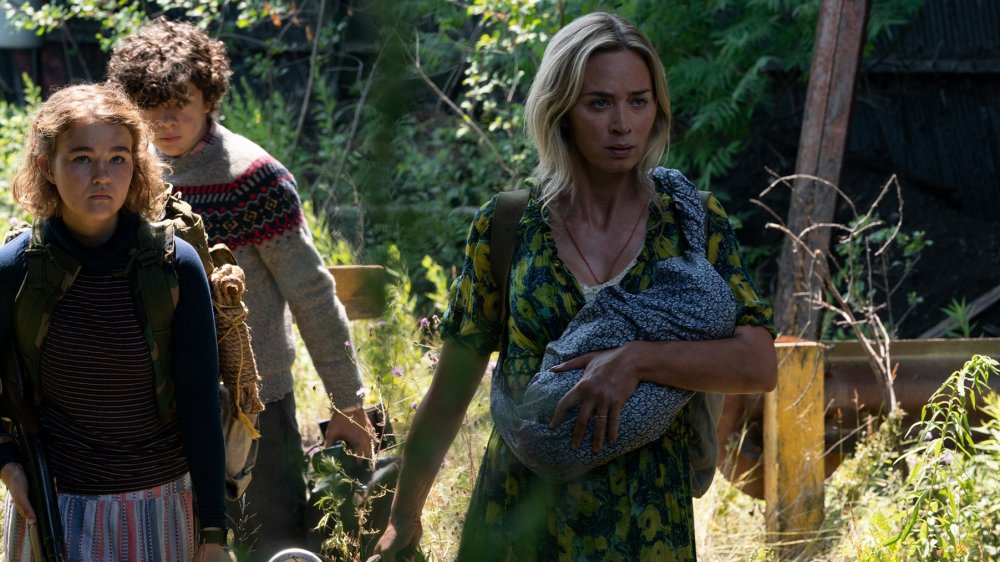 The first official footage from A Quiet Place: Part II finally arrived in December of 2019 in the form of a 30-second teaser that focuses on the familiar iconography of the first film. In the clip, Evelyn Abbott is leading her children down a familiar sand path, but as the camera shows us, that path has reached its end. Evelyn, armed with a map that's covered with circled X's, knows that if she takes the next step onto the dead leaves and branches, she is entering dangerous new territory. She looks back at her children for reassurance, and her daughter Regan assures her that it's best to go on. Evelyn takes her first step into the unknown, noisy outside world, and we are told to expect the first full trailer for the sequel to arrive on New Year's Day 2020 (indeed, it did). 
The first poster for the film also arrived on the same day as the teaser, and focused on the Abbott family stepping out into a scary world beyond their homestead. It's clear that the marketing for the second film will play up the promise of new environments, and focus on the idea that the Abbotts are facing new dangers, even if they have figured out how to defend themselves. 
Writing and directing A Quiet Place Part II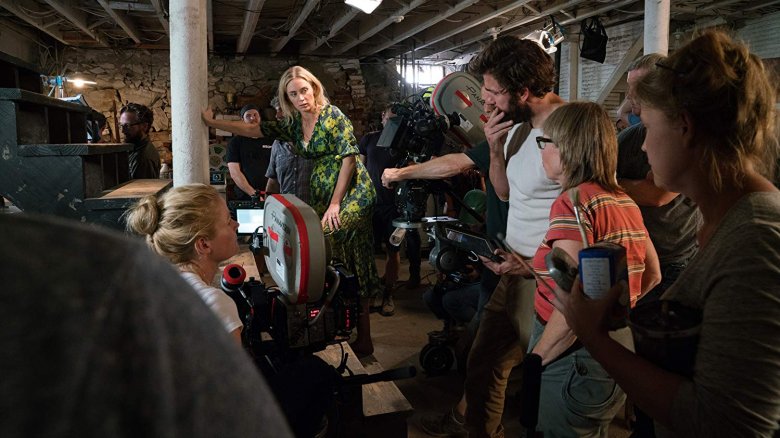 IMDb
A Quiet Place was John Krasinski's first horror effort at the helm, but he did much more than sit in the director's chair. While writers Bryan Woods and Scott Beck are credited with the original story for the film, having generated the core concept and characters, Krasinski also earned a writing credit on the first movie after stepping in to rewrite Beck and Woods' original script when he was hired to direct. That made his stamp on the project even more personal — something he's carrying over in a big way for the second installment.
This time around, Krasinski is not just the director, but also the sole credited writer on the sequel's screenplay (at the moment, anyway), with Beck and Woods credited only as the creators of the characters from the original film. This adds yet another level of control for Krasinski, and it'll be interesting to see how much of Beck and Woods' influence carries over into the next chapter.
The returning cast of A Quiet Place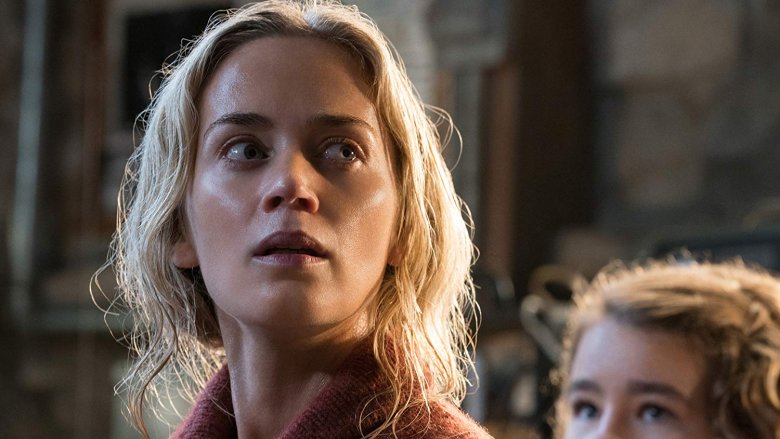 The world of A Quiet Place is, of course, quiet. Nevertheless, it is a whole world, despite the relative isolation of the main characters at the heart of the first film. We only see this strange apocalypse and the creatures which caused it through the lens of the Abbott family, whose lives largely revolve around their rural home and brief trips into nearby towns to search for supplies. We rarely glimpse other survivors (or even hints of them) in the film, and when we do they're brief and brutal, reminding us that it's very difficult to stay alive (and in some cases, to want to stay alive) in this world. 
With the relatively small scale of the first film in mind, it seemed possible that the sequel would perhaps attempt to focus on an entirely different group of survivors living in a different environment (perhaps an urban center or an oceanside community), and steer us away from the Abbott family altogether. Happily, that's not the case. In early 2019, it was confirmed that Emily Blunt will be returning to play Evelyn Abbott in the film, and that young co-stars Millicent Simmonds and Noah Jupe would also be back to play the Abbott children Regan and Marcus, respectively. So, if you're eager to see what life is like for the Abbotts now, you're going to get your wish.
Krasinski's back to direct A Quiet Place Part II, but is he in the cast?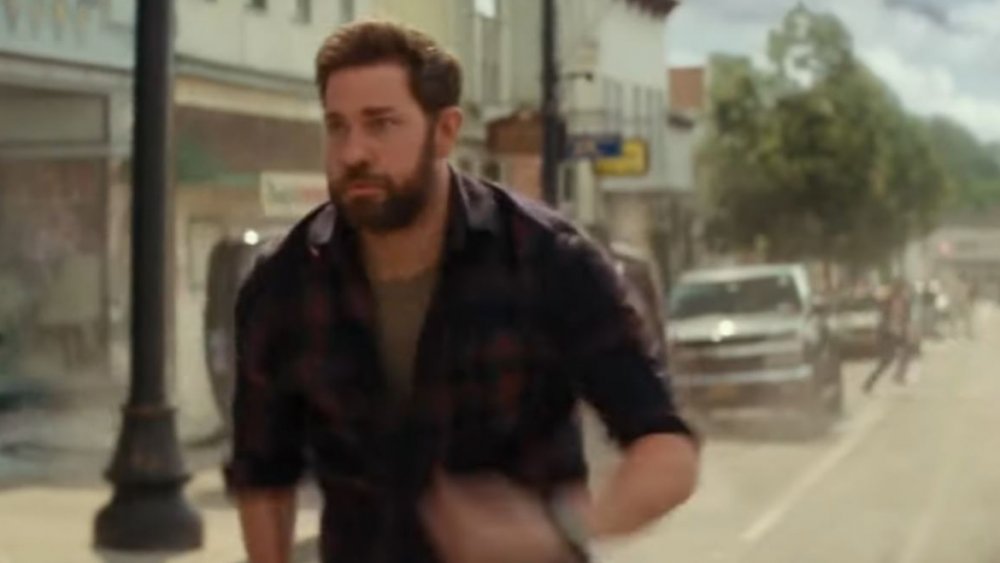 Sadly, Lee Abbott, the patriarch of the family of survivors at the heart of A Quiet Place, didn't survive the first film. He sacrificed himself to the creatures in a last-ditch effort to save his children, leaving them and his wife Evelyn to fight another day. Even with that in mind, though, John Krasinski's return as director and writer of Part II meant there was always a chance that he could return on-screen as Lee, if only in some kind of flashback sequence. Those chances seemed to increase after the first trailer was released, with its heavy reliance on what happened to Evelyn and her children the day of the outbreak. 
On Super Bowl Sunday in February of 2020, Lee Abbott's return for A Quiet Place Part II was confirmed thanks to a brief snippet of footage in the "Big Game Spot" released for the film. In a flashback on the day of the outbreak, we see Lee approaching a local police officer and asking him what's going on with a sense of familiarity that suggests he's a figure of authority in this small town. Then, a creature attacks, and Lee is sent sprinting back to his daughter Regan, who's waiting for him in the car. We still don't know how much more screentime Lee will have in the sequel, but now we're certain he's back for at least a while. 
Who's joining the cast of A Quiet Place Part II?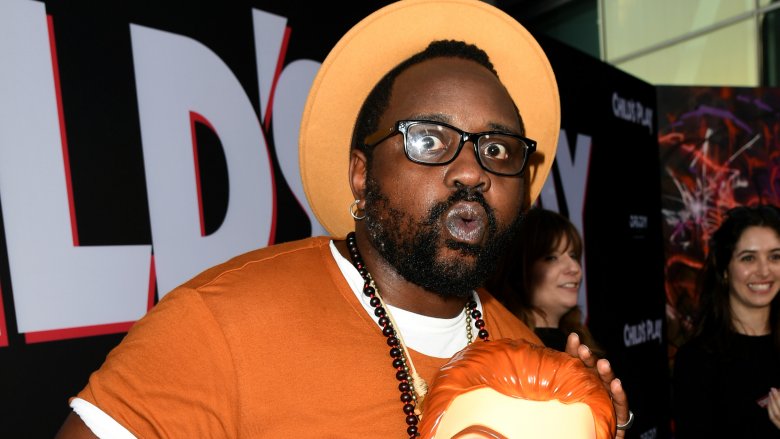 Kevin Winter/Getty Images
A Quiet Place functions very well as a self-contained, stripped-down horror story about a family trying to survive when their world takes on a terrifying new paradigm. Part of its appeal is its limits, from the lack of sound to the small cast. It roots the story in a very personal way, but the sequel will definitely have to branch out if it hopes to show us something new. 
That means that, in addition to the returning stars who will reprise their roles as the Abbotts, A Quiet Place Part II will feature new faces. In March of 2019, Cillian Murphy (Peaky Blinders) was reportedly in talks to join the cast, and in June of 2019, Brian Tyree Henry (Atlanta, Child's Play) signed on in a still-undisclosed role. We don't yet know much about either character or exactly how much screentime they'll get in the new story, but these are both intriguing actors who will add new dimensions to the film's fictional universe.
What can A Quiet Place tell us about the sequel?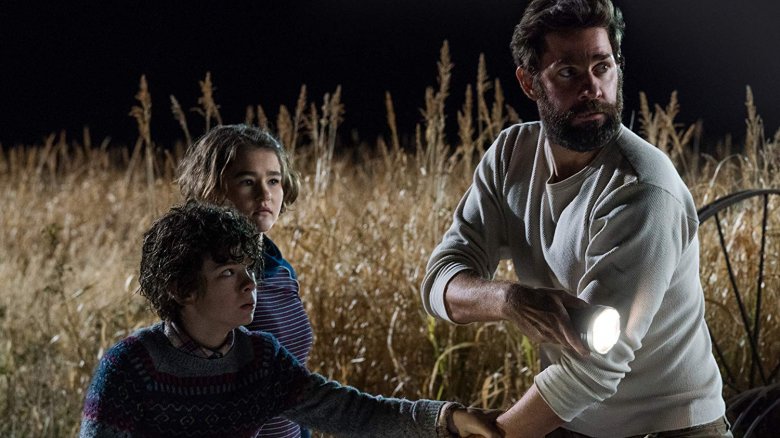 In case you've forgotten exactly where the last film left off and what it sets up for the sequel, here's a quick refresher. A Quiet Place left the Abbott family in a precarious but promising situation in its final minutes. With their soundproofed barn basement flooded, Evelyn caring for a new baby, and older children Marcus and Regan trying to escape one of the creatures, Lee Abbott made the ultimate sacrifice for his family, apparently allowing a creature to kill him so the kids could reunite with their mother. After the reunion, Regan and Evelyn were able to kill the creature when Regan realized she could amplify the feedback her cochlear implant was emitting when the creatures were near, causing it to spasm and creating an opening to kill it. 
The sequel will presumably present an opportunity for the Abbotts to share their newfound skills with the rest of the world, provided they can find more humans. It also presents the opportunity to show what this world is like for another toddler, as Evelyn cares for her youngest child. Of course, there's also an opportunity to show us that, just maybe, Lee didn't really die at the end of the first film. Plus, if a cochlear implant can emit that sound and freak the creatures out, what else can? We could be looking at a film that finds some very inventive new ways to weaponize sound both as a monster-slaying weapon and as a moviemaking tool.
The full trailer opens up the world of A Quiet Place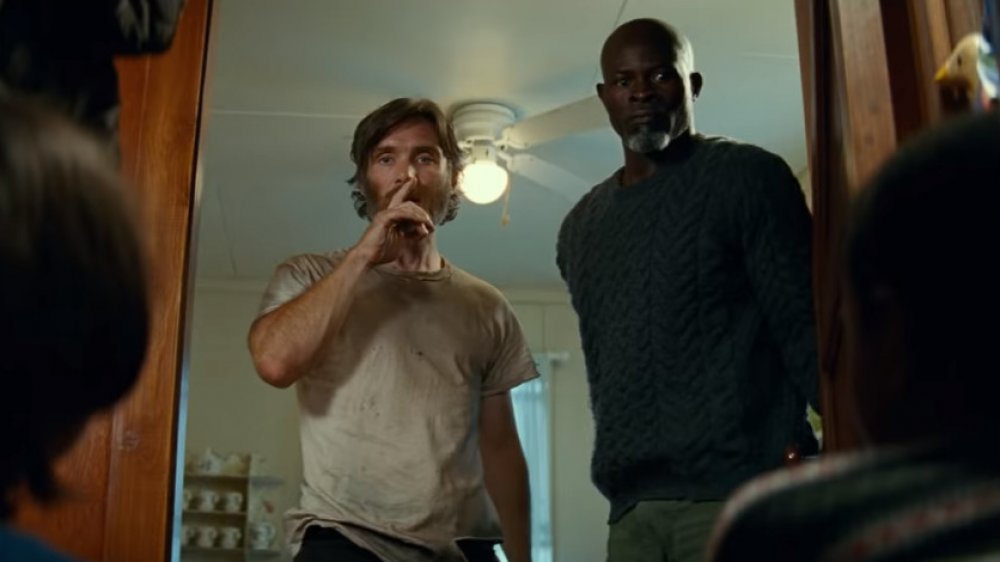 The first full trailer for A Quiet Place Part II arrived on New Year's Day 2020, and revealed some of what's next for the Abbott family as they venture out beyond their farmhouse. Before it did that, though, the trailer took us all the way back to the first day of the end of the world, and showed us a harrowing sequence in which Evelyn Abbott is trying to drive her children through a panicking neighborhood as the world descends into chaos. Back in the present, the Abbotts are heading out into the world with Evelyn's new baby, who's largely confined to a box with an oxygen mask and tank hooked up to it — though whether that's for the baby's health or just to keep the child calm is unclear at this point. 
From there, Evelyn, Regan, and Marcus Abbott stumble upon a haggard-looking new survivor (Cillian Murphy) who doesn't seem at all happy to see them. As Emily argues that there are still people out in the world who are "worth saving," we see a series of chilling visuals ranging from Regan in a ripped-apart train car to what looks like some kind of car chase, and Murphy's character claims that anyone who managed to survive is not the kind of person Evelyn would like to save. It's an intriguing "the real monsters are among us" setup, and we can't wait to see where it goes next.
The creatures of A Quiet Place Part II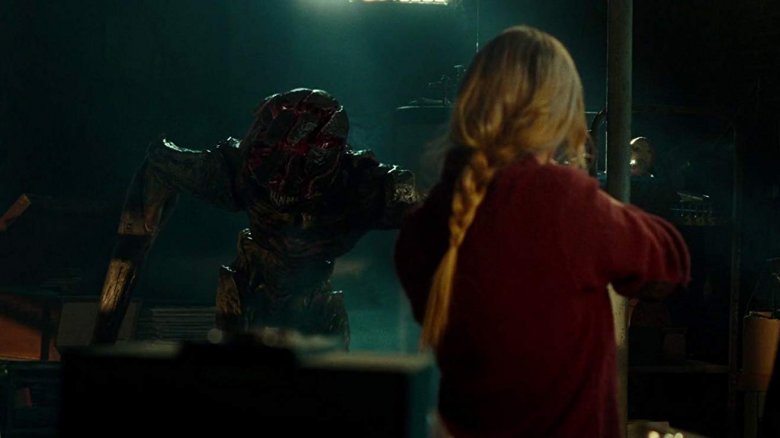 One of the great appeals of A Quiet Place is its ability to captivate while only telling us what we need to know to follow the story and the rules of the world. As a result, we have very little confirmed information about the things that make the Earth "a quiet place" — the creatures.
We know that they are extraterrestrial in their origin, and the film tells us that they were able to effectively wipe out most humans and a number of other animals on Earth in a matter of months, driving the survivors into hiding. We know that they have incredibly sensitive hearing that allows them to sense any sound above a certain level from some distance away, we know that their skin is armored, and we know that sounds above a certain register (like feedback from Regan's hearing aid) cause them to become disoriented and expose the vulnerable parts of their body, offering an avenue by which to kill them. 
So, will A Quiet Place Part II keep these rules — and only these rules — in place, or will we learn more about these mysterious beings? Brian Tyree Henry, who joined the sequel in 2019, seems to think we'll get the latter. "I think that we're also going to get a few answers to the origin of where and how this whole thing happened," Henry said while discussing the film. "I think that people want to know that."
New survivors in A Quiet Place Part II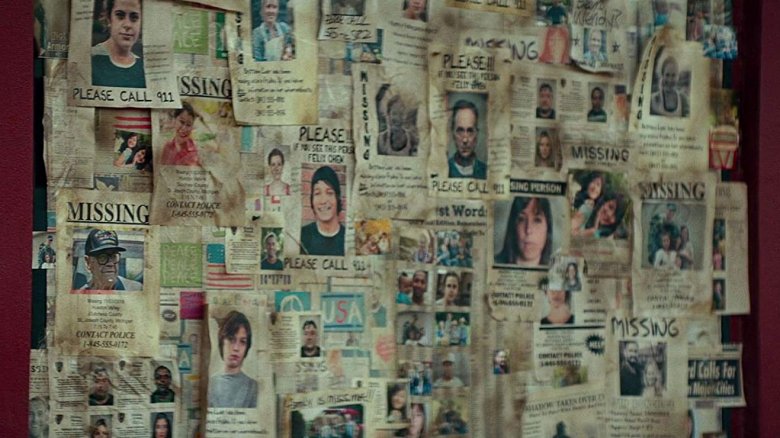 The first Quiet Place film offers very few glimpses of the rest of the world. Aside from the Abbott family, we see one other survivor over the course of the movie, and he dies almost instantly. There is a sense of a larger world at work beyond the first film's single-family story, though, and unsurprisingly, the second film is going to explore that. 
"The thing that I loved in the movie, where my mind kept wandering as we were making it, was the question of who was on the other end of those fires, when the father lights the fire and in the distance those other fires light up," John Krasinski explained. "How did those people survive? How did that old man survive?" 
Krasinski went on to say that he finds it "interesting" to think about what's going on "elsewhere" on Earth during the events of the first film, and the addition of new cast members to the sequel suggests that he's definitely found ways to answer those questions for himself.
A Quiet Universe?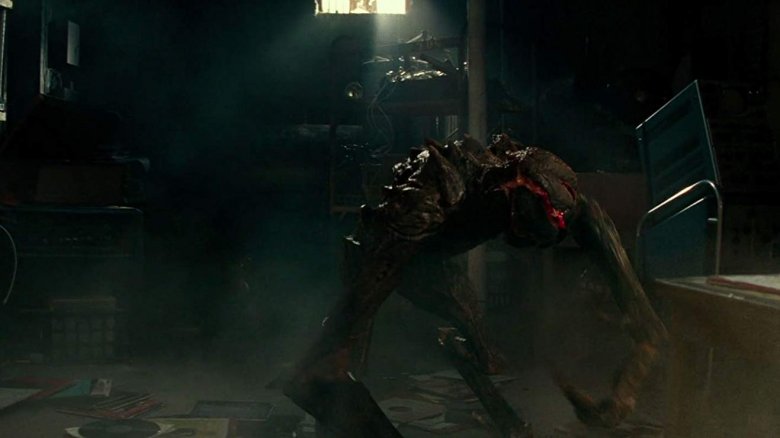 The promotional material for A Quiet Place Part II has remained fairly obtuse, and we still knew very little about what the sequel will bring to the big screen. In that spirit, let's revisit one of the more intriguing revelations from the press tour for the first A Quiet Place film: at one point, it could have been a Cloverfield movie.
Yes, according to original screenwriters Scott Beck and Bryan Woods, while they were still in the script stages of developing the first film, there was an idea that perhaps the creatures at the heart of it could be tied to the same ones within the Cloverfield universe over at J.J. Abrams' Bad Robot production company. Beck and Woods noted that Paramount Pictures ultimately saw their film as "a totally different movie," but the possibility was there, and that raises an interesting question: if A Quiet Place Part II hits as big as its predecessor did (or bigger), what comes next? Is it possible that this film's universe could expand to be part of something bigger? Could a crossover still happen? It seems unlikely, but at the very least it's amusing to think about.