Venom 2: Tom Hardy Teases Andy Serkis As Director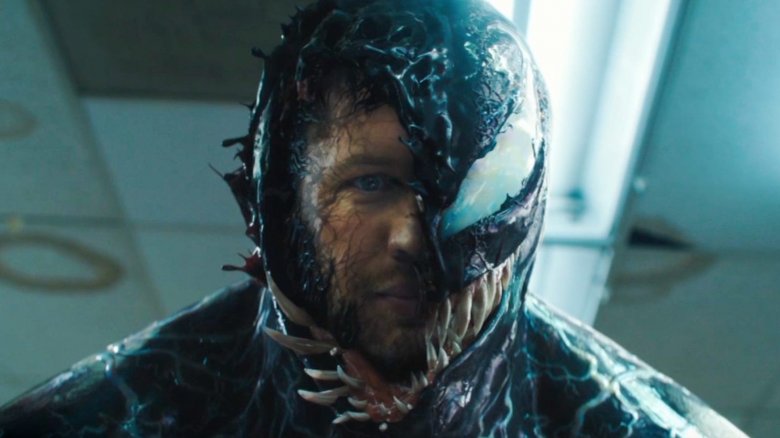 Tom Hardy may be looking to blame a certain unpredictable symbiote for a recent social media gaffe that may or may not have spilled the beans about who's directing the upcoming Venom sequel. 
If you've been following the news surrounding the tentatively titled Venom 2 of late, then you know there have been rumors galore about who will claim the director's chair for the sequel. Among the names reported to be in the hunt to direct Venom 2 are Bumblebee's Travis Knight, Rise of the Planet of the Apes helmer Rupert Wyatt, and actor-slash-director-slash-motion capture genius Andy Serkis. While no official word has come regarding which filmmaker has landed the gig, Tom Hardy's recent Instagram post may have prematurely pegged Serkis as the director of Venom 2. 
Though it was quickly deleted, a savvy Instagrammer managed to screen grab the telling post before it disappeared. 
You'll notice that there are no words confirming Serkis has won the director's job — or any other Venom 2 gig for that matter — as it's merely a pic of Mr. Serkis (and his savage beard) with an ace of spades emoji followed by fire. So, a much as we'd like to read this as a confirmation of Serkis' involvement in the Venom sequel and as much as it seems like that's what's happening here, the post may just as well be Hardy throwing some love to a fellow filmmaker he admires. 
That being said, Serkis would certainly make for an intriguing choice to helm the in-development film. Though he's primarily been known as a performer over the years (see The Prestige and Black Panther) and mo-cap guru (he played Gollum in The Lord of the Rings trilogy, Kong in Peter Jackson's King Kong, and Ceasar in the Planet of the Apes trilogy), Serkis has also made time to direct a couple of movies of late. Most recently, Serkis helmed Netflix's visually arresting (but ultimately underwhelming) adventure flick Mowgli: Legend of the Jungle. While Mowgli didn't quite satisfy, it more than proved Serkis capable of utilizing CGI to bring characters to life. Coupled with his first-hand knowledge of mo-cap technology, his clear affinity for character-forward drama, and his effects background, Serkis just might get the inside track on Venom 2.
Either way, the fact that producers are looking for a new director on the sequel should come as good news for folks who actually saw the first Venom (directed by Zombieland's Ruben Fleischer). Fleischer's film was often oddly fascinating, but it was also a bit of a mess narratively, and ultimately wasted the talents of some heavy-hitting performers in Hardy, Michelle Williams, Jenny Slate, and Riz Ahmed. Whomever producers put behind the camera for Venom 2, they'll first and foremost need to find a better way to blend the duplicitous character arc with the effects-driven set pieces that are sure to dominate the narrative. If they can find a way to fine-tune Hardy's overly erratic performance as Eddie Brock (and the symbiote who overtakes his body, Venom), all the better.  
As far as where the narrative might go in Venom 2, we're still waiting for that news, but there's no shortage of Venom tales for screenwriter Kelly Marcel to tackle. Odds are we'll have to wait until after the film's director is announced to find out which story she's set to tell. Being it that we don't yet know what Venom 2 is about, the real question at hand might be whether that Insta post spoiled the news that Serkis has in fact landed the directing, or if he has signed on to play a key role opposite Hardy in the film instead. Here's hoping Sony breaks this news sooner rather than later.